The latest Nightingale residential development in Melbourne brought together seven of the city's top firms and asked them to leave ego at the door.
It could be said that there's no better way to test your powers of collaboration and the resilience of the peer review process than to produce a large residential project with six other architectural firms.
Such is the experience of Melbourne- based firm Hayball, which has embarked on a unique process to build Nightingale Village in the inner northern suburb of Brunswick. Seven different award-winning architecture practices were invited to work collaboratively to build apartment buildings that would adhere to the Nightingale model — the creation of multi-residential buildings that are financially, socially and environmentally sustainable.
The hope is to emulate the first projects, The Commons and Nightingale 1, also in Brunswick. These were constructed separately, but through their design, their occupants have created their own ecosystem and now host collective street dinners and communal gatherings.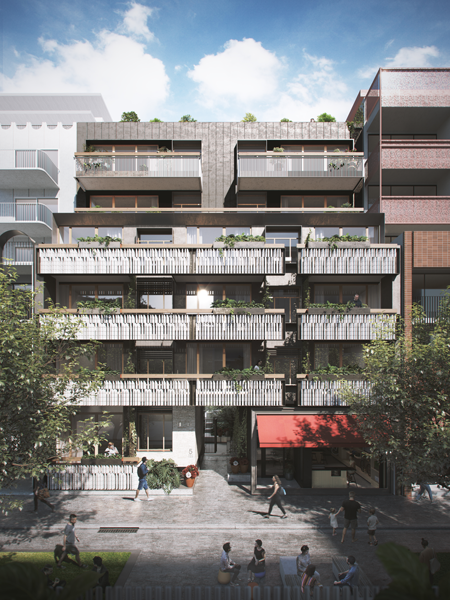 Hayball director Bianca Hung says the Nightingale model was attractive to the practice because placemaking is one of its core values. "The key thing for us with all our design is designing for community and placemaking, which ties in to why we are quite interested in Nightingale as a project," she says.
Hayball registered as a Nightingale architect and was actively seeking its own site when approached to be part of the Village. The seven firms – comprising Hayball, Nightingale's creator Breathe Architecture, Architecture Architecture, Austin Maynard Architects, Clare Cousins Architects, Kennedy Nolan and WOWOWA Architecture – purchased the site on Ducket Street and were each allocated a building and title.
From a design point of view, the Nightingale model laser focuses on collaboration and openness to feedback from future owners and community members, while eschewing expensive site offices and extraneous marketing to ensure the units are affordable.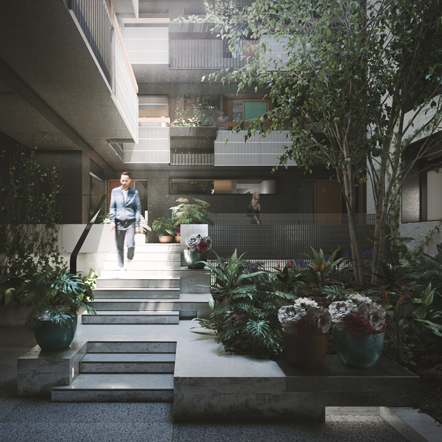 Throughout the Village design process, representatives from each firm would meet regularly to present their ideas and progress, and the others would offer their feedback. Hung says from the outside it may seem like a tricky business to put aside industry rivalries, but everyone approached the project with a similar, ethical mindset and with common outcomes at the fore.
"Everyone did come to the table without an ego – that was a big thing," she says. "It was [about] an ability to work together, do your own design, but feed off each other's commentary and advice, and fuel each other's thinking and be able to influence how a whole precinct comes together.
"At the end of the day we aren't wanting to be greedy, no one wants to outshine the other, everyone wants to create good design and a good built environment." She adds there were very clear goals about creating common spaces, such as shared laundries, rooftop terraces and large entry foyers, which all encourage social interaction and communal cohesion.
There was never an assumption that the buildings would look homogenous in terms of colours or material palette, but Hung says working together allowed teams to consider the form and setback of each building and to appreciate the aesthetics of their neighbours.
"If anything, it was also about understanding what each other was designing on the site, so we could respond to each other, as much as it was about giving feedback on other people's designs," she says.
"Generally the buildings sat well together, but there were also principles around the urban precinct and how all people would live and move through the site." Hayball's project, dubbed CRT- YRD following an internal naming competition, features a central courtyard and 39 apartments, some of which are two-storey. Hung says she and her team were fortunate because CRT-YRD sat in the middle and they could understand the outlook their apartments would have.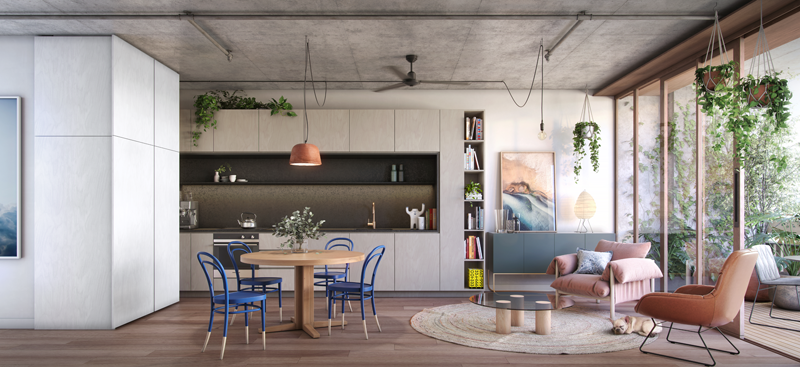 "As part of the Village we gave up portions of the site to a mews access to our south side, so Kennedy Nolan, ourselves and Breathe Architecture set back all of our buildings from the southern boundary. We then created the mews, which is public access through that space," she says.
"Residents could then also access some dwellings that we had courtyard addresses for, but it was about handing back to the community, creating spaces to connect but also better building separation."
Hung adds that working together with other firms led to other very positive outcomes that may not have been possible if the seven were operating in their own design silos. Hayball and Kennedy Nolan successfully negotiated a timely subdivision of their shared titles to allow the latter enough room to create their design.
"The other side that we saw as really positive was that, before, you might have two sites that had limited use on one and too much on the other and we have been able to make an agreement for an outcome that's best for both parties," she says.
Hung notes there were a few challenges with feedback via the peer review process, but everyone recognised it was rarely about someone's personal distaste, rather how it pertained to the project.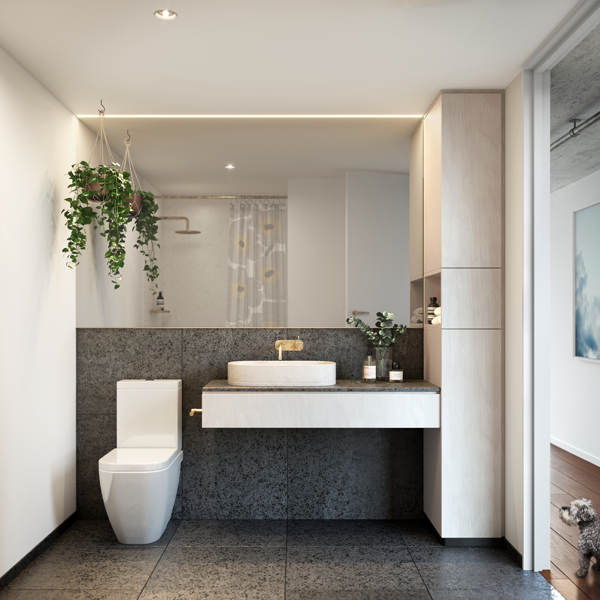 "There have certainly been times when there have been comments or advice that you don't want to hear and you either choose to listen to them or not, but at the end of the day it has worked well because of that clear common goal and outcome," she says.
The Nightingale project has also been very developmental for the company as a whole, and not just the small team working on it. "As a practice, what was also good was we had our collaboration with the other practices and then we had an internal collaborative process where we could talk about what everyone's comments were in terms of how to bring that on board or not," she says.
"I think that process internally also helped us with other collaboration on the site."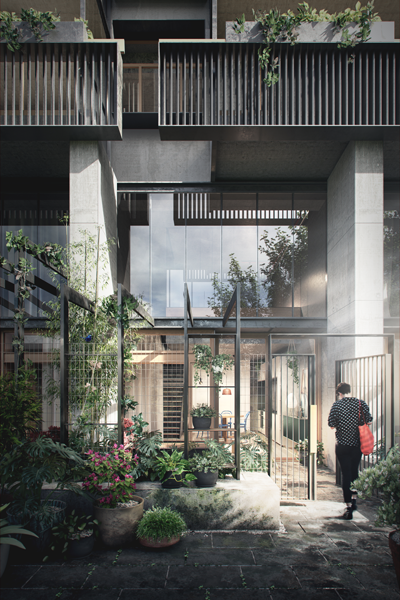 Construction on Nightingale Village will commence later this year, with completion due in the first quarter of 2021. Most apartments have already been balloted and Hung says they are a very mixed group of owners — from young first-home buyers through to downsizing retirees.
They have already facilitated a meeting at which owners began to create their own community. "They will do that a few years out from coming to live in the building, so at least when they come and live here they have got to know each other, which I think is quite special," concludes Hung.
This article originally appeared in AR160 – available online and digitally through Zinio.
Renders courtesy of Hayball