Small yet well designed, this efficient and flexible space literally must "weather the storm" of three lively young boys. 
The three-level townhouse in bayside Melbourne was extended to create a functional and flexible space along with a crafted set of materials selected to withstand the rigours of a young, highly active family.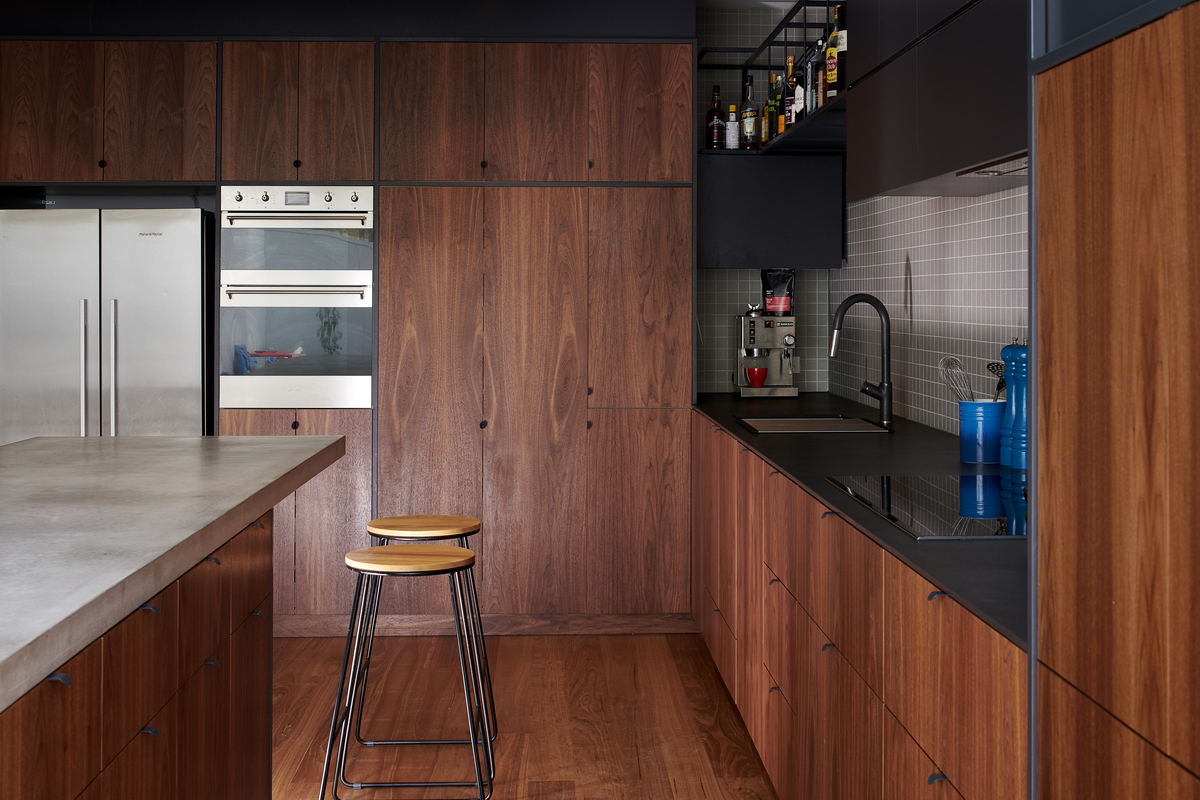 "Functionally, other than the usual storage etc, the brief was more specific in that there were several requirements that were non-negotiables and not always associated with such a space," explains Dan Geyfer founder of Dan Geyfer Design who designed the space.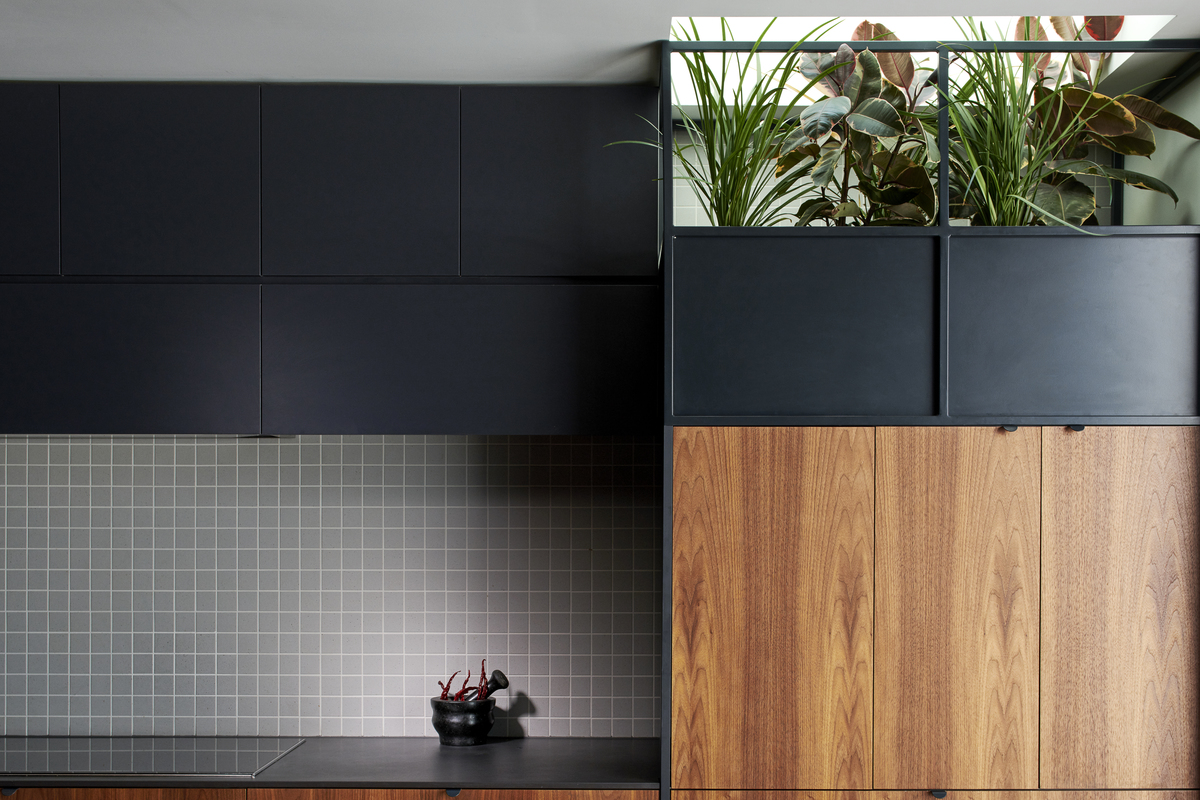 "First and foremost, the new space needed to be highly flexible taking on the role of kitchen, casual dining and family room. Even so, a degree of openness needed to be retained to facilitate three young boys and their frenetic everyday routines, especially before, during and after meals. Subsequently, materials needed to be strong and robust, literally being able to weather this storm of kids and their activities."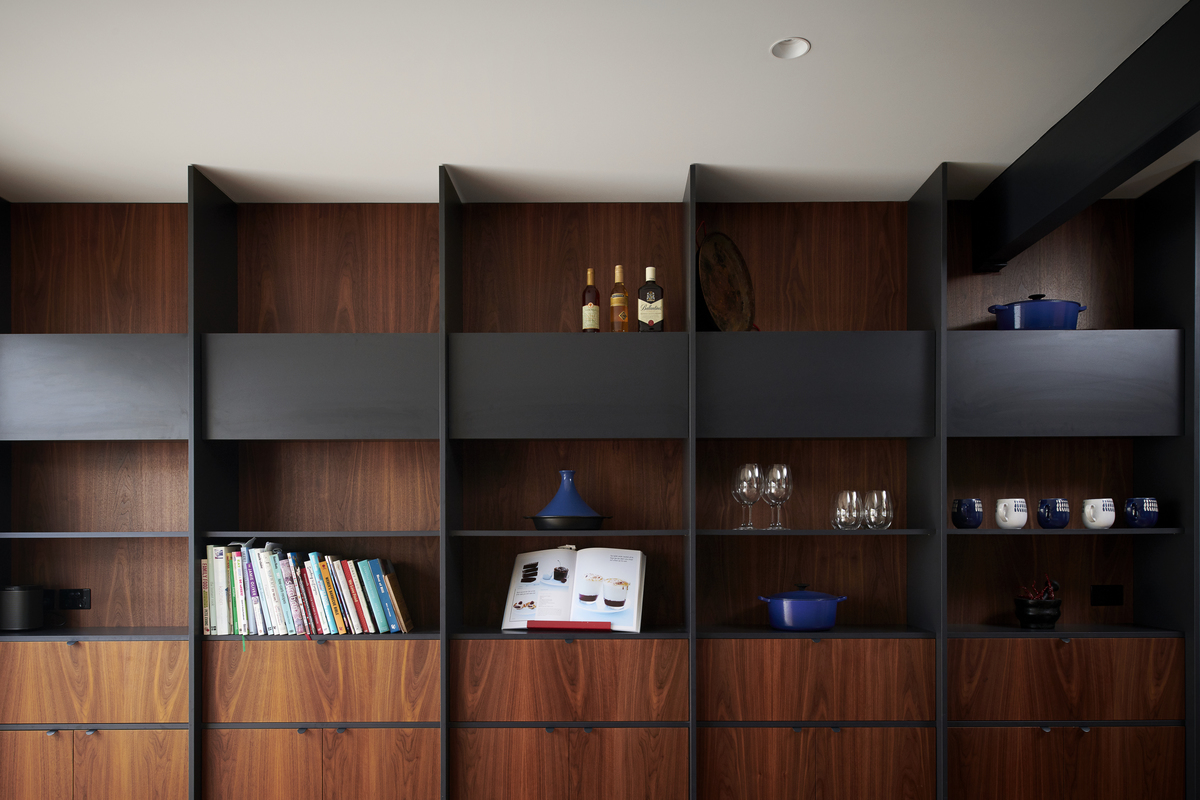 Though meeting the demands of the children were a priority, the parents still had their own requirements. Being enthusiastic cooks, an abundance of clear bench space was required as was pantry, appliance and utensil space.
Having assembled an extensive collection of wine and spirits over the years, the design needed to incorporate not only concealed storage but shelving for glassware and an element to stock frequently used liquor that could be easily accessed.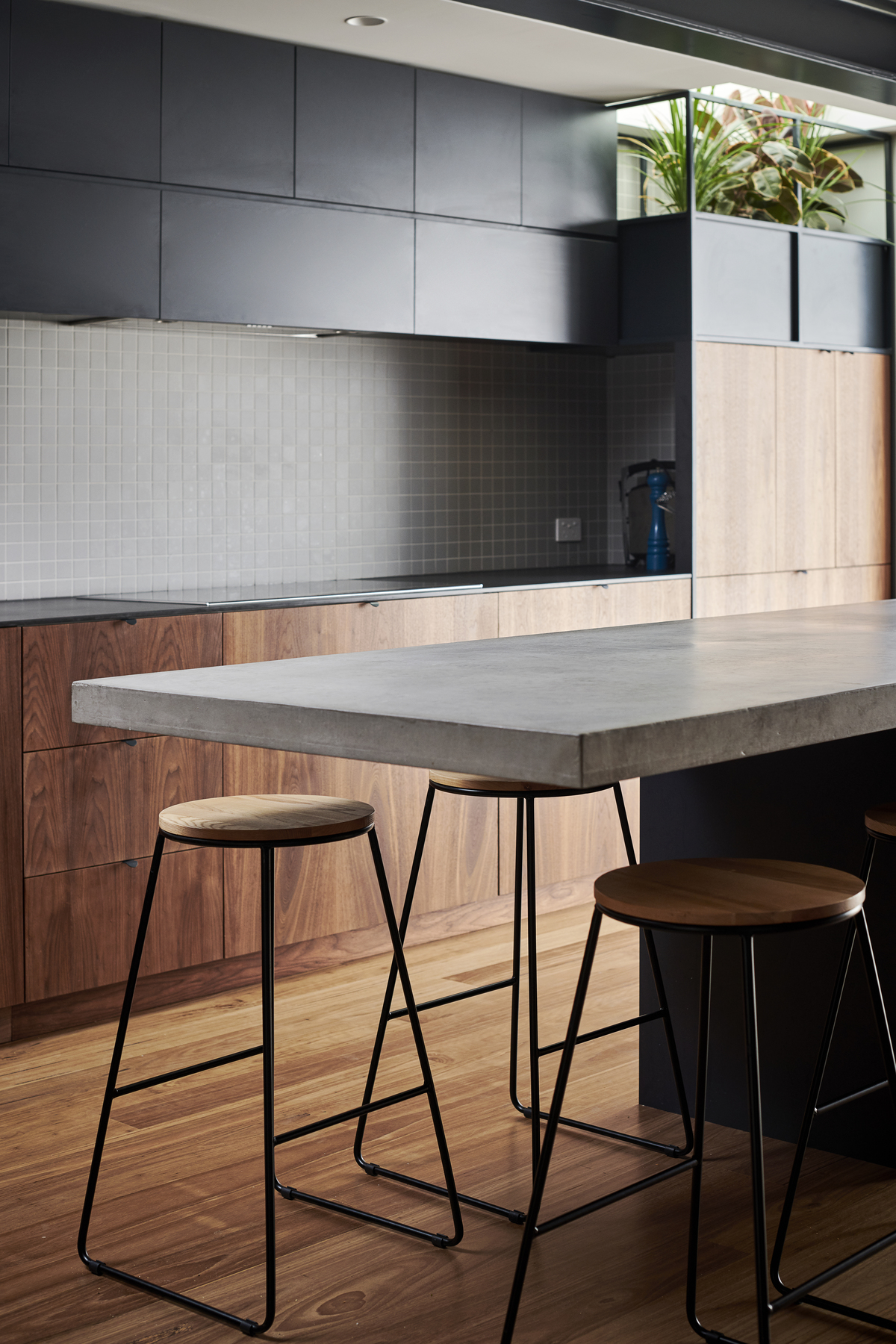 "Aesthetically, no specific direction was given other than it reflected the robust, durable and highly workmanlike solutions that were explored to meet the above brief," adds Geyfer.
Upon extending the rear space, substantial steel beams and channels were implemented to support the floors above. These elements then became a design concept with a number of custom elements fabricated from steel including a drinks bar, indoor planter and storage nook under the island bench.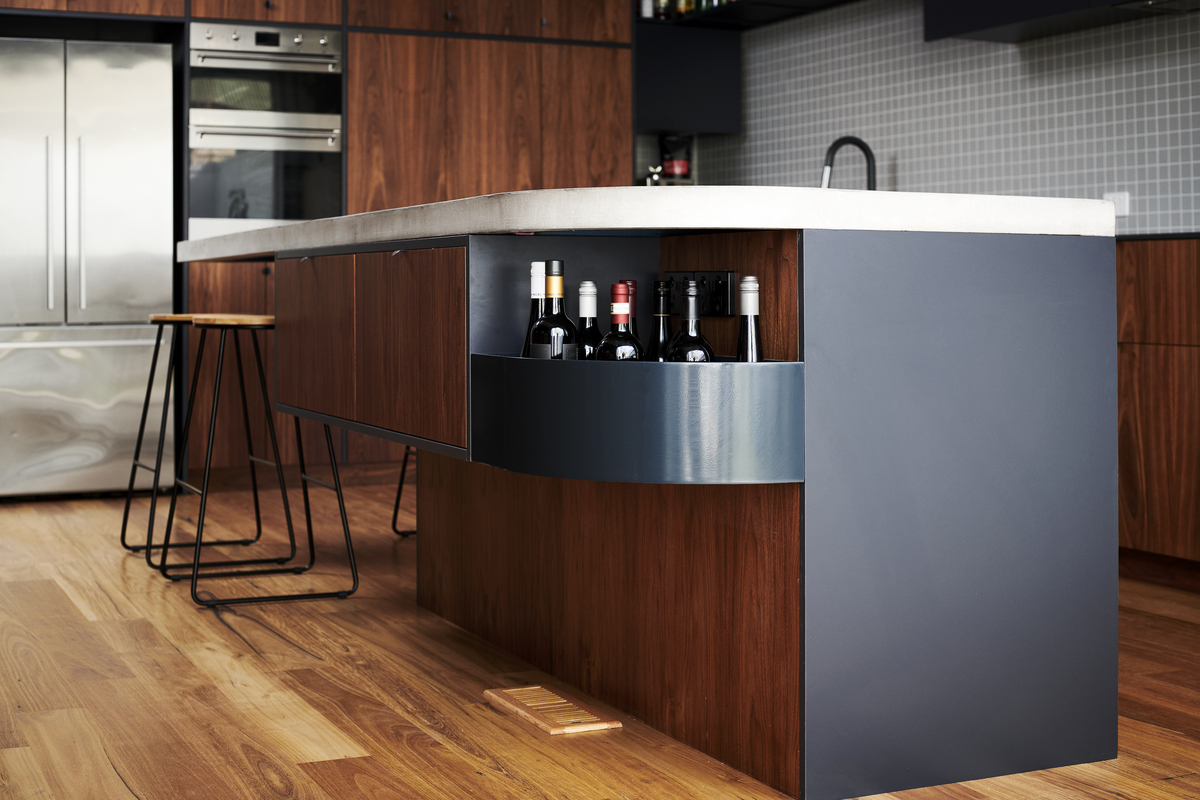 Clean, long benches provide ample work space for food preparation and the concrete island bench can seat five people. Designated nooks at each end of the porcelain bench conceals larger appliances, such as the coffee machine, without negating its use.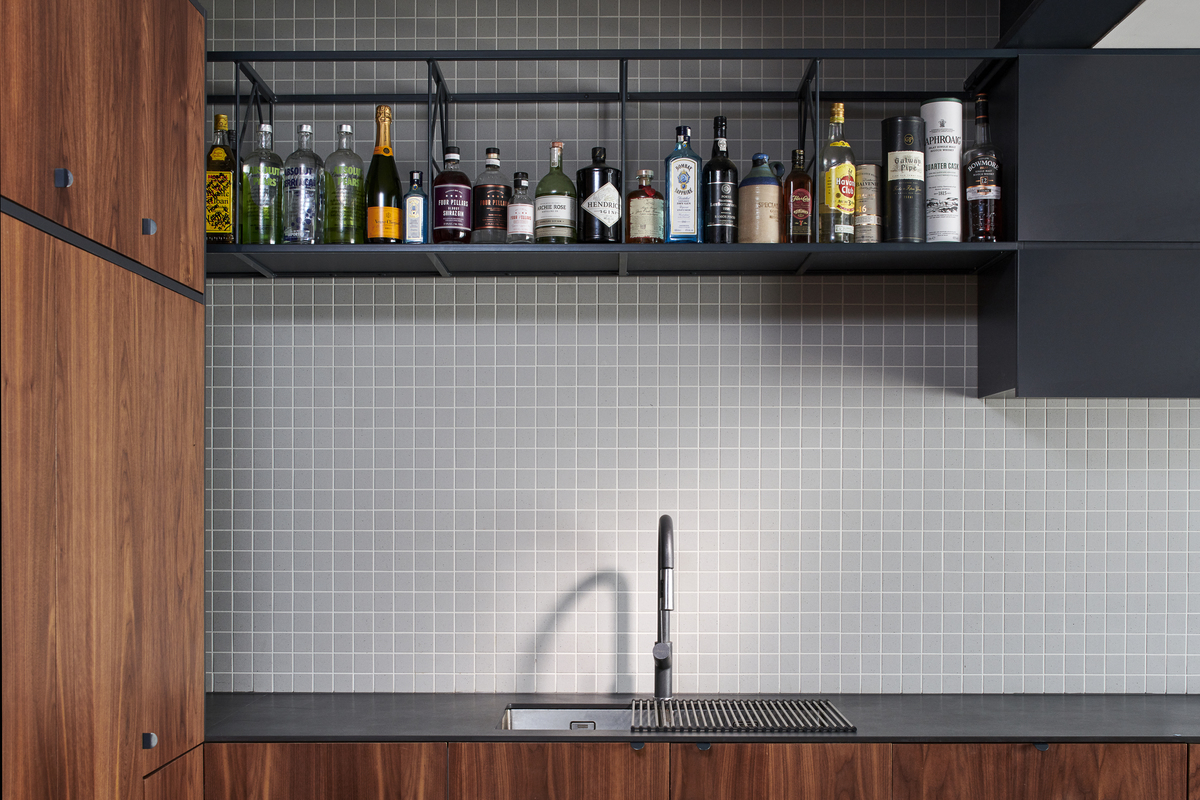 Photography by Dean Bradley