Global design studio GroupGSA has reimagined the future of workplace technology for more than 1400 Microsoft employees in North Sydney.
Microsoft head of real estate and facilities in Asia Pacific Ashish Mehrotra explains: "COVID-19 has taught businesses distance is no longer a barrier to connectivity, engagement and productivity. Nor is it a barrier to having a thriving family company culture.
"This is clearly shown in the design of the new space, where remote and in-person workers are on equal footing."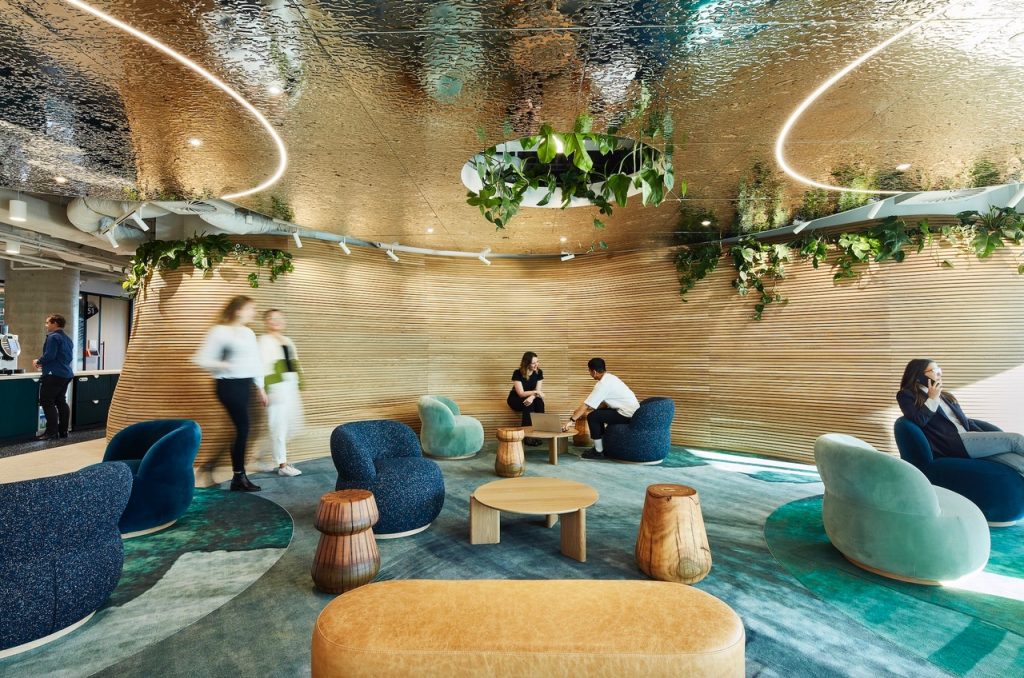 The new headquarters retraces some of Australia's most iconic landscapes as employees "traverse on a journey" to discover their desk and meeting spaces.
GroupGSA associate director and lead designer Jessica Margoitta says the references are conceptually linked with Microsoft's brand values.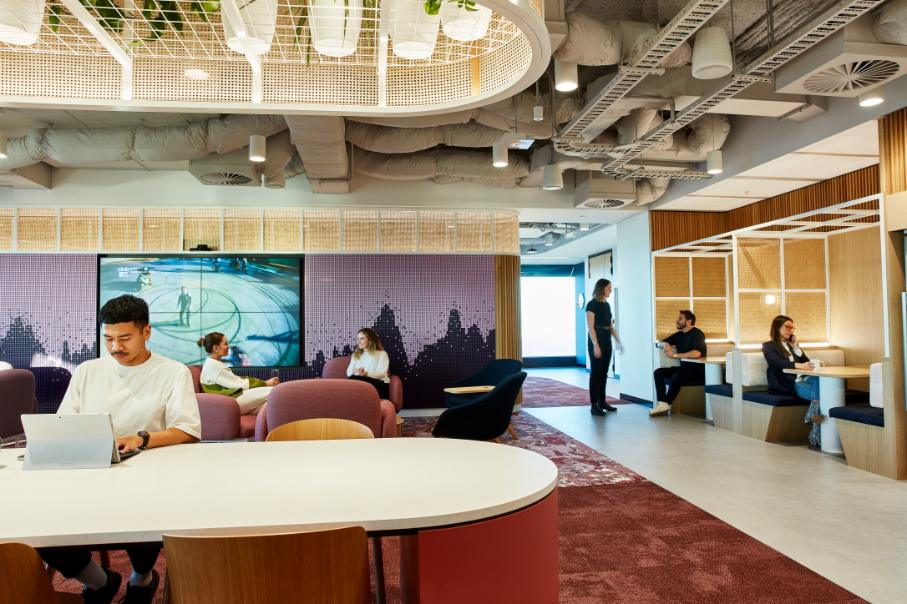 "As people walk in, we want them to be fully immersed in the brand and in the environment.
"There is a pleasant surprise every time you turn a corner. Microsoft staff will have a constant sense of discovery and will continue to uncover small details that add a layer of storytelling over the course of their working experience," adds Margoitta.
The biophilic design calls back a connection to nature while simultaneously integrating savvy technology in expert design storytelling.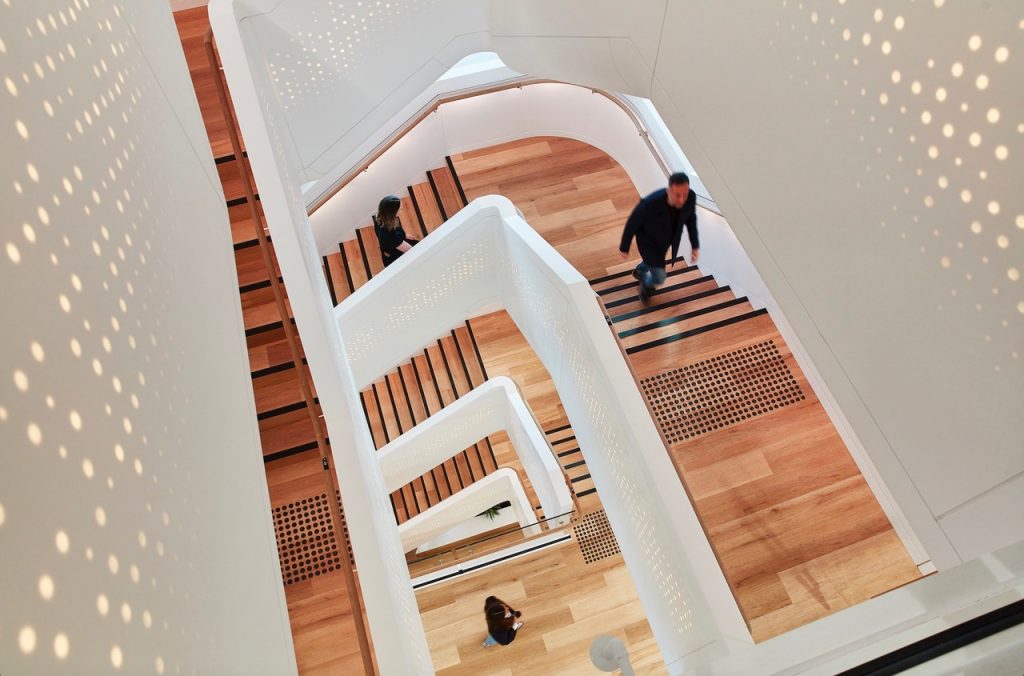 Microsoft's hybrid office experience features intelligent lighting, robotics and advanced workplace occupancy sensors linked to Microsoft platforms.
Structurally, the space is home to a monolithic Corian-clad staircase with built-in LED cantilevers to unite the seven floors.
To add some fun to functionality, the staircase has reactive and responsive LED lighting that can be programmed to change colour for themed events.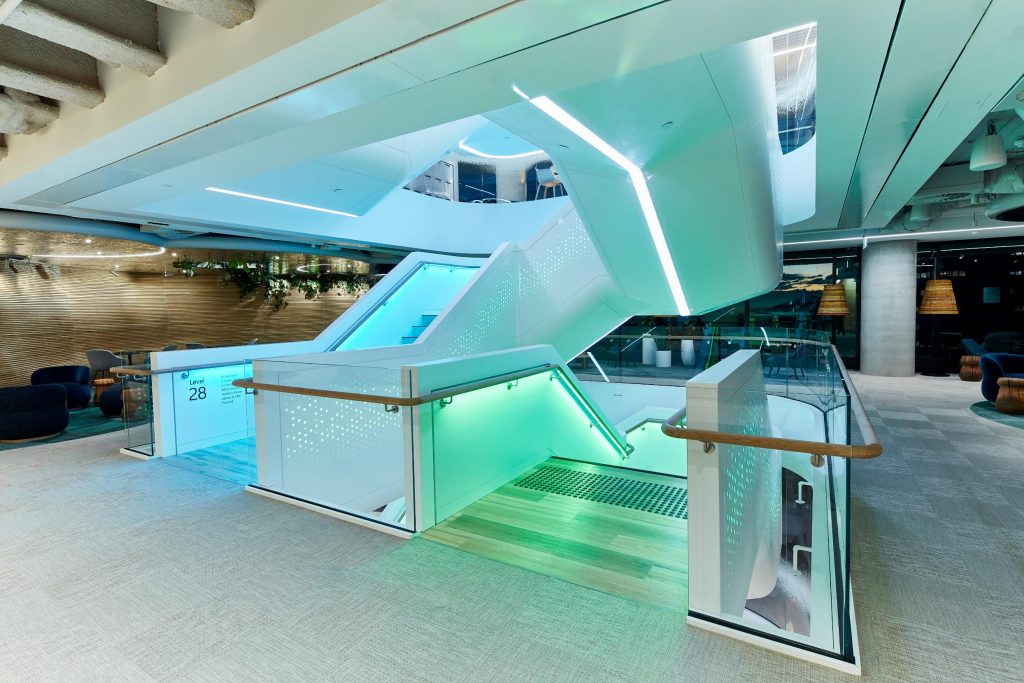 "The lighting can intensify if there are lots of people on the floor. It has the ability to react to the weather and reflect what's happening in the environment outside," says Margoitta.
"We know that employees still want and need a physial space to come together and connect.
"An open space, concierge on arrival, communal dining area, an onsite barista and grab-and-go food options prompt people to meet, eat, collaborate and socialise."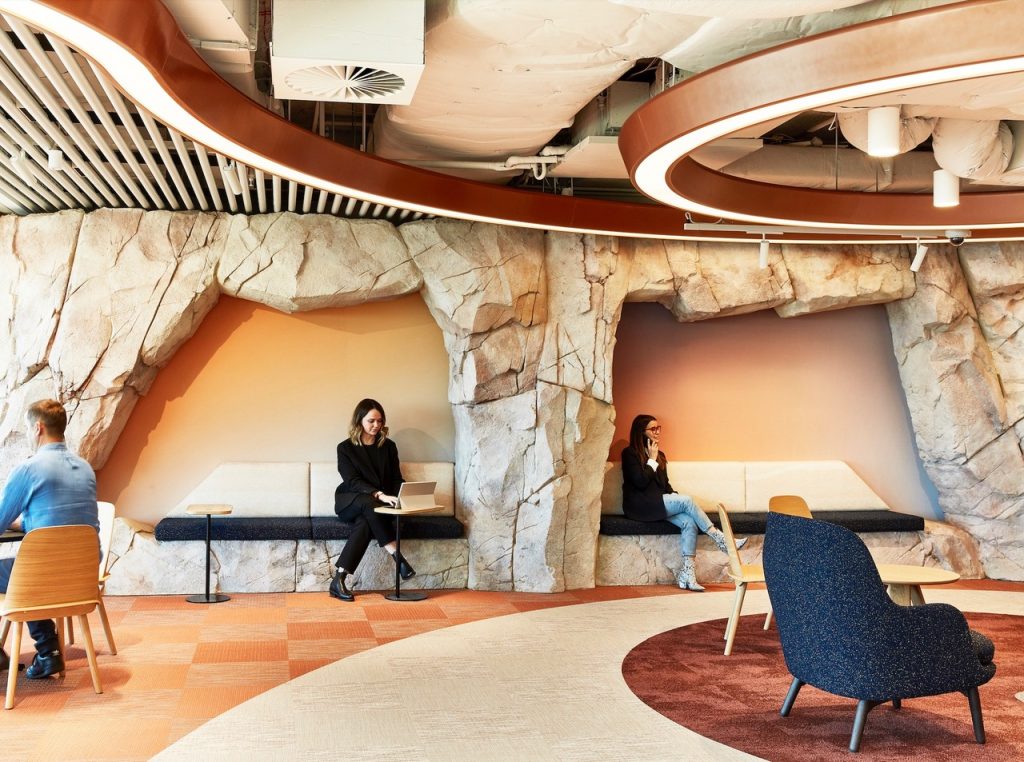 Each of the floors has different work areas to suit employees' diverse needs from quiet solo work to team collaboration, with some floors having elevated views of Sydney Harbour.
Margoitta says tech companies like Microsoft "need their talent to be constantly stimulated, future-focused and pushing boundaries" – all of which factored into GroupGSA's design.
"Microsoft's new flagship office in Australia changes the perspective on what a workspace is and how it functions."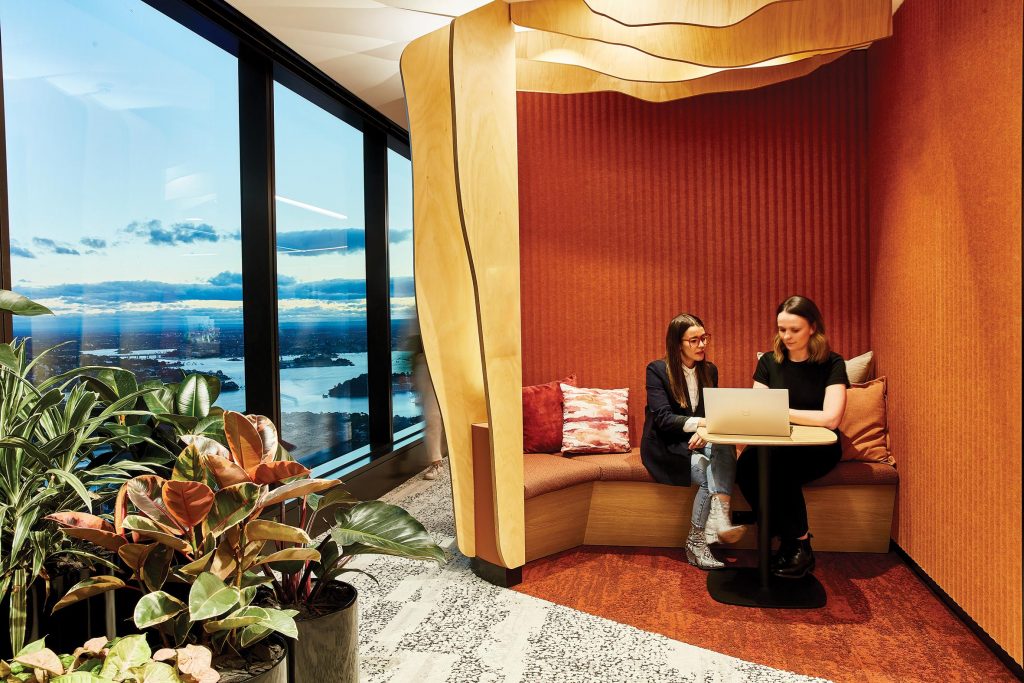 GroupGSA is a multi-disciplinary design practice offering architecture, interior design, landscape architecture and urban design services. With five office in Australia and Asia, Group GSA is able to deliver projects with the benefit of local knowledge and people on the ground.
Photography: Steve Brown.
Also happening in Sydney this month is the Sydney Design Week, which went digital this year due to recent COVID-19 restrictions. The online event featured exhibits, discussions and research and architectural tours.