With weighted roots in Greek culture evoking a seamless journey, this Brisbane alteration and addition from Alcorn Middleton is an ode to the outdoor lifestyle on both sides of the Hemisphere.
A lighthouse, in its simplest function, calls you home. Alcorn Middleton's Toowong Lighthouse is therefore aptly named: it is centred on concepts and materials of the home.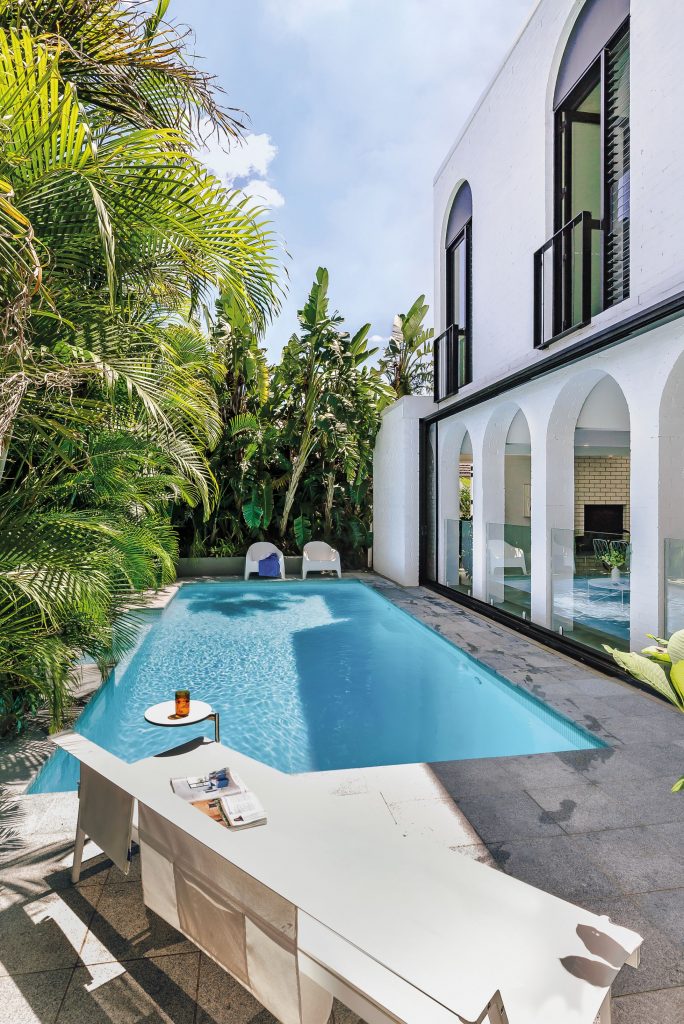 The Grecian-inspired build draws from home ties to the Cyclades and is sensitively designed for the existing residential footprint and climate of its Brisbane locale.
An extension for a growing family of five, the 'lighthouse' peers out behind the family's existing 1930s Californian bungalow. High-set windows atop a double-height void draw sunlight into the living and family area. At night, these supersized windows glow like a beacon.
Toowong Lighthouse uniquely orchestrates sculptural forms of Aegean architecture with the modernist foundations of the existing home. The fresh, predominately whitewashed form is embellished with a pop art sensibility, on show through the periscope-style chimney and multicolour kids' quarters.
Joel Alcorn and Chloe Middleton, of design studio Alcorn Middleton, describe the adventure of this build as both a homage to the existing structure and a reimagining of contemporary family living.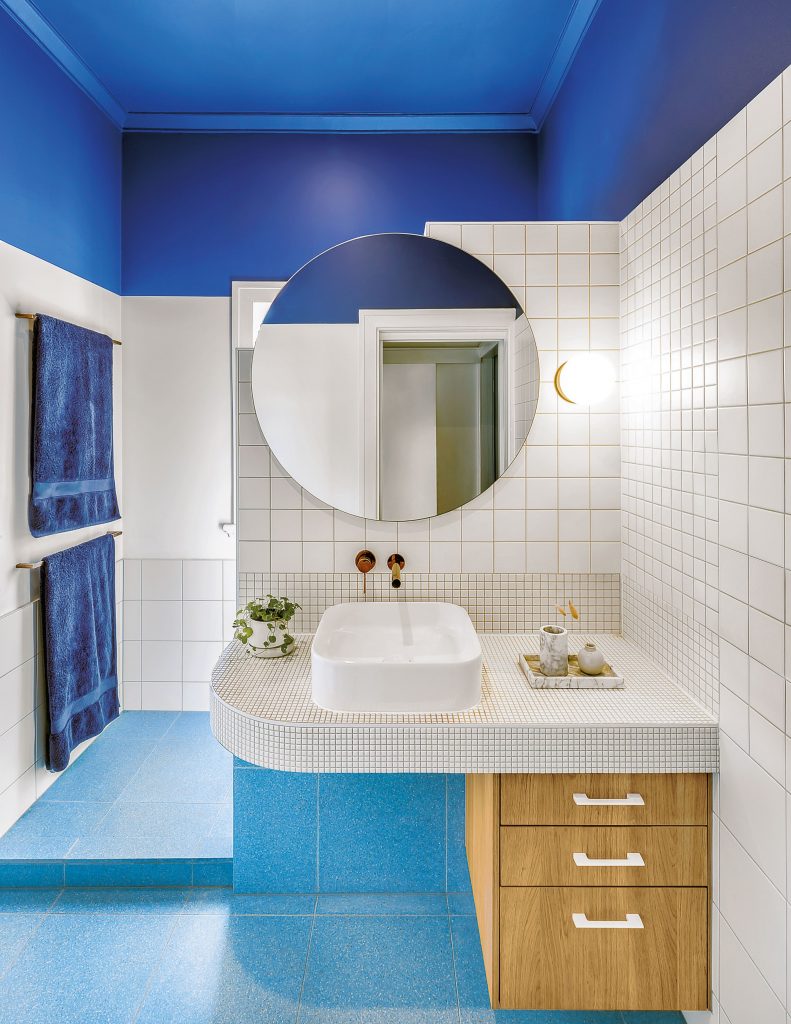 "We wanted to create something new and contemporary that bent with the existing house," Alcorn explains. This involved attention to detail at the level of tiling and brickwork, with bricks positioned with their rough side exposed, to remain cohesive with the stucco façade of the existing bungalow.
"With those imperfections in the brick and mortar, you get a lot of play with shadow and texture. It is subtle, but enough to give you a textural quality from afar," Alcorn says.
Championing the use of brick allowed Alcorn Middleton to effortlessly play with curved forms, such as arches for the main living and dining areas. White and sculptural with touches of colour, the new build includes a masterful feature ceiling, with rolling arches mirroring the external trim of the building.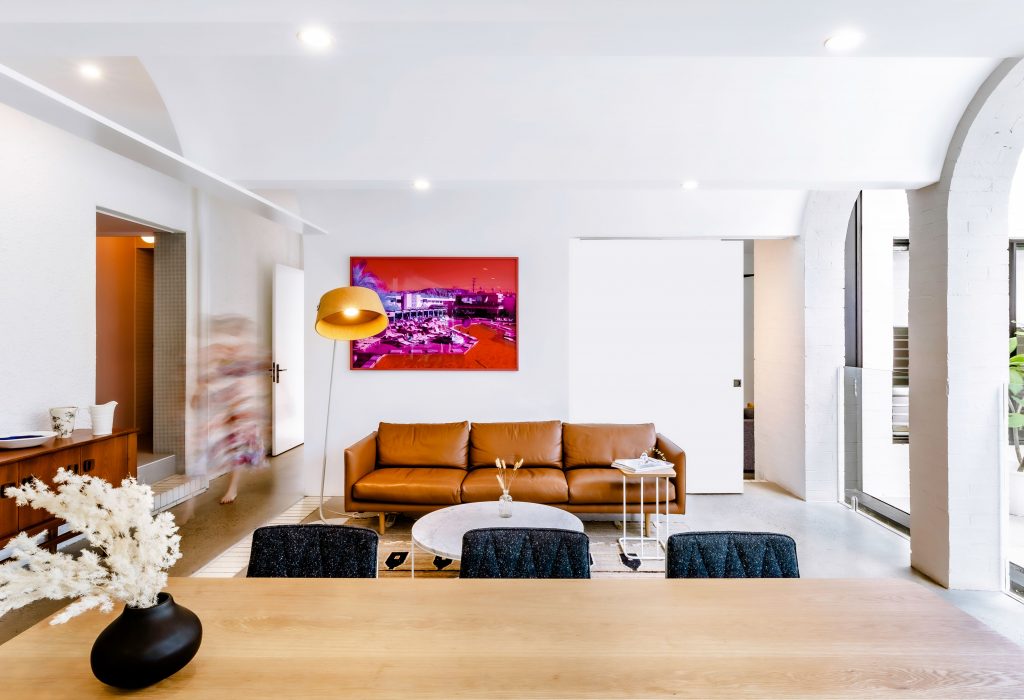 Built by RM Housing Group, the project involved a new extension and modifications to the original home, where rooms were combined to enhance the master bedroom space.
The kitchen remained in its original position but is now enhanced by a curved custom banquette in Santorini blue.
Textured surfaces are a motif of the build, with cement-rendered brick columns creating a colonnade around the dining and living area, framing sparkling views of the pool.
The second-floor view extends over the pool and across a sloped green horizon, punctuated by terracotta rooftops. You could be forgiven for imagining a Mediterranean coast just beyond the ridges of Mount Coot-tha and the Brisbane Botanic Gardens.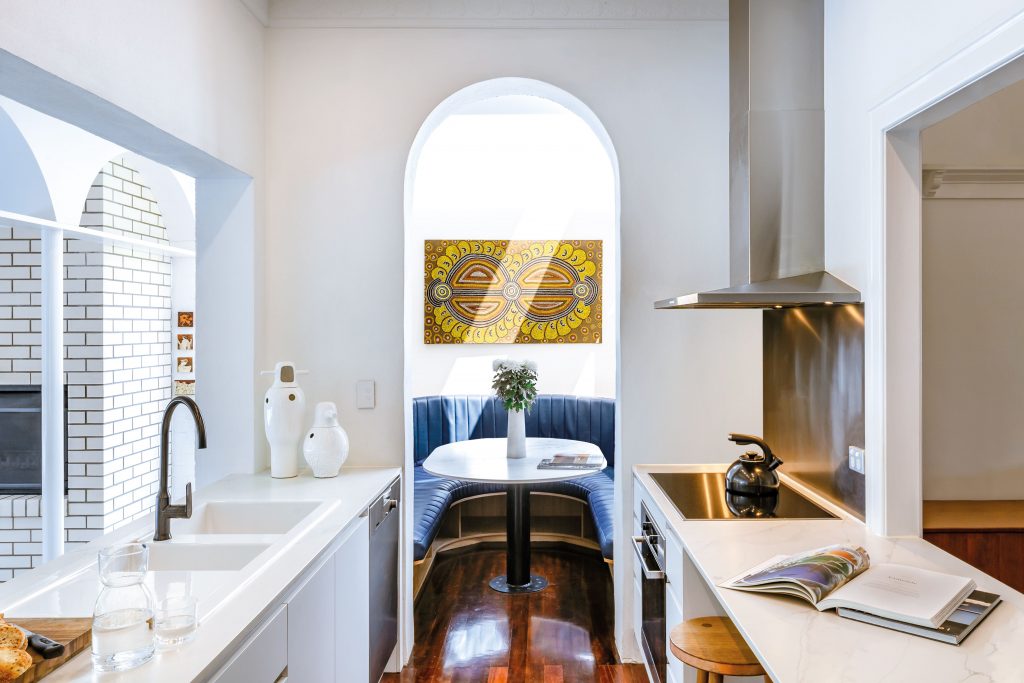 The roofline of the new building is hidden from street view, intentionally slanted to sit neatly behind the original house. This is what Middleton describes as 'polite architecture', designed to complement rather than overshadow the existing building.
"Polite architecture is not intended to be outlandish; we want to be sensitive," says Middleton.
It seems the duo abide by this ethos in form and practice. It was Alcorn Middleton's sensitivity to its clients' story that, as Middleton describes, 'ignited the fire' that inspired the project's design.
"The clients' father had recently died, and they were speaking a lot about their Greek lineage and culture," says Alcorn.
"This was early in the design stage," adds Middleton. "They spoke so passionately about Greece and their family home in Mykonos. That really lit a fire in our minds."
The designers drew inspiration from the family's stories of Greece, developing a home that is both a fresh start and a memory of loved ones.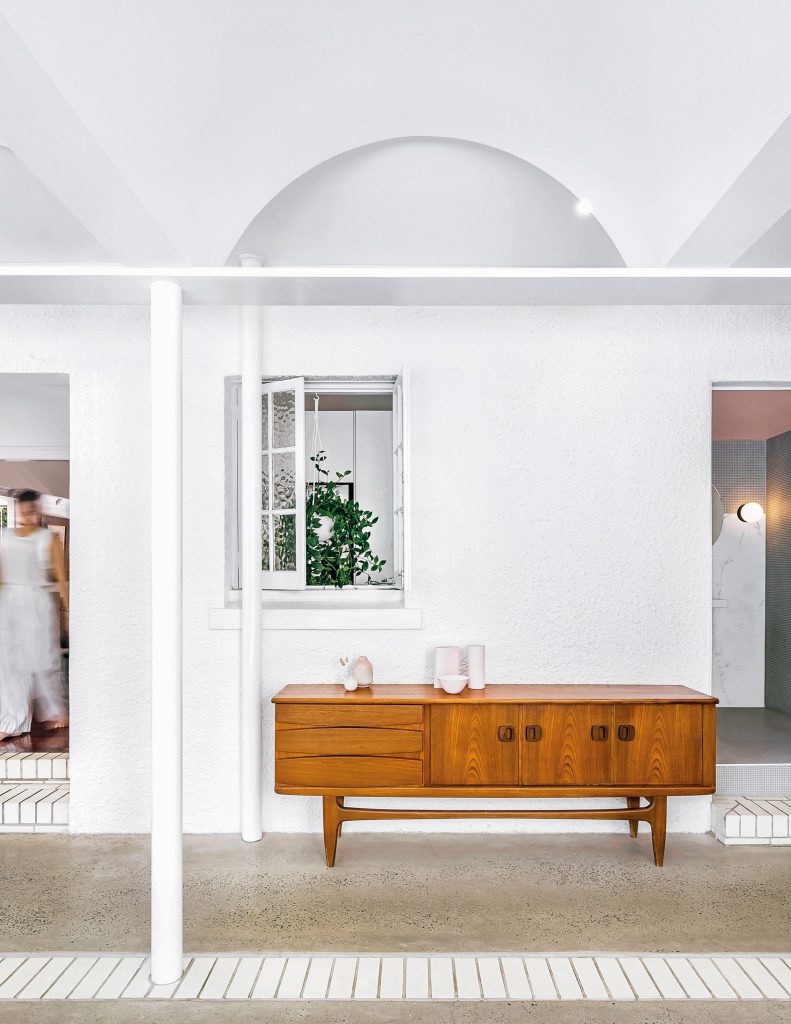 "It's the quirky and unexpected conversations we have with clients that really bring the personality or the uniqueness to a project for us," Middleton says.
The young family wanted the building to engender a sense of fun and joy. The children's bedrooms showcase bursts of blue, green and pink. Blue and white are again on show in the children's bathroom, where contrasting grids of tiling and colour play with false shadow and perspective.
"We wanted to make the shower recess feel enveloping. So that when you're in there having a shower or a bath, you're really just encased in colour," Alcorn says.
Both parents' and children's bathrooms employ a blue horizon line along the wall to give the illusion of an open sky. Alcorn and Middleton explain this is an intentional nod to the blue-tipped churches of the Greek Isles.
This playfulness with inside-outside has produced a home with lofty, light-filled and breezy spaces, perfect for the indoor-outdoor living common to the Mediterranean and Australia's subtropical north.
The living area, seamless against the pool, can be enclosed with three-metre-high retractable glass doors, entirely hidden when not in use. Alcorn explains this hide-and-reveal element is something of a pillar of their practice.
"We love this game of mystery. We love the intrigue," he says. "We always put ourselves in the position of someone entering the house for the first time. We want that fun element. We want them to ask, 'What is going on with this house?'," he adds.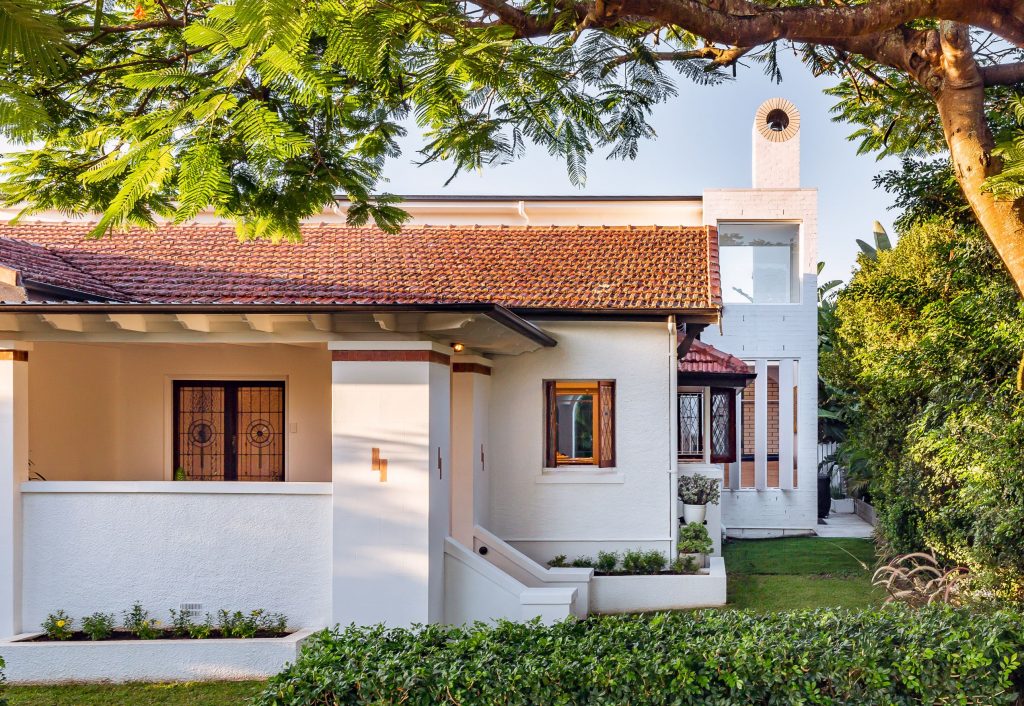 It's a mix they achieve through their complementing styles.
"Chloe softens the Brutalist in me," jokes Alcorn. "She brings the element of fun."
"We work hand in glove," Middleton adds. "We complement and balance each other."
Alcorn describes their working relationship as an unspoken language – he, the conceptual extrovert, often tempered by Middleton, an introvert with a sharp eye for innovative design solutions.
The design studio's conceptual and technical creativity has been on show throughout Middleton and Alcorn's history of working together. Their 2015 project Nundah House, their first as a business together, subverted the typical Queenslander with a cantilevered form and won the attention of critics.
Alcorn suggests the duo's focus on story allows them to innovate and create strong and future-proof designs.
"There's a story behind all our concepts I think that story allows you to create something truly powerful," Alcorn says. "We go through a series of stages in the design process and at the ending, it's like a jigsaw puzzle – it all comes together."
The story of Toowong Lighthouse is one of adventure, joy and the passage of life – the building is made to live, breathe and grow with its inhabitants.
Photography by Jad Sylla.
This article originally appeared in inside magazine, which is on newsstands and available online now!