Text: Sarah Hurst
Images: Various views of Stephen Bram's installation for the Melbourne Now exhibition at the National Gallery of Victoria; all images courtesy of Sarah Hurst
My final year design project was, essentially, an art gallery. Its program included various support services such as workshops, ateliers and 'artist in residence' accommodation, but, for the most part, it was a gallery. As an ambitious student with a fertile imagination, still untamed by construction information and industry knowledge, my Utopian vision was to create a gallery space that was inherently expressive, in the way that modern art is often dramatic and uninhibited.
Exploring the varying ways architectural elements could themselves become sculptural forms, I wanted to communicate an aesthetic and functionality that would be sensitive and nurturing to changeable artistic mediums, while exploring lines of ingenuity and intrigue. My hedonistic design philosophy, however, was met with scepticism when, in an early design critique, a lecturer made the point that architecture could never be as expressive as art, implying my journey was a useless cause that was worthy of abandonment.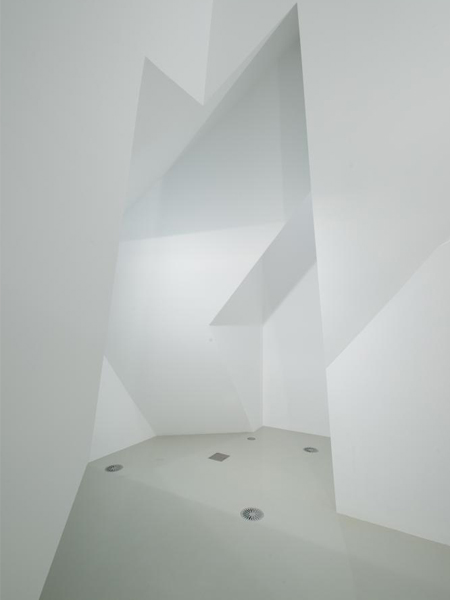 No, I don't think I'm being dramatic. These words really struck a chord. And some five years on, Stephen Bram's installation for the Melbourne Now exhibition has resurfaced my internal dialogue about the parallels that exist between art and architecture, and has led me to rethink the physical and emotive effects, if any, that architecture, as art, can have on the viewer.
Bram is experienced in the art of installations. His latest work at the National Gallery of Victoria (NGV) joins an already impressive list of large-scale installations for the Melbourne-born artist. At the same time, it is a relatively new medium for Bram, who in his early career worked more extensively in canvas-based formats. His latest installation covers complex design strategies and, although perhaps not immediately evident, attempts to encourage the viewer to "imagine other spatial possibilities beyond the existing built form [of the NGV]" (as he wrote at NGV online).
Bram's sculpture is vast, and fills its space in the gallery almost to the point of obesity. Its presence at first appears haphazardly in its setting – an anomaly in the larger gallery, a mishap in the space. It is chaotic, and strangely reminiscent of Frank Gehry's 'Gehry House' – its exposed frame comprising myriad timber fragments. The untreated tangle of timber studs scattered within the orthogonal lines of its steel frame are a celebrated structure in their own right, but are in stark contrast to the painstaking plains within. While the outer shell is honest, the two skins form a contradictory relationship, and the comparison between the chaotic exterior and minimalist interior is intriguing.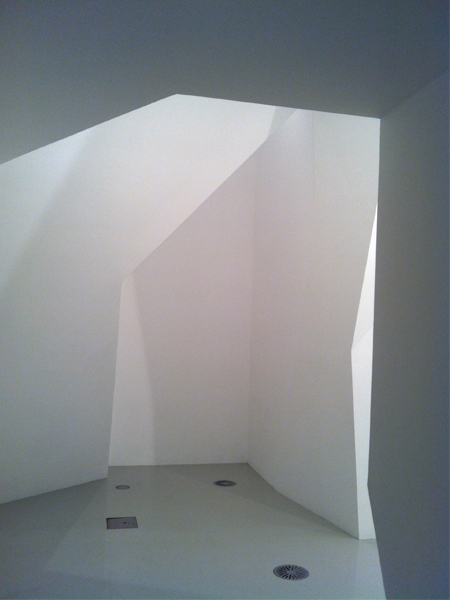 Inside, although small and with undeniably impressive craftsmanship, there is a feeling of unease. As I stand in the centre, taking in the white painted cladding, folding in all directions, I feel completely exposed. The space closes in to frame the gallery ceiling and I'm fixed, imagining the sky funnelling through, all the while conscious of others who may be entering the space behind me. The low-height corner nooks provide a cowering alcove that offers sanctuary and a place to stand back and observe both entry points, creating a sense of security. Other visitors also choose this vantage point to take in the cavernous void, confirming my own feelings of restlessness.
In contrast, there are those who appear to relish this stark environment, the bright lights mounted high above casting shadows on the plains that the beams don't reach. Viewers linger, and bring with them their 'create your own jewellery' projects (an attraction also part of the larger Melbourne Now exhibition), using the space as a secluded workshop. The effect this space has on those occupying it becomes evident through the way each individual inhabits it. It's clear there are imperceptible means of effecting individual reactions within a few square metres of space.
However, merely observing the physical responses of those both passing through and lingering in the space (all the while being engrossed in the surfaces that envelop them), could be seen as a complicated analysis of an otherwise simple occurrence. This then raises the question: is there a place for this style of architecture in our everyday buildings – the sculptural and provocative, the striking and inspiring, the 'architecture as art'?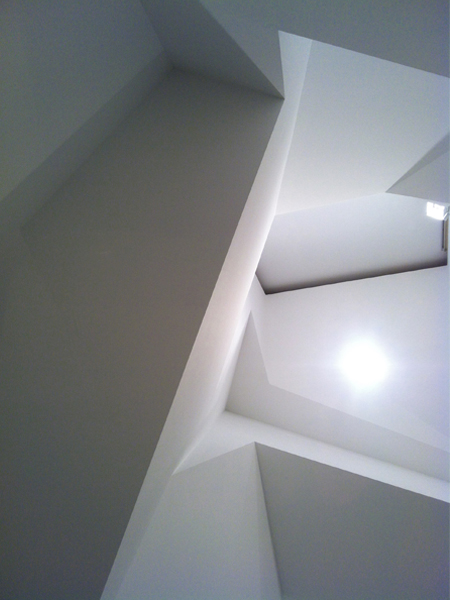 Modern art is largely built on interpretations and artistic expression, and our attempts to label and define it can sometimes fall short or otherwise distort the artist's intended meaning. Stephen Bram's installation is nothing short of a well-considered, crafted and executed example of sculpture, art or architecture; it really is indefinable.
Regardless of its label, it speaks volumes about the varying ways architecture can be presented and received beyond traditional methods. Exploration of light, views, materiality, journey, scale and proportion are key elements of successful architecture, and all play a vital role in the ability to express and evoke an idea, narrative or emotive response. All of which also feature harmoniously in Bram's installation.
But is it art, or is it architecture? A definitive answer to this question is neither clear, nor important. That the question can be debated is of greater significance.
I think there is a place for architecture that celebrates creative expression to a point where the distinction between art and architecture is blurred. No, its offering won't be presented in the same ways that art might be, but its effect deserves to at least be explored.