Dan Phillips freely describes the houses he designs and builds as whimsical.
There's the sign house where one wall of the building is panelled using repurposed highway signs, the cork house, which leans heavily on the reuse of discarded corks and the Budweiser House – well, not literally designed to look like a beer can, but evoking the brand's iconic colour scheme and putting such materials as bottle caps and an old beer tap to use in the bathroom.
Where the community sees junk, Phillips sees opportunity. From his home in Texas, Phillips and his wife Marsha founded the Phoenix Commotion – a venture created so he could build homes from recycled, salvaged and repurposed materials. Since 1997, this self-taught designer and builder has concentrated on constructing houses aimed at low- income families. No two buildings are the same and they are inspired by the extraordinary variance in materials Phillips sources for his projects.
But this is not a charity; while Phoenix Commotion sources much of its material from donated or free sources and uses apprentice labour with the aim to ensure the houses are affordable, the company is a 'for profit' entity.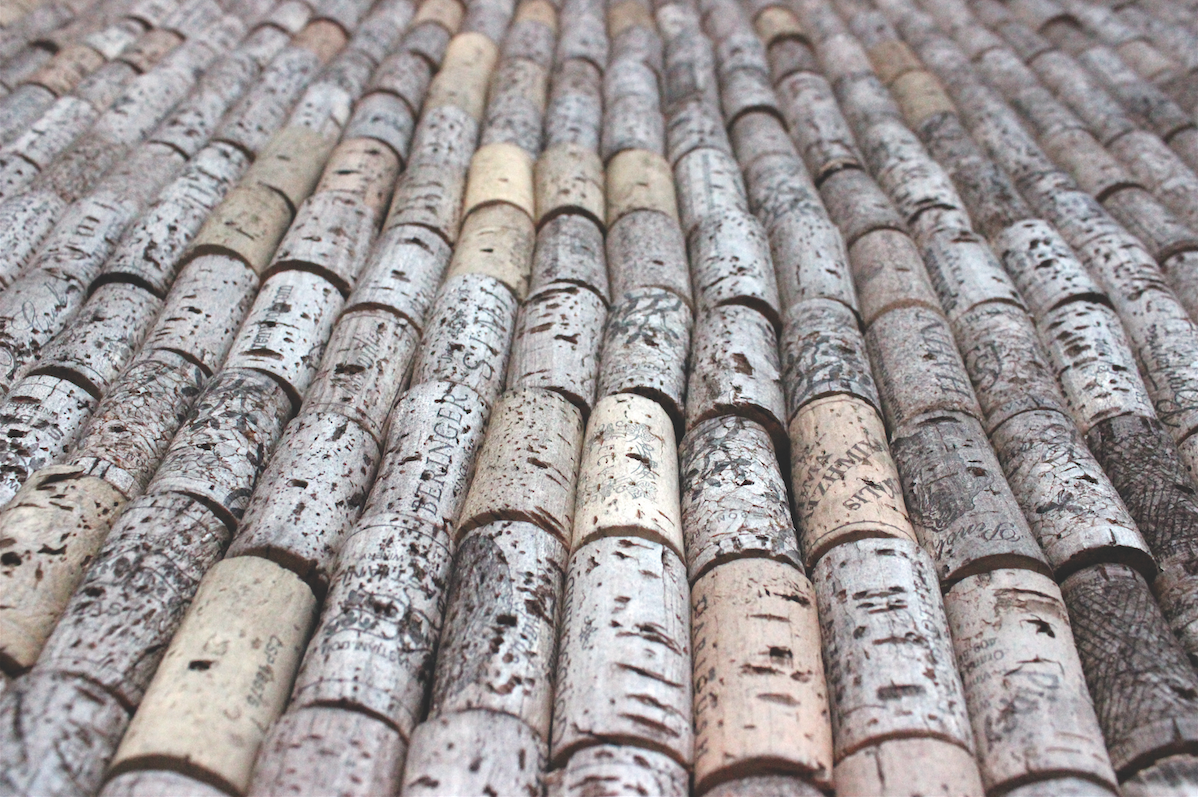 Phillips looks to empower his clients – all of whom must be involved with the planning or construction of their home. But there is another message, to make a point about the specification of virgin materials endemic in the building industry.
"Perhaps I'm regarded as a maverick in the architectural community, but I have bumped into countless architects who envy the freedom that I have," he says. "They're designing cookie-cutter houses, strip malls and apartment complexes – miles away from what they thought architecture would be.
"We need architects. But unless an architect is given absolute freedom of design and budget, they lead a pretty bleak life. I get to do whatever I want, subject to code-compliance."
Phillips says waste in the building industry segues from a lack of understanding about the value of recycled and repurposed materials. "There is an American neurosis that 'used' is somehow 'icky'. When you stay at a five-star hotel you don't sleep on brand new sheets. Well, we can launder building materials as well. It is a cultural mindset – irrational as it may be – and very powerful."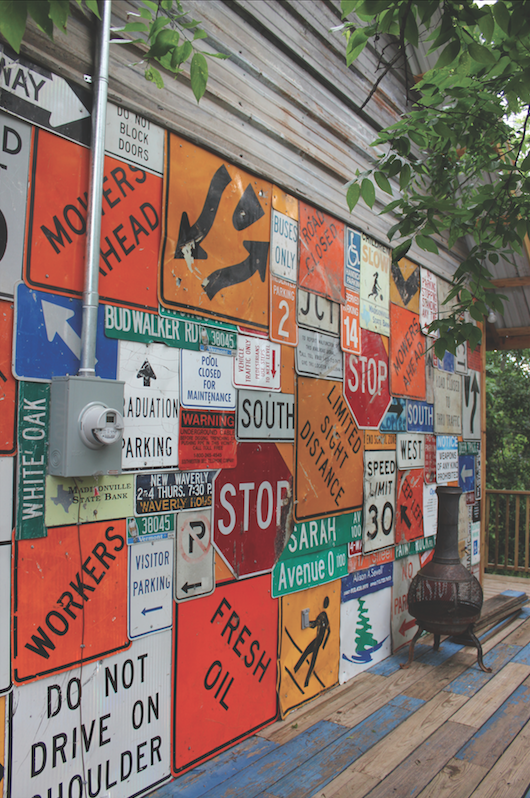 He points to 'Apollonian' thinking, which he says is epitomised in the building industry through standardisation. "Builders routinely order 10 percent extra materials to account for mistakes, mismatches and culls.
But there's no infrastructure to receive useable but unwanted building materials. No contractor's garage is big enough to store materials that should not be thrown away.
"I had always suspected that an entire house could be built out of what goes into landfill. And, as it turns out, it's true. Around 10 to 40 percent of the average waste stream contains usable building materials. It seems a bit piggy to be throwing away these materials when there are families who would do anything to own a house."
The need for repetition, for order, for symmetry is deeply rooted in the human psyche, Phillips believes. "Which is heavier? Ding or dong? Dark brown or powder blue? Space in the attic or space in the cellar? Our sense of gravity informs sound, colour and space. When we want a retreat we don't look for the 40th storey of a high-rise; we head for the woods because we want to feel nature and organic process.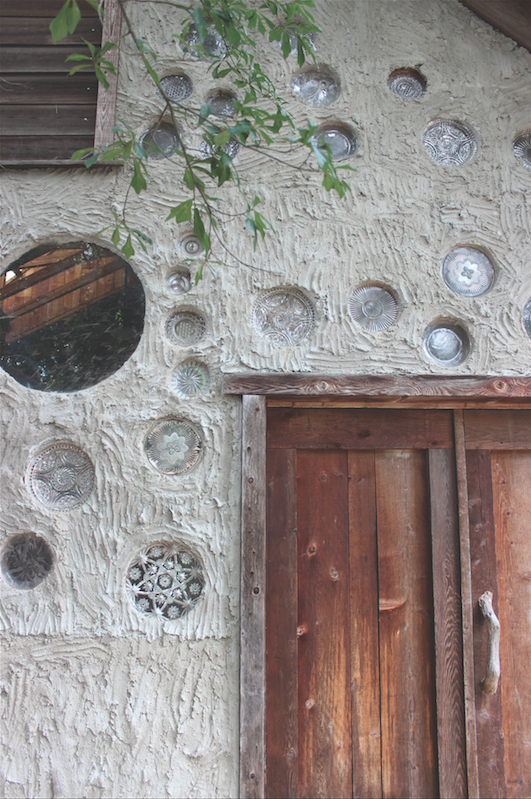 "The great thing about building with recycled materials is that it too is an organic process; design grows out of the materials, subject to the principles of art and design.
"My agenda is to build with recycled materials, using unskilled labour and targeting underserved populations and I've proven that you can do this and make a reasonable living. If I was a non-profit organisation people would say I'm doing this with bucket loads of grant money, but I'm subject to the same conditions as any other builder.
"On the upside, 75 to 85 percent of my materials are free. I just lean over by the side of the road and pick them up. I use bottle caps, for example; more steel goes into them each year in the US than into autos. From that I can make a dandy floor, a wall covering, a ceiling. I use broken tiles. Just walk through the streets of Pompeii and there are tile shard mosaics everywhere that are magnificent.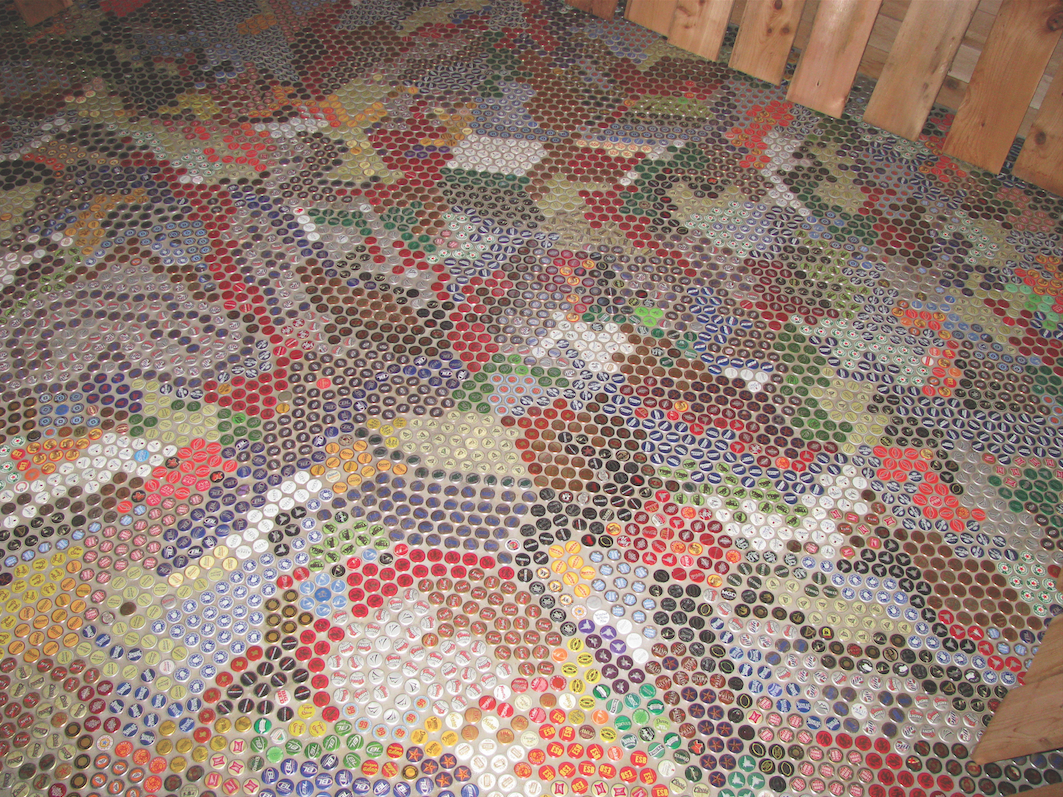 "All materials are raw materials. Flaws and imperfections often enough are opportunity for wonderful design. The Apollonian mindset follows market- driven strategies. That's why all our houses look pretty much the same – geometrical, predicated on the four by eight tyranny, and following the dictates of marketed design.
"Perfection is driven by the marketplace, because that is what machines do – they create perfect and repeatable materials. Advertisers and marketers seduce us into thinking that is the new and modern way.
"As it turns out, these marketed designs have more to do with manufacturing expediency than human preference. There is a conspicuous absence of organic shape and texture, because machines can't do that, only people.
"Let's face it. The marketplace makes it easy and cheap to use standardised materials. That's what the marketplace does – increase the bottom line. And that's what architects do – keep the client happy with virtual, walk-through designs.
"Few clients will trust a stranger – architect as he might be – to make design decisions. The client wants to be the director, and that's when architects salute and say, 'yes, sir'. The design/ build model I follow allows for creative adventure, serendipity and the use of unplanned materials.
"Continuing to specify virgin materials is absolutely unsustainable. We are denuding the planet. But architects don't have an option because their clients are demanding that. We must change the mindset of the culture before we will become sustainable."
Written by Michelle Dunner. 
This article originally appeared in AR148. Get your subscription to AR magazine online or by calling 1800 804 160.