In Brisbane, Michelle Bailey visits the new workplace of Cardno designed by Cox Architecture and experiences community at its best.
The Brisbane interior design studio of multidisciplinary Australian practice, Cox Architecture has recently reinvented the workplace of infrastructure and environmental services company, Cardno.
The new Brisbane fitout explores notions of 'community', expressing these through a series of clever spatial strategies and playful graphic mediums. The design distils city planning concepts, introducing active streets, flourishing parklands, engaging neighbourhoods and a metaphorical town hall, bringing efficiency, transparency and personality to the three-floor tenancy.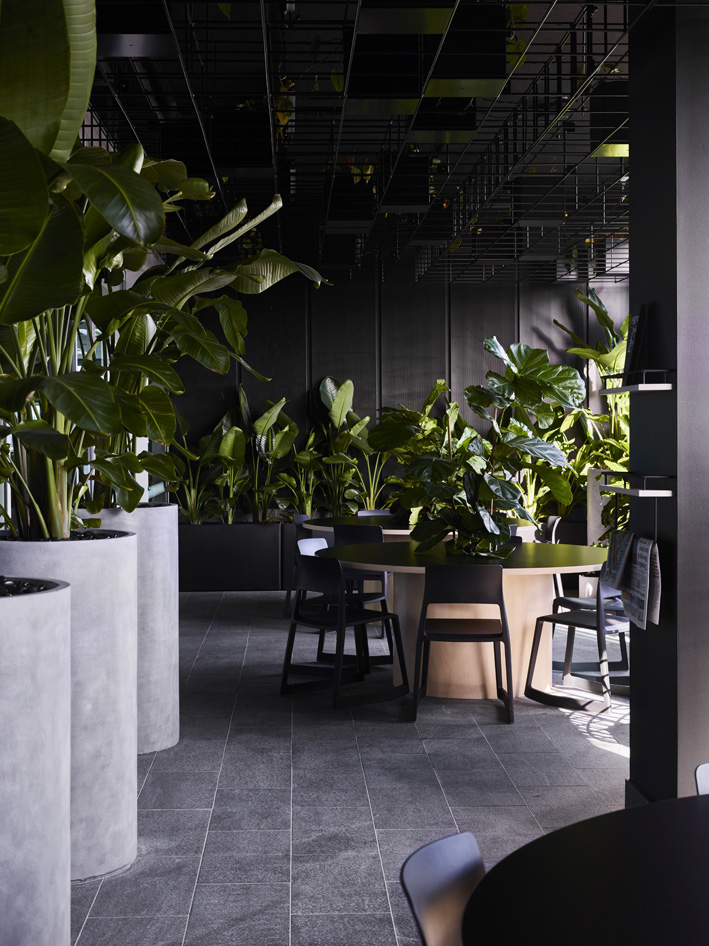 The Cardno project was an exercise in restructuring a complex organisation with the aim of bringing cohesion to a diverse and disparate workforce. At the time the design team was engaged Cardno was operating across 40 offices in a series of siloed business units with individual workstations prioritised to the detriment of collective space. Director of Cox Architecture, Brooke Lloyd sought out spatial efficiencies, shifting focus from personal to collective territorial opportunities.
Beyond this, Lloyd and her team found ways to facilitate a new modus operandi and define a visual identity befitting Cardno's extensive practice portfolio. "Cardno has a vast range of business units, but the thing that ties them together is they all contribute to building communities.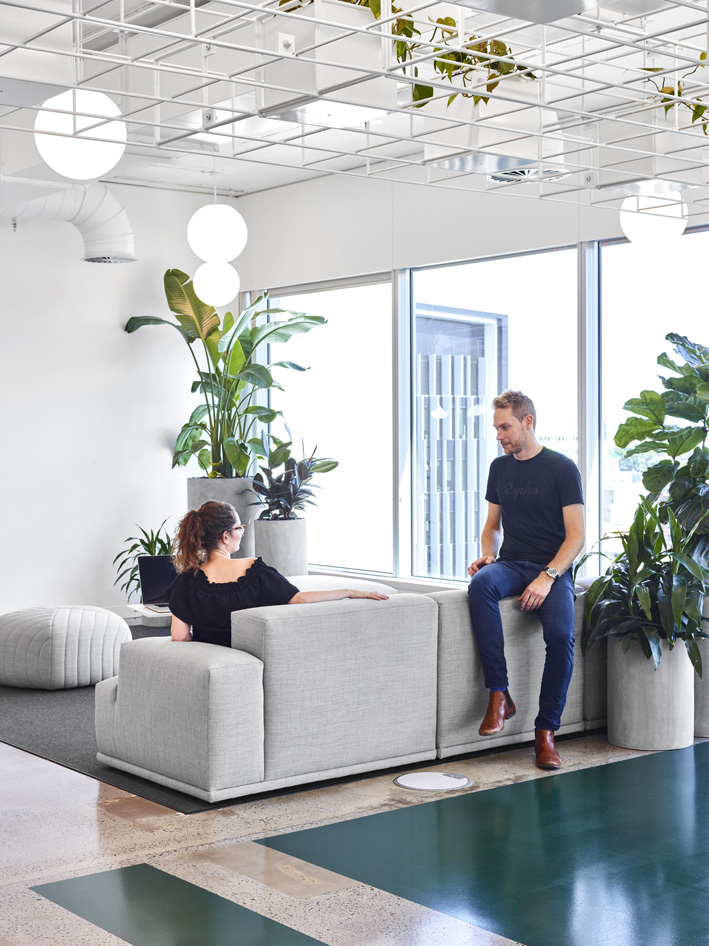 Whether it be at the micro scale of installing mechanical systems or a macro scale of an environmental or geotechnical study, they have this common purpose," Lloyd says. "We thought about what creates a humming and cohesive community, things like streets and parks and squares, and we used those elements to create more connectivity and encourage the natural cross pollination of ideas across all the diverse teams."
Neighbourhoods emerged within the miniaturised city of the Cardno floorplate, with a working wall acting as the 'picket fence' to encourage neighbourly interaction. High streets complete with zebra crossings and flourishing landscaped arbours became the means to connect opposing enclaves. A café was fashioned to provide the social heart of the practice and miniature parklands its breathing lungs.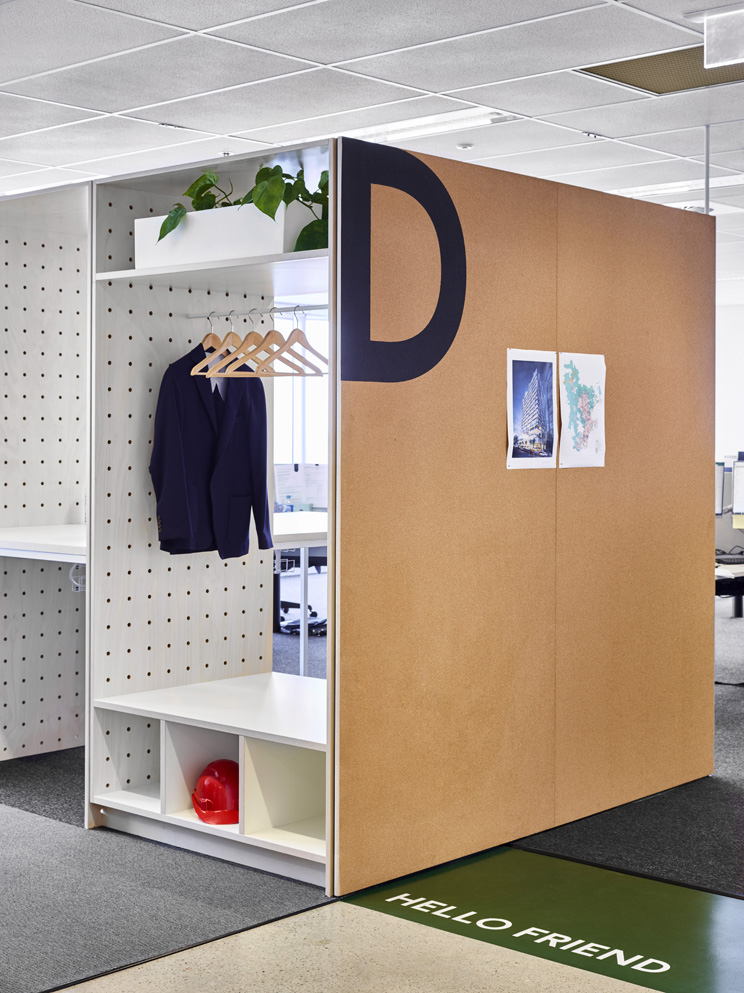 Lines on a page were not enough to ensure that urban concepts translated to the workplace setting. Visual and tactile layers were added, including wayfinding graphics, bespoke park benches and street lighting punctuated by suspended and pocket gardens, each component breathing life into the burgeoning municipality. Helping to foster a move toward a more transparent and community engaged practice, a town hall was introduced, providing the means to reinvent an outdated reception area. The new 'town' hall is outward rather than inward looking with views offered across Brisbane, as well as into the engine rooms of the practice.
Additional visual stimuli come in the form of an impressive project portfolio presented via a rotating graphic projection. Combined, these create a sense intrigue for visiting clients and colleagues and demonstrate Cardno's embrace of progressive, collaborative practice. While the town hall defines Cardno's public face, the café and parklands fashion spaces for both withdrawal and casual gathering.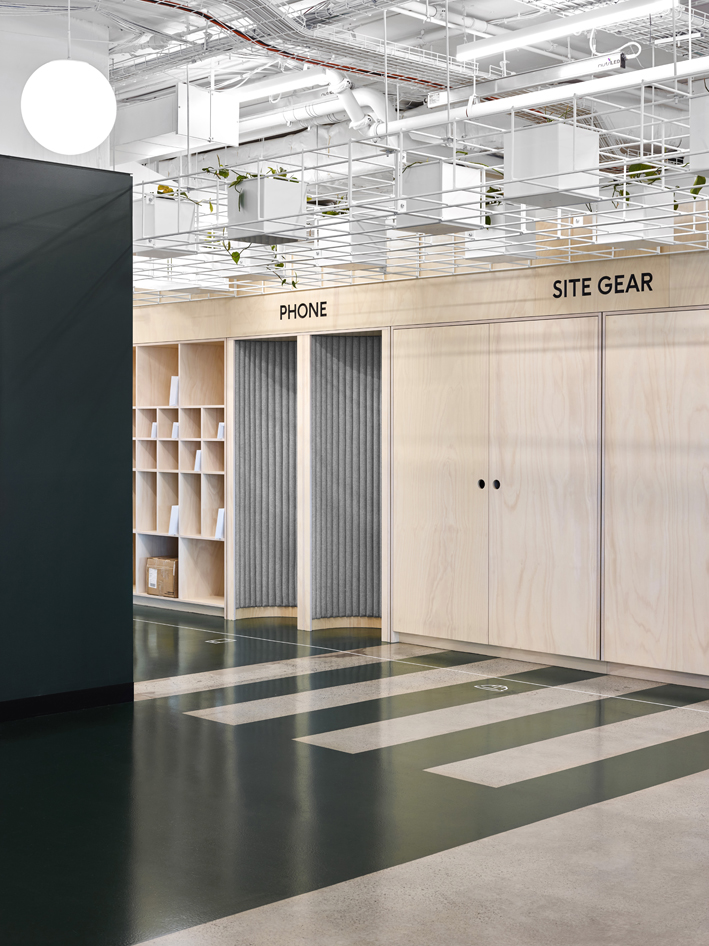 Both facilitate impromptu collaboration and provide satellite workstation opportunities beyond neighbourhood boundaries. Each promotes the positive benefits of mental disruption. Racing minds are calmed by the serene neutrality of birch faced veneer counterpoint to the deep forest green lacquered on floors and furniture and reinforced through foliage. The dark moodiness of garden rooms provides visual relief for overstimulated minds.
"The park spaces were created in two forms: quiet reflection, escapism and focus work, and the other as an extension of the collaborative space, a place for rowdy lunches, vibrant group conversations and Friday night drinks in the fresh air," Lloyd says. One of the most successful and impactful elements of the fitout is the graphic overlay conceived by designer Lucy Bland with Tony Gooley Design.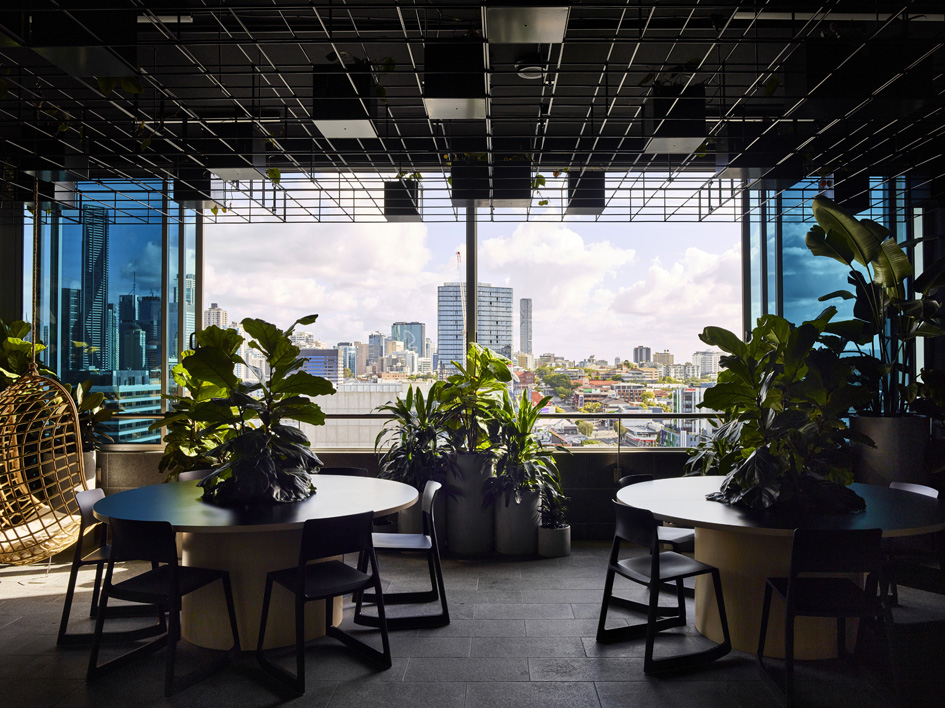 Its purpose is to shift Cardno's brand "away from something faceless and corporate to become something personable, approachable and fun". At the front door to neighbourhoods, welcome mats communicate cheerful salutation, echoing the playfulness of wayfinding symbols etched on floors and walls. Moments of pause are celebrated in mural format with Cardno's most significant projects represented in geometric super-graphics.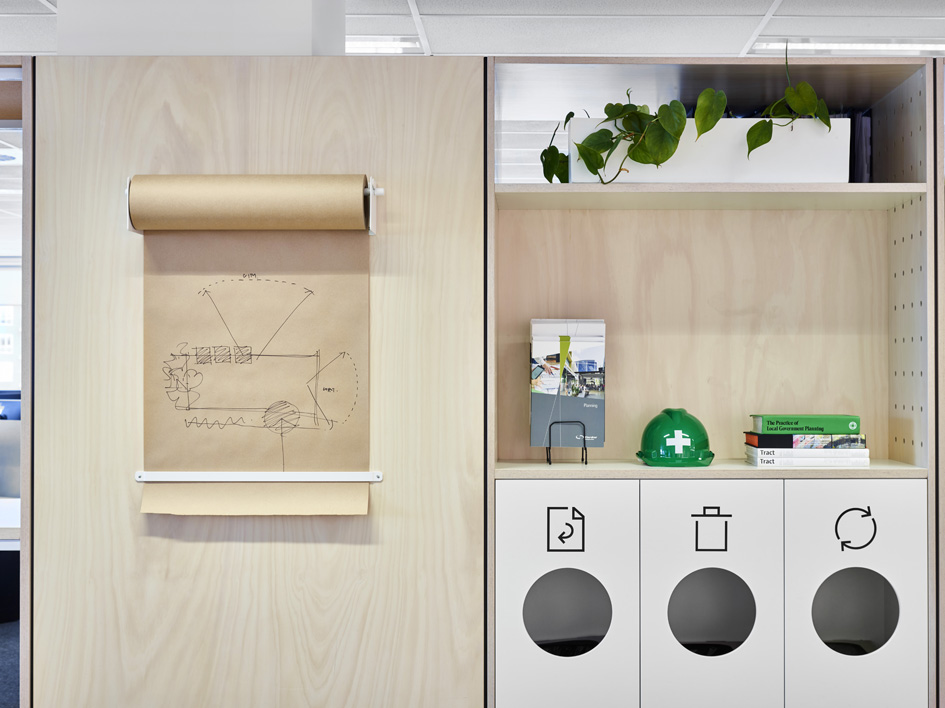 The Sydney Harbour Bridge, Lindeman Island, Gold Coast Light Rail and Lady Cilento Children's Hospital are some of the projects brought together in joyful, colour- blocked abstraction. Robust and thriving communities cannot be measured in buildings or roadways, but rather by the people who occupy them, who bring personality and character through their common purpose and collective goodwill.
Vibrant communities embrace the fine grain of human occupation, allowing meandering passages to become favourite pathways and park benches to become the platforms for chance encounter and interaction. Just as the life force of a city surfaces in places of congregation, so too the essence of practice coincides at moments of collaboration. In these places where curiosity is sparked and ideas are shared, the Cardno fitout emerges as an exceptional model providing varied and engaging spaces to inspire its community-minded citizens.
Photography by Toby Scott
This article originally appeared in inside 103 – available online and digitally through Zinio.