Welsh designer Bethan Gray showcases her latest collection in Australia featuring pieces inspired by her travels in the Middle East and her own rich heritage. 
Available in Living Edge stores, the Shamsian collection is named after Iranian artist Mohamad Reza Shamsian, with whom Gray collaborated.
Shamsian has been making pieces for the Sultan of Oman for the past 40 years, but has seen a drop in business as the sultan has aged. He works alongside 200 other craftspeople and reached out to Gray personally as a way of preserving his craft.
"Shamsian approached me to design a collection using his techniques in a contemporary way because he'd seen some of my other work that showed a contemporary take on traditional artisan design," says Gray.
"We did some research and I really wanted it to be connected. All of the pieces that I do have some kind of story about them, either how they're made or where they're made. So I wanted this collection to happen not only to collaborate with Shamsian, but also open him and his craftspeople up to new markets."
The Shamsian Nizwa Cabinet is the centrepiece of the collection. The Italian maple veneer is hand-stained a turquoise ombre inspired by the intricate patterning of the Omani fort for which the cabinet is named.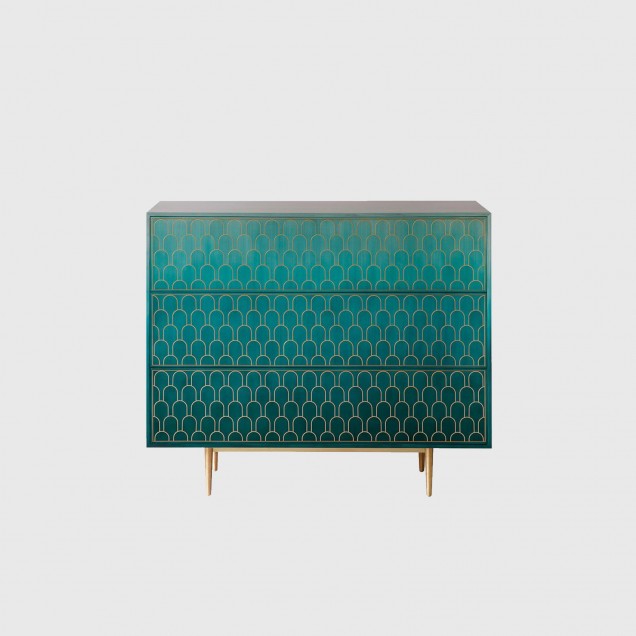 "When I visited the Omani fort, the sun was setting, so it had this natural ombre from the light. That's what we tried to recreate, the crenellations of the fort and colours of an Omani sunset," she says.
So I went to Shamsian's studio and they had these really beautiful, amazing techniques and very traditional patterns. The veneer is dyed when it's still wet and that's why you get this really deep colour and why you can see the grain all the way through. Although it's a colour, it's close to its natural colour."
The dyed pieces of veneer are laser cut to mimic the crenellations then hand-lain to accent the wood's eclectic grains. Each piece is then accented in bronze.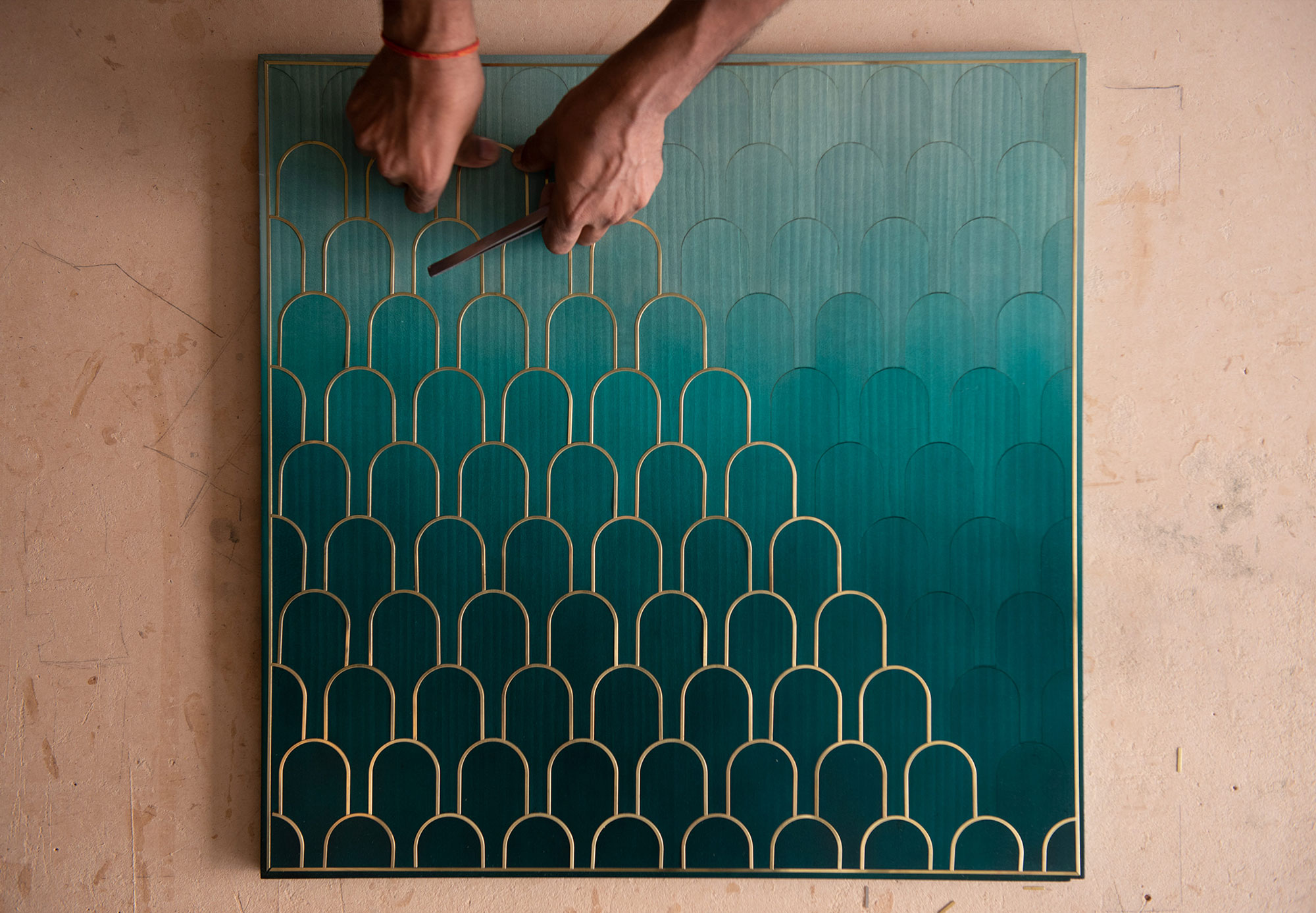 The colours and materials were serendipitously in Shamsian's studio when Gray first visited, off-cuts from the restoration of an intricate 500-year-old Persian flower-inlaid table.
"I walked into his studio and saw these sheets of veneer and knew immediately that I wanted to work with them. I couldn't have been luckier to find them."
Also part of the Shamsian collection is the Nizwa Dhow cabinet, which is inspired by the sails of traditional Omani Dhow ships.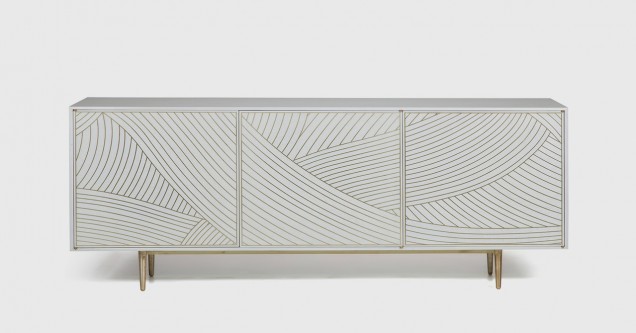 "The pattern is inspired by the lines because all of the sails are made up of very thick strips that are sewn together, so they're billowing and overlapping. We recreated that sense of movement," says Gray.
The sweep of the Dhow pattern is meticulously crafted from more than 60 linear metres of solid brass, copper or nickel and paired with precision hand-made bespoke hinges.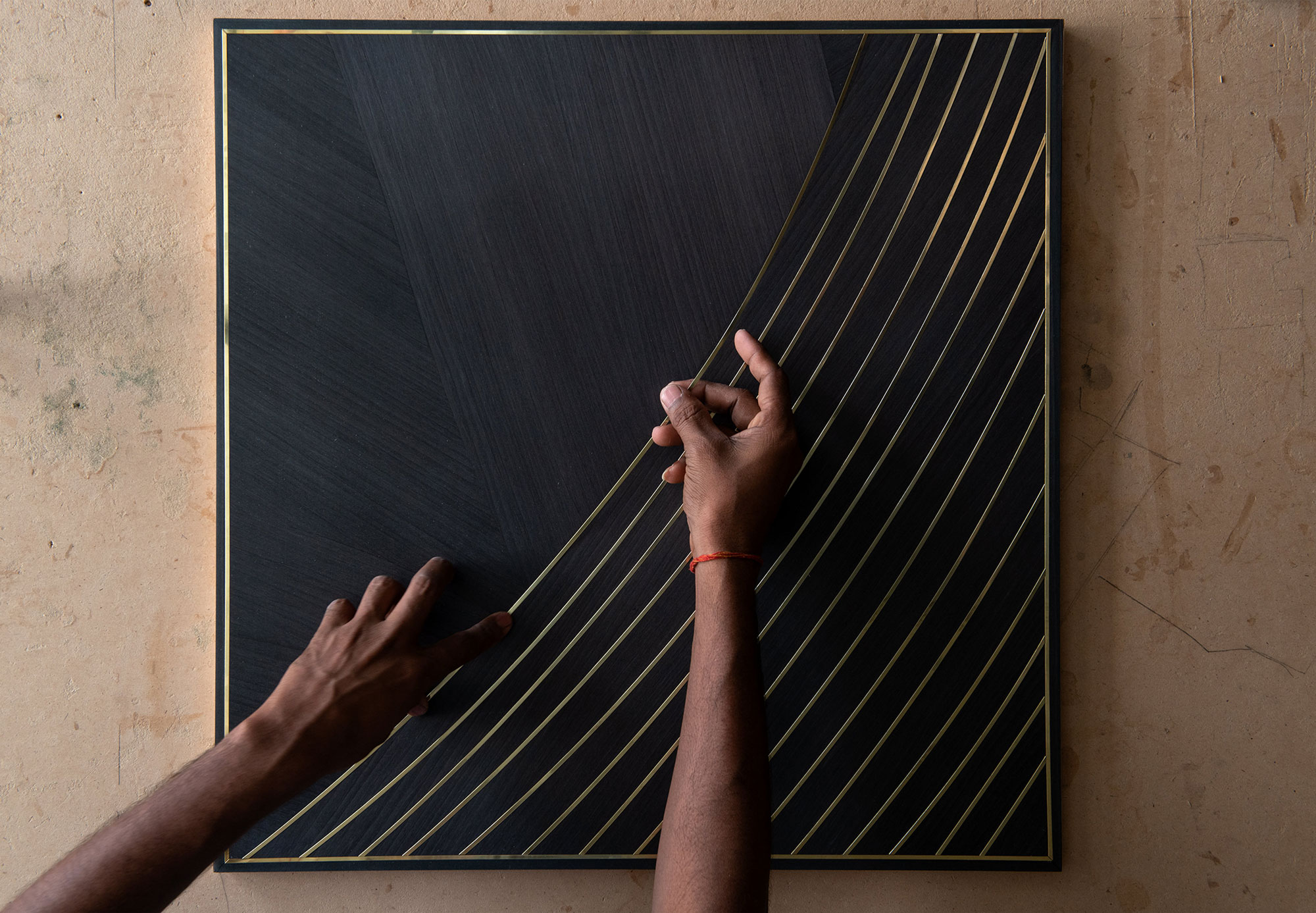 All of the Shamsian collection was made in Muscat. Like everything that comes from the award-winning Welsh designer, the pieces celebrate organic and natural materials, as well as the richness of Gray's own heritage.
Part of an ancient Rajasthani clan, her ancestors migrated across Arabia and Persia before settling in the Celtic heartland of Wales, and her first collection as an independent designer was inspired by the leather broguing more typically seen on shoes native to Ireland and the classic three-legged Welsh cricket tables, designed to stand on uneven slate floors in the homes and public houses of Welsh mining villages.
"My family heritage and my own travels and research continually draw me to Middle Eastern art and culture as a source of inspiration. Oman is an incredible place."
As for what's next for Gray, the designer doesn't have to think twice, it's more travel and more collaborations.
"Working with skilled craftsman is at the heart of what I do, it's such a privilege to be able to create contemporary products in collaboration with talented artisans working with such incredible techniques."
Photography supplied