London practice Baca Architects drew inspiration from a whale raising its head above water for its design of the Australia Underwater Discovery Centre in Geographe Bay.
A two and half hour drive from Perth, the natural marine observatory at the end of Busselton Jetty is known for the annual migrations of southern right, humpback, pygmy and blue whales between September and December each year.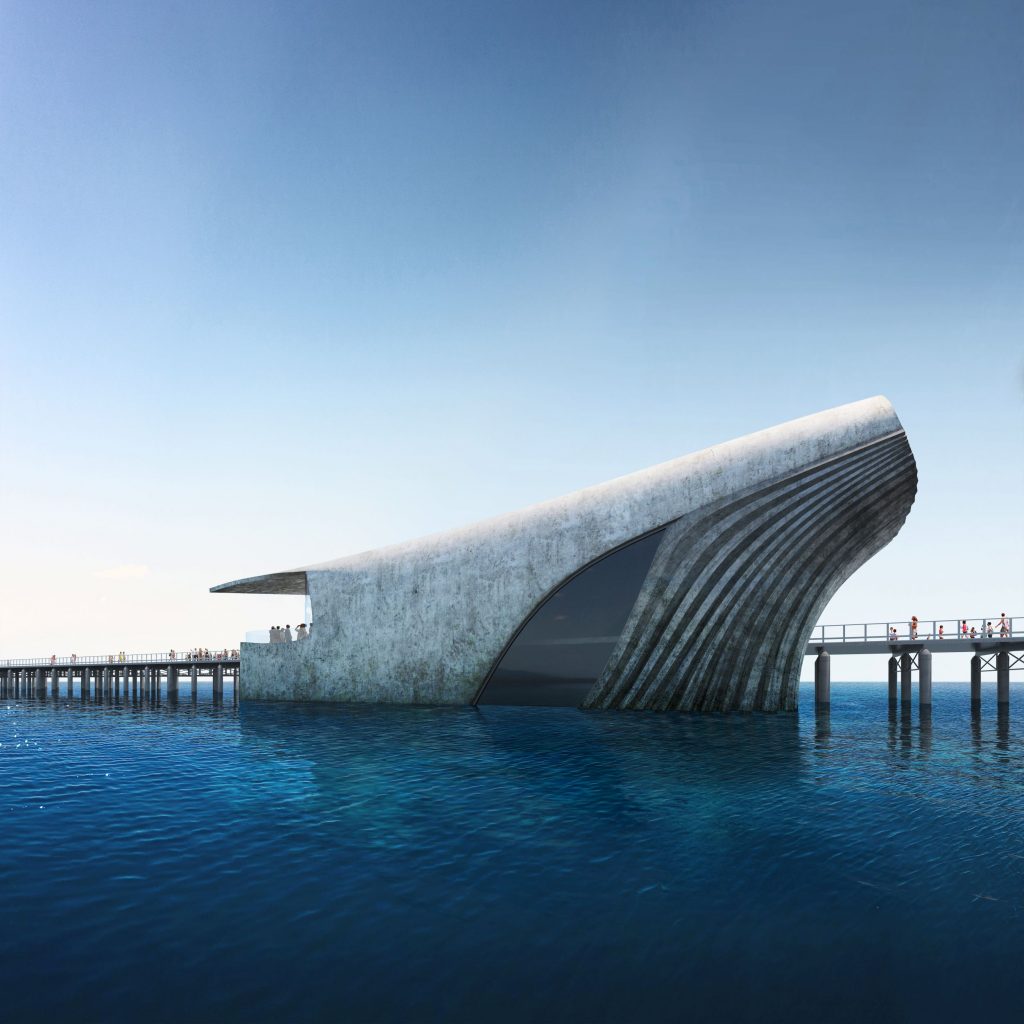 Commissioned by not-for-profit jetty management company Busselton Jetty Inc, the new observatory is being designed to accomodate an increasing number of visitors.
It will see Baca Architects team up with Western Australian-based marine contractor Subcon to deliver the new $30-million observatory by December next year.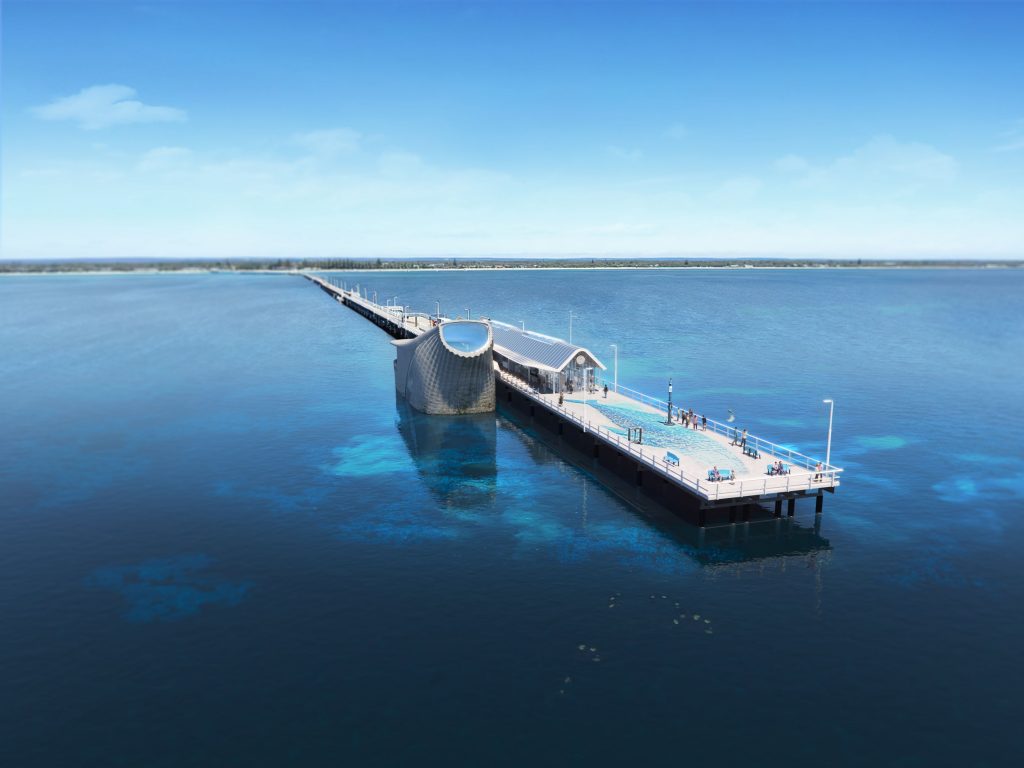 Above the water, the centre, which architects have nicknamed Cetacean, is an abstract interpretation of a whale "spy hopping" over Geographe Bay.
"Spy hopping is when an inquisitive whale raises its head and eye just clear of the surface to do its own bit of watching back at us," explains Baca Architects.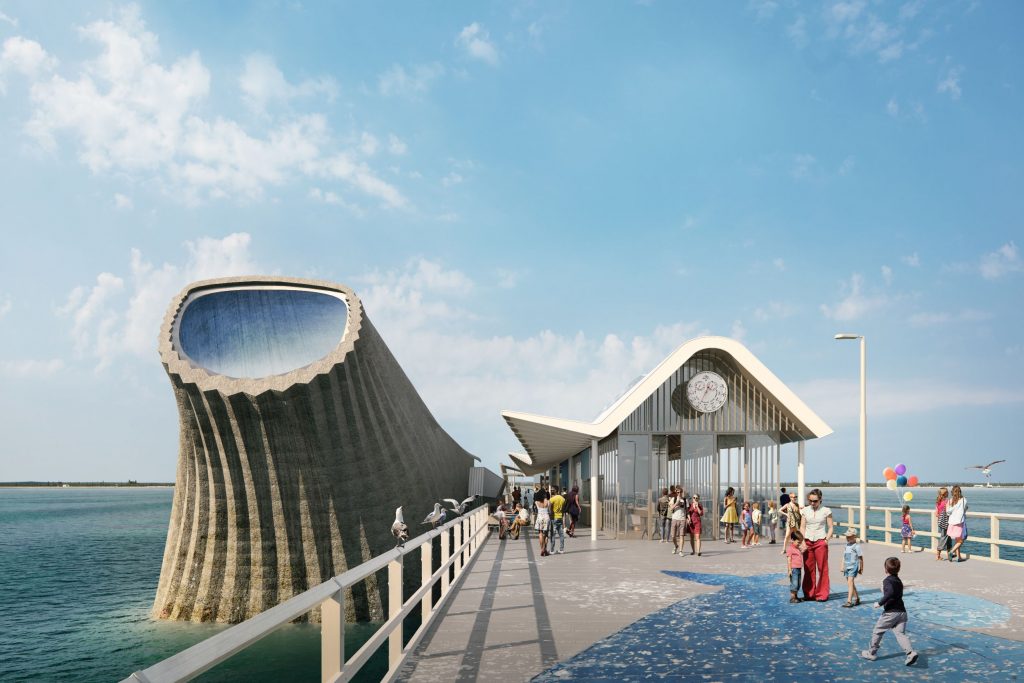 The whale-shaped proposal was one of three designs put forward by the practice. It was chosen over a cave-like structure and a building that resembled a ship following a number of public consultation events.
The "body" of the observatory, which is two-kilometres out to sea, will be made from concrete with a composite roof.
"Concrete was chosen for the base as it is an inherently heavy and durable material that performs well in the harsh environmental conditions experienced in marine and coastal applications," explains the practice.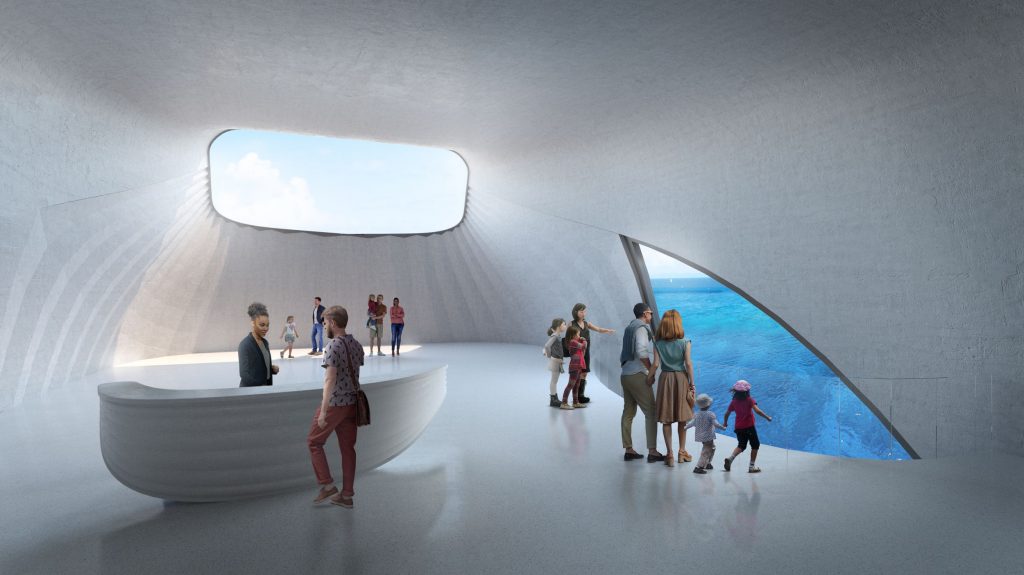 Cement replacements will be used to reduce the carbon footprint of the centre and make the concrete more durable.
Designers hope the concrete will also help stabilise internal temperatures through thermal mass, with the help of a water heat exchange system for heating and cooling.
Baca Architects intends to pre-cast the body in a neighbouring shipyard and then tow it out to site to be submerged.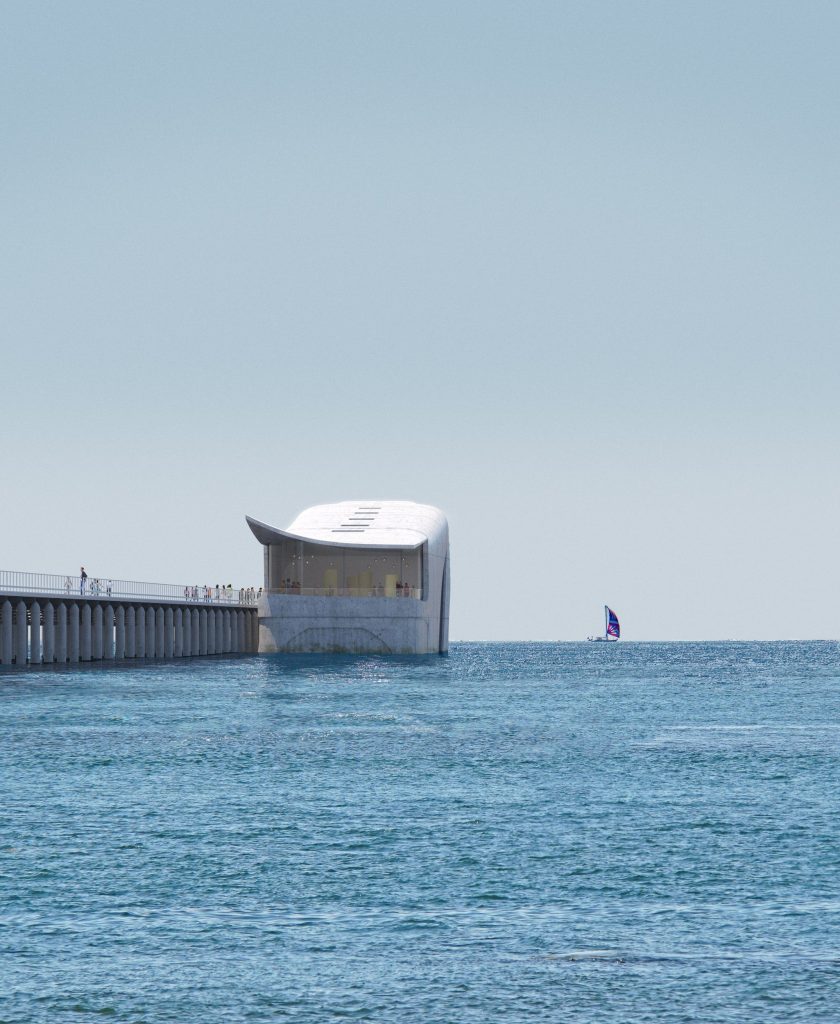 The bonded acrylic windows will be up to five-metres tall and 12-metres long, and are designed to withstand the difficult climatic conditions present at the site.
"Not only is it two-kilometres from the shoreline," says Baca Architects.
"It has to withstand cyclonic storm surges. So the head of Cetacean is oriented into the prevailing weather rather like the bow of ship, specifically for the dissipation of six-metre high waves."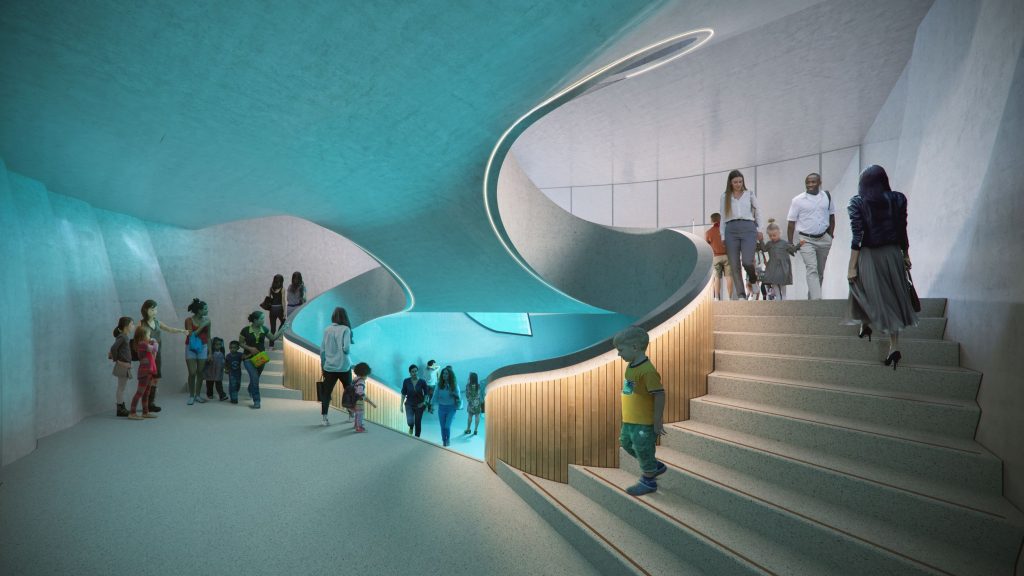 The Australian Underwater Discovery Centre aims to become the world's largest natural marine observatory. From the carpark, visitors will walk through a "landscaped sequence" of rain gardens on their way to the entrance.
Once inside, they'll pass through a series of sea-level art gallery and exhibition spaces, as well as an underwater restaurant, on their descent to the ocean floor-level observatory.
This pathway will feature a large, partially submerged structural glass window designed to mimic the whale's eye "peeking up" above the surface.
"Like many of our oceans' fragile ecosystems, the bay is under pressure from climate change, pollution and fishing," says Baca Architects.
"Cetacean is designed to both integrate into this ecosystem and most importantly, to engage visitors in a better understanding and appreciation of what lies below."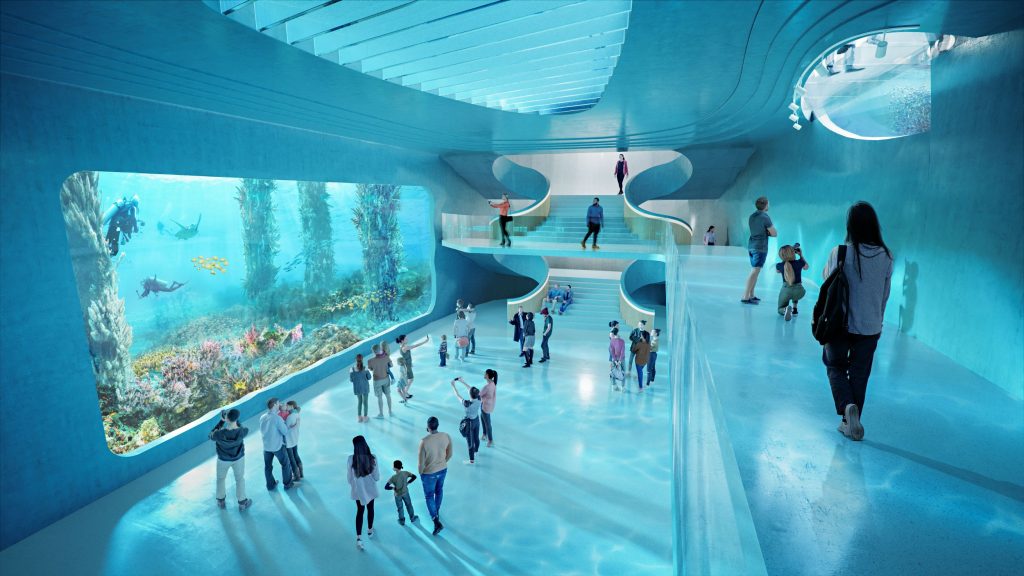 The outer surface of the underwater portion of the observatory will feature a porous "living (bio-receptive)" structure onto which barnacles and algae can graft, ensuring the centre blends seamlessly into its surroundings.
"This living building will gracefully age and integrate into the unique ecosystem beneath the jetty, while providing critical habitat for fishes and corals."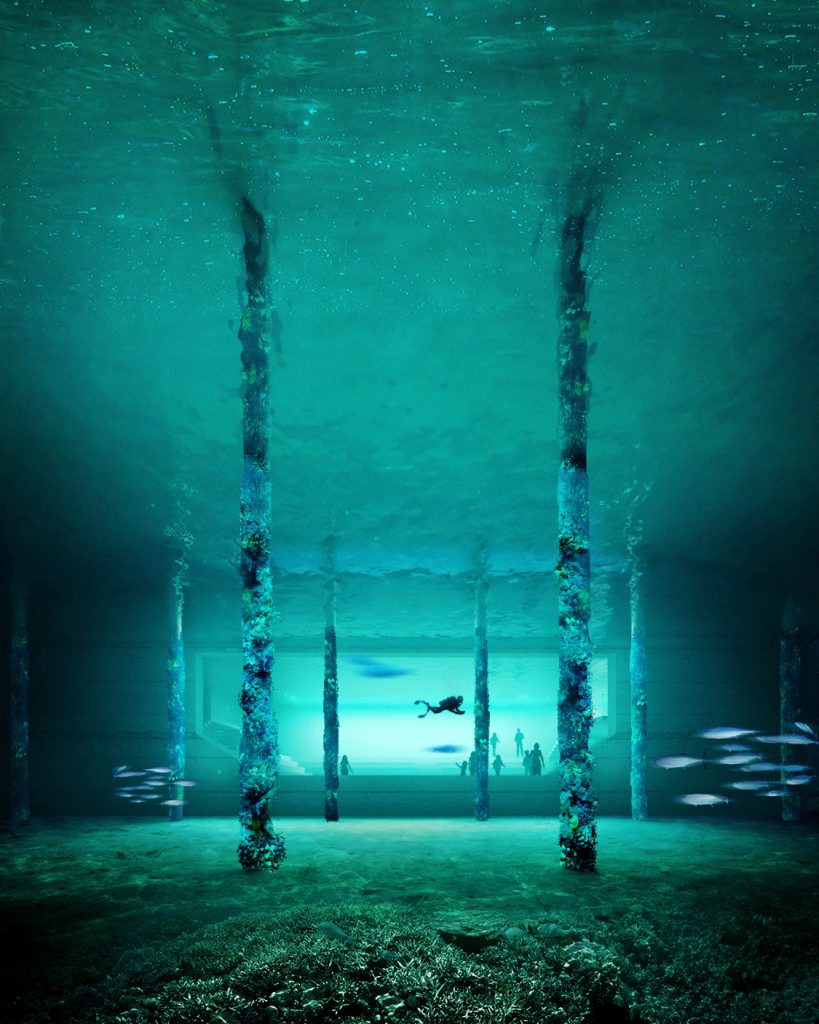 Renders supplied.
Baca Architects is a London architecture studio founded by Richard Coutts in 2003.
Also in Perth recently, Carrier and Postmus Architects designed dragonfly-friendly home.