All photography by John Gollings.
The second MPavilion continues its lively program of events into 2016, with Amanda Levete's ethereal structure taking root in Melbourne's Queen Victoria Gardens last October.
Patron Naomi Milgrom, whose foundation first launched the MPavilion project in 2014 with local architecture behemoth Sean Godsell at the helm, cast the program on an international stage by commissioning Levete of UK firm AL_A for its second year.
Levete visited the site regularly throughout the design process, to gain a true appreciation of its nuances and context in the urban fabric. At the opening, the internationally acclaimed Stirling Prize-winning UK architect spoke about wanting to "subvert expectations" with her MPavilion design.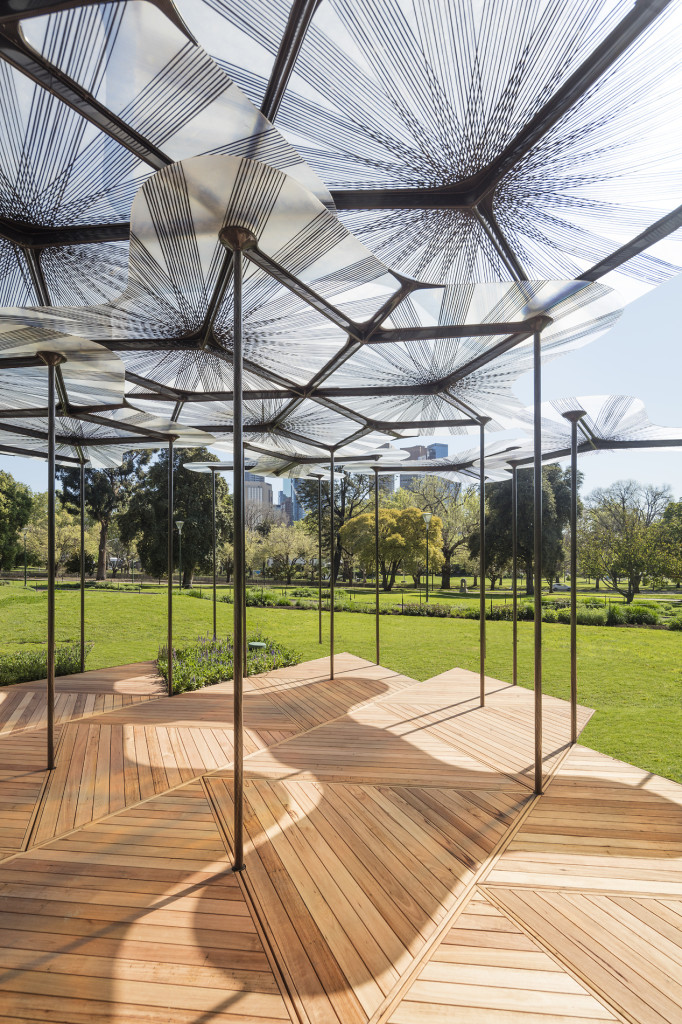 Atop an angular timber deck, slim black poles serve as stems supporting a canopy of iridescent petals. With the hot Spring sun overhead, guests at the launch were able to experience the gentle and diffused effect underneath the canopy.
Though delicate in appearance, the petals are a composite of resin and carbon fibre, a new material painstakingly engineered especially for Levete's design by ShapeShift Design Technologies (MouldCam).
"We wanted the petals to be as fragile and as slender as possible, and we wanted them to be translucent so that it would let light through but provide shade as well, and to express a pattern through the carbon strands rather like the veins of a leaf," Levete said.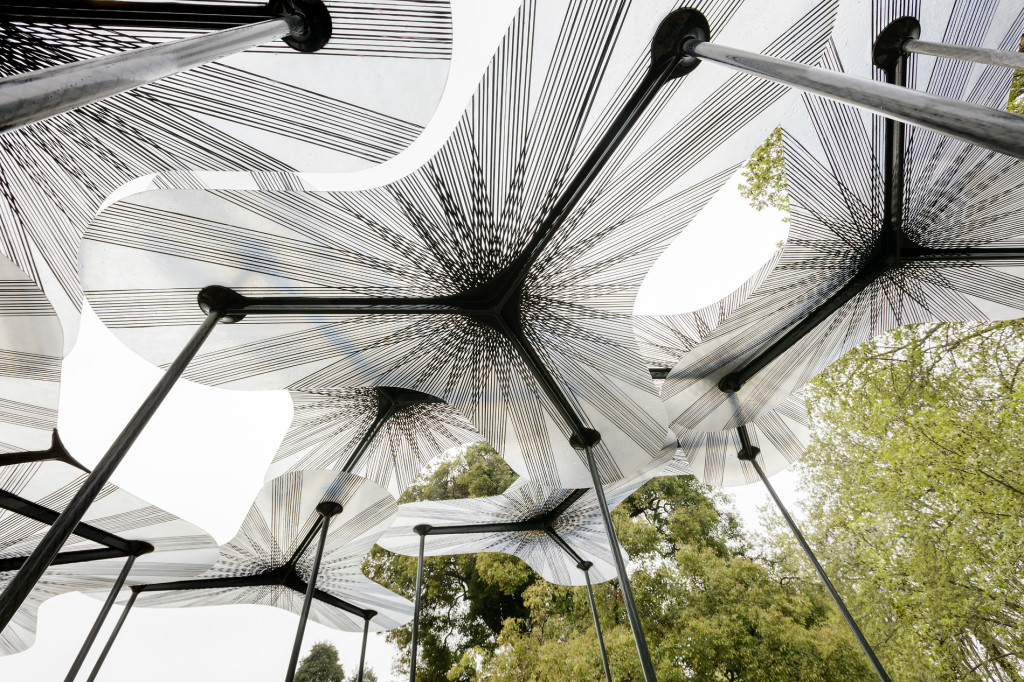 The edges of the structure are designed to sway visibly in the wind, furthering the sense of elemental connectedness and unity with its parkland surroundings. In this way, the pavilion will appear to breathe of its own accord.
"Normally, you don't expect buildings to move, and we wanted to do something that was very much in response to the weather," Levete explained. "So in the breeze it does move, and the rain comes in at the edges. It becomes part of the event, that the sunlight comes through and that there are no walls."
The exposed nature of Levete's design is perhaps influenced in part by her observations of Melbourne as a cultural destination. "My overriding impression of Melbourne is that it has a very open and welcoming culture, that it is inclusive and democratic. People are willing to share ideas, to express and promote what they're doing in a public way."
However, she does offer some critique of our built environment. "The corporate and commercial architecture here is not particularly interesting, it's very generic," Levete says, urging the city to "develop an architectural language that roots it in Melbourne," and calling on people to insist on quality from developers. "Architects should be more demanding of themselves as creators of public space as well as buildings".
The MPavilion 2015 program includes over 200 free events including talks, films and activities celebrating architecture, landscape and design until 7 February 2016.