Located in Mascot, in Sydney's Inner South, this carpark services a busy commercial area and, of course, Kingsford Smith airport.
Locker was delighted to assist Vanovac Tuon Architects and Taylor Construction in bringing it to life. From the get-go, Vanovac Tuon had a clear vision for what they wanted to achieve, and Locker was brought on board to provide perforated panels for two elevations of the carpark's facade.
Two aspects of the brief were of particular importance:
The open area – The design called for perforated panels with an open area greater than 50 per cent. While not an exact science, when this threshold is reached with perforated metal, a Carpark often won't require mechanical ventilation to be included in its scope. This makes the final structure significantly more economical to run.
An articulated facade – The architects desired an articulated effect for the facade, with metal panels angling away from the structure. This meant a central, flat panel with other panels to the left and right protruding outwards by a length of 350 mm.
With such clear objectives in the brief, the product choice was simple – Clarity 800 perforated panels. With 7.94 mm perforations staggered at 9.53 mm centres, this product more than satisfied the ventilation requirements of the project, providing an open area of 62 per cent. In total, over 230 Clarity 800 panels were used to create the facade of King St. Carpark, with some coloured green and yellow to lend the building vibrancy and help create its individual identity.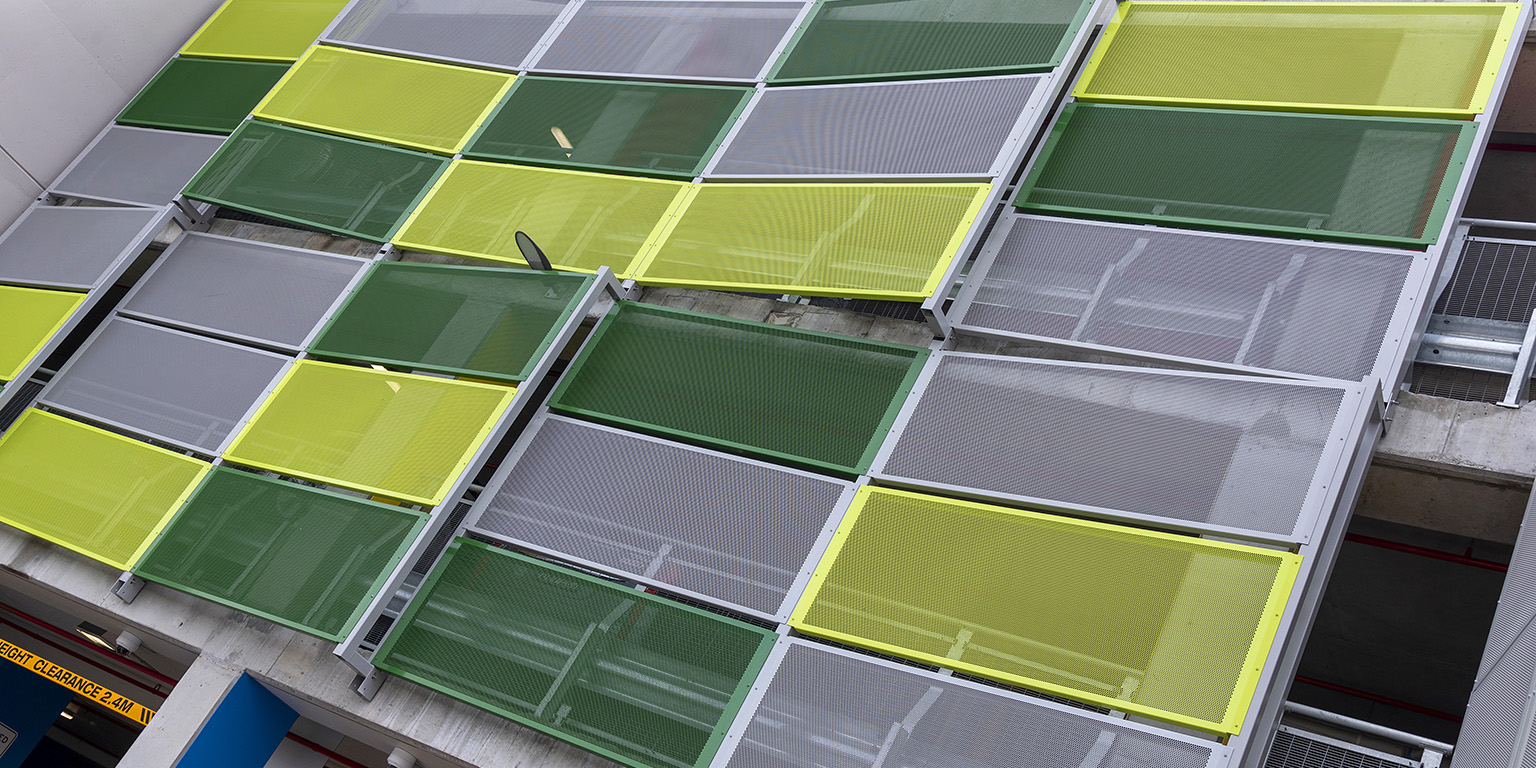 Benefits of perforated metal include:
• Light filtration – Perforations don't just allow air to circulate, they also allow natural light to penetrate a structure's interior.
• Weather shielding – Despite allowing some of the elements in, perforated metal is still effective for sun and wind shielding applications.
• Sustainability – Our manufacturing process for creating perforated metal is environmentally sound. All the punched out metal fragments are collected, melted down and used again.
• Choice – At Locker, we're able to produce perforated sheets with any perforation size or pattern. As the King St. project shows, this choice can make it easy to select an established product that's perfectly suited to your needs. Alternatively, you can work with our designers to create a custom sheet that's never been used before.
As Sydney's largest off-airport carpark, King Street is an exciting addition to Mascot's list of amenities. The first stage of development made space for 750 parking spaces, while the finished build will have room for a staggering 1,622 vehicles.