Above image by Michael Gordon Hill, supplied by Handsome & Co
Physically creating something tangible to suit a purpose or fulfil a creative urge is a fundamental human yearning, one perhaps neglected in an era where our hands are occupied as an extension of touch screens and keyboards. In the smartphone age, where anyone is but a click or swipe away from the next stimulus, crafting an object with permanence is an act of enduring value.
Having a hands-on outlet for creativity is the reason why so many take up DIY projects, sign up for craft workshops at local hardware stores and invest significant time and money in amassing an arsenal of power tools. Starting and finishing a project, especially in collaboration with others, is a uniquely gratifying experience.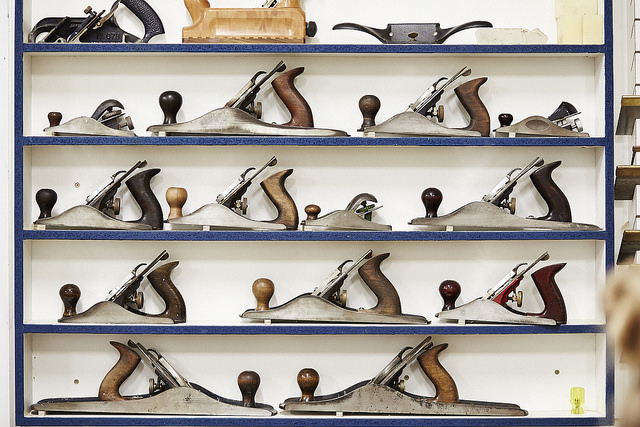 Wood workshops in particular are enjoying somewhat of a boom in Melbourne of late. Timber is a ubiquitous material, ever popular for its timeless versatility in furniture, interiors and built structures. It is a timber craftsman's role to showcase the medium's unique character – each mark and grain indicating the living quality of the wood are inherent to the value of the final product.
Australian Design Review spoke to Handsome & Co about the ins and outs of its wood workshops, and the current hands-on climate encouraging Melburnians to get crafty.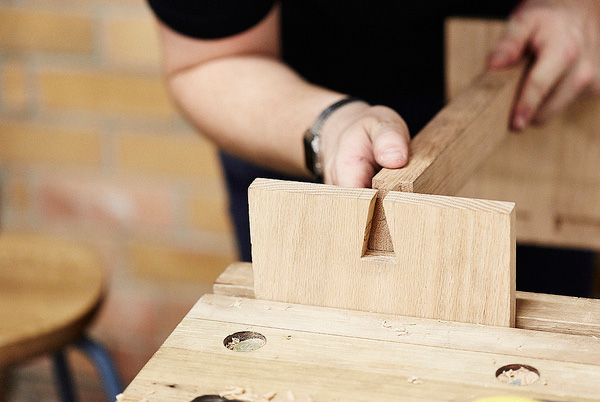 Why do you gravitate towards wood as a medium?
In a product, we like timber because it is both aesthetically warm and pleasant to the touch. It comes in a variety of colours, figures and characteristics, which means that each product made with wood is unique, like a fingerprint. Timber is worked in many different ways, it can be; carved, bent, turned, joined, laminated etc and in all of the many facets of these approaches, timber is ultimately flexible and often forgiving.
When manufacturing using timber, it can be a very frustrating material – its porous and plastic nature means it is unstable. Seasonally expanding and shrinking with the change of humidity (humidity changes disrupt timbers internal equilibrium with external air), sometimes resulting in bows, twists, cups, checks and other defect to timber boards. Its instability means that it is challenging to work, but it is this challenge which drives us to persist, practise and develop ways of accommodating for these movements, all while developing products that will outlive their maker. It is almost inevitable to feel discouraged at some point while woodworking, but when you've completed your product and are standing back admiring your piece of art, with a grin on your face, all your frustrations are forgotten and all you want to do is start the next project.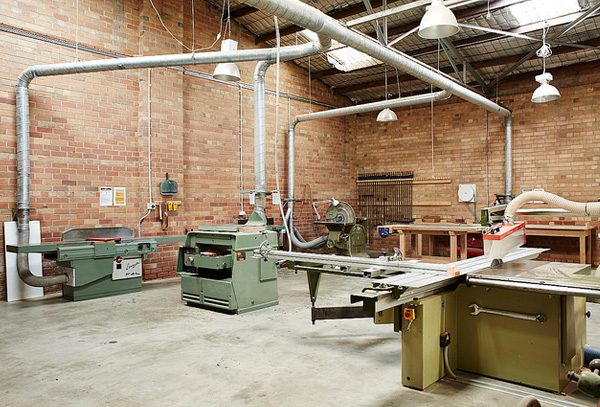 From wood grain porcelain tiles to the prevalence of timber in interiors, home-wares and even jewellery, why do you think the design industry has seen resurgence in wooden products of late?
I think that timber will always have a place in modern design. As for the current trends, I think it is like much fashion, in that it peaks and troughs. But don't ask me, I'm no expert. Our hope is for quality and longevity in design to become popular and outshine our flat pack competitors.
What drove the initial launch of your Woodwork School in Melbourne?
Our initial intention was to create a space for young designer/makers who have woodwork specialised skills. While the city of Melbourne is abundant with artist studios and creative spaces, none provide an environment setup for industrial making and experimentation in new materials and modern manufacturing techniques.
It then seemed very logical to create a school, through which we could share the knowledge of our talented residents and our fully equipped woodworking facilities.
Lastly, we are a (relatively) young aged group and we love woodworking. So we particularly wanted to encourage a younger demographic by being financially accessible, offering student discount (10 percent off) and annual membership discounts (15 percent off). We were particularly pleased to see the number of women who've enrolled, approximately 50 percent of our current students are women.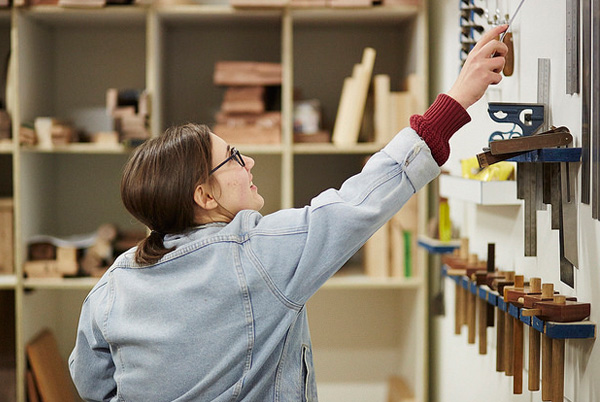 What can students can expect from your classes?
Woodworking tools and equipment are provided. Class numbers are limited to eight students, to ensure that each individual is given adequate time with the tutor addressing their specific ability and project. Each student is provided with a bench to utilise and storage space for timber and or developing product.
All students are guided through a number of small set tasks, as an introduction to our workshop facility: fundamental skills in marking out, tool handling, sharpening, machine operation and, most importantly, personal safety. All materials and resources are provided for these starter projects.
Following the successful completion of the introduction tasks, students are then free to work on projects of their own choosing. Tutors assist students throughout the stages of each individual project, offering advice and tuition customised to the student's specific woodworking needs. Tutors also assist with project design, timber choice, methods of construction, application of finish, responsible work practices and safe machine operation.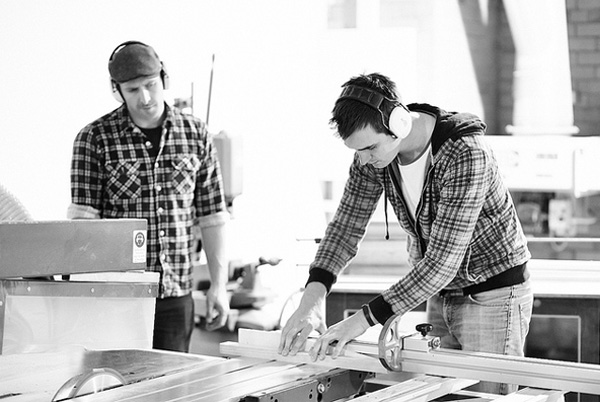 Have you observed any trends in the type of projects students are making?
I haven't really observed any obvious trends among student products. Each student is making to their own tastes and most, I assume, are trying to create their own style. However, if I had to say a style, I'd probably say that due to the simplicity of student projects, that a majority could be compared to Shaker or Danish design.
Can you share any social/personal development aspect of woodworking that you may have observed through your workshops?
Woodworking teaches patience. We instruct traditional methods of joinery, which require a lot of time, patience and attention to detail. If you don't have patience, you will soon have to develop it.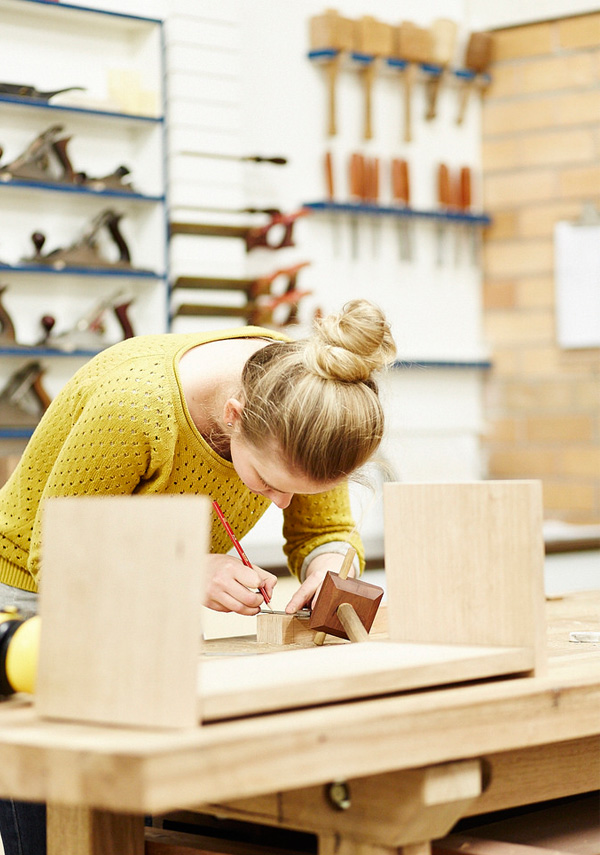 As a wood workshop, you are on the forefront of sustainable practice. How do you implement this in your classes and in what ways are wood workshops developing sustainable initiatives?
Simply put, we teach and practise traditional woodworking techniques that create high quality and durable products. We are confident that these products will stand the test of time and ultimately end up as antiques, as opposed to landfill.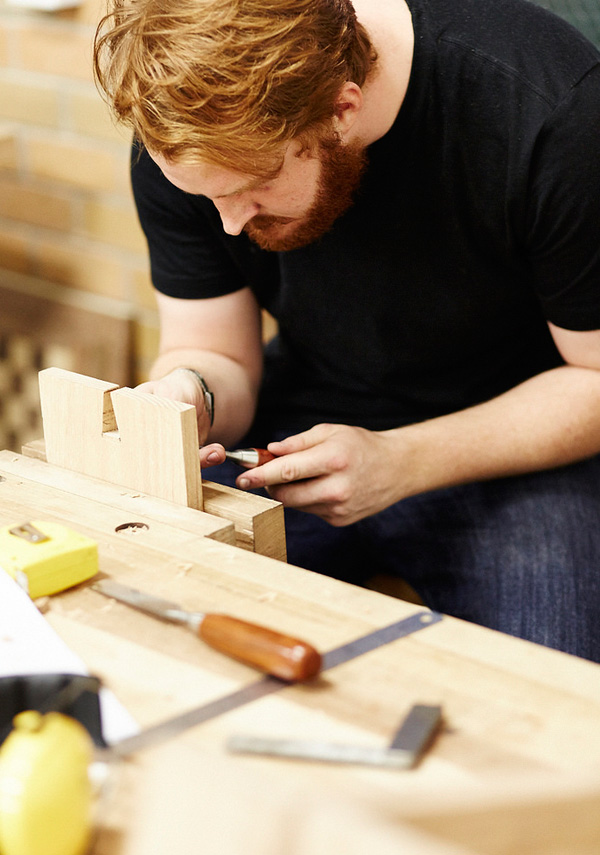 What excites you about the future of your woodwork classes?
We are a very fresh-faced organisation. Handsome & Co was established in late 2013, but it was always a priority to be part of the bigger Melbourne community. We hope to be hosting and or taking part in many creative events in the future, not limited to pop-up shops, social gatherings, exhibitions and creative installations. Our residents have exhibited at the Brunswick Street Gallery and Handsome & Co had a stall at The Big Design Market.
We are also excited about the current development of our short courses program, in which we hope to introduce a range of new courses in areas of woodworking that are unique, specialised and even at tangents to woodworking (i.e. tool making and leather work).
For more information and to enrol in a class, visit www.handsomeandco.com.