Above: Kim Duffin from Sublime Architectural Interiors designed this kitchen using Staron for the bench top, splash back and outdoor table and as cladding on cabinetry. Image courtesy Staron.
When DuPont chemist Donald Slocum invented Corian in 1967, he wouldn't have expected this high-performing surface to one day double as a phone charger. But, like most surfaces today, Corian is getting smarter.
Consumers now expect surfaces to be more than durable shells for benchtops and bathroom walls and are more willing to match a material's attributes to the surface results they desire. In the case of Corian, it's even being applied to doors to achieve a sharper, square profile that's less prone to chipping.
Craig Smith, director and co-founder of CASF, which distributes Corian throughout Australia, says surfaces are adapting to modern demands. "Corian and technology go hand-in-hand. You can now walk into your kitchen, throw your smartphone onto the Corian Charging Surface and it immediately begins charging. It can be applied to offices, hotels, cafés, anywhere."
Wireless technology is drawn from within the Corian surface, which is plugged in below the bench top. It draws about the same amount of power as a kettle and can juice up a smartphone at the speed of a regular powerpoint charger. "It's the same kind of principle as induction cooking," explains Smith. "It charges through the surface."
This inventive approach to surfaces will continue as people seek materials most fit for purpose. Barclay Gillett, national specification and technical manager at Austaron, sees exciting times ahead for surfaces. "Think of a staircase in a house – traditionally it's been timber or carpet," he says. "Now we're seeing the really cool use of different materials like engineered glass and porcelain products. People are starting to think outside the square. Nothing is being pigeonholed for what it may once have been used for."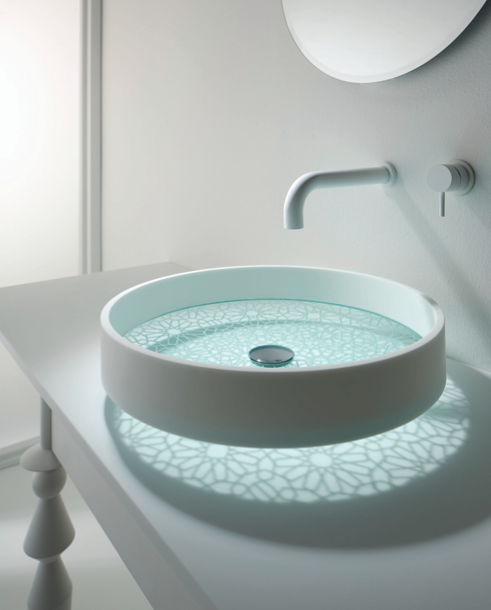 Staron, a material manufactured from a natural mineral refined from bauxite and blended with pure acrylic resin, has been popular in bathrooms, as its expansive surface has inconspicuous join lines. But Gillett says its application is expanding. "My own staircase is made from Staron and when my kids throw their toys down it, they don't leave a mark. It's so durable and that's what people are attracted to. They don't care how it's traditionally been used."
Glass is another surface breaking out of its traditional mould. Once regarded as a fragile material to sit within a window frame, glass is no longer just good to look through – it is now good to look at, too.
Glass is being applied to an increasing range of surfaces for its rich lustre and close link to natural light. "People love light, but natural light has a certain cache to it," says Lachlan Austin, general manager market strategy and growth at Viridian Glass. "You can put in a strip of LEDs, but it's not the real thing. Natural light is becoming a commodity, especially in the home, and glass is the material that can really maximise light."
Glass is now available in a wider range of colours and textures. Viridian's DecorPattern range features elegant patterns that provide a degree of privacy while welcoming natural light. "It can be incorporated into a window system, so that in the day you have a view of the things you want to see, but there's a feature of the window that's acting like a light fitting," says Austin. "It's providing soft, ambient light through the patterned space."
Glass surfaces are also being used to light the dark corners of a home. "It's one thing to add halogen downlights in a dark area and quite another thing to install a reflective surface as a feature panel to project light further into the home," adds Austin.
Veridian is also seeing a call for partial reflective surfaces in hospitality environments. "Imagine a restaurant with a private dining room. As it's being illuminated from the non-private side, it just appears like a lustrous surface. But from within the private dining area, you can look through the wall surface and see everything that's going on in the restaurant. People are now more open to the possibilities of glass surfaces."
Surfaces are also becoming deceptive in their appearance. Ultra-compact surface materials, such as Cosentino's Dekton, can mimic the appearance of natural stone while being scratch, stain and impact resistant. Made of glass, porcelain and quartz, Dekton has a heat and UV stability, which enhances the potential for an indoor design to blend seamlessly with the outdoors through one continuous floor surface.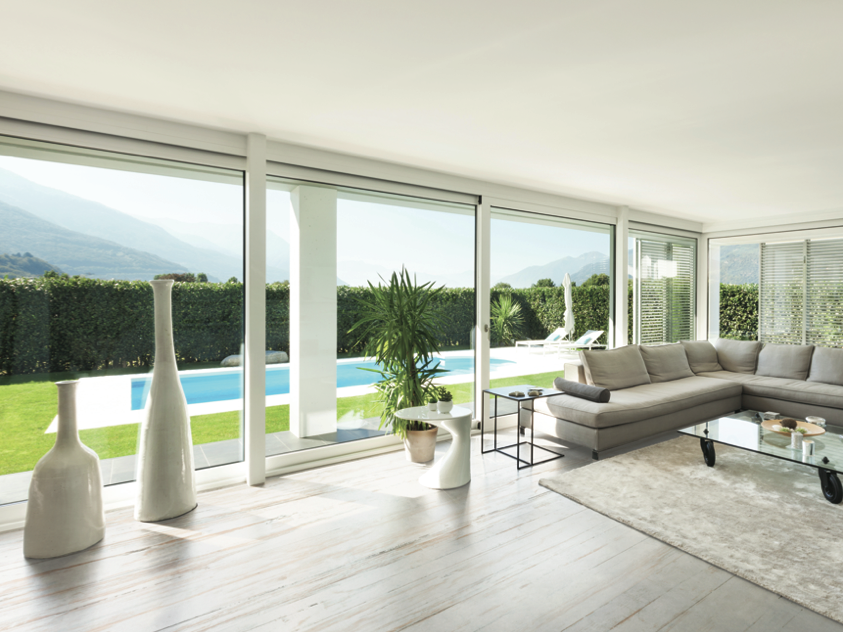 With three thicknesses ranging from a slender eight millimetres to 20 millimetres, Dekton is being applied to surfaces such as kitchen benches, splashbacks and feature walls. "It's especially effective around fireplaces because of its heat stability," says Ruba Jaajaa, marketing and showroom coordinator for Cosentino Australia.
Marble surfaces have met another lightweight match in Maximum, the six-millimetre thick large-format porcelain panels developed by Graniti Fiandre Laboratories in Italy.
Phil Brenton, managing director of Artedomus and Maximum Australia, says it took some time for his company to embrace this new surface, which is made from natural materials such as sand, quartz, clay, feldspar and recycled content. "As stone people deep down at Artedomus, it was a little repellent to us to start with," he laughs. "But now the typical Italian white marbles of calacatta and statuario are so outrageously expensive that people just won't pay for it anymore. We also have people coming to us saying they've had calacatta on their benchtop before, but their kids drew on it with red texta. They're just over it. Now we have a replica product that is incredibly strong and beautiful and it performs from start to finish. It's the most useful surface we've ever had."
Maximum is available in a range of effects inspired by nature. Its Marmi range, which has the appearance of marble, comes in a full polish with a honed finish and is being applied to areas such as bathroom floors and walls and kitchen benchtops.
Brenton's team recently created a new custom colour called Neptune for the Maximum Aster range, which closely resembles concrete. "Volumes are very high for the range because the Australian market loves it."
Another key advantage is that Maximum can be applied over existing surfaces. "It saves on demolition, mess and time," says Benton. "It's also lightweight, which is important, especially for renovations and apartment buildings, and the finishes are all modelled on the materials they're trying to replicate."
It's a smart idea – just as you'd expect from surfaces today.