Sign up for our newsletter
Renders courtesy Manuelle Gautrand Architecture, DesignInc, and Lacoste + Stevenson.
Manuelle Gautrand Architecture, DesignInc, and Lacoste + Stevenson have been announced as the winners of the design competition for Parramatta Square's civic and community building.
The project is an impressive glass construction with a façade made up of crystalline blocks that have been positioned in a sloping wave, submitted by the consortium of French and Australian firms.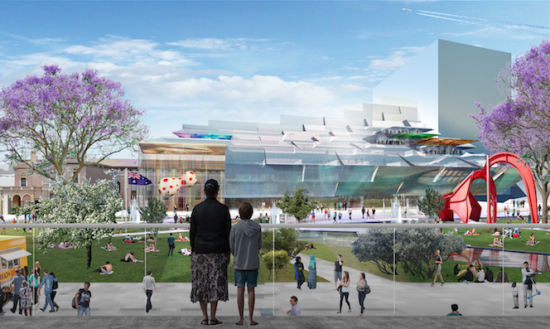 The building extends above the Town Hall, and a large LED screen features upon the transparent glass southern façade, suitable for public projections.
Lord Mayor of Parramatta, Cr Paul Garrard, praised the design, saying that it undoubtedly fulfilled the brief for a building that is iconic and stands as the proud heart of Parramatta Square.
 "The transparency of the glass façade makes the building inviting and open for the community to explore the library of the future, public roof garden, customer contact centre, visitor experience centre, community meeting rooms and technology hub. All this is within a building that is designed to achieve at least a 5 Star Green Star rating."
 The six storey building will cost $50 million to construct and was endorsed by the Parramatta City Council last night.
Luxxbox has developed a range of agile whiteboards all designed to offer a place to think, introducing the new ThoughtWalls.