Images courtesy of the NGV. 
As a child growing up in the Hiroshima Prefecture, artist Takahiro Iwasaki's fascination and emotional connection with the local 'Itsukushima' shrine didn't just inspire, but forged his direction as an artist.
Having exhibited at Gallery C24, New York; Mori Art Museum, Tokyo; Hong Kong Arts Centre and the Palais De Tokyo, Paris (to name a few), Iwasaki draws strength on the ideas of craftsmanship, visual presentation and philosophy to drive the creation of his intricate models that reflect and reinterpret iconic buildings and contemporary cityscapes.
Commissioned by the National Gallery of Victoria and on display until early April, his three-dimensional, floating model of the Itsukushima shrine is one of his most impressive and challenging pieces of work to date.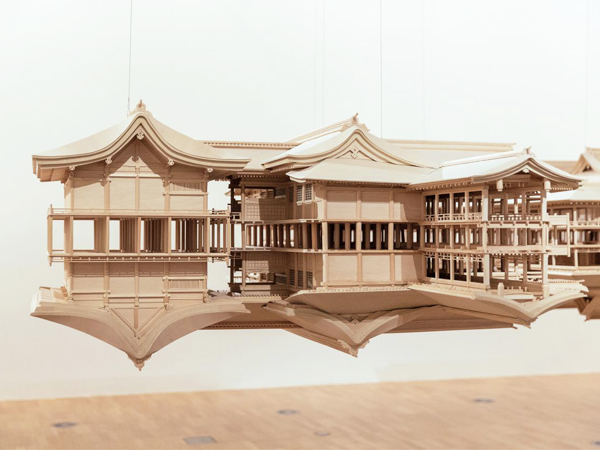 "I have been waiting for a time when my artistic process had matured and ripened to a suitable level before embarking on such a massive and important project," says Iwasaki.
The original Itsukushima shrine complex was established in the year 593, with its current configuration being constructed in 1168. Flowing from the Buddhist concept of 'Nirvana', as a world floating beyond normal experience, the shrine was built on the tidal flats of Japan's Inland Sea, so as to be reflected by the tidal waters, in turn creating the impression of an ethereal, floating paradise.
Iwasaki's Reflection model (Itsukushima) was built over eight months and comprises fourteen interlocking parts. Constructed using the traditional building material of Japanese cypress as well as Japanese basswood ply, Iwasaki's model reflects the Taoist idea of 'durability found in flexibility' through a slot and tenon system of construction that leaves the individual parts free to move, never completely locked into place as they nestle into each other to form a solid whole.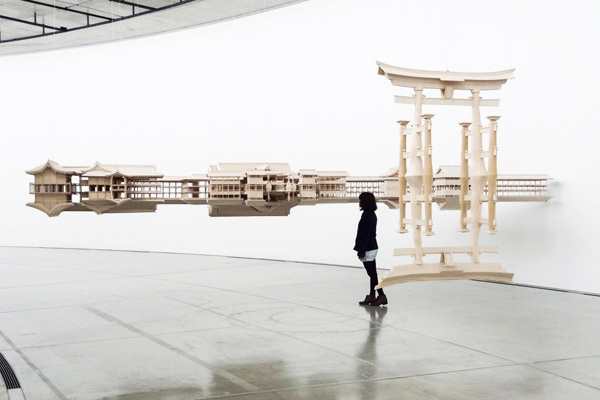 This slot and tenon system allows Iwasaki to mirror the original shrine's copious buildings, platforms and roofed corridors and pay them the attention they deserve, while allowing the eight-metre-wide model to be suspended without causing stress points or fractures.
For visitors to the installation, Iwasaki's model plays the ideas of rigidity and fragility against each other as the sheer size of the model sits juxtaposed against its delicate and detailed construction. Its suspension above the ground reiterates the idea of the floating paradise that is created by the real shrine's position amongst the Japanese tidal waters.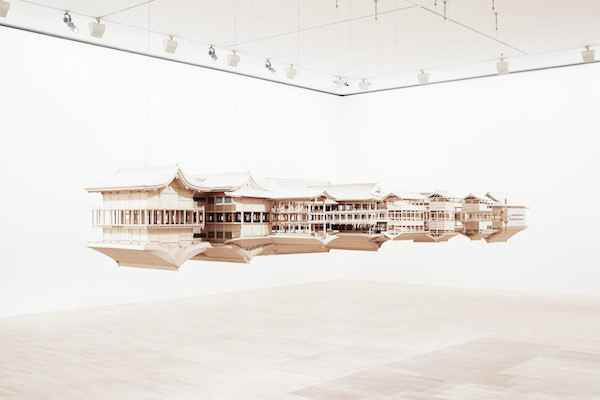 Takahiro Iwasaki's Reflection Model (Itsukushima) is on display until April 8. Visit the NGV website for more information.