Images courtesy Tom Ross for Broadsheet. Article by Doug Ross.
March Studio has once again made a memorable contribution to Melbourne's eclectic bustle of restaurants and bars with the design of Lucy Liu – a recent creation by chef Michael Lambie (Circa, The Smith) alongside Scott Borg and Zac Cribbes.
Led by Rodney Eggleston, March Studio is responsible for such iconic fit-outs as Carlton's Baker D. Chirico  and George Calombaris' Gazi. The relatively young practice has made a name for itself in recent years, for its ability to sew heavily geometric and experimental design principles with a solid functionality that the hospitality sector requires.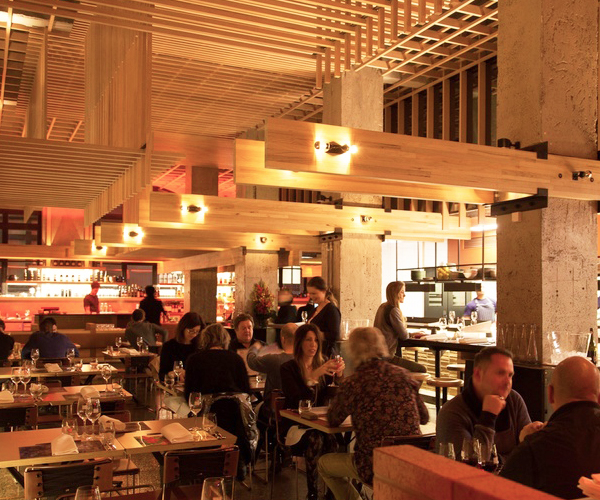 Replacing the fine-dining restaurant PM24, Lucy Liu adopts a completely different aesthetic through the juxtaposition of heavy, red neon lights, broad Tasmanian oak battens and Terrazzo brick against the lighter geometric references to bamboo scaffolding that envelop a significant portion of the restaurant.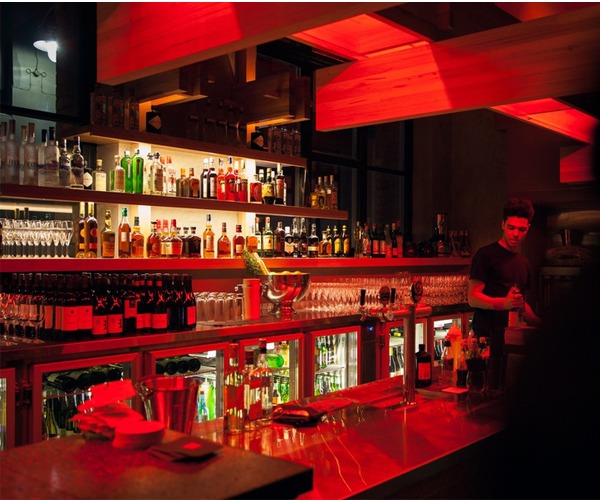 This combination between light and heavy, or strength and fragility, helps to cocoon customers while amplifying a sense of space – the constant visual reminder of right angles and exposed lattice creating the impression of being inside a three dimensional architect's model. Then again, you could be forgiven for feeling like you are sitting within a traditional bamboo steaming pot.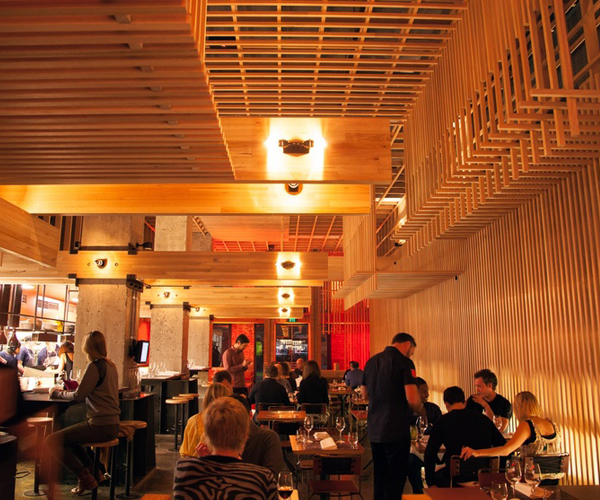 With dishes ranging from Chinese Peking duck dumplings or Korean fried ribs, Lambie jumps across the many borders of Asia by offering his interpretation of dishes from a number of different countries. The diverse menu is anchored by Lambie's extensive experience in French cuisine, a complex cultural dynamic reflected in the fit out – where convivial, European bar style warmth meets streamlined Asian minimalism.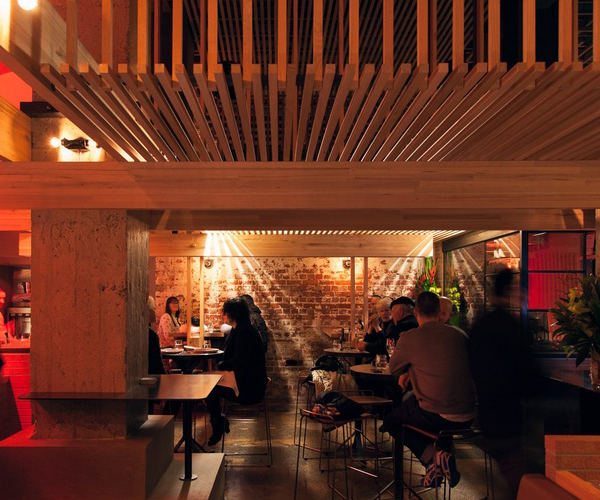 A sense of place-making influenced March Studio's decision to reposition the restaurant entrance from Russell Street to a more intimate entry via the cobbled Oliver Lane at the rear of the building. The intent of which is perhaps to identify with Melbourne's cultural context as a city of laneways, while continuing Lucy Liu's intriguingly cabalistic flow onto the street.
Yes, they do take bookings. Visit the Lucy Liu website for details.
For more on March Studio and their innovative use of timber, read up on their award-winning work at Canberra's Nishi building.