Image above: King Residence in Phegans Bay by David Boyle Architect
Architecture is about caves and trees. Caves, because as humans we seek shelter from the elements. Trees because, as sentient beings, our curiosity craves prospect out over new horizons.
I was reminded of this on a recent tour of the Light House in Sydney's east, by Peter Stutchbury Architecture. This concrete monolith reefed on the rock cliffs in Dover Heights is part bunker, part battleship, designed to withstand year-round corrosive seaspray and near cyclonic winds. Its labyrinth of upstairs bedrooms and studies filter the extremes of ocean, wind and sun through scales, baffles and skylights. Downstairs, the living areas flow almost too readily out to a patch of grass, from where the endless blue Pacific all but engulfs you.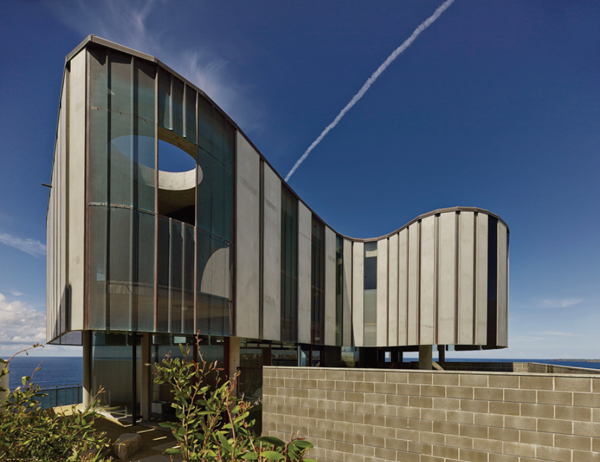 "There's a real sense of being drawn to that edge," says John Bohane, the project architect. "It's an erotic impulse and it informed the way we staged the building on the site." Designed for a couple who met later in life, Light House won this year's Wilkinson Award for Residential Architecture – the highest accolade for a house from the Australian Institute of Architects.
Further north, on the NSW Central Coast, in the sleepy idyl of Phegans Bay, Sydney architect David Boyle has rewritten the fibro shack vernacular on a steep bush block, with King Residence. Boyle lives at nearby Pretty Beach and has learnt to tip-toe around these sites, using topography as his template for organic structures clad in fibre-cement with timber battens that echo the rhythm of the trees.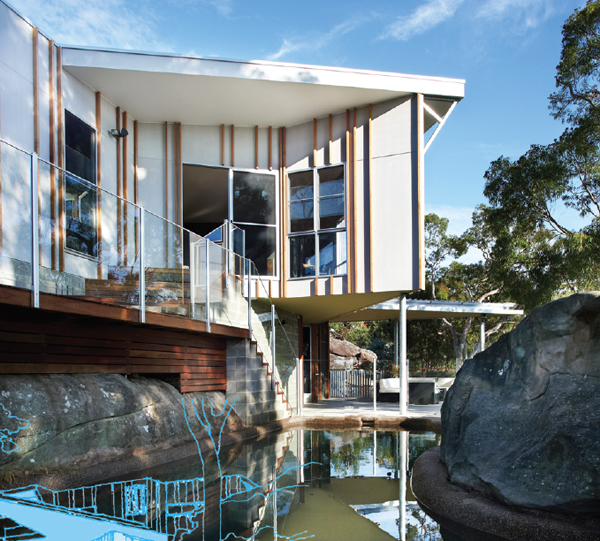 King Residence replaced a prior dwelling lost in a bushfire. All that remained was a swimming pool between boulders and the garage concrete block walls. Boyle set out the new house on the imprint of the old, splaying it in different directions to: utilise ground levels, bring sun into the interior and reference the rock ledges to which the house is anchored. He managed the slope of the site with a series of platforms and pathways between rock outcrops, taking in views of the twisting headlands surrounding the Brisbane Water. Engaging a local pole-home builder "made the unusual building that much easier to erect," says Boyle. Bushfire regulations 19–29 (medium to high risk), required noncombustible materials, hence his palette of fibre-cement cladding and fire-retardant hardwoods for decking and sliding or stacking windows and doors instead of bi-folds, because metal flyscreens are a requirement to shield the interior from embers. It's a different type of home among the gum trees, complete with its version of a billabong – the old pebblecrete pool revived.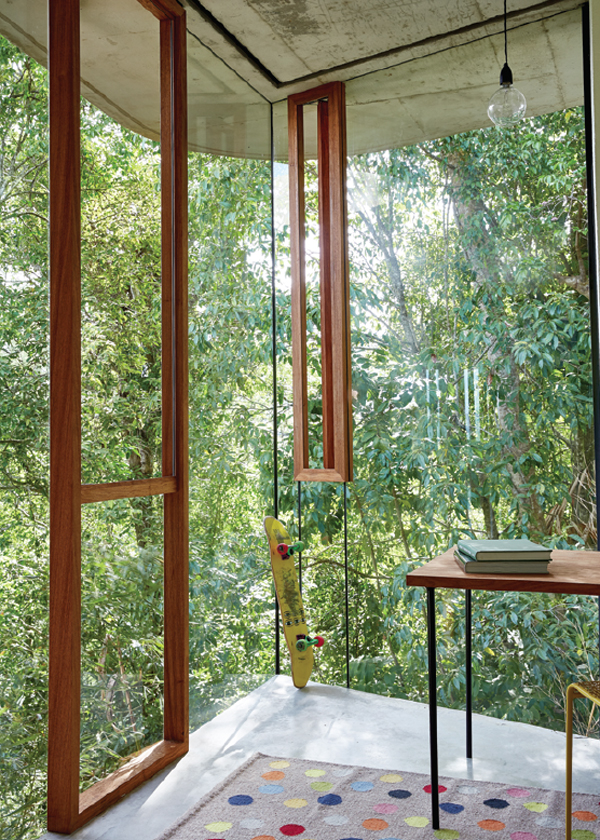 In tropical Queensland, Planchonella House in Cairns is similarly shaped by its setting, though its concrete curves relate more to the John Lautner (1973) Arango Residence in Acapulco, Mexico, than to houses of the Australian bush. Planchonella House is the stunning first project by husband-and-wife team Jesse Bennett (architect/builder) and Anne-Marie Campagnolo (interior designer), their own home. Straddling a ridgeline of Mount Whitfield, the difficult site is steep and, with no town services, lay dormant for years before they bought it to build their own home. Its concrete floors and roof are curved to the site contours, embracing the rainforest with glass-walled rooms projecting into the canopy, and enclosed quieter pockets where house meets hillside.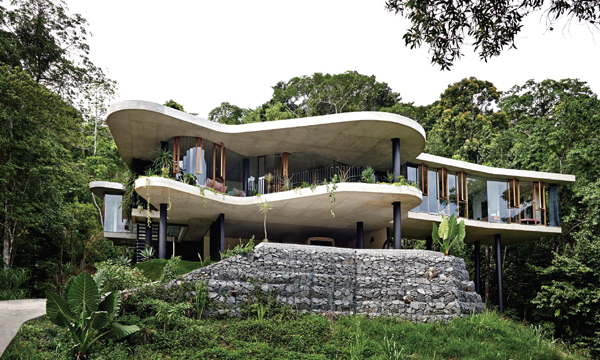 With a limited budget, every material was double-handled on site "dropped off at the bottom of the driveway then unloaded (by hand) at the top". While the use of concrete is contentious in sustainability terms, Campagnolo points out the advantages of its thermal attributes in a tropical climate: "That's a big deal in Cairns where everyone runs air-conditioning for six months of the year – and we don't have any." They are also planting a roof garden as time and money permits, which will add to the cooling effect. Their rewards are also the sights and sounds of the rainforest: birds, flowering Planchonella trees (for which the house is named), lumbering goannas, the Cairns Birdwing butterfly (Australia's largest) and the rare blue Ulysses. The house won the 2015 Robin Dods Award for Residential Architecture in Queensland.
Another 2015 winner at the Queensland Architecture Awards was The Edge at Port Douglas, by Charles Wright Architects. It too references a famous John Lautner house – Chemosphere (1960) – for its angled windows framing a panoramic view, in this case from Flagstaff Hill down to Four Mile Beach. Site and council constraints kept the building envelope sleek and discreet – it was not permitted to obscure any beach view from the public lookout above. Like the Light House in Sydney, The Edge is engineered to battle corrosive elements of salt winds and temperature extremes. It gives back environmentally with the high thermal mass of its off-form concrete, cross-ventilation and low-water usage fixtures, combined with in-ground water tanks to harvest roof runoff for irrigation and other non-potable uses.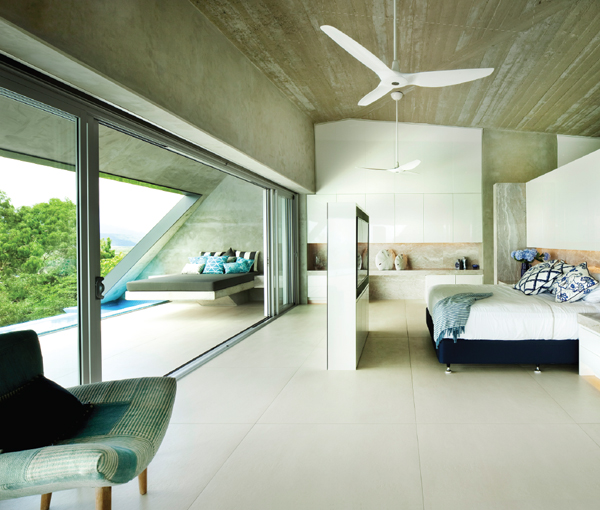 "The client's need for privacy (both visual and audible) set us a challenge from the outset," Wright explains. "Our response was to think of the house as a shell, or outdoor auditorium, with its back to onlookers above and behind. From inside, it functions simply as a large living platform, stretching literally into the horizon and out to sea."
Further north in Queensland, the Cape Tribulation House does almost the opposite, connecting intimately with the Daintree Rainforest, at the start of the Bloomfield Track. The house is by m3architecture, which generally works on hospitals and schools, and it has considered carefully the fragile ecology. Key to its construction was mapping the least disruptive pathways in and out of the site, says architect Ben Vielle. "Beach access roads got us into the site, then we used natural clearings as drop-off points. We worked with a sustainability consultant so that the house could generate and harvest its own energy and water."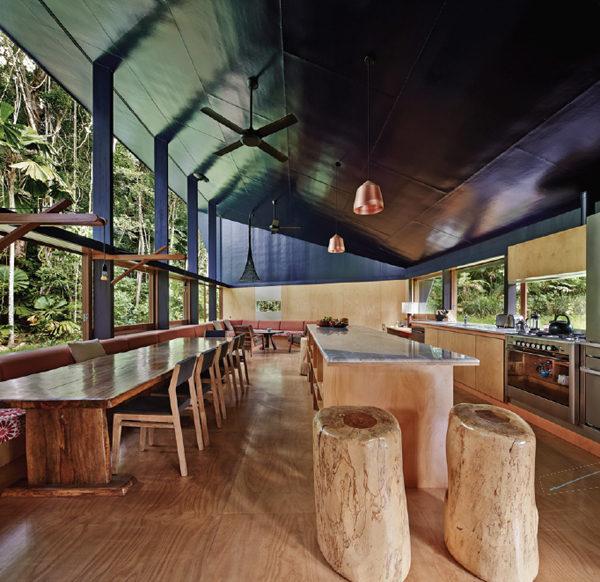 The simple plan sees two pavilions (living and sleeping) linked by a breezeway, in basic, low-cost materials. Frames are spotted gum, walls and floors are plywood, and the ceiling is fibre cement, painted a deep blue gloss finish "to draw reflections in from the forest". Tables and stools were crafted from quandong (santalum acuminatum) by a local carpenter who makes furniture from fallen trees. It is a dwelling both in and of the Daintree Rainforest.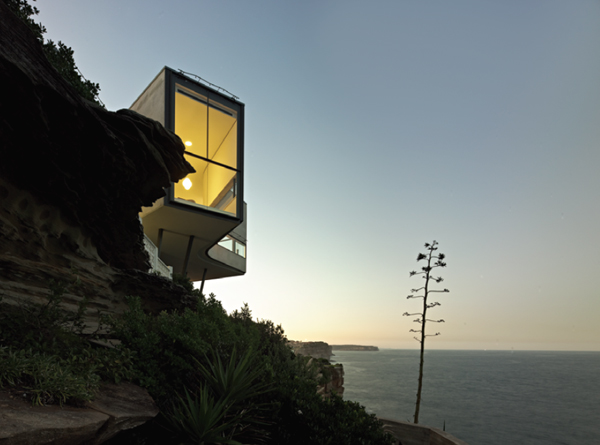 It's a long way from Cape Trib back to the Light House in Sydney. This is not Peter Stutchbury's first Wilkinson Award, nor is it the first for the windy bluffs of Dover Heights. That honour went to one of the most audacious houses ever built in Sydney, just down the road – House Holman by Durbach Block Jaggers. Tethered to rock by steel pins, its butterfly wings cantilever out over the cliff , taking you with them. It is a house often emulated but rarely matched. Architect Neil Durbach says it probably wouldn't make sense anywhere else. "It's not designed to be looked at. It's more a collection of spatial experiences assembled around the view. We cut out all the street and suburb behind to exaggerate that experience of place… the horizon sets up a longing… a connection to infinite possibilities."
This article by Peter Salhani appears in MEZZANINE. MEZZANINE issue #1 is now on sale and can be found in leading newsagents Australia-wide for only $7.95. You can purchase a yearly subscription here for only $29. Digital subscriptions are available through Zinio for $19.