The idea that generosity begins at home may sound old school. But if you consider a recent report out of Melbourne University suggesting that, within the next few years, less than half of Australia's adult population will be home-owners — due to soaring costs — it's worth considering how those with the means exercise their privilege, and to whose benefit.
Generosity in architecture takes many forms, not all immediately apparent. Take this year's Wilkinson Award-winner for Residential Architecture (NSW), Indigo Slam in Chippendale, by Smart Design Studio. Commissioned by arts patron Judith Neilson, it is a monumental house with both a private and public agenda. Built on the bones of a former warehouse, its entire ground floor is devoted to hosting events for organisations that Neilson supports, and is fitted with a catering kitchen, cloakroom and a dining hall for 60. Bedrooms are on the first floor (Palladian style), while Neilson's private suite, her kitchen, living and dining rooms are on the level above. Furnishings were commissioned from Adelaide designer Khai Liew — around 200 pieces including rugs, lighting and the public hall's 16-metre dining table of Brazilian cherry wood, and its 60 hand-carved chairs.
The fluted concrete façade is inspired by the work of Basque sculptor, Eduardo Chillida. Smart has abstracted its sculptural language through the interior — of solid planes, cut and then folded back onto themselves. Raw copper fenestration, patterned brick floors, waxed plaster walls, oak and alabaster joinery nod to his other influences — Finnish modernist Alvar Aalto and British minimalist John Pawson among them. The aesthetics are underpinned with high-performance glass, geothermal heating and cooling, and solar and water harvesting for exemplary environmental operation.
In a public presentation of the house, William Smart explained how Neilson's brief to him was for a building of longevity, one that would promote a conversation about doing things differently in Sydney. "The big question Judith asked of everything we proposed was: 'If it's not going to last at least a hundred years, why are we doing it?'"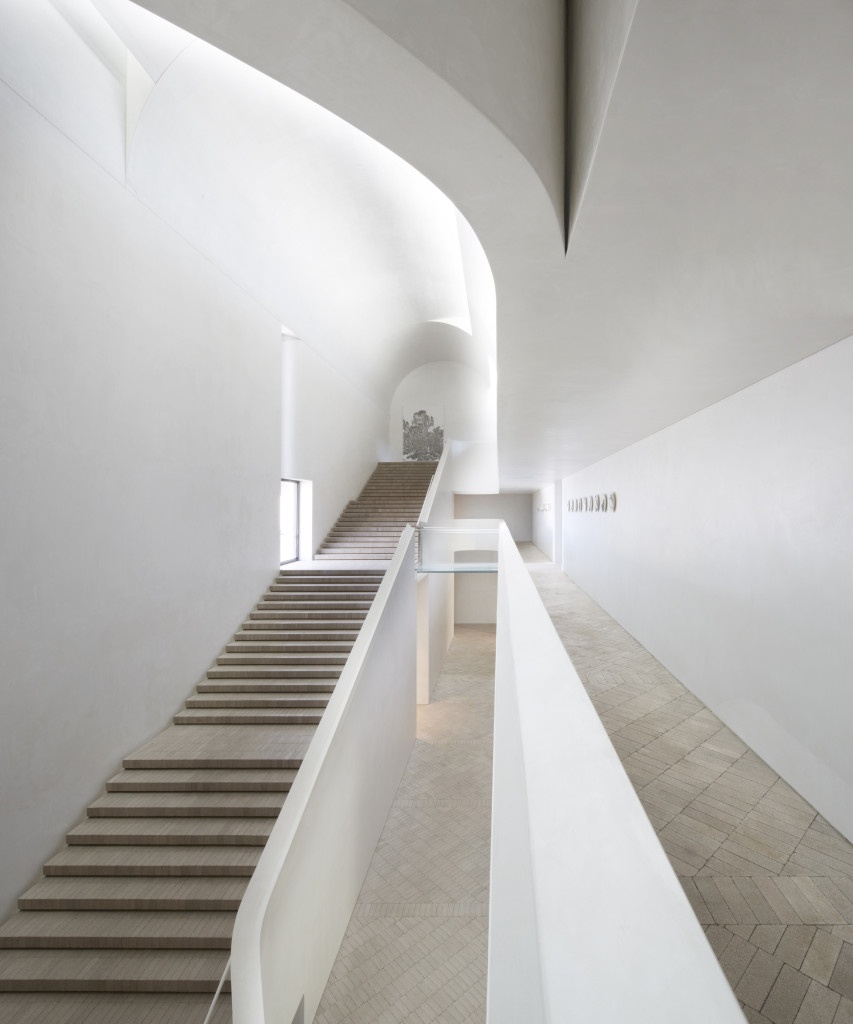 Neilson is rightly credited as a catalyst in the post-industrial revival of Chippendale. She opened the White Rabbit Gallery in 2009, in an old Rolls-Royce depot that Smart converted, and the Neilson Foundation has since gifted to the City of Sydney. She has commissioned another public gallery and theatre nearby and has already used Indigo Slam to host functions for Anti-Slavery Australia and the Sydney Biennale.
The big question Judith asked of everything we proposed was: 'If it's not going to last at least a hundred years, why are we doing it?'
While Instagrammers have been flocking to snap its heroic façade, landscaper Christopher Owen has been making a small, private garden behind its walls, just for Neilson, using the ancient Chinese Ginkgo tree. "He's conceived it as a storyteller's garden, 'a companion for a thousand years'," says Smart. "It's going to be a very special part of the house — every bit as energetic as the front, but in a much more personal way."
On a considerably more domestic scale, yet generous with resources, Backyard Studio in Melbourne by Figureground received a 2016 Small Project Architecture Award (Victoria), for its exemplary freestanding addition. Anticipating the changes of a growing (and extended) family, the clients asked architect Matt Rawlins to design a music studio, children's playroom, workshop, storage/laundry area and self-contained guest room as an addition to their weatherboard Californian bungalow, which they had partially renovated some years earlier.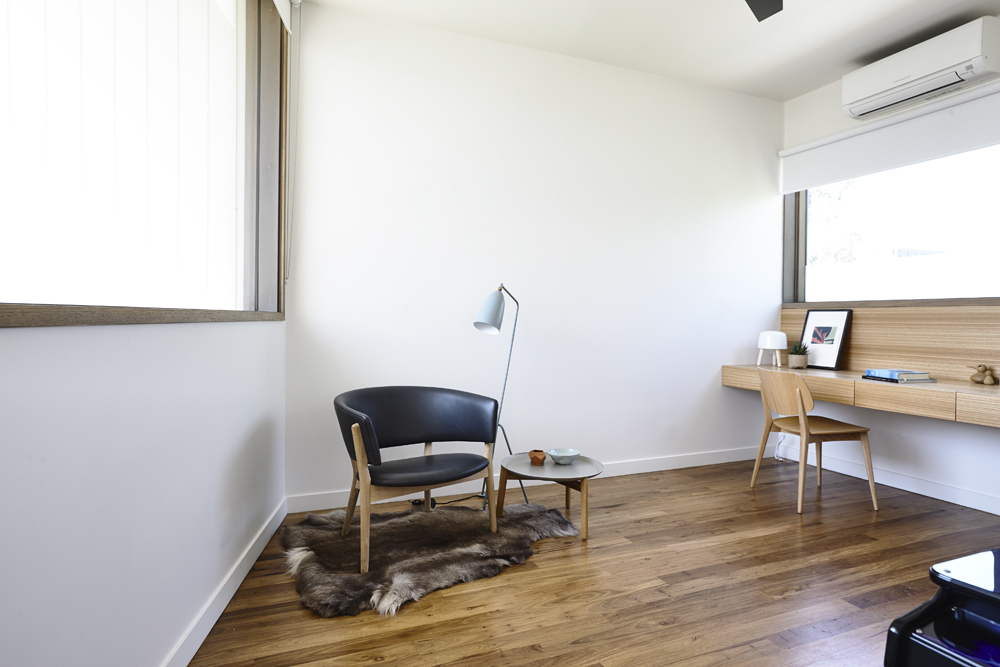 The rear yard was south-facing, backing onto a laneway, with a small shed against the boundary. Rawlins drew up a plan that turned the tricky variables and planning constraints into a charming two-storey granny flat/studio that engages both house and laneway equally. Avoiding the typical blunt box addition, Rawlins anchored his building across the rear lane boundary, canting it around a walnut tree that the clients wanted kept.
Several discrete functions are wrapped up inside: a workshop, studio and storage space on the ground floor, with a bedroom, bathroom and deck tucked into the north-west corner. Materials too are economical and purposeful. Rawlins relates the new building to the whiter weatherboard bungalow with white-painted timber skin that transitions from boards to battens and operable panels, for screening and spatial division. The steep gabled roof gives the workshop a double-height volume, while translucent roofing infuses it with natural light.
"We saw this as an opportunity for a more contributory ancillary structure in the suburban setting, using it to reframe the backyard as an active social space and essential (yet independent) element of the family home," says Rawlins. "It encourages a model of density that's more sensitive to evolving family structures, and that better utilises the potential of dormant outdoor space for multigenerational living."
Taking that idea to a coastal setting, the recent recipient of a NSW Architecture Award, The Farm by Fergus Scott Architects, is an extended family lodge on a windswept south coast bluff. Set on 20 hectares, the house is designed to accommodate not one family, but several at a time, dissolving the typical family-plus-guest-room layout.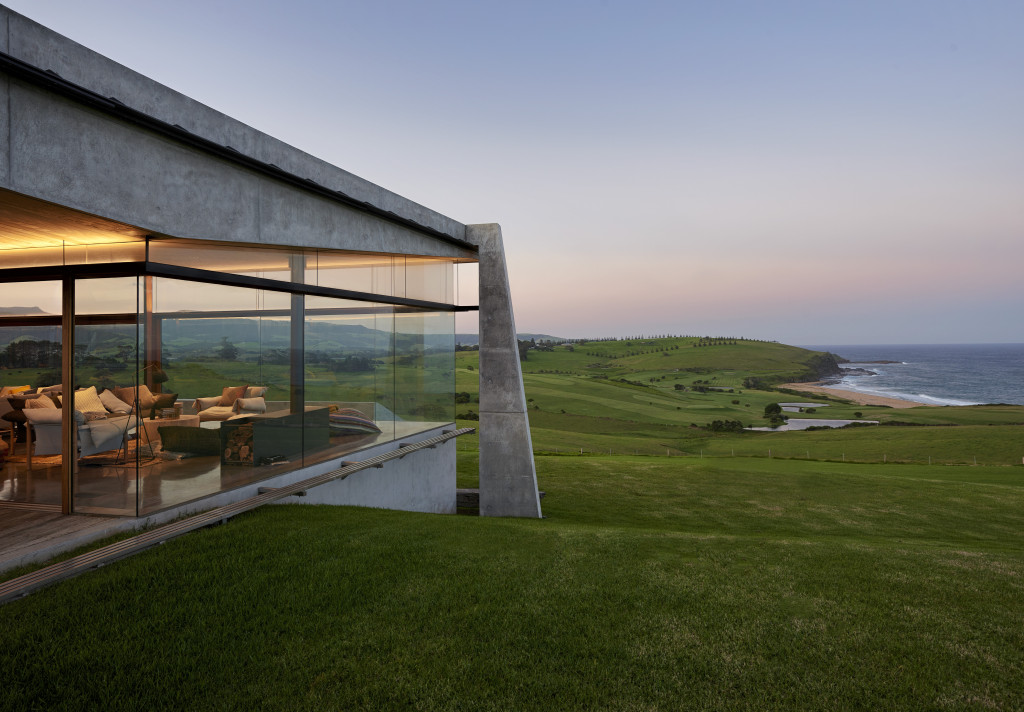 "The idea was that anyone who came to stay should feel comfortable enough to inhabit any space equally. There is no master bedroom for instance, and no clear 'ownership' of any one room," says architect Fergus Scott. "It also needed to work for up to 30 people, so the challenge for us was how to bring that central idea into the architecture, and still maintain a domestic, human scale."
His strategy with scale was to sculpt a ground-hugging building of two linked pavilions with rammed earth walls tapering to the ground. Interiors are lined with recycled hardwood ceilings and walls, with a concrete floor and a roofline wrapped in softly weathering zinc.
The first pavilion is for sleeping – a lodge-style arrangement of eight equally- sized bedrooms each with bathroom, some with children's bunkbeds, and a rumpus room for all. Stepped down the site, the public pavilion includes a lounge room and communal kitchen with open pantries and two island prep stations, opening to an outdoor dining terrace. This pavilion opens to big coastal views north and east, as well as a more sheltered courtyard to the south, where sliding doors and screens can open the area to other site aspects.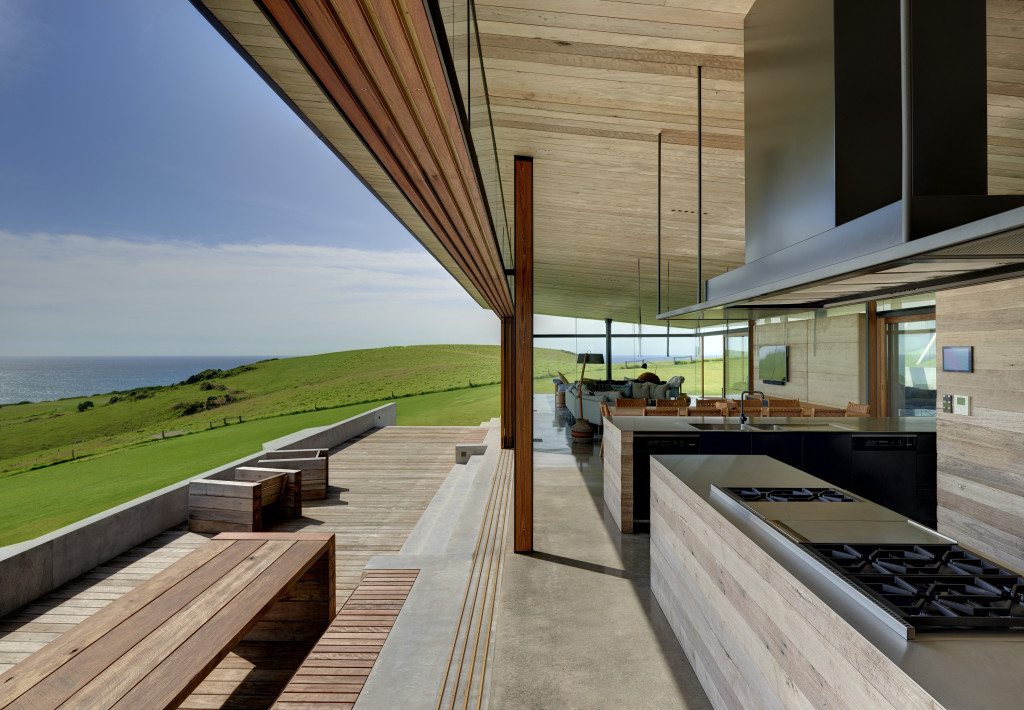 Farm House develops Scott's thinking from his 2003 Wilkinson Award-winning Toumbaal Plains House, also straddling a windswept coast, and similarly using two pavilions to create a walled courtyard for shelter. A key question in both was how to give a good experience of such a vast, often hostile site. "We looked at doing individual cabins around the site, but given the winds ripping across the site, we chose to concentrate the building in one area. This was more fortifying against the elements and gave us a variety of outdoor spaces from which to experience the landscape, as well as more options in how those spaces are used," explains Scott. The Farm lends itself to an, even more, public purpose at some point in the future, like a residency program for writers or artists.
Having won the Wilkinson, Indigo Slam is now in the running for a national award from the Australian Institute of Architects in November. It's worth noting that in Australia, the Institute runs the only architecture awards program where juries visit their shortlisted entries, to experience them in situ. Architecture is, after all, a spatial art and a social act – part engineering, part alchemy, and increasingly altruistic.
Lead image, Fluted concrete facade of Indigo Slam by Smart Design Studio. Photo by Sharrin Rees.
smartdesignstudio.com
figureground.com.au
fergusscottarchitects.com.au

This article originally appeared in MEZZANINE Issue 5 – available now on newsstands and digitally through Zinio.
–
Find out more about Indigo Slam, which also received accolades at the 2016 Interior Design Excellence Awards taking out the Overall Winner and Residential Single Award.