inside #93 is available now on newsstands and through Zinio.
As winter nears its end and spring takes centre stage, issue 93 of inside is a breath of fresh air guaranteed to brighten your day and brush away those design cobwebs. In keeping with the idea of a new season and things reborn, in this issue we present a two-part magazine: Part One features our usual attractions of news, products and people, while Part Two presents the IDEA 2016 shortlisted practices, projects and products.
Updating the look of inside is all about moving ahead and challenging preconceived ideas of what a magazine should be, so we hope that you will enjoy the change of format for this issue.
As usual we have gathered a stellar lineup of interviews, reviews, profiles and a fi ne array of diverse projects. Scott Weston tells us about his favourite things (p42), while Nick Rennie (p53) and Korban Flaubert (p56) talk about their life and work. Visiting the Melbourne Theatre Company (p60), we discover set design at its best. We also explore the iconic house of Missoni (p64), the products of which embrace pattern like no other. Projects feature luxurious and beautiful residences in Sydney and Melbourne with KPDO's Harbour House (p70) and David Hicks' St Kilda Road Penthouse (p88). The University of Queensland's Oral Health Centre (p78) by Cox Rayner sets a new a benchmark in public design and ROAM Architects' East Gallery House (p84) is an art collector's delight. Add to the mix an unusual project by Sean Dix (p96) and the amenities of every shopping centre will need upgrading.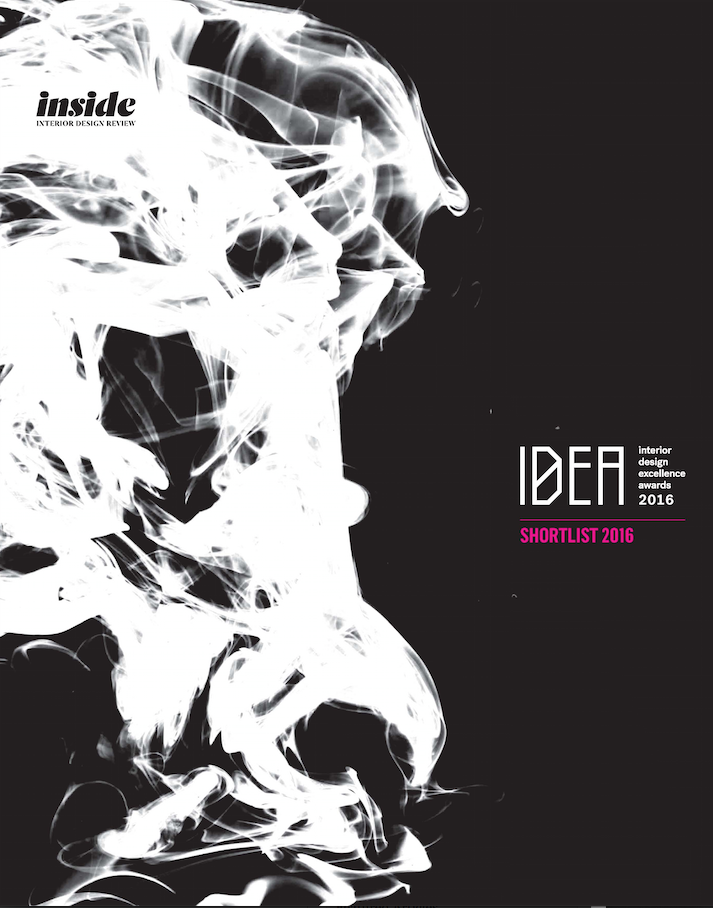 As usual, with the penultimate issue of the year and this year in Part Two of inside, we have the great pleasure of presenting the shortlisted projects from this year's entries in the Interior Design Excellence Awards (IDEA). We received a record-breaking number of submissions and applaud all who entered. Thank you for sharing your outstanding work. As happened last year, the Designer of the Year nominees will present their work to their peers and the IDEA judges on 17 August at Rokeby Studios in Melbourne. The winner of the newest category in IDEA, the Object, Lighting and Furniture Rising award, will also be announced at this time.
This issue launches at the Shortlist Reveal event in Melbourne, as we look forward to the IDEA 2016 Gala Party in Sydney at the Dockside Pavilion on 18 November. In the meantime, there is a chance to read inside and see exactly what our extraordinary community has been up to. Both the quality and quantity of projects received for IDEA 2016 have exceeded all expectations and Australian design has never been better.
See you all soon,
Jan Henderson and Gillian Serisier
co-editors of inside Magazine