Poppy Taylor and Mat Hinds cite the local landscape and their own values as informing their designs. Here they talk about their early influences and starting up their practice.
Hailing from the small yet culturally rich location of Tasmania, Poppy Taylor and Mat Hinds are the architects behind the state's award-winning practice Taylor + Hinds. Both come from strong backgrounds in the industry, bringing with them a plethora of passion and experience.
Hinds developed an interest in architecture in his formative years and knew, quite young, that this was the career in which he pictured himself – indeed, he remembers the exact moment when he came to this realisation.
He followed this childhood dream into his education, obtaining a Bachelor of Environmental Design and a Bachelor of Architecture (First Class Honours). Taylor, on the other hand, took a shine to design and the environment, and – not unlike Hinds – pursued this interest at the University of Tasmania (UTAS) by also studying Environmental Design and Architecture (First Class Honours).
Upon breaking into the industry, both Hinds and Taylor worked for larger Tasmanian commercial practices – which, by national standards, they say, were probably not considered 'large'. As with anything, experience is key and while working and "cutting our teeth", they both moonlighted.
Taylor was given the opportunity to design her first house on Flinders Island, even though she had only just completed her third year of her Environmental Design degree.
"That experience felt like being thrown in the deep end," she says, "but it was foundational to my sense of what practice can offer – particularly to a young female at a time when the industry was not as gender-aware as it is today."
Hinds initially worked for an established commercial practice, navigating his way through the demands of commercial projects with lean time-frames and tight budgets. Simultaneously, he maintained his footing in the educational and academic sphere as an associate lecturer and honorary researcher at the School of Architecture and Design.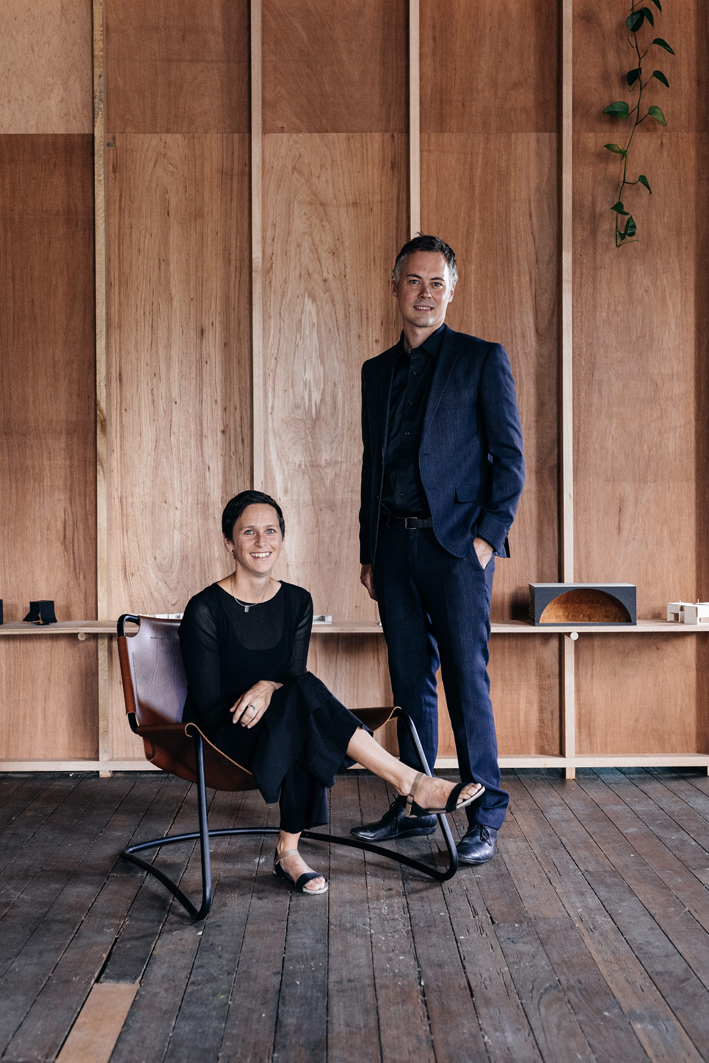 "In many respects, the access to ideas offered a counter to the kind of initial nuts and bolts work experience that I had been exposed to," Hinds says. "Teaching offered a kind of incubator for ideas and it required a kind of communicative clarity, which has also been very important in establishing our first works at Taylor + Hinds."
Hinds recalls his early international travels as particularly influential. "I completely immersed myself in experiencing the works of the European masters, and I spent a lot of time travelling through the remote landscapes of Scotland, Scandinavia and eastern Europe," he says. "Those experiences were formative. They consolidated my sense of wanting to practise in Tasmania – because I understood that the type of architect that you become is informed by the types of experiences that have shaped your spatial memory.
"Marco Frascari calls this process 'cosmopoeisis' – a capacity to poetically reimagine worldly possibilities for the sake of the heightened experience of other people," he says. "It's a very humbling idea, I feel."
Taylor + Hinds was birthed from the pair's combined experiences, a culmination of their joint expertise and vision. Working for larger firms, both in Tasmania and abroad, meant that the pair experienced a wide range of projects and clients, and developed a sound idea of the kind of practice they wanted to build and the work they would develop.
"In 2011 we [were] approached for the commission for a new house (Lagoon) by some dear friends, and we then decided it was time [to form a practice]. We owe our beginning to that commission."
With limited access to capital, Hinds and Taylor converted their old backyard fibro garage into a studio space. "It all seems very quaint in hindsight, but our peers genuinely seemed very supportive of our establishment, and we received a number of approaches from clients quite quickly," they say.
Upon starting out, Taylor had previously worked on a number of small, private commissions for family and friends, but neither Hinds nor Taylor had had any real experience of starting up a business.
"It became clear quite quickly that architectural education and training is almost entirely deficient in offering a basic initiation into business management," Hinds says. "Our mutual experiences in other workplaces suggested that accessing the mechanics of business is not really an option offered by many practices, either. It felt like the only way to learn was firsthand. In establishing our own practice, we have been supported by some fantastic small business mentors and technical and accounting support, which has given us back the time to engage in the core activity of our work."
As the practice – and their family – expanded, in 2017 Taylor and Hinds relocated the studio to a 1920s inner city brick warehouse, which has afforded the family some much needed separation between work and life spaces. That being said, the duo are closely involved in the day-to-day running of the practice and, because of the scale of the business, they're across every project in detail. They don't outsource scope and their method is very much set by the tone of their conversations. "We feel that this is a strength of our method and our work, because we share a clear sensibility in our approach," Hinds says. "I think our clients also appreciate that their project is receiving our shared attention."
Hinds and Taylor say that while they work with a range of exceptional consultants, they don't tolerate incompetent work or demanding professional relationships.
"If consultants aren't able to support the architectural intent, or actively seek to undermine it through their own ignorance of the architectural process, then they are not only slighting our profession, but also disregarding the aspirations and resources of our client. This may seem a heavy-handed statement, but we take the aims of our work very seriously."
As with any worthwhile venture, Taylor + Hinds has been faced with challenges throughout its life. The architecture is the easy part, they say, but the mechanics of small business management is the hurdle. The duo utilise their supportive colleagues in the profession, as well as a number of resources they swear by for knowledge – particularly The Architect's Guide to Small Firm Management by Rena M Klein, The Business of Design by Keith Granet, as well as the podcasts Radical Candor and 99 Percent Invisible.
And their approach is working for them. With multiple awards to the practice's name and a growing portfolio, Taylor + Hinds is expanding to include part-time staff.
"We have always designed together, and set the tone for the project," they say, "but we have found that we need the extra support to deliver the documentation. The conceptual approach to the project is applied at every scale, and is manifest in the execution of the work – we feel that this has become stronger in our work as it has matured from our first couple of projects."
Since embarking on the Taylor + Hinds studio adventure, the pair have noticed slight differences in their approach to their work, becoming more focused on economy.
"Not necessarily financially," they stress, "but economy in the sense of what is possible, matched against what is aspired.
"Our work is also slowly becoming more spatially lean. The building industry absorbs frightening amounts of energy and material, and we see it as a responsibility to strip our work of 'fat'."
Forming and growing their own practice has instilled in Hinds and Taylor new recognition and a deep respect for their colleagues in the industry. "Witnessing projects actually get built changes the reading that you make of the work of others," they say. "Architecture is distilled out of great difficulty. It is rarified, and easily compromised, so we feel we have a growing sense of respect for the good work of others."
This article originally appeared in AR154 – available online and digitally through Zinio.