It is obvious upon entering the foyer of Vicland Property Group's South Yarra office that this is no ordinary workspace. Travis Walton Architecture was tasked with transforming the space into one of opulence and sophistication. The brief was to 'blur the distinction between business and pleasure' and the space does just that, with the pièce de résistance a rooftop pavilion complete with a full-service bar. Don Draper of Mad Men would be most impressed.
"The design was really driven by the core values of their business. Privacy and security is important to them, and I think that's all about the level of detail you can bring to an office to represent the thinking of an organisation."
Emerging from a lavish corridor clad in gold titanium tiles, the reception envelopes visitors in a metallic box, with LED strips sprawled across the walls, floor and ceiling. Reflective surfaces distort the bounds of the space, while access to the offices is concealed within a mirrored wall, doors controlled remotely by the reception counter.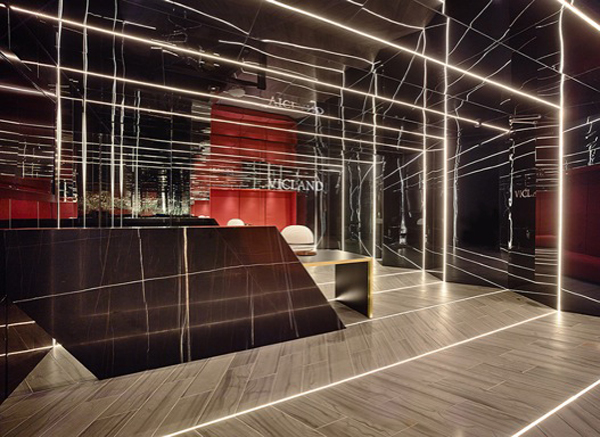 Both its communal and private spaces are dramatic in nature, with bold colours and textures used throughout. Vicland wanted to create an unforgettable experience for its clients and Travis Walton Architecture has certainly achieved that. The offices are undeniably striking, oozing luxury from wall to wall.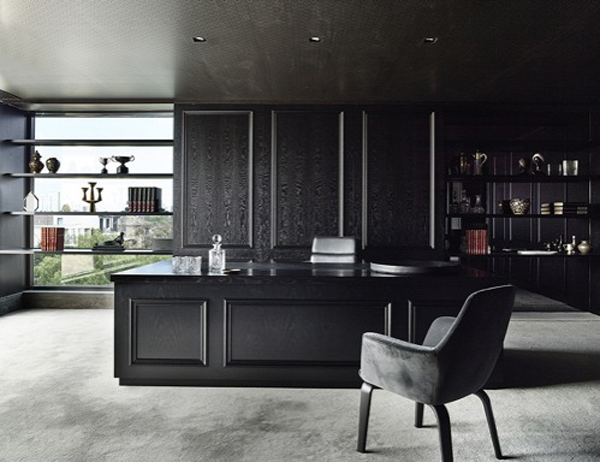 Mat Austin from Vicland explains how they came to choose Travis Walton Architecture for the project. "We looked at some other architects at the start and got some initial designs from them, but everything was quite bland," he explains.
Bland this space is not. An electric wall panel opens up, revealing the main office area. The contrast of materials is most evident in this space, with a gold titanium fireplace appearing against oak floorboards and limestone. High impact finishes gives the sense of being in a 5-star hotel rather than in the offices of a property group, with the use of marble adding to the ultra-luxe atmosphere. As Austin says, "Travis came along with the zig zag walls and the automatic doors and this raised podium. It was definitely what we were looking for."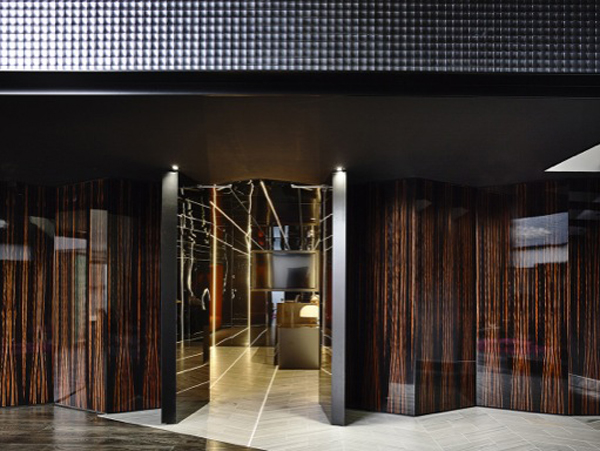 Walton explains, "The executive offices reflect the way they do business. It's not just at a desk, it's social, it's personable and it requires space to think without being distracted".
Each of the communal workspaces connect to one another, with the private offices carrying the same level of vivid detail throughout, from silk carpets to green velvet day beds. Vicland was adamant in requiring individual offices. "Having doors that can be shut was important to us – we understand the whole open plan thing, but another luxury that we wanted was to have our own privacy and our own space," says Austin.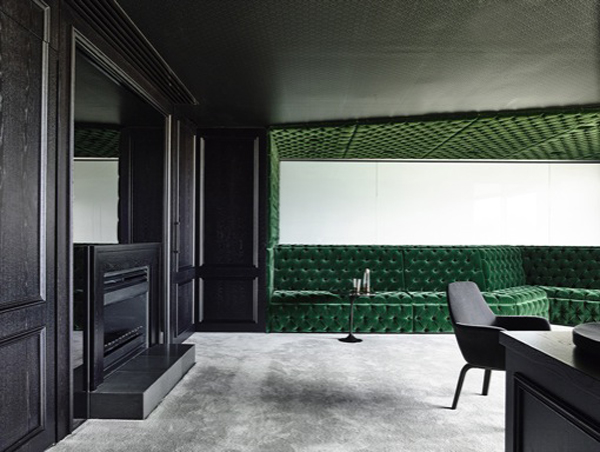 The rooftop bar offers incredible views and the perfect way for Vicland staff to unwind after a tough day's work.
"To have that outdoor area is something quite special – that connection to the outdoors is always important in a workplace environment to have some sort of relief and outdoor space, and they use the outdoor space quite a bit," Walton says.
Austin reaffirms how the space has impacted on the team, "It's definitely made it a better place to work. Even though this place is massive we're a small team, just like a little family. We're the biggest we've ever been at the moment and there are only 5 of us working here!"