Much has been made of the undulating, suggestively feminine form of Elenberg Fraser's Premier Tower, following the firm's revelations that the building was conceived as an architectural homage to RnB's 'flawless' deity, Beyonce.
Its striking organic shape was foremost a response to environmental parameters at the site in Melbourne's developing west end, and a concession to dispersing wind impact, a decision made quite early on in the design process. Unexpectedly, upon looking at the team's initial visuals for the curvy and irregular building, director Callum Fraser was put in mind of Beyonce's provocative Ghost video.
"There's a really striking image of Beyonce in a body stocking, and the parallel between that imagery and what we were trying to do with the architecture was immediate and unavoidable," says Jansen Aui, lead architect at Elenberg Fraser.
However, as Jansen explains, "It's really important for us to get across the idea that for us it wasn't purely a formal allusion. What we would hate is for the public to just think we were trying to make a building look like Beyonce, because we truly believe that it's more than that – she's informed every aspect of the interiors as well."
Like the multifaceted artist herself, behind the imposing prima donna exterior lies an equally impressive conceptualised interior. Drawing directly from the video, the team, headed by Elenberg Fraser's lead interior designer Emma Phythian, developed four strong female personas – the muse, the fighter, the performer and the temptress.
Their deeply considered approach included a close up look at Beyonce's face, using her carefully constructed visage to inform the geometry and the colour palette in the apartment interiors.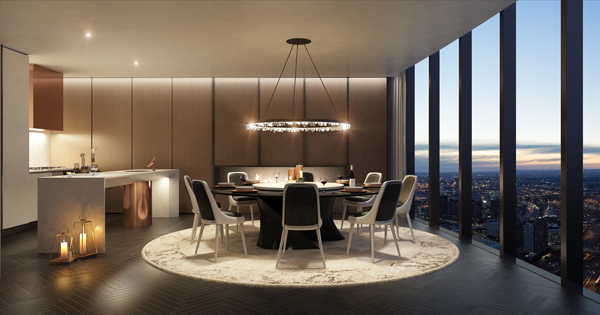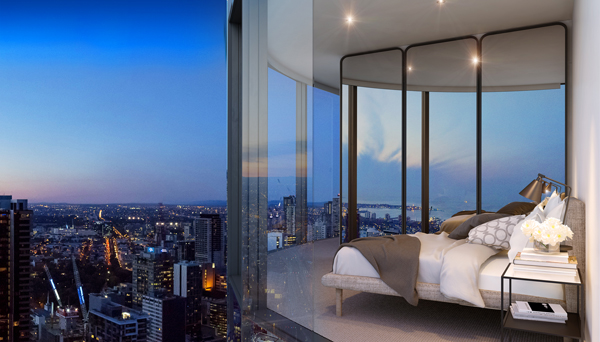 "We wrote a narrative for these women and they started to embody the common space levels in the tower," Phythian says.
Beyond the plush detailing and glamour, the team introduced functional spaces to each level to further integrate each persona within the building. "Beyonce's also informed a lot of the uses on the common level spaces. So on the 'performer' level we've got a karaoke room with a stage, and on the 'fighter' level we've got a gym with a lot of boxing bags in it," Phythian says.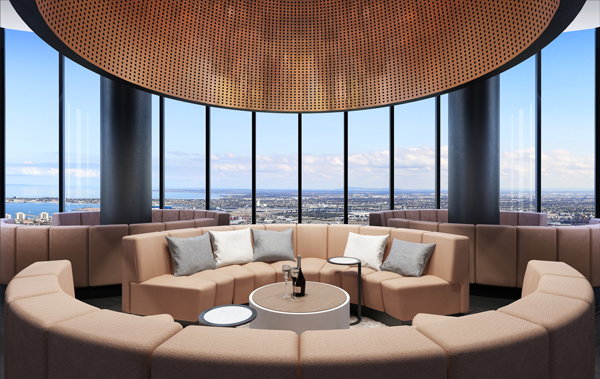 In a profession often given to abstract thinking and conceptualisation, the overt pop-culture inspiration behind Premier Tower is an interesting case study in making architecture more accessible.
Situated in close proximity to Southern Cross station, a major transit hub for suburban and regional Victorian commuters, the building will become something of a landmark, a metropolitan totem in a rapidly changing Melbourne cityscape.
"Emma raised a good point about how this is going to be a huge building, it's going to be a massive impact on the skyline, and the architecture there has to be for everyone," Aui says.
"I think a design concept can come from anywhere. As long as it's strong, real, and it means something to us and the people that are eventually going to have to experience it, then why can't it be about Beyonce? Why can't it be about Star Wars? Why do we have to trap ourselves in this clandestine thinking?"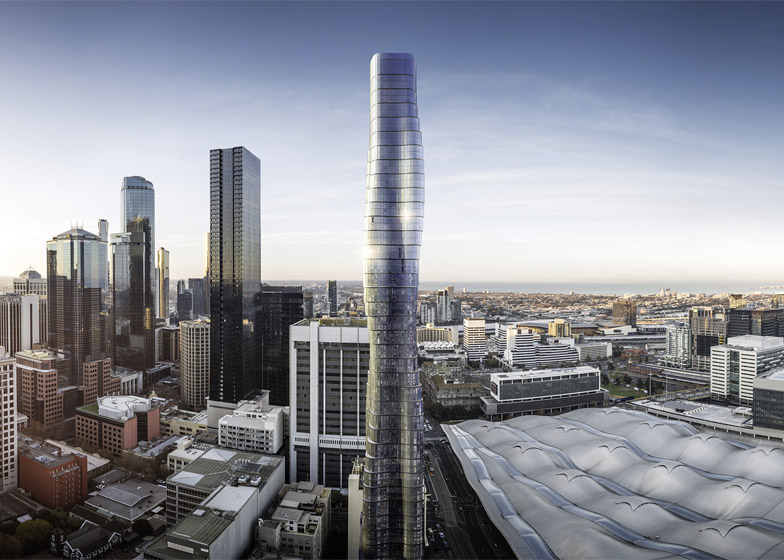 According to Elenberg Fraser, it can. Since founded in 1998 by Zahava Elenberg and Callum Fraser when both were in their early twenties, the firm has enjoyed a strong legacy of supporting younger architects, giving them an early opportunity to shape the built environment. "The practice is established for people like myself and Emma to actually take control of a project of this scale and bring to it what we want. There aren't too many other practices that I know of that give that opportunity to young people," Aui says.
Coverage on the tower went viral once Elenberg Fraser's media kit, including a link to the Ghost video, made the rounds. "Suddenly it just went bonkers! It connected with so many people and became such a talking point that it went all over the world," Aui says.
But what of Beyonce? Have Aui or Phythian heard from her people?
"No we haven't yet! I think last week when it all took off, she was trending on Twitter because of our building, so I'm sure her people must have sat up and took notice, but no we haven't heard from her. Fingers crossed!"
If Queen B is looking for a penthouse booking, she will have to wait – Premier Tower is projected to begin construction in 2018.