This article originally appeared in inside 93 – available now on newsstands, or digitally through Zinio.
Practice – Cox Rayner Architects in association with Hames Sharley and Conrad Gargett Riddel
Project – University of Queensland Oral Health Centre
Location – Brisbane, Australia
Text – Michelle Bailey
Photography – Christopher Frederick Jones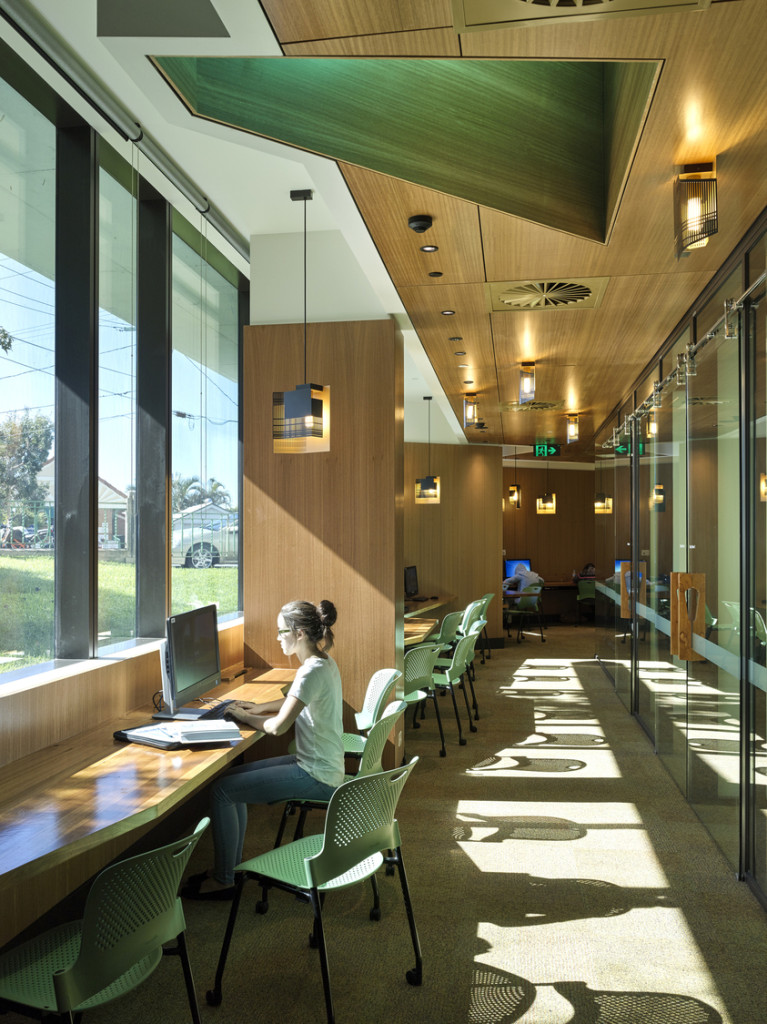 The largest and most comprehensive oral health facility in the southern hemisphere, designed by Cox Rayner Architects, Brisbane, for the University of Queensland, responds to site and brief with sensitivity and intelligence. The seven-storey School of Dentistry brings together Queensland Health's Oral Health Services, combining public health and tertiary education in a technically sophisticated and formally expressive building. The cavernous spaces of the interior that support the complex business of teaching, learning and treatment, transcend the clinical demands of program to create rooms that are highly crafted and personable.
The UQ Oral Health Centre was the brainchild of former head of the School of Dentistry, Professor Laurence Walsh. His dedication to the vision of the centre was extraordinary and matched by the trust he instilled in the design team at Cox Rayner, who worked in association with health designers, Hames Sharley and Conrad Gargett Riddel. Design director, Casey Vallance, describes the project as "complex" and "personal" – two words that translate directly into architecture through the many ways spaces are finely tuned to support the 'craft' of dentistry and the 'personalised' ethos of care and teaching.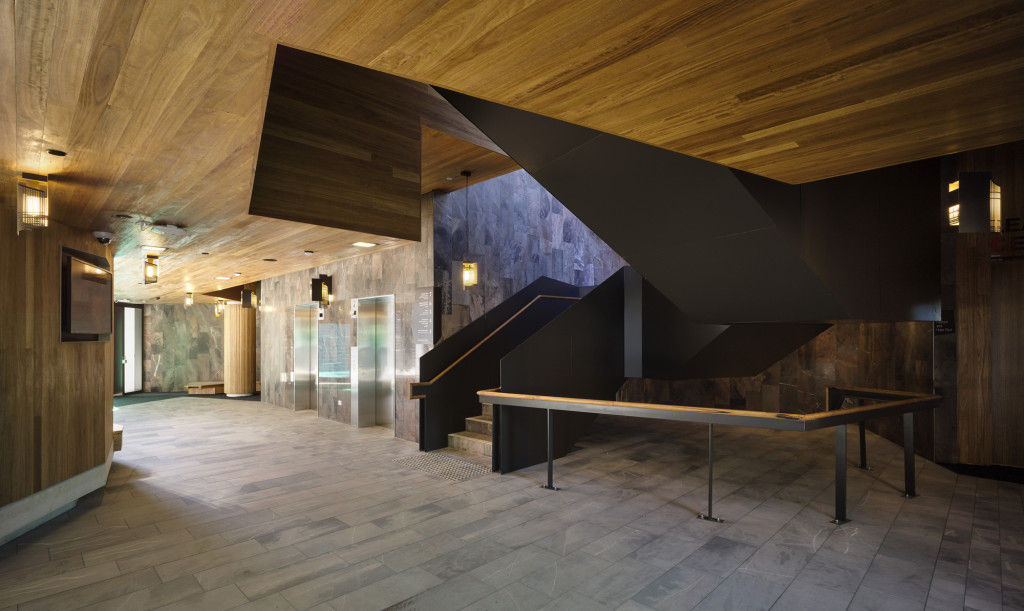 The unusually high attrition rate of dentistry students and the existential angst among public patients requiring dental care were two anomalies in the architectural briefing phase. Addressing these issues was a great challenge for the architects and the reason why many unconventional design strategies were employed. Lessons learned from the apparent failures of previous models – sterile and dehumanised environments – directed moves towards a human-centred design approach, where simple and clever moves were employed to de-institutionalise rooms and spaces.
Sited within the larger Herston medical precinct adjacent to a remnant swathe of eucalyptus trees, the building is orientated to harness views and garner a sense of connection to native landscape. Moments created in the building's plan, which frame these vistas, help to restore a sense of calm in occupants and visitors. A choreographed circulation pattern which translates as a 'walk through the park' of covered outdoor pathways works to effectively de-medicalise the built environment. In these ways Brisbane's subtropical climate and vestige landscape is made an integral part of the users' experience.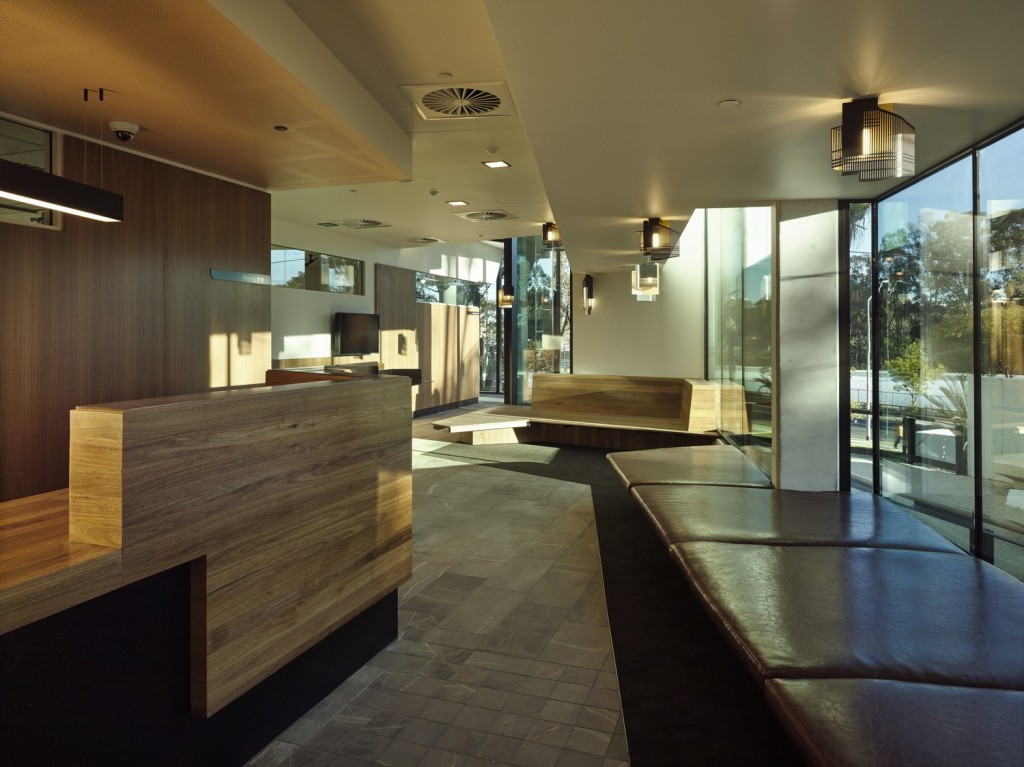 Material richness plays a major role in tailoring spaces for human occupation. Timber in particular, which is used extensively inside the Virtual Learning Centre, brings a sense of ceremony and occasion to academic discourse. The origami-like folds of blackbutt timber walls and ceilings creates a 'timber cocoon' to nurture young minds. Steel is manipulated in a similar way, like folded paper to form the raw carcass of a steel staircase which celebrates the ascent through a cavernous void. Along the pathways between rooms, coloured tiles are introduced to bring colour and texture. Like fragments of patchwork, ceramics in gold, amber, bottle green and burgundy, bring visual accents to areas of quietude.
Custom light fittings and steel screen elements explore ideas about pattern, scale and craftsmanship. Nine hundred light 'shrouds' are employed in the building, each designed to enhance light quality, create shadow play and contribute to a glowing ambience. The vertical patterns appropriated for shrouds and screens were inspired by steel fretwork found in the historic passenger lifts of the neighbouring School of Medicine. Through details like these, the building participates in the story of a broader enclave and contributes its part in collective place-making.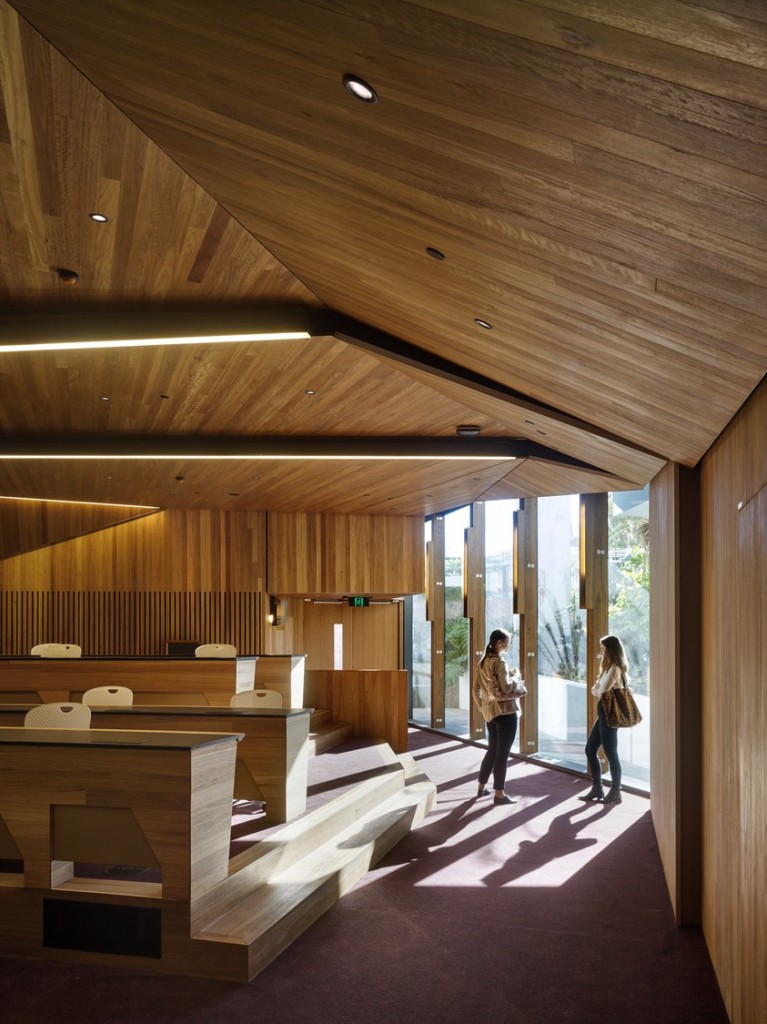 Through the irregular edges of rooms, the sculptured, expressive ceilings and the complex, tapered forms of joinery, a baroque kind of exuberance is achieved. These deliberately 'organic' forms describe a process where a line was drawn with pencil on paper in a gesture translated through craft and carpentry into built form. The tapered tables of the research centre, for example, encourage students to gather in casual and impromptu ways, all the while in a setting that subtly suggests that each nuanced edge was a conscious act involving consideration and craft.
Details aside, one of the very practical successes of the project comes in the dissemination of very large treatment rooms into small amenable spaces, with the effect being a tangible sense of individualised care. The large scale public waiting room is translated here as several small reception rooms, each with a level of intimacy equal to a well-designed domestic lounge room. Similarly, mass treatment halls are reordered into small groups of individual treatment rooms, still with the same level of serviceability and without any increase to staffing numbers. The result is that individuals feel, as they should, like a person and not a number.
A truer marker still of the project's success is evidenced by the increased student enrolments, the increased number of client visitations and the swell of worldwide attention that the centre has attracted. This may be credited in part to the facility being designed for people and not machines, but mostly because, as Vallance suggests, those involved cared deeply about what they were creating.