Established in late 2017 by founder Anna Trefely, Esoteriko Interior Architecture is a flourishing emerging studio located in Sydney. Perfectly balanced between residential and commercial projects, at its core Esoteriko embraces trust, honesty, respect and collaboration.
Known for delivering a highly considered response to clients and site, Esoteriko creates versatile interiors with an emphasis on light, material and colour.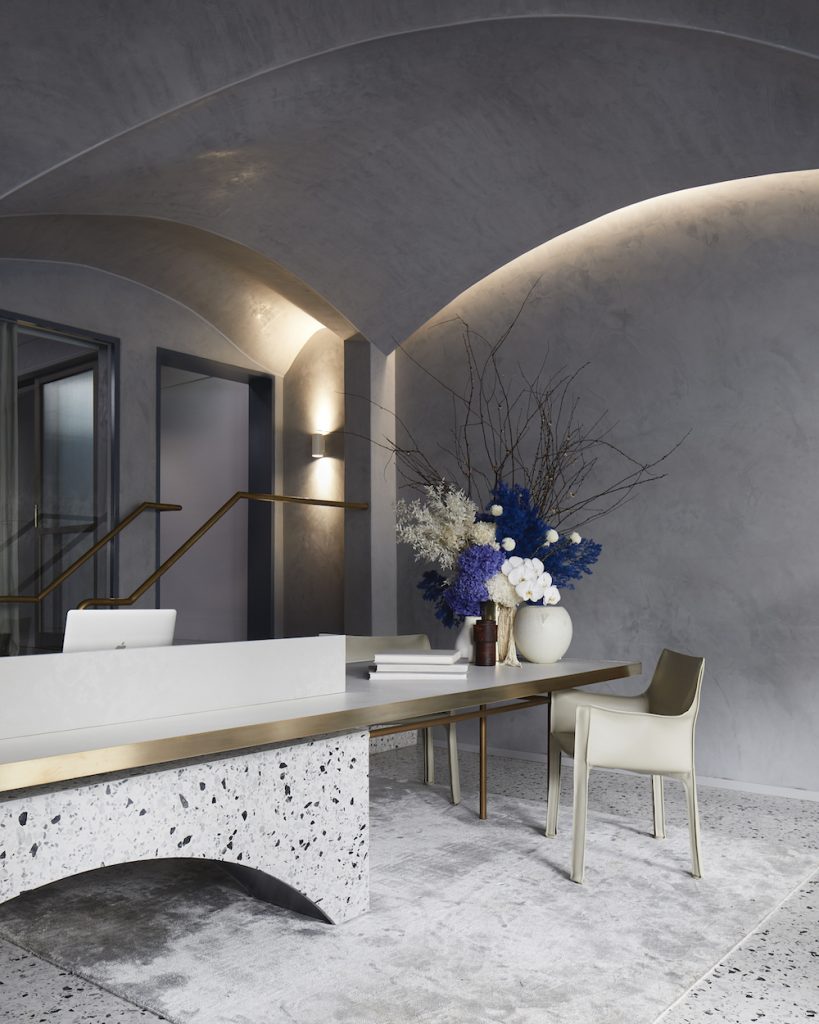 Anna Trefely's solo endeavour transpired organically after she was approached by a new client to undertake a major project soon after becoming a mother for the first time.
Trefely is shortlisted for the IDEA 2020 Emerging Designer of the Year, picking up nods for Balmoral Blue House, The Rubenstein Group's new office space and Shelter flagship in Double Bay.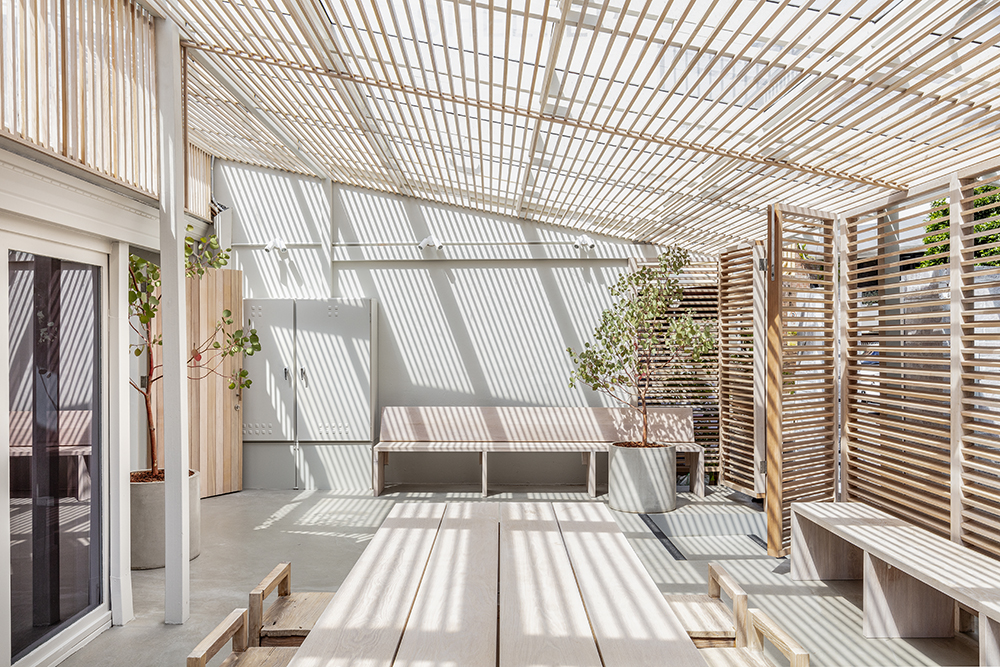 "Any fears or apprehensions I may have had lifted once motherhood triggered a deep passion for architecture and interiors. It completely changed my perception of things. I realised I wanted more autonomy and flexibility," she notes.
"Opportunities then began to open up freely. With a renewed sense of passion, rigour became even more important, and to continually strive for excellence."
Naming the practice 'esoteriko', an Ancient Greek word meaning 'inside' or 'within', referring to the secret teachings or inner knowledge of philosophers, Trefely embraced her ancestral heritage and strong cultural ties.
"Through design, we tell stories or narratives with hidden meanings," she says. Amusingly, previous employers had in jest called her "too esoteric".
Inverting what could have been perceived as a criticism, the studio's name took on a renewed energy and positive association. Influenced and inspired by places, eras, beauty, Japanese wabi-sabi aesthetics and contemporaneity, Trefely is an up-and-coming designer to watch with a growing list of accolades.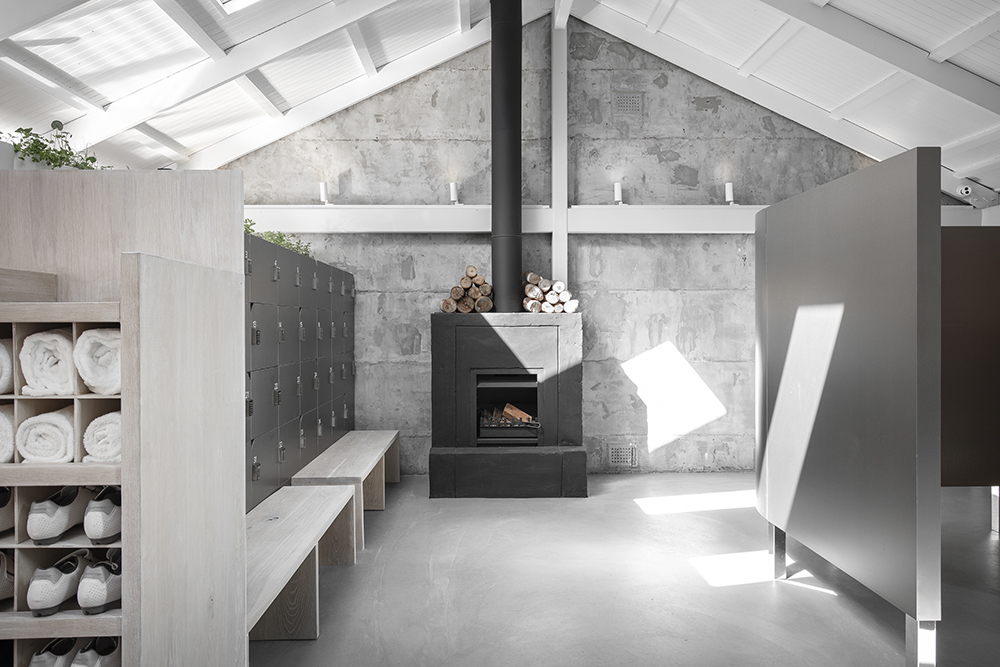 After recruiting a small group of industry colleagues, who value teamwork, a collaborative approach and honest communication, Trefely's first project was Balmoral Blue house. Recently completed, the project could easily have slipped into a clichéd 'beachy' vibe given its harbour locale with striking ocean views.
With Trefely's considered eye, client-centric approach and responsiveness to site, however, the result is one of light, elegant interconnected spaces with an overall refined, minimalist yet warm aesthetic.
Esteriko was appointed by the clients through a word of mouth. A couple and their daughter were returning from overseas and looking to build their first Australian residence. The clients had purchased the property a few months prior to the initial walk-through with Esoteriko.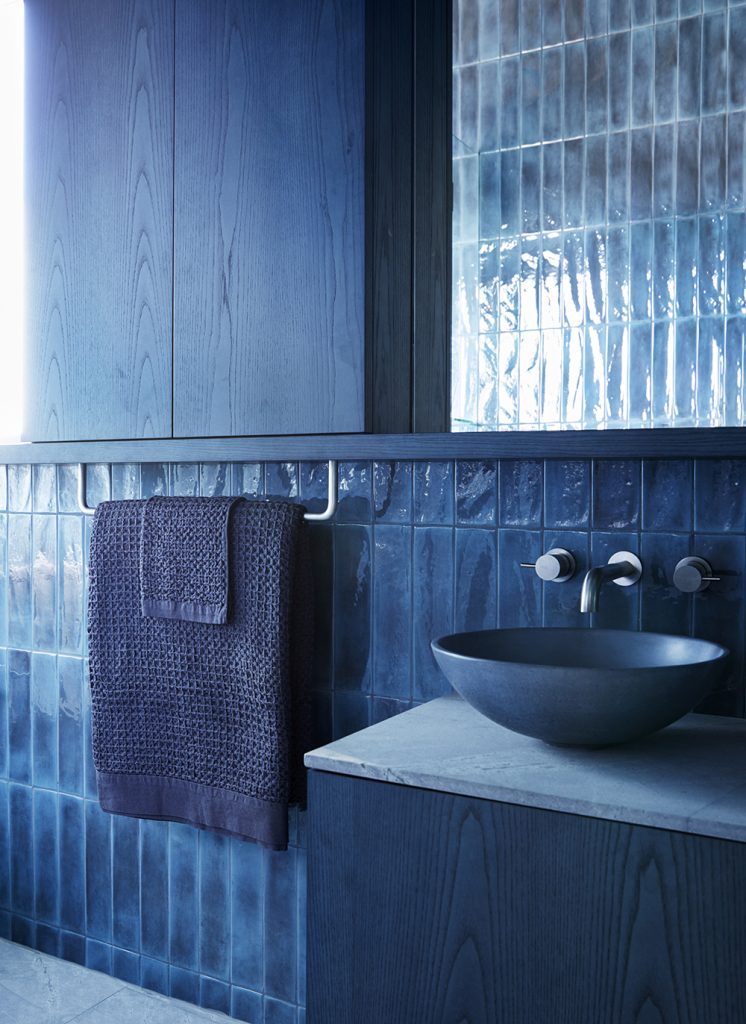 The original 1920s single-storey house was renovated in the early 1990s with a basement and second storey being added in a pseudo-Tuscan style. Although dramatically increasing the floor area, the ill-fitting result was "brown, bland, dark and confusing," says Trefely.
"It had been sitting there, character-less… poor spatial decisions, narrow walkways and staircases. All of this needed resolving."
Grounded on its original sandstone footings, the home was in desperate need of a clear and concise direction for its future inhabitants. Commencing from a simple brief to improve the functionality of the home for the clients, the design evolved to address the home's internal connection.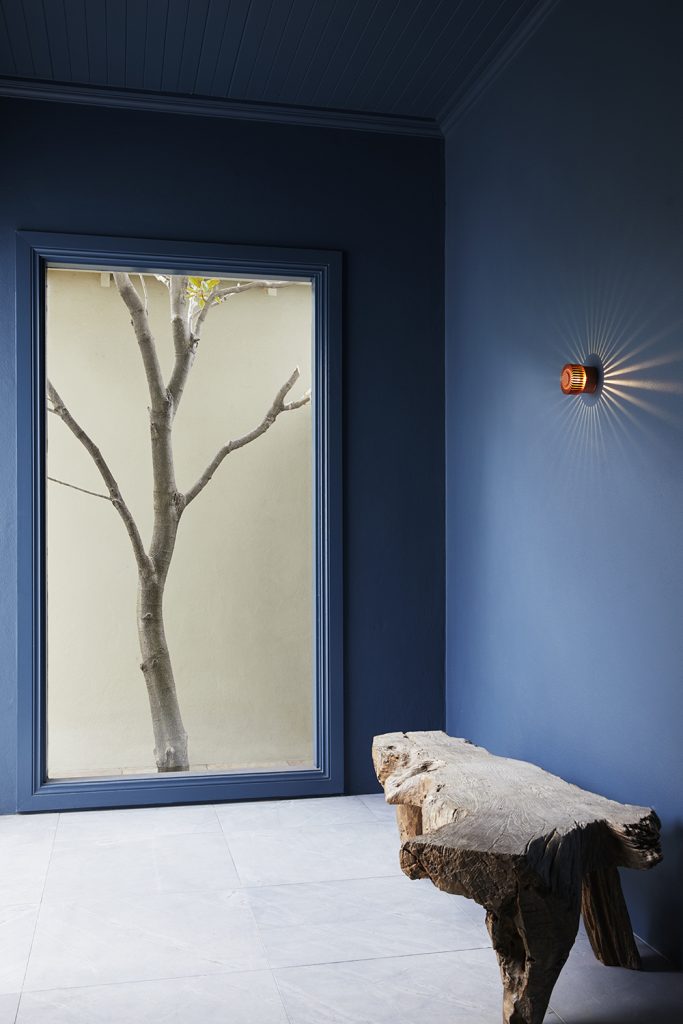 "Access to natural light was essential – the sensation of spaciousness and airiness," Trefely says.
Esoteriko was tasked with modernising the house, yet ensuring comfort for the young family. The clients ultimately wanted the house to be "colourful, artful and contemporary".
Built by Fairweather Constructions, the project saw the house undergo an extensive gutting. Additionally, Esoteriko was also entrusted with leading the project management, overseeing the construction with a constrained budget.
Trefely did not take this lightly. "I really valued the trust the clients had in me," she says.
Emphasising a sense of place aided all the design decision-making. "We looked to the surrounding landscape: deep blues of the ocean and rich warm hues of the land for the colour choices of fabrics in the furniture.
With a minimalist approach, the detailing was clean and simple," explains Trefely. Reflecting the clients' worldly, balanced and sophisticated nature, Esoteriko reacted to this personalisation.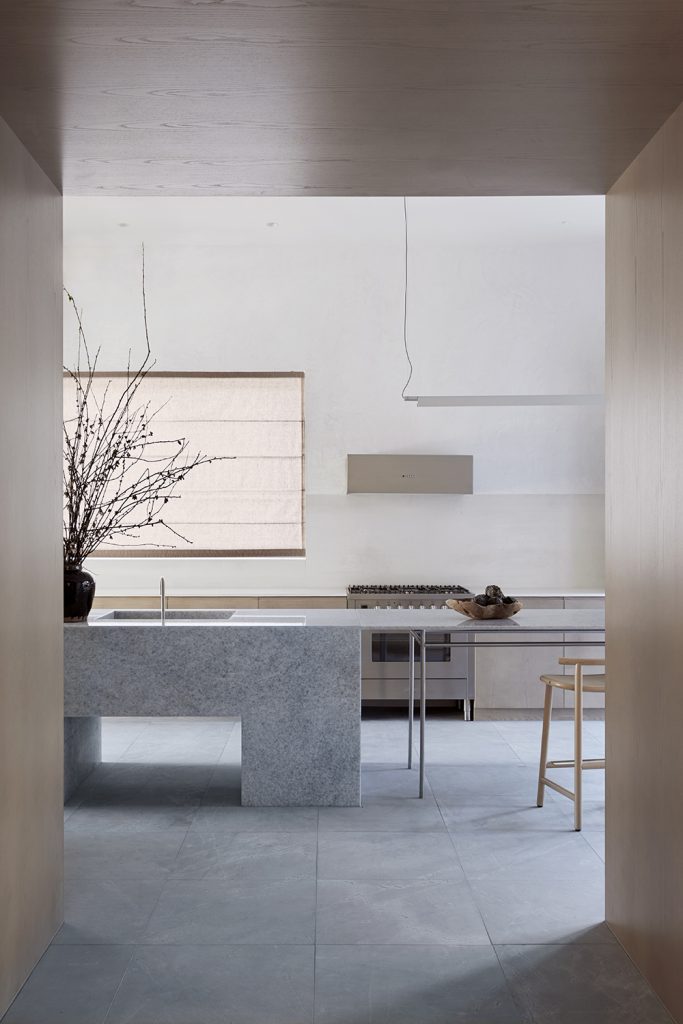 A subtle palette of timber, stone and natural linen transpired – influenced by the restrained rigour of Japanese design and paying tribute to the Australian landscape through the use of native and locally sourced materials, including sandstone from central New South Wales, and blackbutt from south-eastern Australia.
The cohesive, pared back palette of materials and finishes in soft white and grey further ties the interconnecting spaces together, harmonising with the client's sensibilities.
By opening up the floorplan to create space and volume, a sense of flow and movement has been achieved. Descending an ample staircase from the ground floor, the lower level includes an additional large multipurpose living space where it's possible to exercise, a fifth bedroom, bathroom and a lower deck with spa pool.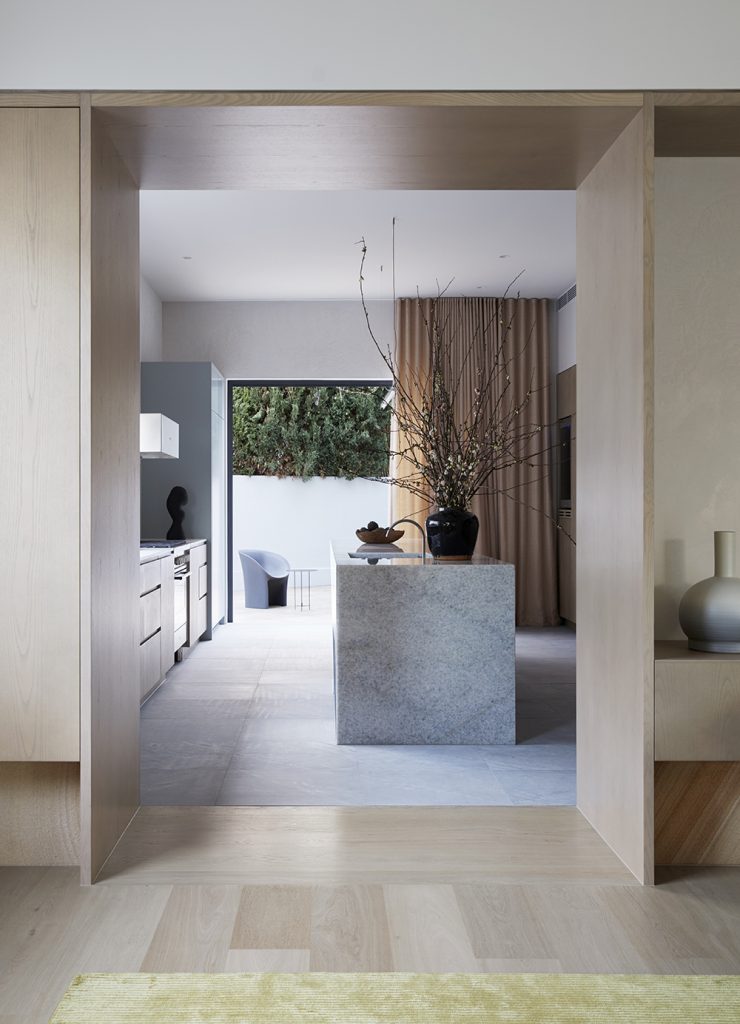 In the new layout, the ground floor plan is designed as a loop of connected indoor and outdoor spaces, including a large family living and dining area with washed oak flooring, a generous kitchen, a grand hallway and a series of terraces that maximise views. The open plan dining and living areas feature black Cassina 412 Cab chairs designed by Mario Bellini and Paulo Mendes da Rocha's effortlessly cool Objekto Paulistano armchair.
The kitchen features timeless and durable appliances, including an integrated Liebherr combination refrigerator and freezer alongside an ILVE oven and rangehood. The functional yet refined kitchen island with dining table extension features elegantly designed Nendo for Thonet barstools. Custom timber cabinetry maximises discreet storage solutions, while adding warmth to the stone tile flooring.
Trefley adds, "We wanted to emphasise the airiness by having a lot of integrated and concealed storage, which allows for clutter-free and comfortable living."
Ascending a staircase from the ground floor, there are four bedrooms on the first floor, including the now famous blue room, which provided the house with its name.
The couple's teenage daughter's favourite colour was selected for her bedroom – "a moment of intensity just for her," notes Trefley.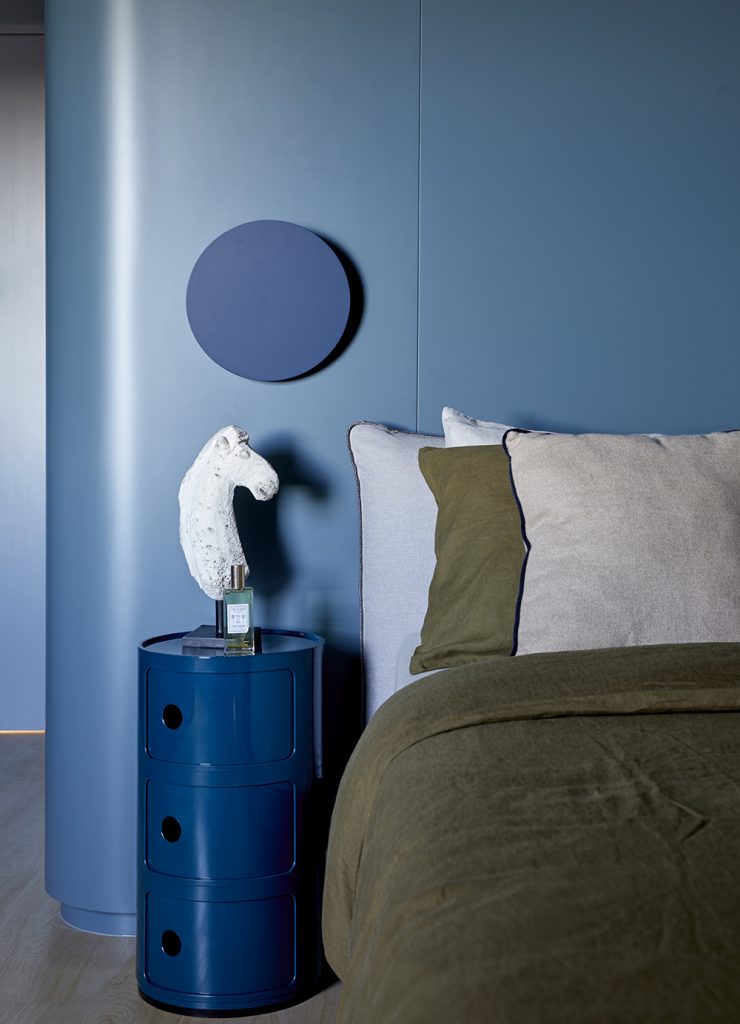 These deep blue tones recur at times, injecting a calm coolness, countering the sun-bathed light and warmth of the timber throughout. The first floor master bedroom, comprising sumptuous lounge area and spacious en suite, opens out to a balcony where the commanding views over Balmoral and the harbour can be quietly enjoyed.
Fulfilling the client's brief, Trefely sourced not only all the interior furnishings, but also the contemporary art collection, comprising paintings and sculptures.
Works by female artists Carol Crawford, Kristiina Haataja, Amanda Schunker and Amy Wright add colour and visual excitement, as well as layers of texture and depth to the interior's refined sensibility. Overall, the result is one of a sophisticated aesthetic and modern Australian liveability.
Coinciding with the Balmoral Blue house, Esoteriko designed Shelter, an award-winning holistic wellness space in Double Bay, Sydney.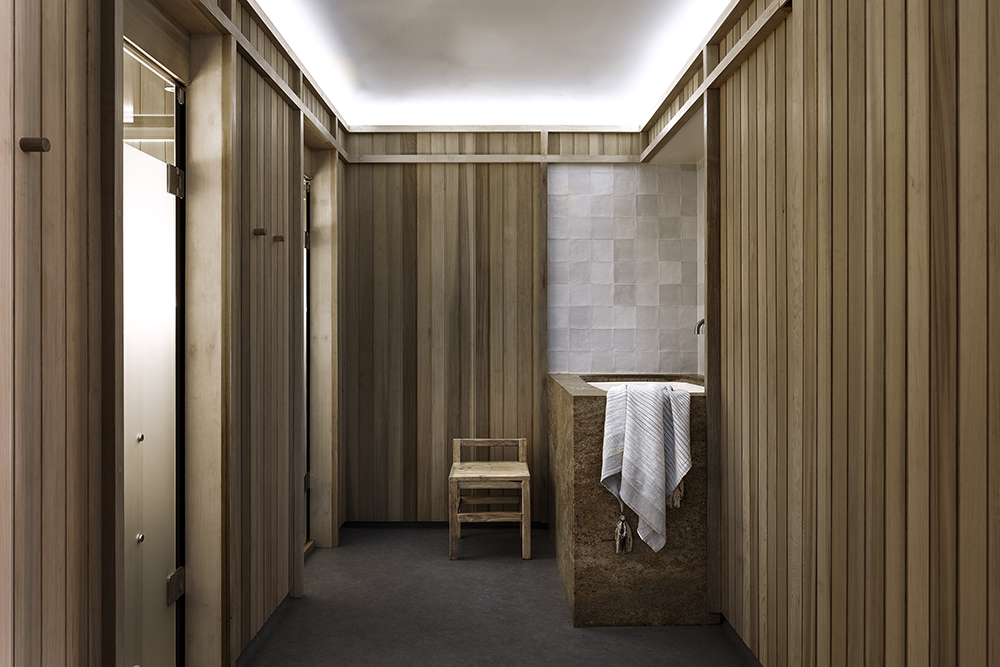 Trefely is mindful of industry peers who may not be faring so well during the COVID-19 pandemic, however, and notes with quiet humility, "The practice is busy; we have created a niche for ourselves, not only in the residential sector, but also in the commercial wellness space."
She is excited by furthering the studio's knowledge of design developments in hygiene and the clinical aspects of architecture. Drawing inspiration from Korea, which is known for its culture of beauty, wellness rituals and minimalist design, Esoteriko's soon to be launched wellness projects will provide the ultimate in self-care experiences.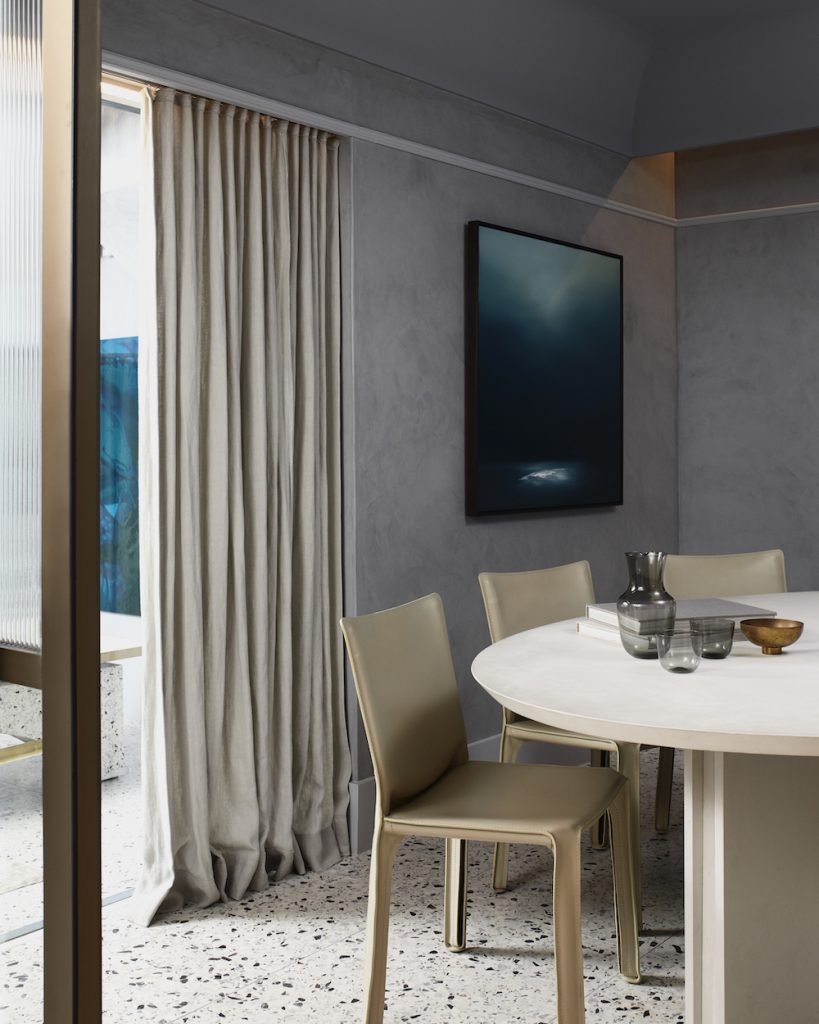 Viewing this extraordinary time as an opportunity to rethink interiors and the design of spaces, being at home, creating experiences for inhabitants and enhanced residential functionality will be at the fore of Esoteriko's future designs. Trefely is optimistic.
What is certain is that whether residential or commercial, Esoteriko's light filled, materially nuanced interior spaces will provide aesthetic and versatile retreats for those in the know.
Lead photo: Dave Wheeler.