Images courtesy of the Belleville
The Office of Public Works, a 'crew' of designers and entrepreneurs responsible for such recent projects as Melbourne's Section 8, Ferdydurke and The B.east, have just recently launched their latest project in the heart of Melbourne's Chinatown district.
Belleville (–belle: beautiful –ville: town, city) is situated within a heritage-listed space above the Swanston Street ANZ on Globe Alley, looking over the gates of Chinatown.
The B.east's chef Jarrod Moore runs the kitchen with a menu that mirrors the space's aesthetic philosophy. The main, simplistic focus is on rotisserie chicken with sides like slaw and fries, while more diverse options (char grilled lamb ribs, kimchi quesadillas or beef tataki) give a hint to the more experimental side of Belleville – an attempt to marry its position on the fringe of Melbourne's Chinese quarter with the current trend for slow roasted meats and other influences from the American south.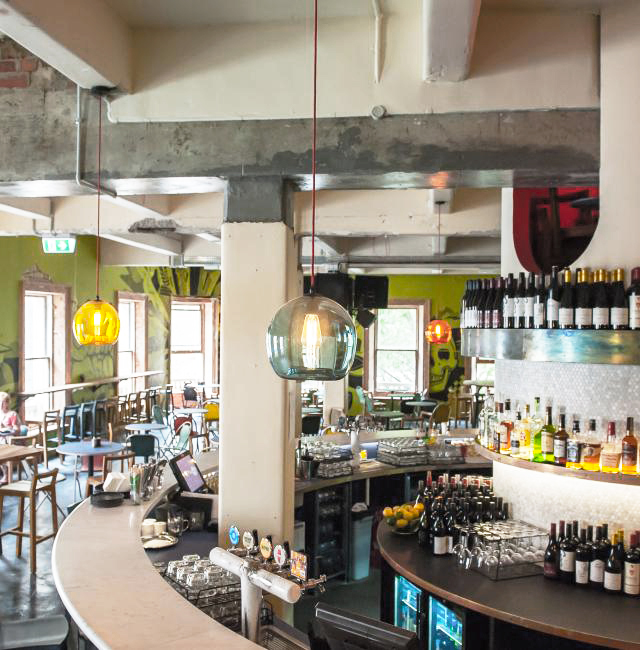 Exposed concrete beams above patrons' heads, roughly painted columns in off-white and exposed brick throughout are an intentional move to create a more beatnik interior that mirrors Belleville's southern menu.
Pea-green walls dotted with street-art inspired works, a mural by tattoo artist Mike Giant of Rebel8, as well as the flotsam and jetsam of metal, canvas and wood chairs also echo the more relaxed nature of Section 8 and Ferdydurke.
Within these rougher edges, a subtle mosaic backdrop to one of the space's two bars and the Orb Pendant lighting by Mark Douglas Design inject a dose of glamour that is not as evident in the comparatively grungier projects by The Office of Public Works.
A slight deviation from the street-inspired aesthetic of its sister bars to a more bohemian cocktail bar, Belleville still carries with it the relaxed and inviting atmosphere that have made all of its owner's previous projects so successful.
The Belleville is open 7 days from 11am-1am. Check out their website for a look at their menu.