Last month interior designer and architect Renee Popovic fought off competition from over 140 interior designers and architects from around the world to see her bathroom recreated at Salone del Mobile in Milan.
The competition, run by Victoria + Albert, saw Popovic design a boutique hotel bathroom inspired by natural beauty. ADR spent some time chatting with the Brisbane-based designer about the project and her thoughts on Australian design.
Can you talk us through the winning project?
The brief was to create a luxury hotel bathroom and what really fascinated me about Victoria + Albert was story behind how they make their beautiful vanity basins – with volcanic ash – and I thought it was pretty unique. So from there I had an idea and I ran with the theme of creating something that looked quite natural and something in the landscape: so soft curves and lines and it just inspired me to do something a little bit out there.
What are you favourite spaces to design and why?
I've come from a high-end residential background and I really enjoy doing renovations and restorations, but also retail spaces and boutique developments where you can do something a little bit more crafted and unique and that is where I am venturing in to lately.
What would you say one critical question you ask your self?
Just one question! I suppose I do look at the brief and what the client is really after. It's about trying to take a step back and seeing how I can create something really unique and different with the space. I also really try to adhere to the client's brief and create something that they can actually use. Something that is functional and memorable for them.
What would you say is the biggest challenge of being a designer?
The biggest challenge is understanding the brief and understanding what the client is really after, because they often don't know themselves. So you do have to really engage with them, get talking to them and understand them even on a personal level to try and pull from them what they are after. Then it's about using your experience and expertise to resolve that and come up with something for them. Once you've got that sorted, I think then the design can flow on from that quite easily.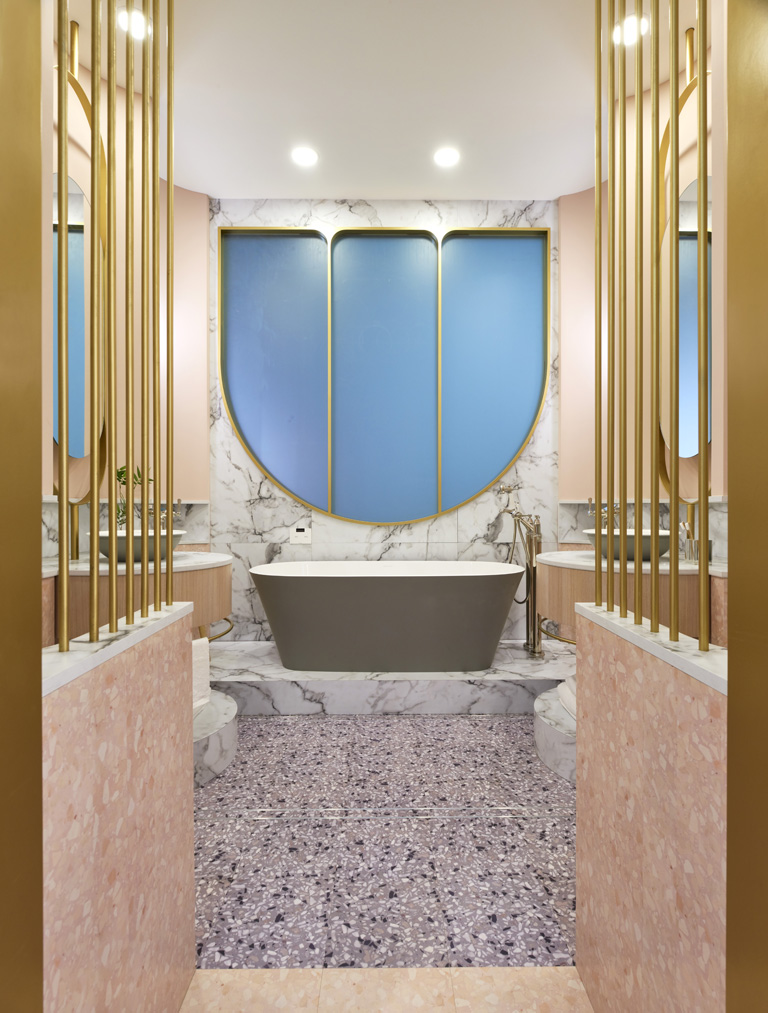 Do you find that you have to push clients to accept your ideas or are they generally quite receptive to what you are suggesting?
I've been really fortunate in that my clients are both really accepting and brave to go along with the ideas. You always have to be mindful of what they are after and be respectful to the aesthetic that they like, but personally I've had great dealings with people, which really makes the process comfortable.
What would you say is the first space that really made an impact on you and instilled that desire in you to become a designer?
I've always wanted to be a designer. From a young age I told my parents that I wanted to do architecture, it was something I knew from very early on. My mum is an artist and my dad is a mathematician and I have been around a lot of art and mum always took us to galleries. But I would maybe say it was experiencing those bigger, public scale buildings that really inspired me to go into architecture.
What do you think about Australian design at the moment? There have been many comments about it becoming "too vanilla"… Do you agree or disagree?
I definitely think the landscape of design is changing because people's ideas are really accessible and so you do get flooded with all this imagery that seems to have to correlate to each other. But in saying that, I think there are gorgeous designs being created that I haven't seen ever before and I think it's really making it easy and accessible for people to come up with creative. Particularly in Australia, I think there is some fantastic talent that has come out. In Milan I went to Local Design and I thought it was just fantastic. I haven't been aware of that level of design and different objects before. So I think it's going well!