Having worked on two large Melbourne venues The Espy and Garden State Hotel, Nick Travers, director at Technē Architecture + Interior Design, tells ADR how to design multi-faceted, layered spaces at scale. 
The secret of a successful large hospitality venue is making it feel intimate. While a typical bar and restaurant project might be anywhere from 100 to 400 square metres, we are now seeing demand for several food and beverage projects over 1000 square metres.
Technē Architecture + Interior Design's largest hospitality project to date, The Espy, comes in at 3300 metres. It's part of a new generation of hospitality super-venues. With scale comes the need to design multi-faceted, layered spaces.
In this way, intelligent design can help the largest room take on a human aspect. This serves the needs of patron experience to, ultimately, benefit the business. Some buildings offer natural opportunities to create smaller spaces.
With The Espy we were able to work with the historic hotel's complex, four-level floor plan to create 12 bars, two restaurants and numerous discrete spaces. But within each space we wanted to create individualised patron experiences.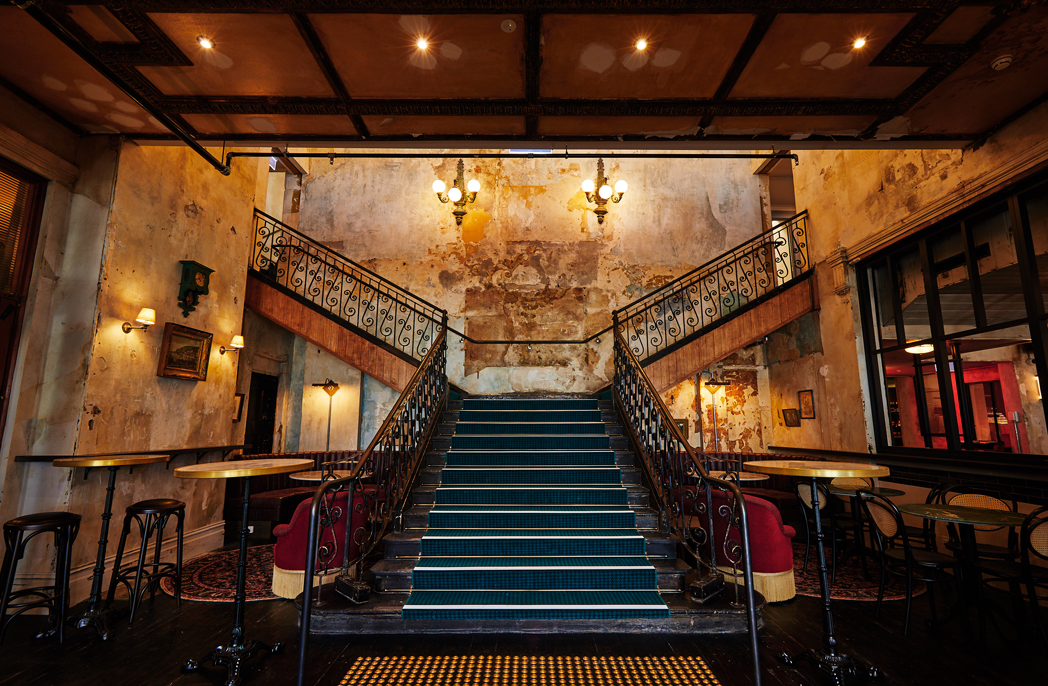 For example, with flagship Cantonese restaurant Mya Tiger we took inspiration from the famous Raffles Hotel in Singapore. This gave us a colonial direction that suited The Espy's seaside aspect yet we still needed to break the space into smaller functional components that gave customers that sense of intimacy.
To do this, we divided the restaurant into a larger space, where groups are granted a sense of seclusion in curvaceous golden-velvet booths, and a smaller dining area defined by its bamboo and rattan chairs. An adjacent bar, where guests can order a cocktail while they wait to be seated, has its own identity too, evoking a vintage club lounge with lush, tropical
detailing and emerald-green booths.
It's all about creating layers of textural interest that the customer can return to time and again. Collaboration, product knowledge, access to specific skilled artisans and being able to source items from around the world are critical to creating unique environments. In this way we are able to maintain crafted and bespoke solutions no matter how big the project.
Which is why Good Food writer Gemima Cody can say that "the level of detail, from the artefact-stuffed cocktail bar at the top to the semihidden Deco powder room on the middle level, makes [The Espy] a space unlike any other in Melbourne".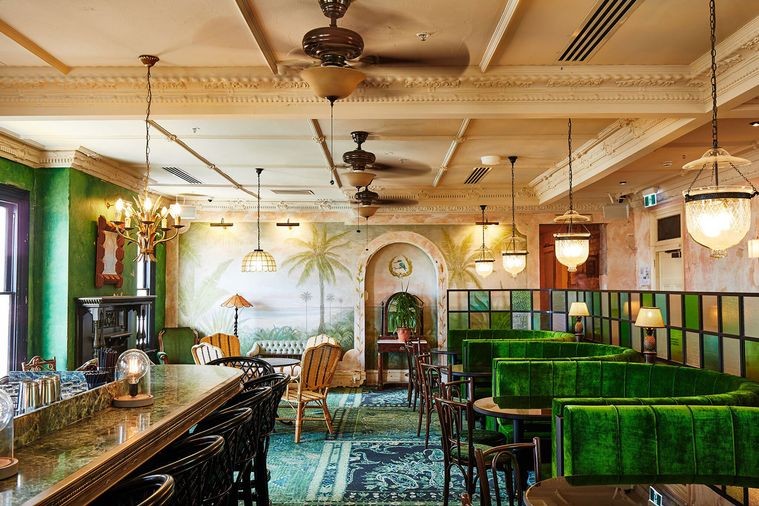 At 2000 square metres, Garden State Hotel posed a different set of design challenges. We needed to completely rebuild the venue while preserving its distinctive exterior, that of a heritage Victorian-era building which began life as a textile mill. Preserving much of the original factory's sawtooth roof, the design centres on a large, terraced beer garden.
With its verdant foliage, the garden forms a startling oasis in the middle of the CBD's network of laneways. Garden State Hotel is a versatile venue, with different rooms and areas
to support varied audiences and functions. We imbued its diverse spaces with intriguing interconnections and a sense of exploration for its guests. The front bar provides a vibrant community watering hole while bespoke dining areas and private function rooms service the entire hospitality spectrum, from casual get-togethers to finer dining and corporate events.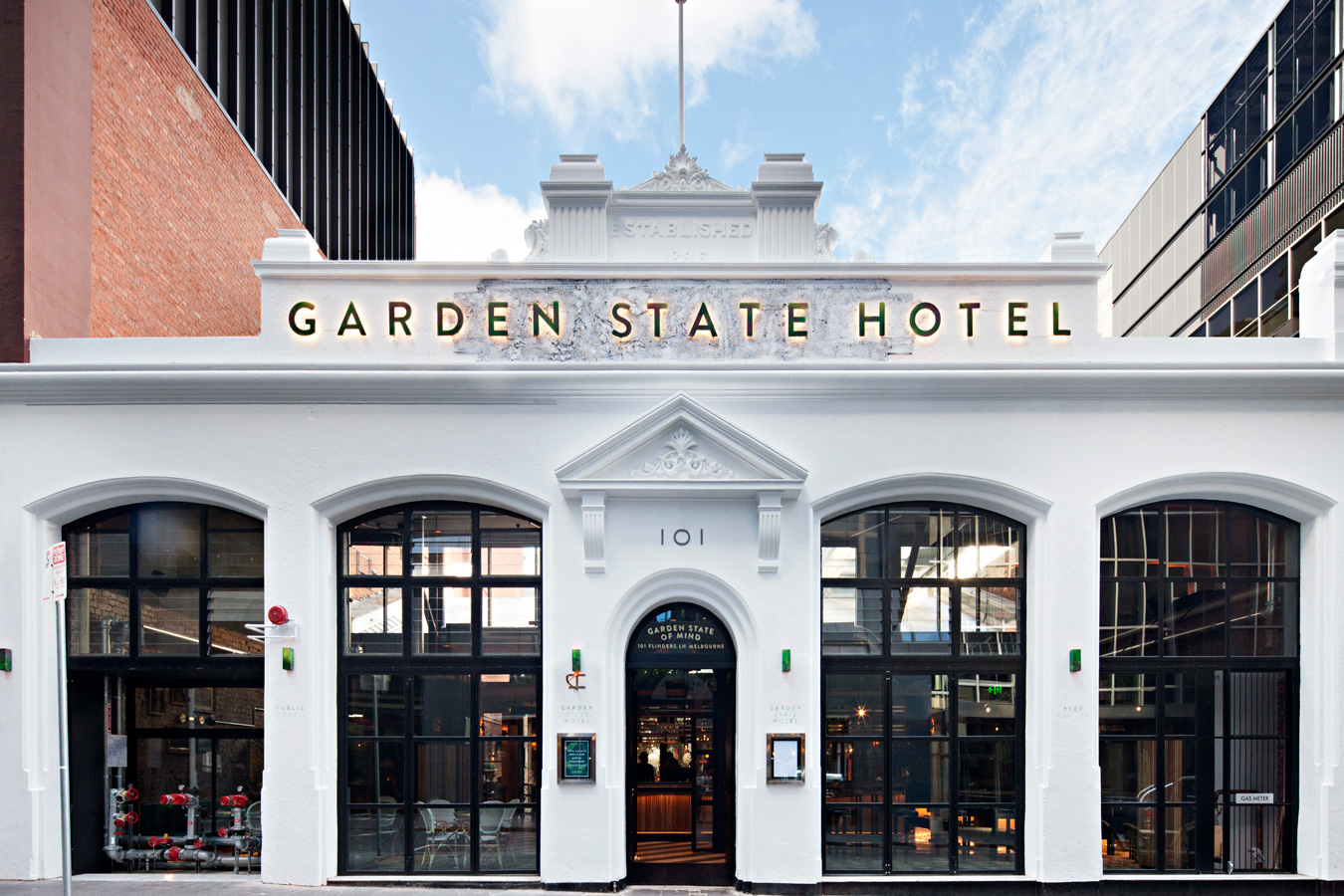 Again, the importance of crafting layered, textural customer experiences cannot be overstated, especially for its business implications. Mixing that business awareness with aesthetic judgement is critical.
With both The Espy and Garden State Hotel we knew how crucial it was to design efficient kitchens and back-of-house areas to support the volume and output that these venues require. There is nothing worse than creating a big venue that chokes with bottlenecks in its functional elements.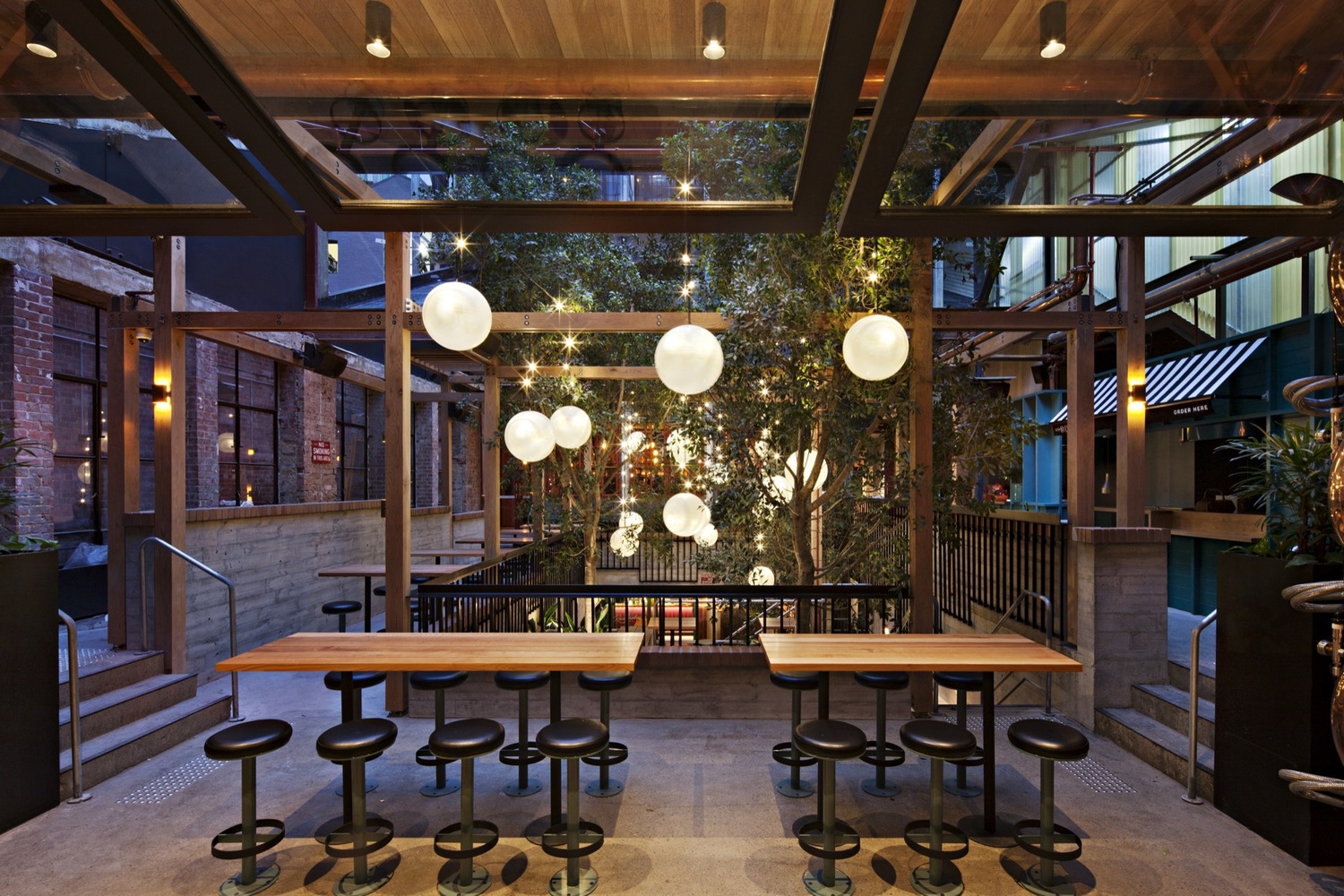 These new super-venues show that it is possible to have the best of both worlds. We design big, but it feels small. The venues demonstrate the smart layering of space and an emphasis on experience.
They understand flow and how to make a multi-faceted environment intuitive and navigable. And that makes for somewhere customers are glad to keep coming back to.
Read more about how Technē Architecture + Interior Design has built a long lasting working relationship with The Espy and Garden State Hotel owner Sand Hill Road spanning more than 10 years.