Above: Mister + Miss café, by Maria Danos Architecture, photography by Sharyn Cairns.
After a career spanning almost 20 years as Senior Associate of MA Architects and Neometro, Maria Danos has embarked on a new professional phase by launching her own practice – Maria Danos Architecture. Continuing her focus on avoiding typical stylistic trends in favour of sustainability, Danos has remained committed to architecture with consideration to the environment. Her latest project, the Mister + Miss café in Melbourne's Mont Albert, is no exception. Built within what was formerly a mechanics' studio, Danos has created an upscaled space that genuinely embraces its past, with a hint of contemporary luxury subtlety weaved in.
How involved was the client from the initial conceptual stages and throughout the design process?
A close collaboration with the clients from concept design right through construction – underpinned with mutual respect – was instrumental to the final outcome.  The clients knew when to 'step back' and trust the design team on aspects that were critical in delivering a rigorous design outcome. Likewise, with their extensive hospitality experience, I also knew what aspects of design development should be relaxed to ensure the operational success of the café.
What were the key points of inspiration behind the design of Mister + Miss café?
The crafting of Mister + Miss was inspired by shapes and patterns found in the former life of the building as an auto workshop – and the artistry of vintage cars in racing green. The lofty warehouse itself – bathed in natural light through a sawtooth roof – had terrific bones with exposed steel and timber trusses, masonry floors and walls with deep reveals. Materials and detailing were developed to balance the language of the existing building but also create a comfortable and inviting space for patrons with warmth and texture.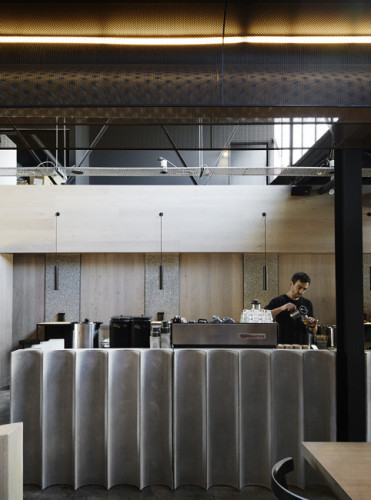 Which elements of the design directly complement and incorporate the auto workshop/vintage cars theme?
Design of the fluted concrete bar, rolled lighting pelmets and chair selections have subtle references to the forms of vintage cars such as Jaguar E class and the FJ- Holden. The rolled lighting pelmets are fabricated from perforated steel, referencing a mechanic's pegboard. 'Racing green' accents run through the café including banquette seating, elegant stools and hub-cap shaped bar and bathroom tiling. Striking steel tube pendants (echoing exhaust pipes) mark various seating moments throughout.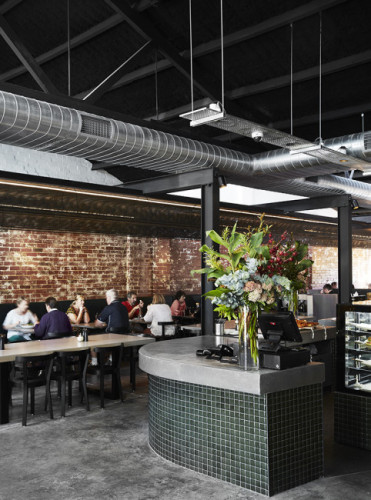 A few elements of the design stand out, particularly the green tiling in combination with the exposed brick. What, in your view, is the most successful element of the project?
From a pragmatic viewpoint, the various seating options seem to work well, for example, the intimate seating for one to two persons at engaged terrazzo tables, ranging to a larger dining area defined by a series of steel portals.  The steel portals have successfully addressed the challenge of creating a sense of human scale in the warehouse as well as supporting the customised lighting pelmets and services ducting.
Also, the blurring of the threshold between the exterior and interior through the deep steel portal 'insertion' into the street facade, which directs patrons into the café while framing a large herb planter, a street front view and timber banquette from the function room interior. This combines with the solid timber portal/bench with an integrated window that folds down to form the street front banquette when the window is open.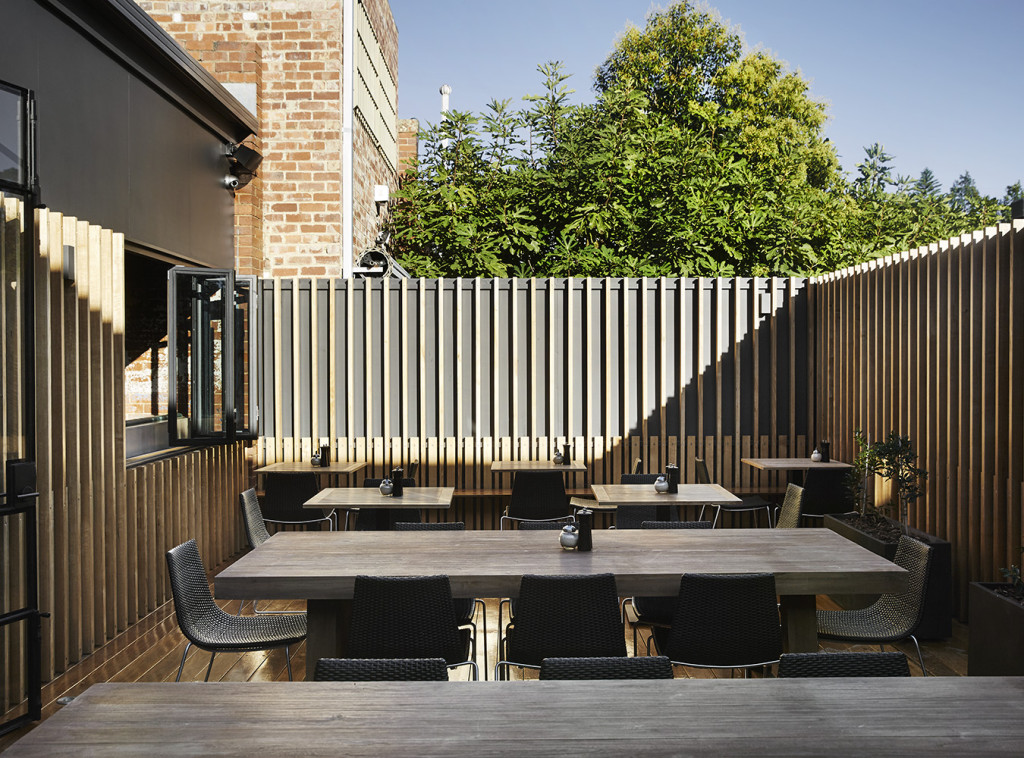 Can you give a little insight into the challenges and highlights of hospitality design?
Navigating through the complexities of regulatory requirements, and co-ordination of building services with client brief, design objectives, and a finite budget while still achieving an excellent design outcome is quite a challenge. During construction, an intense building program means more risk of error and less time for rectification, so everyone has to be at the top of their game for an optimum outcome.
It's quite rewarding when everyone works well as a team to deliver an outcome that everyone is excited about and proud of.
Where do you turn for inspiration in hospitality design, and which architects or designers have had the biggest influence on your work?
Source of inspiration varies from project to project. I adopt a conceptually driven approach, whether informed from the development of the client brief or a theme that emerges from a site – specific or contextually driven observation. I am however drawn to work that exhibits its strength in simplicity and clarity of the idea that it is representing.
Locally, the works of Robin Boyd, Roy Grounds and Harry Seidler are very inspiring.  Their work was optimistic, beautiful in its simplicity, and accessible.
I'm also intrigued by cultures over centuries that have created their own 'man-made' architecture informed by local building traditions, cultural observations and in response to climatic conditions.
What excites or frustrates you about the current state of Australian hospitality design?
It's an exciting time – there is confidence in the hospitality industry which in turn is offering opportunities for incredible work. There is a genuine spirit of collaboration at the moment and we are spoilt for choice in relation to excellent suppliers, considered products and skilled makers.  Importantly, there is a growing number local furnishings and lighting designers with outstanding product – recalling the post-war fervour of design and manufacturing in Melbourne.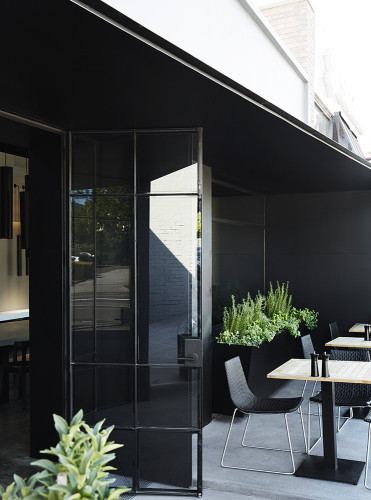 You included many sustainable elements in the Mister + Miss design – what role does sustainability in the hospitality scene play, in comparison to the "big" projects (high-rises, shopping centres etc.)?
Sustainability is just as important in the hospitality scene. Due to the nature of the activity in these high use spaces that are not typically permanent, there is a responsibility to specify robust products installed in a way that can be dismantled and recycled for their next life. Similarly to the building shell itself, there are a number of spaces with former uses and great potential awaiting upcycling into hospitality spaces.
At Mister + Miss we were keen to retain the existing party walls and concrete floor (no additional linings other cleaning and sealing).  Envirospray, fabricated from natural recycled fibres, was sprayed throughout the entire existing under roof surface for its excellent thermal and acoustic performance properties.  The north wall was re-built with strategic locations of windows to capture northern aspect and promote cross ventilation throughout the cafe – reducing reliance on mechanical heating and cooling.
I believe that sustainability should also embrace the idea of social sustainability, and one that supports the design industry by specification of authentic design only.
What is your favourite hospitality space/place in Melbourne – is there a spot you wish you had designed?
This is a difficult question as there are so many wonderful hospitality projects. I admire projects that offer a fresh perspective, and entice the patron to engage with something they may not have considered before. Arbory Afloat by JCB is a success by reclaiming a disused rail platform and reinventing its relationship to the Yarra River and Southbank. I also enjoy the simplicity and enduring interiors of Pellegrinis and Di Stasio, along with the lushness and drama of John Truscott's interior at the Concert Hall. I always detour to walk through IM Pei's Collins Place, which is exquisitely detailed and sensitively links two busy CBD streets.
In Sydney, The Bennelong and the Summit Bar by BKH (which has now unfortunately been dismantled) is a favourite.
What are you working on next?
The restoration and contemporary extension to a historic building in Vaughan (near Castlemaine). The building was formerly the Bank of Victoria and was built to service the local communities during the gold rush. We are also working on the architecture and interior for a new waterfront residence in Mount Martha, along with a proposed extension to a Victorian terrace in North Melbourne. The interior architecture for a luxury home in Toorak is on the cards, as is some probono work for the Greek-Australian Community – busy and exciting times ahead!