Kelly Wearstler was proclaimed as "the presiding grande dame of West Coast interior design" by The New Yorker in 2009. Five years later, the laid-back Californian, Kelly Wearstler has gone from strength to strength, expanding her interiors empire to include a flagship store in Los Angeles. Furniture (both her own and antiques), wall finishes, soft furnishings, accessories and rugs are also on offer, as she discusses with (inside) co-editor, Gillian Serisier.
GS: Drawing on the entire cannon of interior design, your choices are far from obvious. For example, when approaching a project such as the Bergdorf Goodman you challenge expectations, what lies behind your thinking?
KW: The whole inspiration was the heritage of the building, embracing the tradition, the classic design of the building, but at the same time making it modern and fresh. Creating a space where both an eighty-year-old customer and a twenty-year-old customer would get it and feel inspired and get that it was cool. Central Park was also a source of inspiration, with all the windows looking out on the park.
The wallpaper tells that story nicely, but tell me about the very tall encapsulating chairs?
They are based on the classic hooded Bergère chair designed at the turn of the 19th century. Because the space is tight and people have a lot of different conversations going on, these chairs give people a little more intimacy and privacy.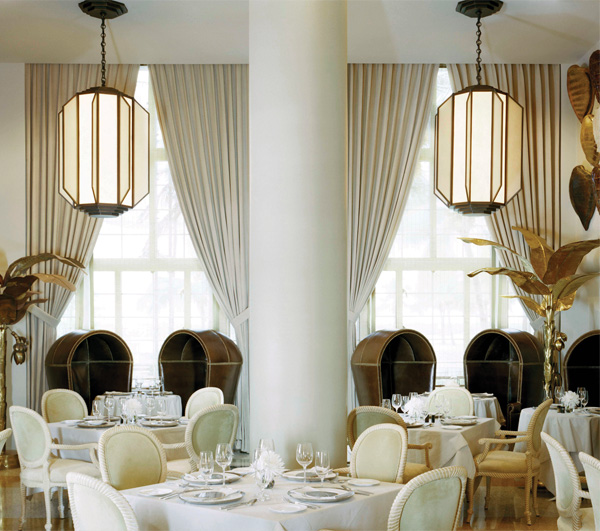 You made a very clear separation from the pack quite early in your career, what pushed that to happen?
I really just follow my heart and take risks. Of course I'm inspired by history, but I like to take a spin on it and run it through my own fi lter and take those risks and of course I like seeing what different artists, designers and architects are doing, but you have to have your own voice and to have your own voice you have to be true to your heart and break rules and take risks.
Your heart seems to be quite involved – you often talk about interiors in terms of the emotional content they embody. How do you determine this element with a commercial interior?
First and foremost you have to be a good listener, you have to understand the program and then you take the program and look at the demographics and you look at what the architecture is, you look at the location, you take all that into consideration and continue to design and present to a group of people and get feedback. It's a true collaboration, it's not like someone hires me and I go ahead and do what I feel like, you have to take into consideration your client and their customer – it really is a collaboration.
So the client is embodied?
They are my teachers, there are a lot of projects that we start on and the client says they love African art for example. And I know nothing about African art and it starts a journey and I learn and I think it strengthens my eye; it educates my eye and educates me and makes it more challenging and that's why I continue to love what I do because I fall in love with new cool things every day.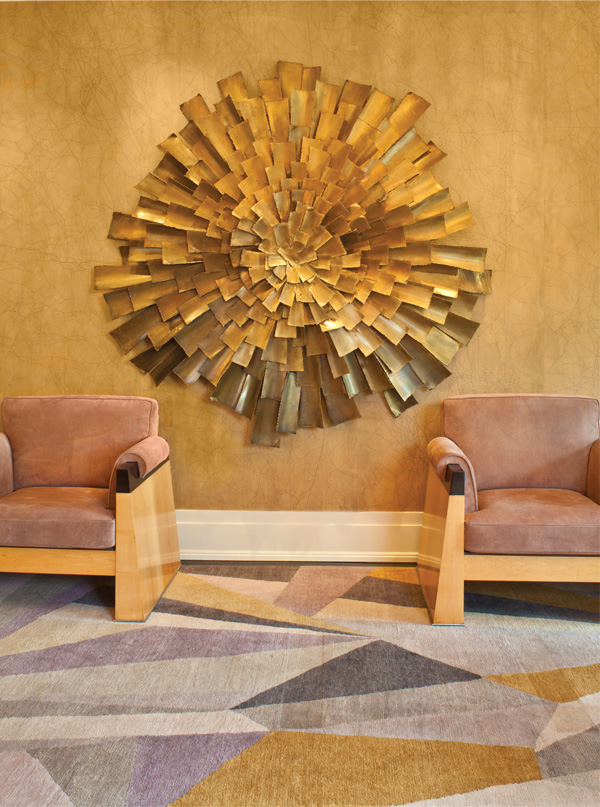 Furniture, particularly interesting furniture, has become increasingly a signature of your work, what was the impetus for creating your own line?
We started designing for our little shop at Bergdorf Goodman and then for our commercial and residential projects there were things we couldn't fi nd and programming needs of the client. For example if they wanted a high cabinet that needs all this programming – it's an anomaly and you can't find it so you design it. We were designing all this stuff and we were like 'god we have so much stuff, why don't we create a furniture collection'. Also, we had a tonne of people because of the book. People were calling and saying 'can we buy that bed? Can we buy that chair?' So we felt like there was a need to design furniture and we're continuing to do so, from the limited edition pieces of furniture to the things that are easy: dining chairs, occasional chairs and it's so much fun, I love it.
And has it fostered a tribe of Kelly Wearstler-style interiors?
People say 'I was inspired by your living room' or something and it's so flattering.
Textiles, velvets in particular, are almost synonymous with your interiors, was branching into this area a given?
We have a big fabric partnership with Kravet and Lee Jofa, as well as The Rug Company out of London. We love texture and colour and tapestry and use it all the time; again it felt natural to go into that zone.
We would ask most designers what inspires their practice from the past, but this seems moot, so I will ask, what new things inspire your practice?
Nature or… I'll go into a stoneyard and marble is so inspirational or fashion. I love fashion and fashion is a big inspiration. We design jewellery and that will turn into a table or a light fixture. I love going to galleries, I love going to museums, I love going to markets, flea markets and thrift stores and all that. There is inspiration all around us, it's really just being aware and not looking at something for what it is, but maybe for what it could be and what it could turn into and it's just having an open eye and a free spirit.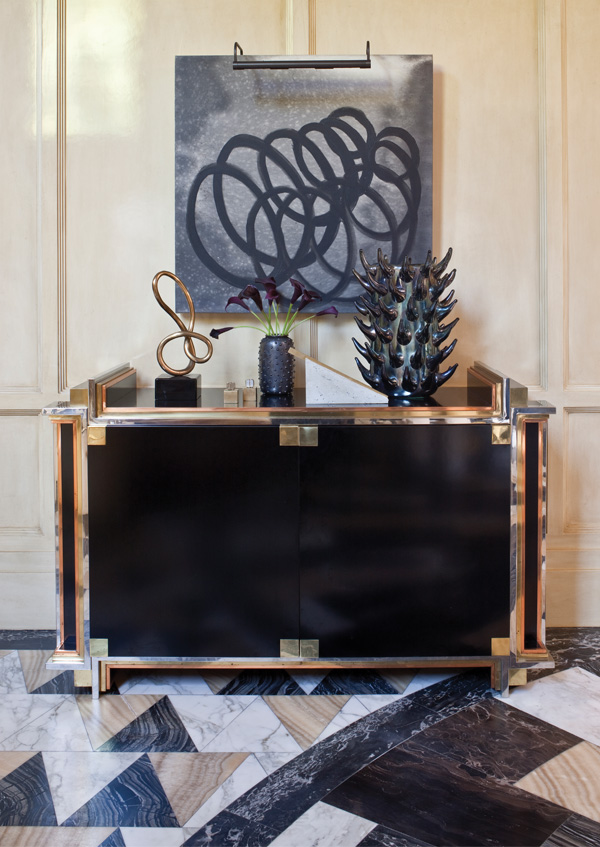 Not only do you have one of the best designer blogs, you were one of the first to claim this territory. How important has it been to establishing the Kelly Wearstler aesthetic?
It's a powerful tool. If we blog something we see what people would like from us and want from us. People love colour and design and interiors and how things are packaged and how things are in the studio. I also like educating the client and people who visit the website and blog and instagrams and it might be 'oh there is this cool new artist and she is amazing and she does tapestries check her out'. All of that is educating and there are so many new designers, really, educating them about history and the past because it's so important and honouring that.
What's next?
We're doing a big lighting collaboration (Visual Comfort) and another big furniture launch. We're designing a new brand of hotels and we're getting into bedding. And new projects, it's so exciting and it's busy, very busy. But it's so fun, I love what I do, it's a blast.