Image above, shopfront of the Yellow Earth flagship store by TANDEM Design Studio. All photography by Nic Granleese, drawings supplied by TANDEM Design Studio. 
This project is shortlisted in the Hospitality Category of the 2016 IDEA Awards. The winners will be announced at the exclusive IDEA Gala Party on 18 November at Dockside Pavilion, Sydney. To join us for a night of celebration with this year's winners, get your ticket now!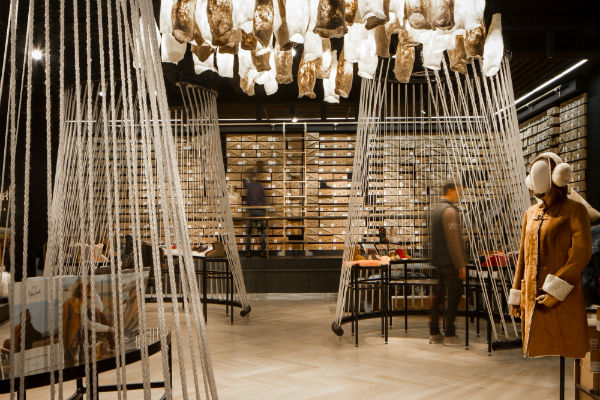 TANDEM Design Studio have taken 15m of woven rope to create an undulating shopfront for the Yellow Earth flagship store in Melbourne. The design draws on traditional motifs to re-introduce Yellow Earth in Australia and create new spatial relationships in the conventional retail setting. The woven shopfront incites curiosity, drawing passersby to look and touch; setting a landmark experience for the brand.
Believing design innovation creates value for its brand and shopping experience, Yellow Earth owner James Liu conducted a design competition to deliver Yellow Earth's homecoming vision.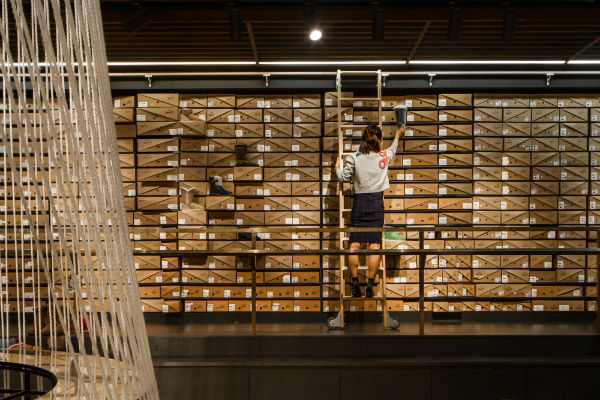 The final design reflects a modern, sophisticated, and cosmopolitan Australia by drawing inspiration from traditional motifs without limiting the elements to referential or literal associations. Instead, visitors are encouraged to draw their own interpretations and experiences. The rope shopfront, for example, can be seen as a reference to knitted yarn, or simply as a veil, playing with visual transparency and tactility as visitors continually run their fingers through the threads, strumming the shopfront as they walk past.
These elements combine to create a gallery of design, with display opportunities integrated into the various elements and areas. Merchandise and found objects can be placed into the hollows and alcoves of the undulating yarn curtain and the woven display cones, on cantileverd shoe boxes pulled out of the shoe library, or beneath commissioned artwork by Melbourne-based artist Sean Morris.
While not immune to typical shop fitting approaches and budget constraints, the design also introduces a level of experimentation and craft, exemplified not only through collaboration with artists, but other disciplines as well. For example, the prototyping and construction of the woven rope elements was aided by a crew of yacht riggers who devised a system which allowed ropes to be continuous but tensioned sequentially across their frames.
Yellow Earth's flagship store is a distinct retail landmark in the highly competitive retail environment.