All photography by Sonia Mangiapane.
This piece is part of an IDEA retrospective series of interviews and articles conducted and written by local CATC interior design students, which will feature in the coming weeks in the lead up to the IDEA 2014 event and anticipated release of the book Life Spaces: Live Work Connect.
For a 400-page limited edition hardback book of this year's IDEA winners,order your copy of Life Spaces: Live Work Connect.
Tandem Design Studio were highly commended for an IDEA in 2008, returning in 2009 to win the award for Best Residential Interior (Single Dwelling) for their work at the Kensington Lighthouse.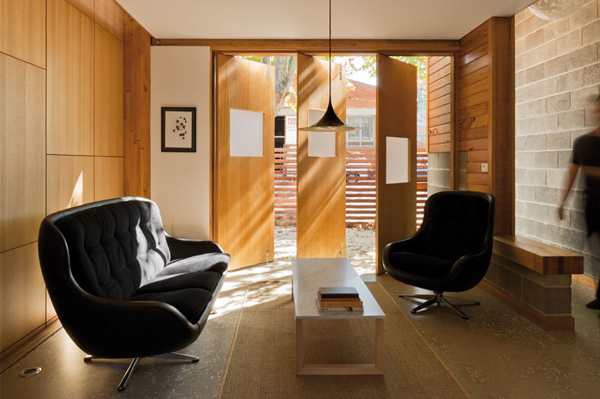 Tandem Design Studio is an award-winning architectural practice established in 2004 by talented duo, Tim Hill and James Murray. Their collaborative partnership explores new architectural possibilities and boundaries.
James and Tim met whilst working as designers on the Federation Square Project in Melbourne in 1997, after which they established their own company Tandem Design Studio (TANDEM) in 2004. Today they continue to work on residential, commercial, institutional and interior projects for a range of public and private clients nationally and globally.
TANDEM won the Interior Design Excellence Award (IDEA) in 2009 for the best residential single category for the outstanding design of Kensington Lighthouse. The impressive Kensington lighthouse is situated on a 160m2 belt of land in a condensed, mixed-use inner city environment. It is beautifully designed with north facing sun shells, which were created to reflect and capture sunlight.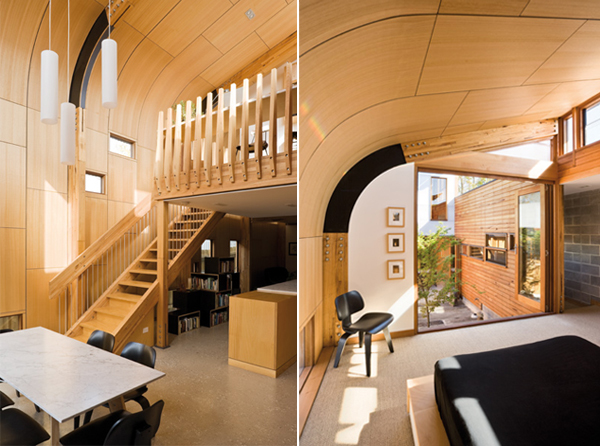 The roof is formed by the sun shells, which are connected around a courtyard by a rectangular timber lined volume running the length of the north boundary. Gorgeous patterns of glass and translucent polycarbonate were used to frame views and emit light whilst maintaining maximum privacy.
Tim Hill's inspiration for Kensington lighthouse was in general good design. He designed it with his partner Dominique Ng as a place for them both to reside. Together, they drew inspiration from a variety of small Japanese houses and studied the tight site conditions experienced overseas. "The idea for the use of the shells, natural light, ventilation, detailing and materials evolved during constant conversations about our emerging home at the time," Mr Hill said.
Kensington Lighthouse has enjoyed an overwhelming response in the design community since its completion. The exciting project was published during the global financial crisis.  The impressive design portrayed a return to warm, honest material expression.  As a modern, functional design surrounded by a carefully crafted building, it employed a range of passive environmental features. A major driving factor in the design of Kensington Lighthouse was sustainability, which included good use of thermal mass, natural light and ventilation.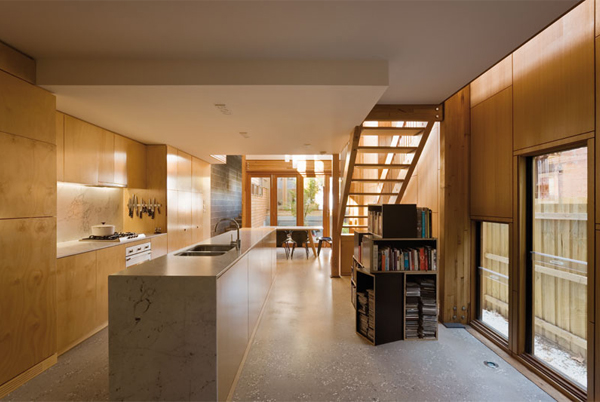 Tim has the luxury and pleasure of being the designer and resident of Kensington Lighthouse today. "Living in something you design is a highly rewarding and satisfying experience.  The building continually presents different aspects and moods through the seasons and different times of the day. Through it, you have the opportunity to learn about the decisions you took on the way to the final form of the design. There is feedback available on many levels, but none, so far, that is enough to have prompted me to say, I wish I'd done it differently," Tim said.
"IDEA recognises and rewards emerging designers.  The associated peer recognition and publicity was invaluable to our business and helped us communicate our values and aspirations to existing and new clients," he said.
Winning the IDEA award in 2009 gave Tandem an enormous boost, both in terms of publicity and new business opportunities. Many clients that come to Tandem Studio today desire a house that mimics the design and form of the spectacular Kensington Lighthouse.
Written by CATC students Misty Milne and Jenna Madden.