Location: Melbourne, Australia
Design: IF Architecture
Text: Jan Henderson
Photography: Dianna Snape
171 Collins Street Melbourne is a fine location for a business in the City of Melbourne. Situated at the Paris-end of Collins Street with Dolce & Gabbana below and two towers housing BHP Billiton and Evans & Partners, the project was developed by owners Charter Hall and CBus.
Architectural supremo Bates Smart has made a grand design for the development incorporating the existing Mayfair building (a former art deco theatre), with a new tower block that has received the sustainable stamp of approval, a Green Star 6-Star Office Design and As-Built rating.
Egon Zehnder is located on the 10th level, high enough for sweeping views of downtown Melbourne, and a pleasant ascent in the state-of-the-art elevators. Egon Zehnder is not a business well- known to the ordinary working person, but a name whispered as the executive placement agency for captains of industry. If you are the managing director of a major Australian or international company, odds are that Egon Zehnder was responsible for your position.
IF Architecture was engaged to design the spacious interior and director, Iva Foschia, embraced the challenge of the brief, delivering a relaxed, stylish and functional interior for all who work or visit the premises.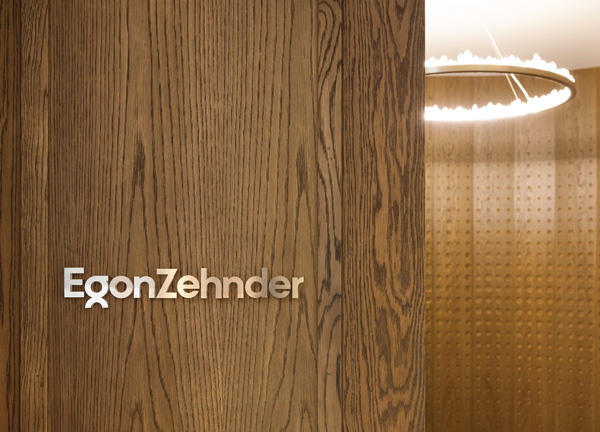 Clad with American oak veneer panels that have been custom stained and perforated in a graphic pattern (designed by SeeSaw), the entrance is discreet. American oak has been used throughout the project and the SeeSaw graphic provides a recurring theme used as decal on glass and in privacy panels. The reception area is featured by blades of timber that sweep overhead like large scythes to cocoon the visitor.
Ahead is an understated desk with a large open-plan waiting area to the right. It feels like a stylish home, comfortable and inviting.
The substantial meeting table is of course American oak, custom made (Arthur G) and surrounded by Husk dining chairs (Patricia Urquiola for B & B Italia, Space). Overhead is a luscious ring of delicate crystals fashioned into the Prometheus pendant light. Designed by Christopher Boots (Inlite), it is practical, decorative and striking in its simplicity. Further along is a Nook sofa (Jardan), Husk lounge chairs, Dinklik stools and floor lamp (Hermon & Hermon). The two areas are defined by large kilims (Loom), which echo the colours of the many artworks from Egon Zehnder's stellar collection.
At the very back of the reception area is the bespoke coffee bar with a custom- made Sugar Stick stalactite pendant light (Christopher Boots for Inlight)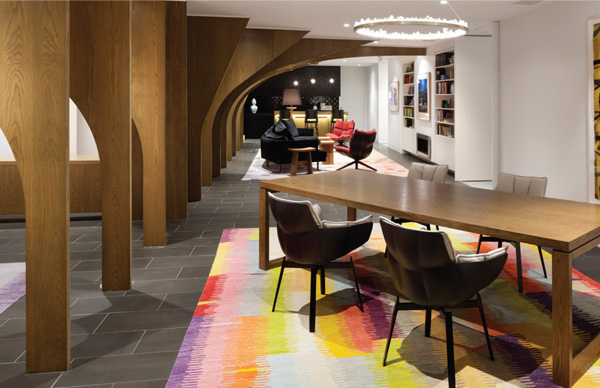 The boardroom boasts a 14-seat Eames table (Herman Miller, Living Edge) as the perfect accompaniment to the client's original Saarinen executive chairs, which have been re-upholstered in a wool cloth (Svenska KJ). Three Supernova up/down pendant lights (Inlite) illuminate the table – these with the addition of vibrant art, complement the whole. To cater for every eventuality, the room can be extended for large gatherings by opening the bi-fold doors into an adjoining meeting room.
Ever mindful of discretion, the traffic flow for clients and prospective candidates is highly managed. From reception, a candidate can access one of the small waiting rooms to prepare, move in confidence to a larger interview room, then exit without meeting another interviewee. Each of these rooms is furnished to relax the client, while providing a suitable preparation area: a comfortable Kelly lounge, high or low back chairs (Jardan) and Cousins table (Temperature Design) for coffee and reading the paper. Moreover, the Nash table (Jardan) and Croissant armchair (Billiani for Café Culture + Insitu) make a compact workstation.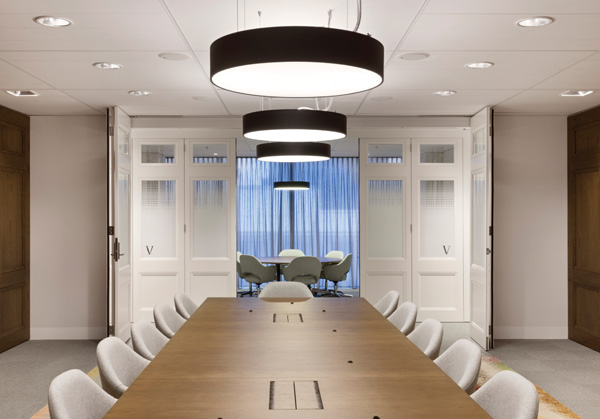 Simplicity is key in the three large meeting rooms, each furnished with a large up-cycled Eames circular table with custom stained American oak top (Herman Miller, Living Edge) and Saarinen chairs. Upholstery fabric, French blue, deep red and grey identify each room, while a gathered sheer curtain (Materialised Segre from Solis Products) distils light, while softening and adding intimacy to the room as a whole.
From the relaxed atmosphere of 'front of house' a doorway leads to the communal kitchen and, beyond that, the offices. This large back area consists, in the main, of an open plan office with breakout areas and private offices for consultants at either end. The research department is separated by sliding glass doors. Whether the doors are open or closed the workers can see 'outside', thereby remaining a part of the whole environment.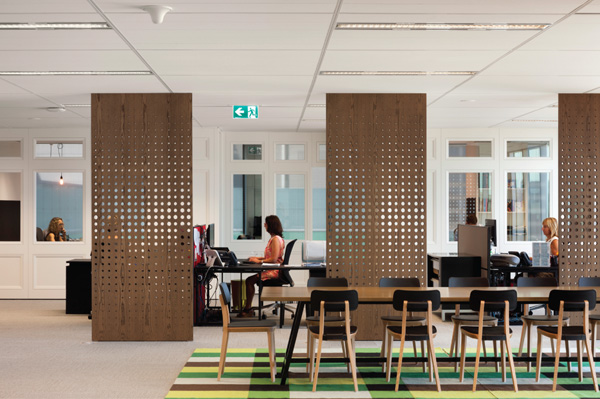 Flow of light and an openness have been achieved by a purposeful use of glass. For example, the consultant offices utilise timber wainscoting to mid-level and glass-to-ceiling. This allows the consultant eye contact with their assistant, but also privacy for confidential conversations.
The layout of each of the executive offices is individual, each with its own unique floor plan. Floor-to-ceiling cabinetry has been installed along walls, or free standing for partition or privacy. These also afford the occupant an opportunity to personalise the space with private and work objects and mementos. Custom-made American oak desks, Aeron chairs (Herman Miller, Living Edge) and Croissant armchairs complete the fitout.
The open plan area comprises three areas for relaxing with each delineated by a large and colourful rug (Ikea). A custom- made communal table (American oak, Insitu), is surrounded by Porta Venezia dining chairs (Billiani, Café Culture and Insitu) in one area. To the side is a lounge area with occasional furniture and television. Bobcat sofas (Arthur G), Coast coffee and side tables (Hermon & Hermon), Kelly ottomans (Jardan) and Porta Venezia stools (Café Culture and Insitu) provide a harmonious blend of comfort and functionality for workers who want to relax over the lunch break or gather for a casual meeting. Punctuating the whole is a small grouping of bright red, upholstered Croissant lounge chairs and ottoman (Temperature Design).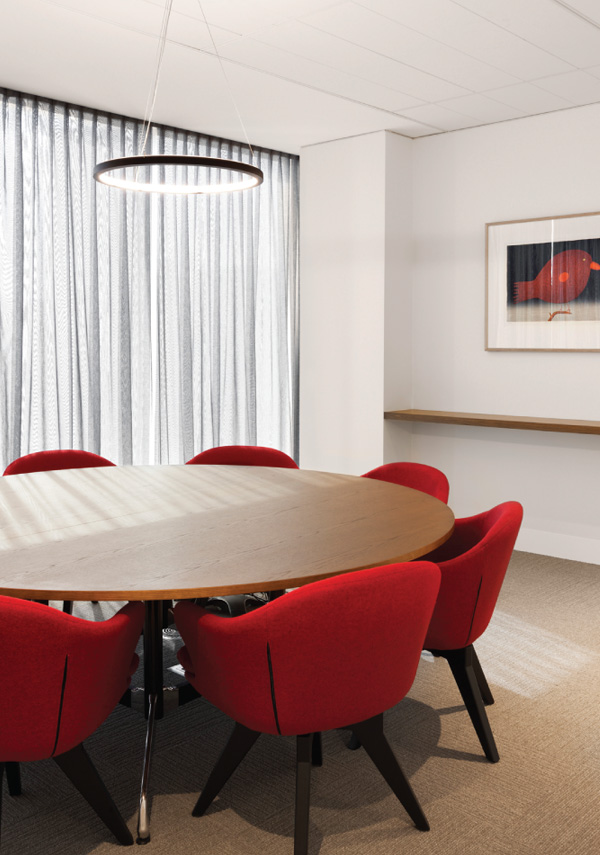 Egon Zehnder was a labour of love for Foschia. Her rapport with her client is intense and heart-felt. She has managed to translate their needs and desires into a tangible, functional entity. As a final compliment, the staff at Egon Zehnder are delighted with the result and take pride in their new, beautifully fashioned workplace. Neil Waters, partner at Egon Zehnder, agrees, "It's like a home at work. We have had so many comments from our clients and candidates about the special nature of this place. We love working here. The environment has captured the special essence of our firm."
IF Architecture was established in 2009, and over the last five years has completed many outstanding commissions that include the Jardan showrooms in Sydney and Brisbane, Il Fornaio, Stillwater at Crittenden, The Reading Room and True South. Looking to the future, there are several restaurant, office and residential commissions in the pipe-line. This is an architecture and design practice that is quietly making its mark in a competitive market. Watch the sky; IF Architecture is a star.