This article originally appeared in inside 92 – available now on newsstands, or digitally through Zinio.
Project – Bar Brosé
Designer – Luchetti Krelle
Text – Gillian Serisier
Photography – Michael Wee
Location – Darlinghurst, Australia
To say the design is transformative somewhat misses the mark when a corridor of inky black on black is reimagined as a light filled, simple and decidedly hip place to hang out. That the food is divine is simply a bonus! What was a nightclub is now a super groovy restaurant headed by the cool school of ACME and chef Analiese Gregory of Quay restaurant fame. The Luchetti Krelle (LK) design suits the transition and then some.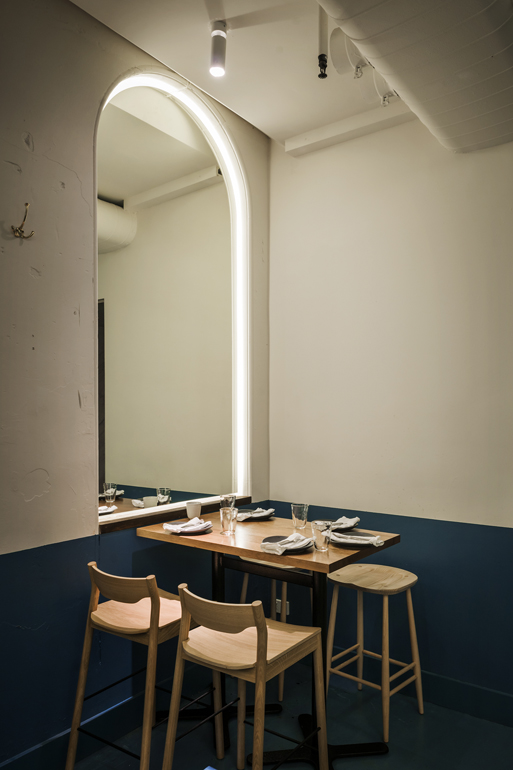 Shotgun in shape, the space is essentially a corridor running across a narrow Darlinghurst block. As such, there is a slight crick where the Victoria Street and Darlinghurst Road tenancies were joined in past iterations; there is, however, no sense of a jigsaw. Rather, it is a slight shift from distal to proximal interior zones, well-realised through continuity of big picture thinking of colour, texture, timber and light.
Read from the Victoria Street entrance the restaurant's immediate presence is a casual dining space of Ercol timber stools and Tasmanian oak shelf tables. Elegant, simple and uncluttered in typical Luchetti Krelle LK style, Bar Brosé's nuances reside in details such as the low wall of glass brick and the use of builders' clay vents as an aesthetic detail that gives a slightly Oriental quirk. Nooks for the chef's fi sh-shaped copper terrine moulds, duck- and rabbit- topped casseroles and the elegant pike dishes provide the room's only dimensional decoration, bar the beautiful Porcelain Bear two-tone Cloche ceramic pendant lamps. And sensibly so given the limited space. Rather, the room's interior space exists as a blue grey expanse (Dulux, Byron Place paint) that travels from floor to walls in a false dado line that gives way to white.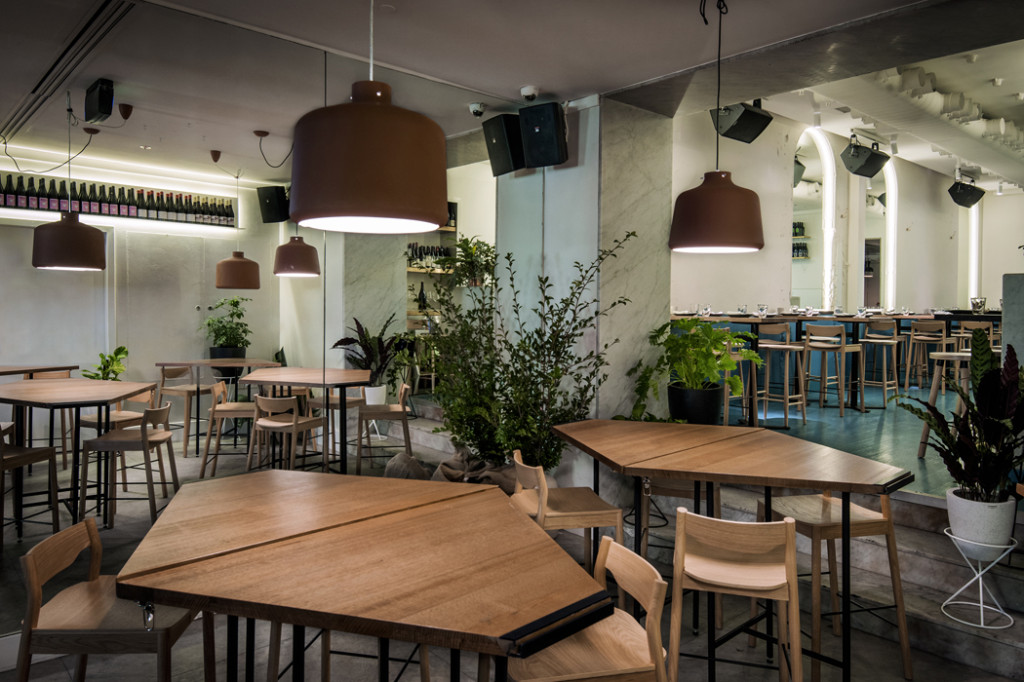 The next room is in less of a hurry with Tasmanian oak tables for four grouped with a pair of Ercol dining chairs and an Ercol two-seater, which allows the introduction of black. The kitchen and chef are on show here with a stainless steel kitchen providing frame and workspace, while backlit builders' vents at top and bottom anchor the slick austerity of steel to the earthy aromas emanating from within. Several legacy elements remain; the first is the excessively large black speakers hanging from the ceiling. Rather than fight them, LK has exaggerated their presence with a white background and the black cords of the Porcelain Bear pendant lamps. Another legacy is the smoky mirrored wall, which, while replaced with a better quality solution, was too good a device in a small room to deny. In combination with the blue grey floor and dado line, it works exceptionally well and is most definitely not nightclub-ish!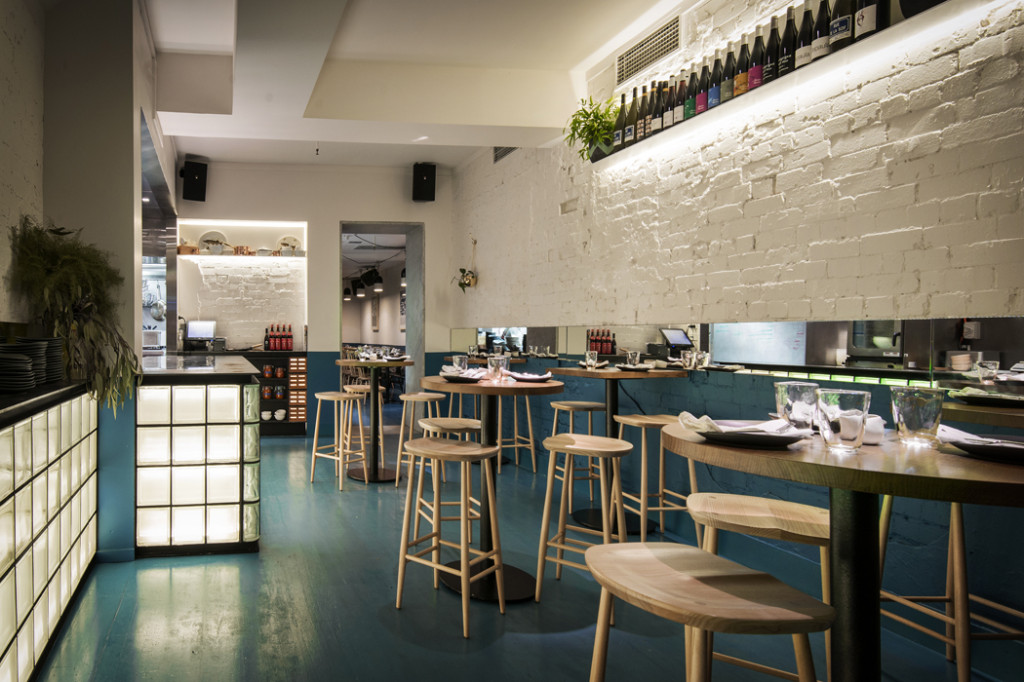 The next room is a continuation of the restaurant, with an expanded version of stools and tables for four. It is also the bar and in the tradition of all the best bars it is long and thin with a brass foot rail, room for a drink or snack and lots of tall stools to perch on. The addition of a brass facing and a lowered shelf table running the length of the bar masterfully demarks this as a dining bar, without alienating those who are simply enjoying a drink.
Major themes such as the glass bricks are revisited as floating light sources, while the blue/grey and white continues, as does the mirror. In this iteration the mirrors fit into the exposed archways where backlighting rebounds in the arch corner to give the impression of a solid neon arc of light. (Prior to this renovation all walls were plasterboard; LK has exposed and worked with the building fabric throughout.)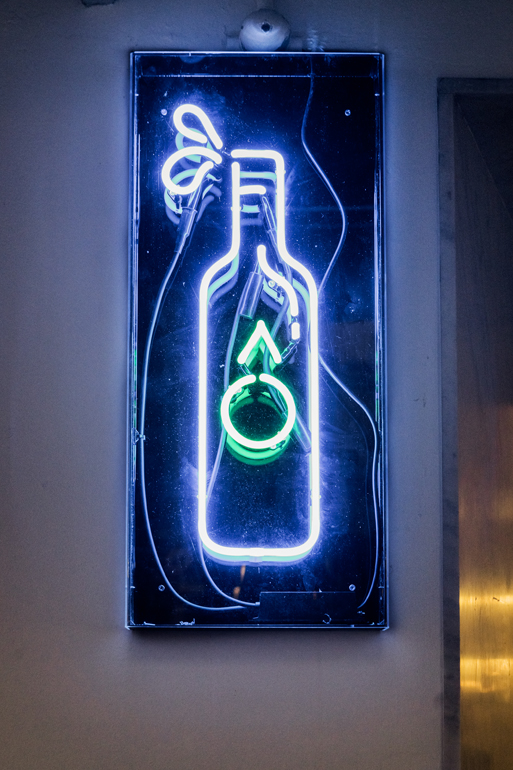 The final room is deceptively simple. In the centre is a bespoke hexagonal table in Tasmanian oak and a group of second-hand pendants. The table is in fact six tables and, as such, the hexagonal iteration allows dining for 12, while each of the tables can separately accommodate three (or four at a pinch). Low-back Tangerine chairs by Resident provide the best possible solution in terms of comfort and lack of visual clutter.
There is an overall elegance to the design that works perfectly in terms of clientele, location and zeitgeist. More important, however, is the simpatico relationship between interior and the food. Both of which are light, fresh, nuanced and a delight of aesthetic subtleties.