Sitting pretty on one of Melbourne's trendiest strips, Smith St Bistrot by Anthology Studio is full of bespoke detailing and European articulation.
The venue is helmed by chef-restaurateur Scott Pickett, who is also responsible for some of Melbourne's most popular and stylish eateries, such as Chancery Lane, Longsong and Matilda.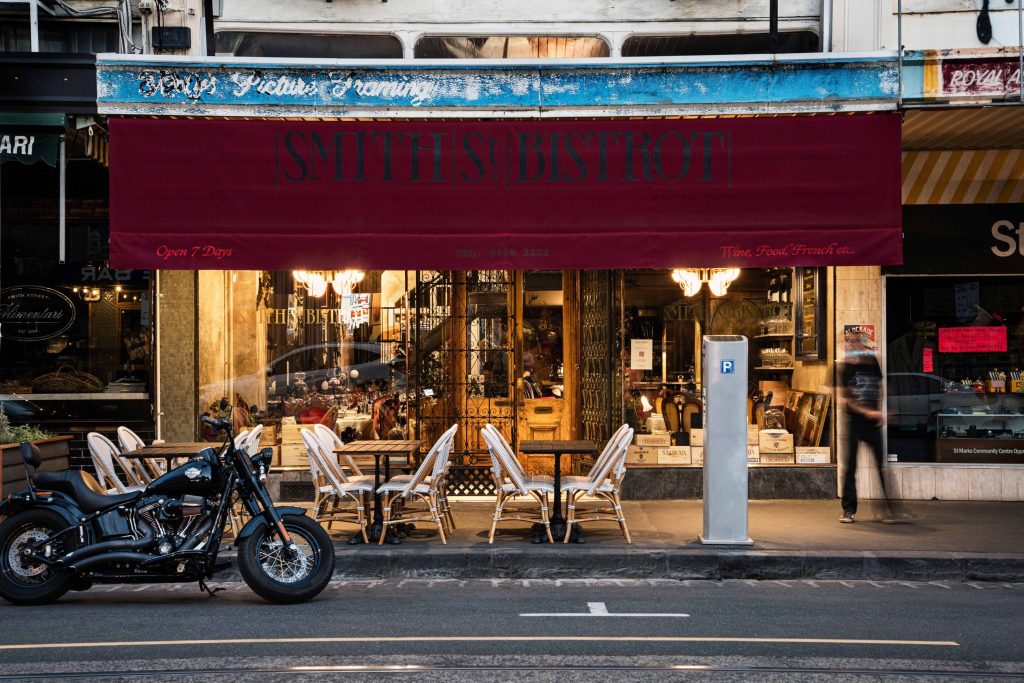 Dripping in romantic Parisian decor, Smith St Bistrot offers local diners classic French food and drinks with some unexpected twists all within a 19th-century building.
Once inside, visitors are transported to a bygone era of the European Decadent Movement mixed with French Art Deco, in which excessive extravagance reigned supreme.
Having worked closely with Pickett on his previous venues, Anthology founder and director Sarah Townson came onboard as an interior designer on Smith St Bistrot last year.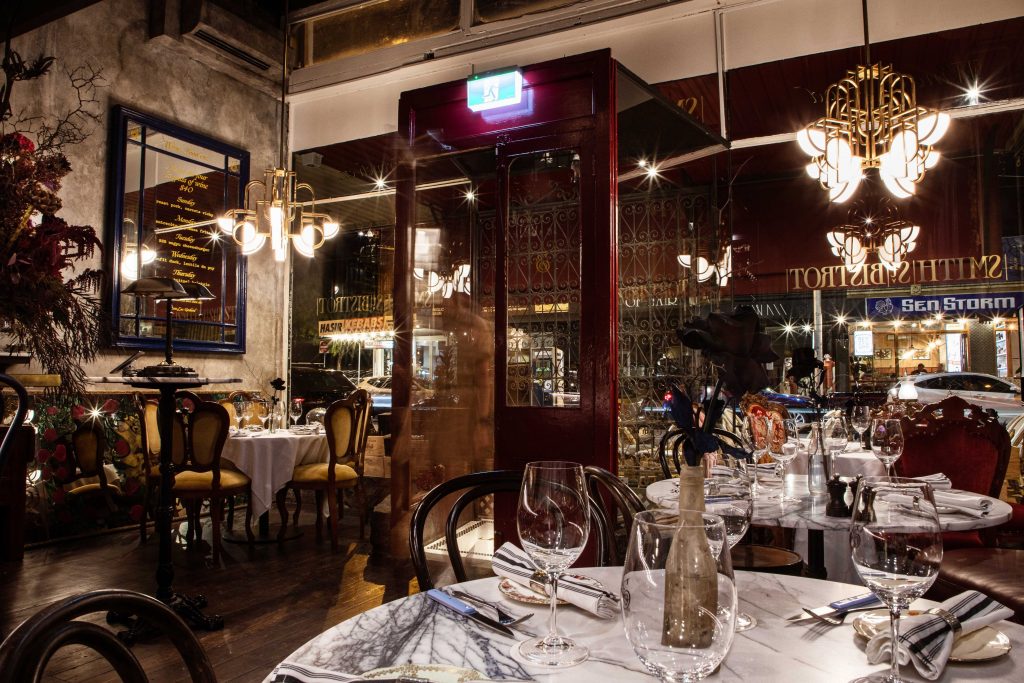 The design brief from Pickett was to create an "atmospheric French bistrot that felt like it had been there forever."
"At Smith St Bistrot, I wanted to bring to life an art deco fantasy using design to depict what a classic bistrot would feel like in a film, envisioning a dramatic romance unfolding over a late night dinner," explains Townson.
Townson spent months with the client to best delineate the design as they advanced through menu writing and recipe testing. This ensured their visions aligned and amalgamated to deliver a hospitality space that felt symbiotic in taste and feel.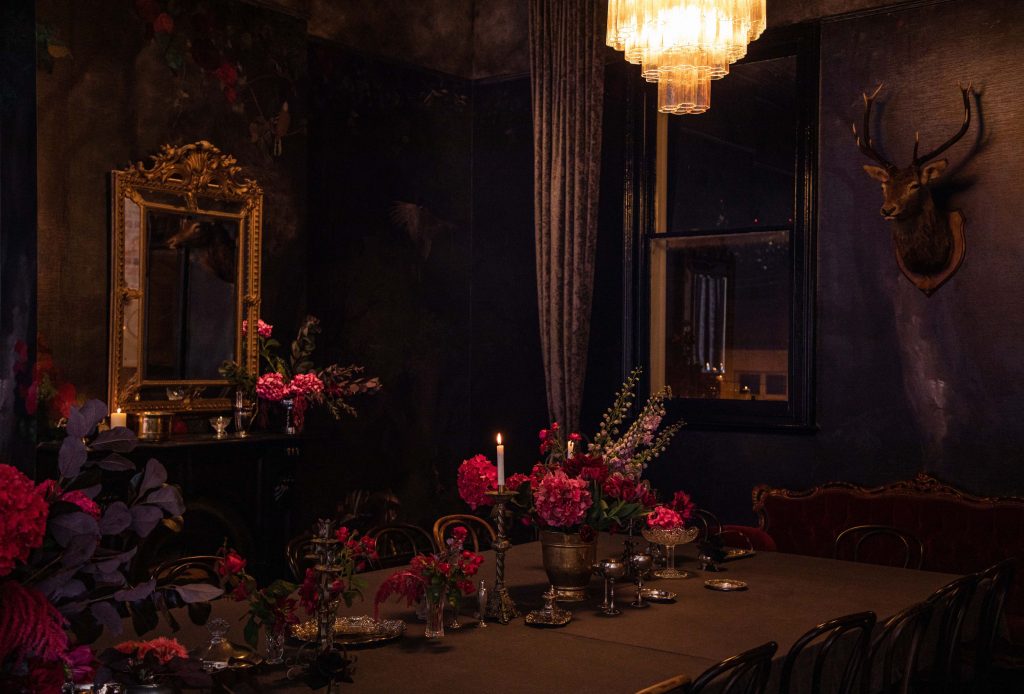 Pickett and Townson drew upon their rich experience with European service to understand what makes a venue timeless and cult. This theme for European tradition was fostered by using restored antiques sourced from French chateaux and crystal, and crockery and cutlery from Le Bristol Paris.
Townson also gave antique lamps a second chance at life, which were modified to receive chargeable bases to help reduce energy usage and waste.
All chairs were restored and painted, beautifully executing the significance, style and soigné of a Parisian bistrot in the most sustainable approach.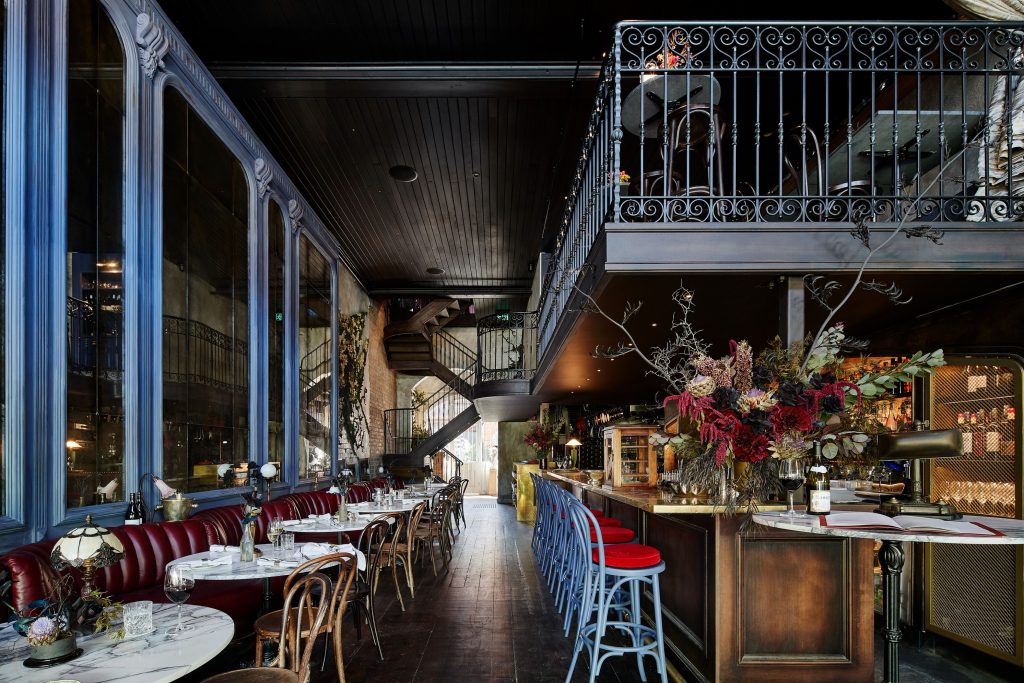 Entering Smith St Bistrot, visitors are guarded by iron gates and distressed lacquered timber panelled doors with custom gold chandeliers on either side of the entrance.
Inside, they are greeted by floor-to-ceiling antique mirrors with hand painted blue frames placed above burgundy leather scalloped banquettes and white-veined marble tables.
To maximize the space of the venue, a mezzanine was also created to enhance functionality and verticality. Not only did this double capacity of the venue, but it also formed a gallery for quintessential European-style people watching.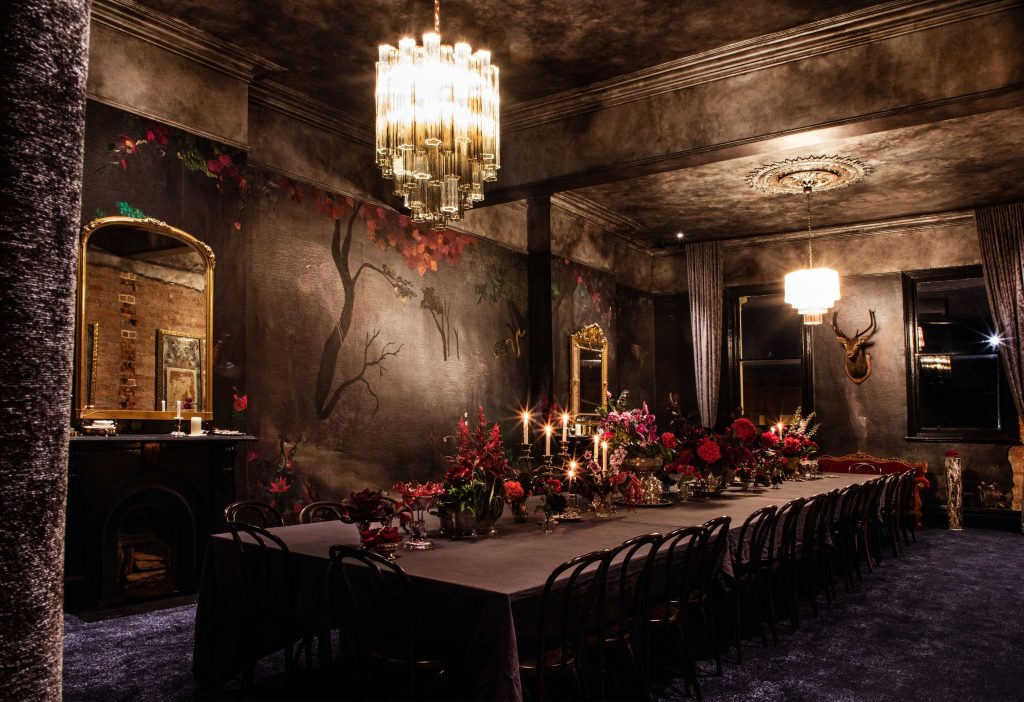 Hand-carved joinery and booths crafted by a local furniture maker take pride of place throughout the venue, accentuated by antique Parisian art. On the walls living moss – treated and dyed in greens, blues, blacks and neutrals – creeps along exposed brick walls and custom wallpaper painted by hand.
Ascending the spiral staircase encircled by a wrought-iron balustrade with rosettes that are also seen in the gates, guests are led to the new mezzanine level which seats 22, with spaces suited for both small and large groups.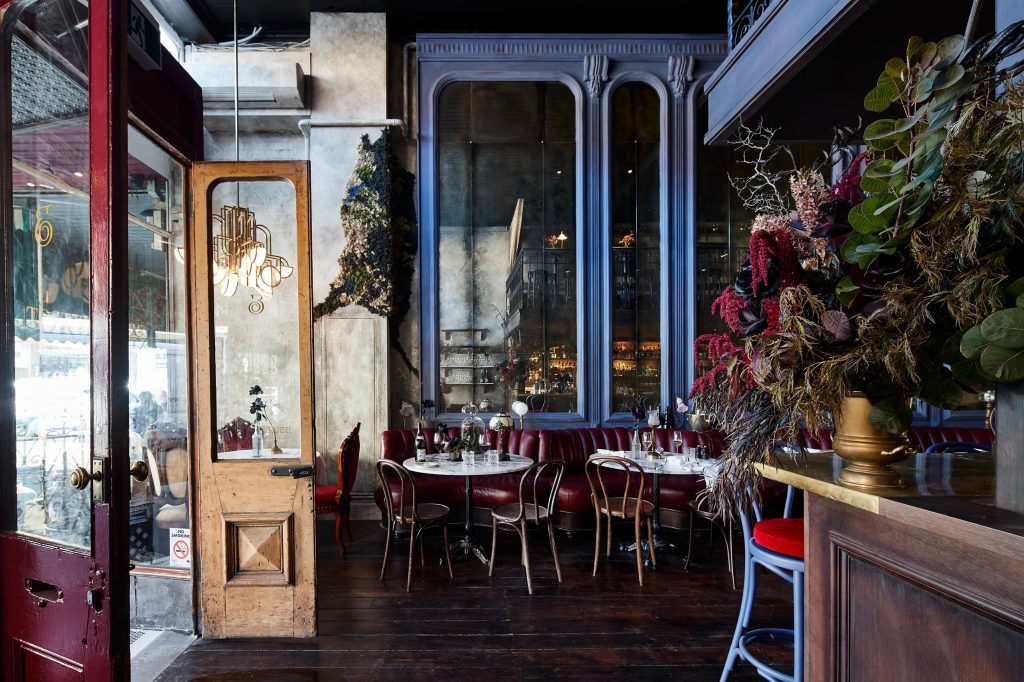 Rich in timeless design, bespoke detailing and a fully curated hospitality experience, Smith St Bistrot offered Townson "complete creative freedom" which helped "push our boundaries like never before."
"We wanted Smith St Bistrot to feel familiar yet also inspire guests, and our artisanal approach to the project helped bring this vision to life."
All photography by Alex Squadrito unless otherwise stated.
Founded in 2020, Anthology Studio is an international multi-disciplinary design practice based out of Melbourne.
Founded as a contemporary atelier, Anthology Studio is guided by the principles of creativity, innovation and problem solving, that is at the heart of its work. The practice brings together an innate sense for design with the ability to envisage and deliver complex projects.
Employing an emotive approach to design in every project, Anthology Studio's diverse portfolio includes residential and commercial spaces, including hotels and restaurants across Sydney, Melbourne and Brisbane.
Also in hospitality, Technē Architecture and Interiors redesigns the classic Australian pub in Port Melbourne.