Images appear courtesy of Estelle Judah.
Inspired by fresh produce and an old book, the interior of Benjamin's Kitchen provided interior designer Aaron Wong, of Alexander Pollock, with a chance to indulge his whims.
The new pan-Asian restaurant also presented Wong with an appealing opportunity to tick a few things off his design wish list. The first was to move away from the industrial look still saturating the Melbourne hospitality market. "I had always wanted to do a pastel palette and incorporate it into one of my designs," he says.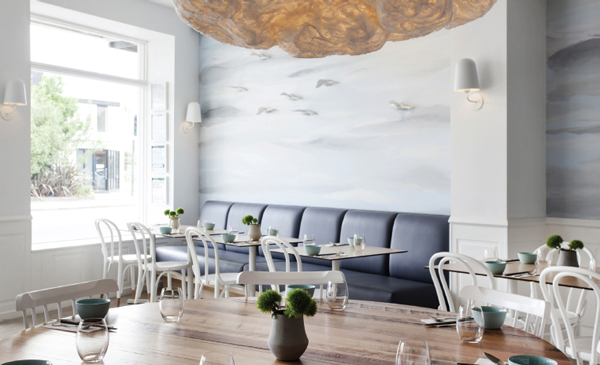 He'd also eyed off a set of cloud-shaped hanging lamps by Hae Young Yoon for Hive, comprising delicate but surprisingly strong thin cotton fibres held in place by wire armatures.
"They were a perfect fit," Wong says. "Not as suitable for a residential setting, but more for a themed space like Benjamin's."
The restaurant is owned by Wong's client, Benjamin Ruan, who, by purchasing the Heritage-listed building four years ago, took a gamble on a fairly nondescript site area in Melbourne's inner north-eastern suburb of Alphington.
"My dream was to own and operate my own restaurant," Ruan says. "But the building was really run down and no one wanted to buy it."
After successful partnerships in two other Melbourne restaurants, the head chef had carefully honed his requirements – a 40-seat restaurant at ground level, large kitchen, with function rooms upstairs, as well as a two-bedroom apartment. With his plan ready, he and Wong joined forces in a two-year process to transform the old building, retaining the front half and adding to the rear.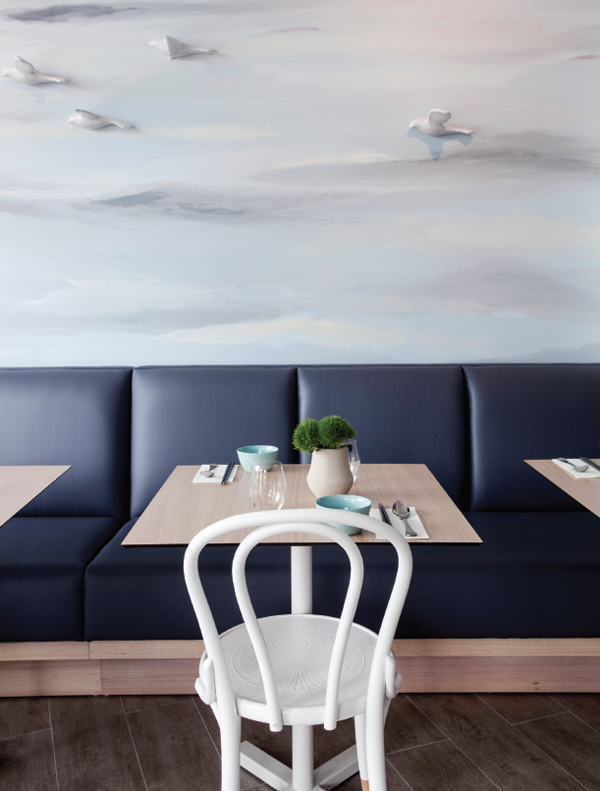 From the street, Benjamin's is a bright shot of white with a soft hint of blue. Surrounded by used car yards and featureless shopfronts, the double-storey building retains its bluestone façade – now beaming white – and reads as though teleported from somewhere loftier. Inside, the space has been extended at the rear to accommodate the upstairs apartment, which has created extra space for the restaurant's bar and service area.
Wong selected the closest stone to marble for the bar bench top, by Silestone, behind which extends tall shelving anchored by powder-coated steel panels. The opaque glass panels are on rollers from side to side, allowing staff to conceal or showcase bottles, crockery or other decoration items. "I didn't want to just do a bar with floating shelves. I wanted to play around with the sense of layering and the doors to make it feel more interesting," Wong says.
The floors are light timber-look porcelain tiles, a vast departure from the brittle 1960s concrete underneath. Wong originally considered polished concrete or an epoxy coating, but tiles were chosen instead for durability. Around the perimeter lie chunky, dark blue leather banquettes, while each square table is decorated with an array of original TON Bentwood chairs. The tables are topped with leafy yellow and greenery within MUD Australia vessels.
"I chose a really slim table top profile for the tables," Wong says. "The Bentwoods are ubiquitous, but painting the chairs and leaving 'socks' of blond wood creates a point of difference."
For the overall style and tone, Ruan's brief was to reflect the produce on his plates. "There's a lot of seafood and fish in the menu, and my food philosophy is simple and light cooking," Ruan says. "I also use fresh garnishes on the side, such as Asian herbs, basil, cos lettuce, coriander and other leaves."
Wong didn't have to look too far for inspiration, turning to one of his childhood books, The Old Man and the Sea, by Ernest Hemingway.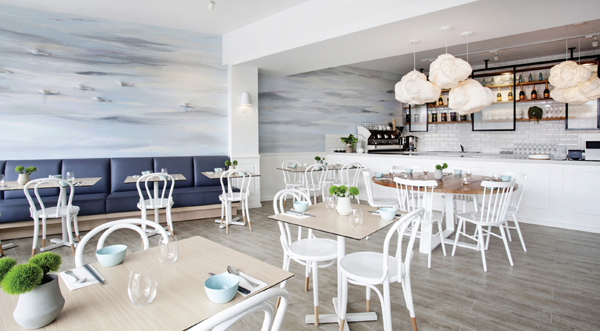 "The sea and the surf in the book inspired me straightaway," Wong says. To set the scene, he commissioned artist Chloe Planinsek to paint the restaurant walls in an ambiguous mural, comprising soft swirls of blue. Little porcelain birds in mid-flight on one wall add to the effect. "It could be interpreted either as the surf at dusk, clouds or somewhere in between," Wong says. "You can tell Chloe's DNA is in the work."
The same can be said of Hive's designer, Hae Young Yoon, whose hanging lamps suspend over two zones – the only round table in the restaurant as well as above the cash register.
"I did a round table to break up the space and create a focal point. It feels as though you are sitting under a cloud," adds Wong.
With a kitchen big enough to cook in en masse, Benjamin's is now gearing up to its next stage of development with the completion of two upstairs function rooms in a similar fashion to the modern, fresh feel downstairs.
"I'm very happy with the way it's worked out," Ruan says. "We had good communication and the restaurant runs really well."
Without any fanfare, except for a couple of balloons on opening night, Benjamin's Kitchen launched in December 2014 and has been busy every night since.