A new Parisian office has been designed for the global property juggernaut Airbnb. Co-designed by STUDIOS Architecture, the new Parisian office takes cues from its own branding to create a homely office space.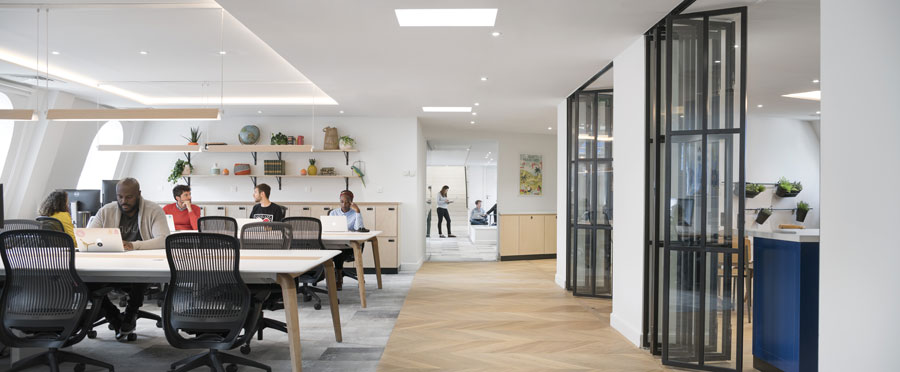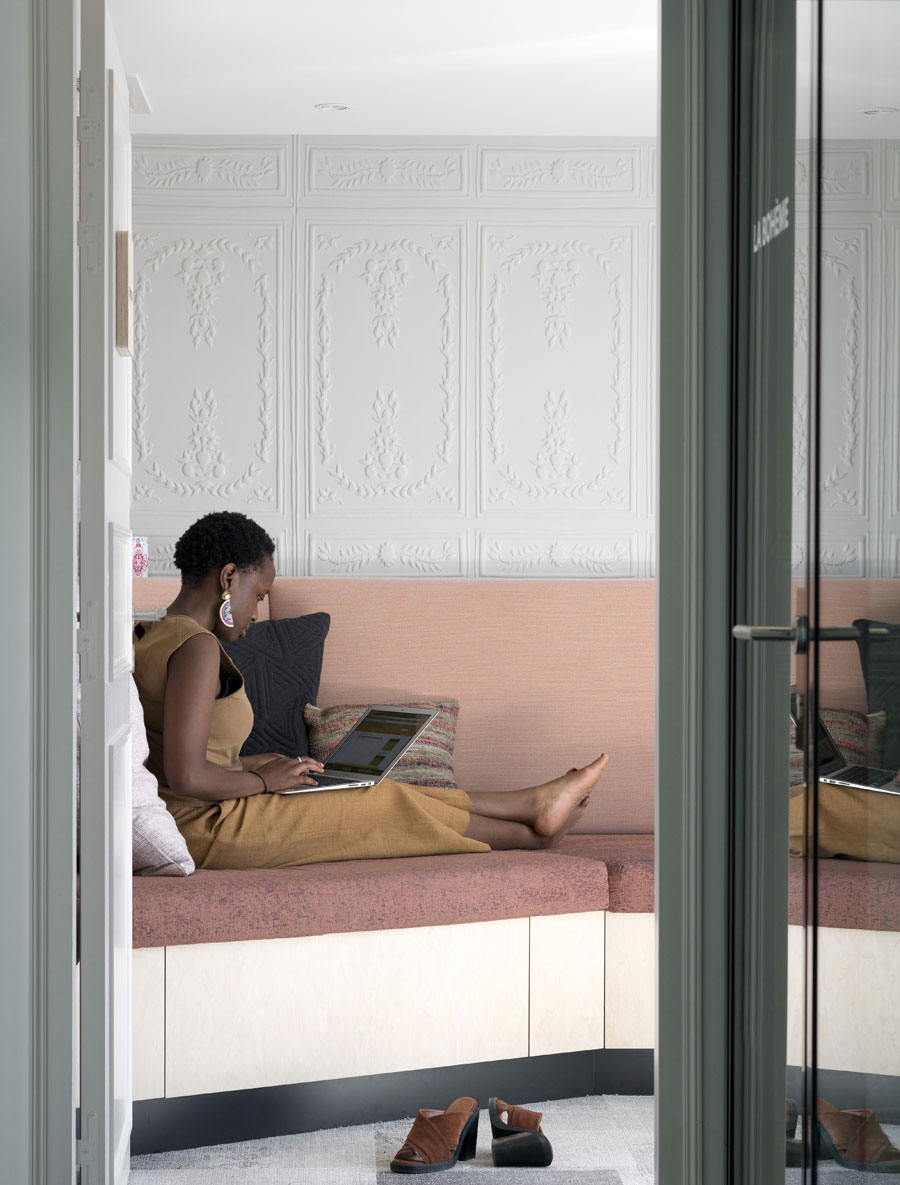 Taking the brand's ethos of 'belong anywhere', the space encourages communal working and connection, and doesn't shy away from Parisian cultural references. The new office also caters for public events through the inclusion of a hospitality-style lounge – a new element to Airbnb's office design.
The Parisian office features a traditional mansard roof, as is seen across the city. Spread over a mixture of levels in an atypical arrangement, the office looks more like a quaint attic loft than the workspace of 60 staff members.
The formula used for the office fitout follows the method Airbnb have employed for other offices around the world (Dublin and San Francisco). Working with the architects, the Airbnb Environments Team brought the character of a Parisian home to the space, including a foyer, salon and bibliothèque. Eclectic in nature, the new office brings together a mix of styles, aesthetics and furniture, while still expressing a sense of the Airbnb brand.
Key to the design is providing a range of possible work configurations and spaces such as sit-stand desks, along with private booths and lounges. Following from the company's ethos, the design facilitates interaction and communal working arrangements. Large communal tables have also been used, which is a common inclusion in all Airbnb offices.
The hospitality lounge is a new concept for an Airbnb office. The space is purpose-built to accommodate both large and small groups through a program of public events, including meetups, debates on travel trends and exclusive experiences.
Staff and visitors to the office can look out to views of the Eiffel Tower and Opera Garnier. Taking inspiration from the Opera Garnier, custom carpet was designed that uses traditional patterns found in opera houses.
To bring the shell of the original building into the 21st century, cove lighting has been installed to help make the space conducive for work tasks. Along with that, a greenhouse of plants and vegetation greets users as they step out of the elevator, creating a transitional zone and an intimate roof garden. In addition, the team discovered existing skylights and original wood beams during the construction, which they were able to expose and incorporate into the new design to offer a more open and airy kitchen space.
As part of Airbnb's global office design narrative, the meeting rooms are inspired by existing Airbnb listings around the world. The Paris office takes inspiration from Airbnb listings in China, Tasmania, Morocco, the USA and UK. To finesse the spaces, the Environments Design Team worked with local teams in each region. Tasmania's meeting room integrates an old barn door as a nod to a listing in Hobart.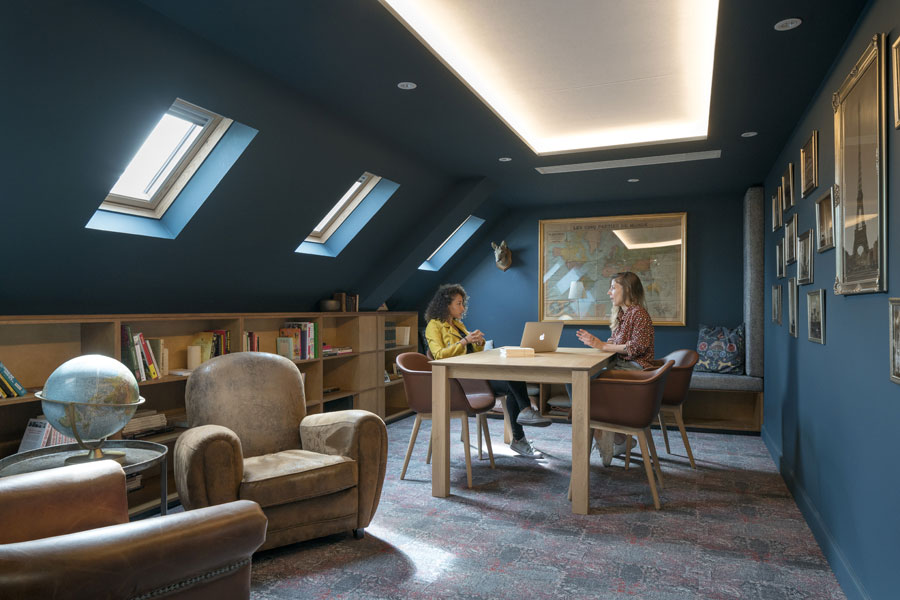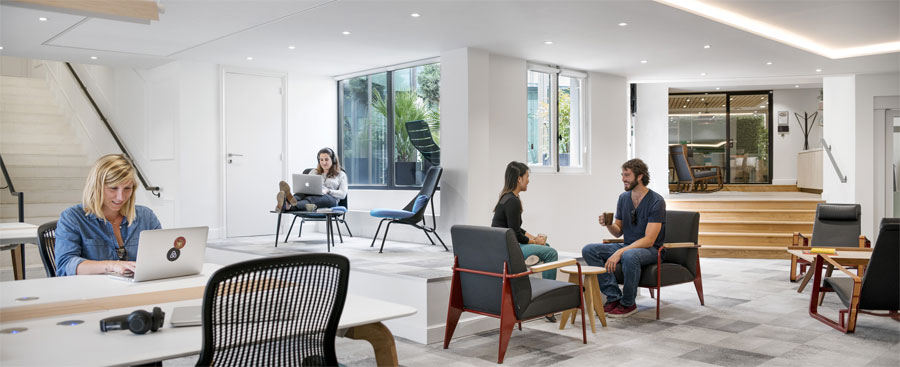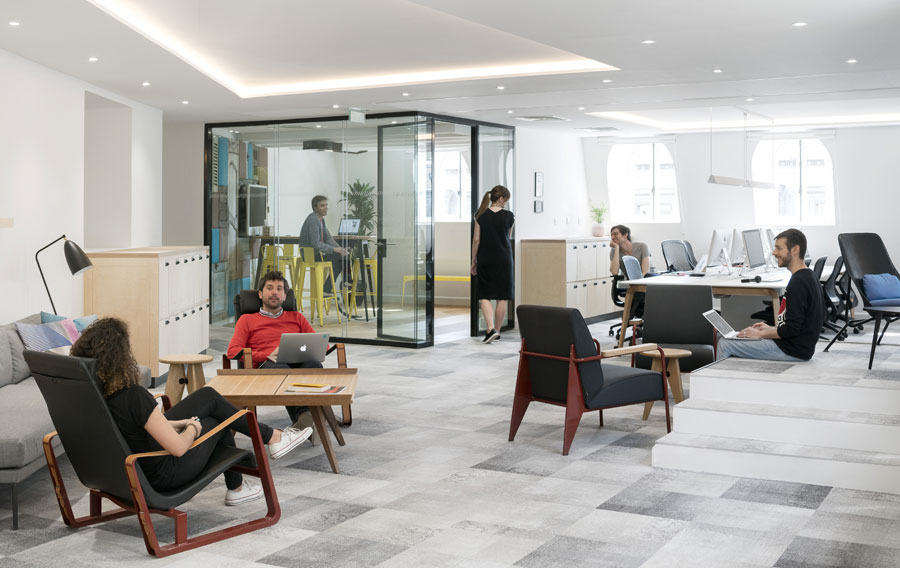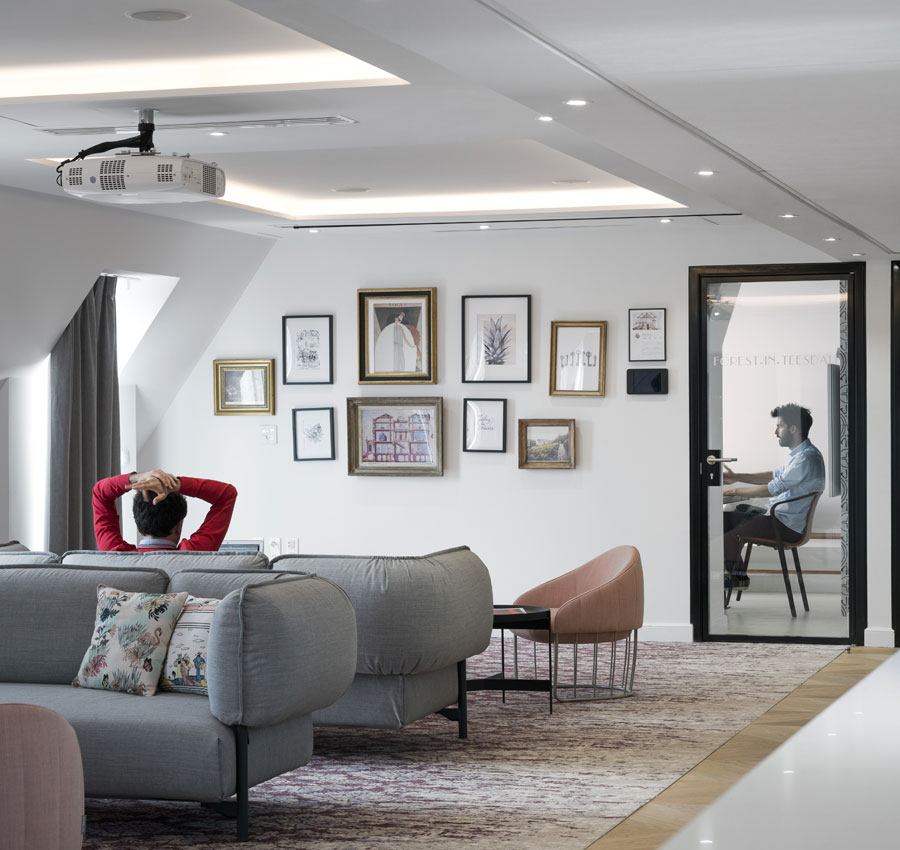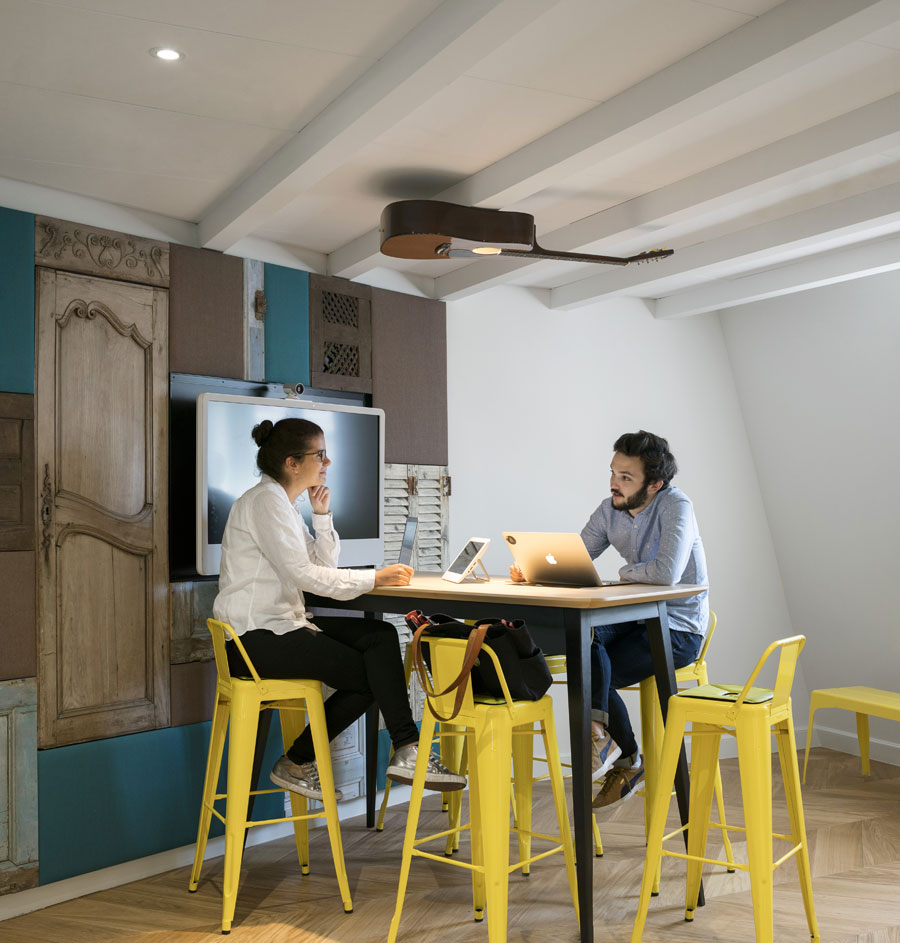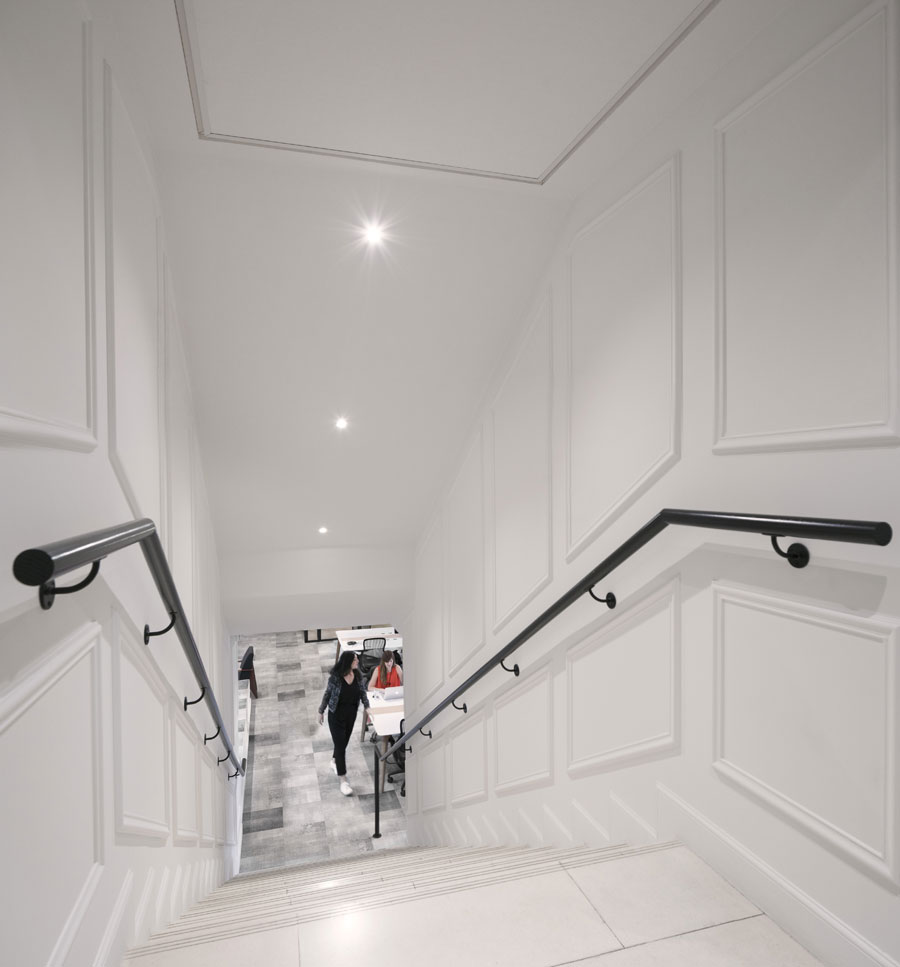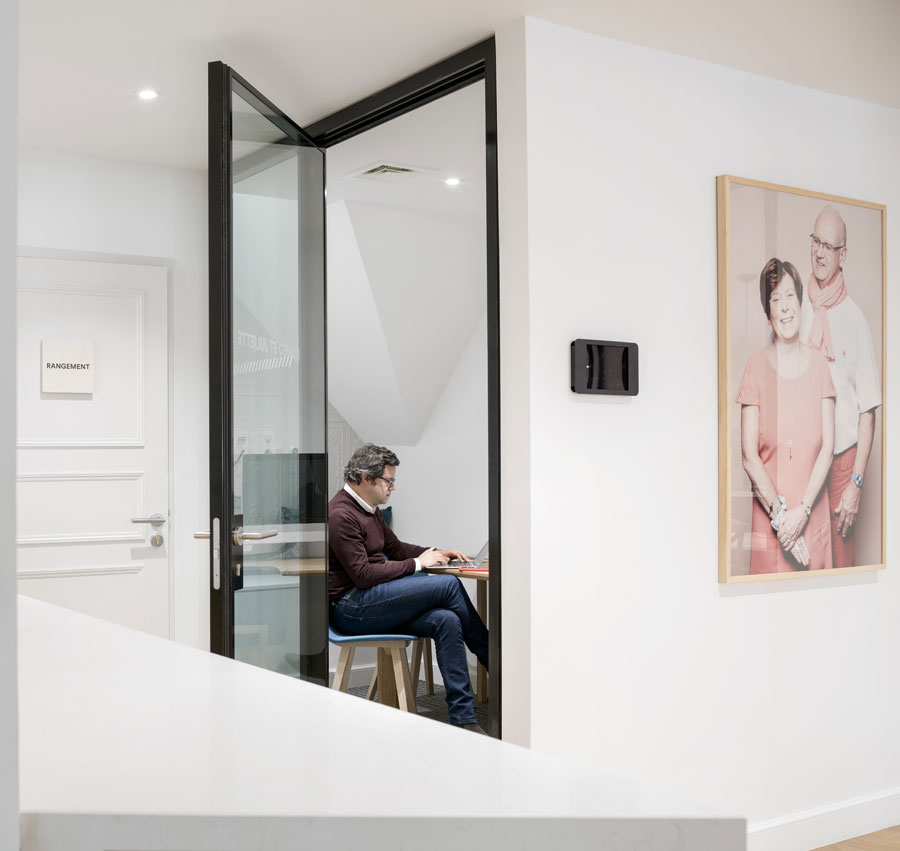 Photography by Donal Murphy.
–
Read more about Airbnb's hyperlocal approach to design.