The latest Melbourne offering from Aesop was inspired by the contradictions of air travel, while looking to Milan's metro station for materials.
Designed by the Australian skincare brand's in-house department, the interiors are intentionally industrial and long lasting.
The lowered ceiling entrance is clad in brushed stainless steel to match the floor and walls.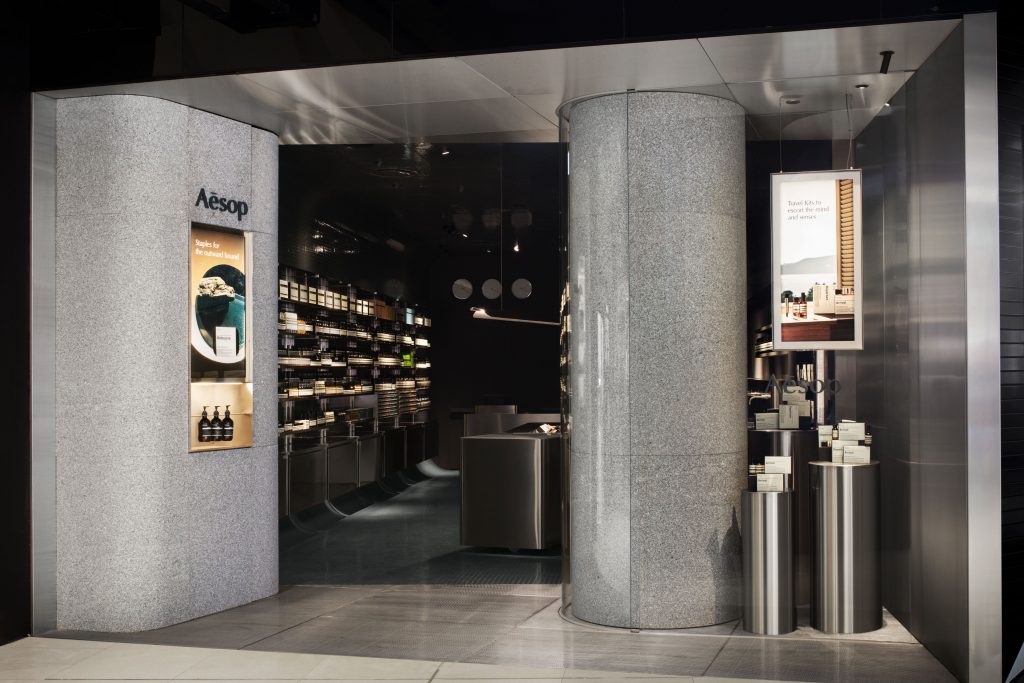 Acting as a portal, the sides are flanked by floor-to-ceiling curved columns of locally quarried harcourt granite.
Curved glass sweeps around the right-hand column, creating a light and open welcome to customers.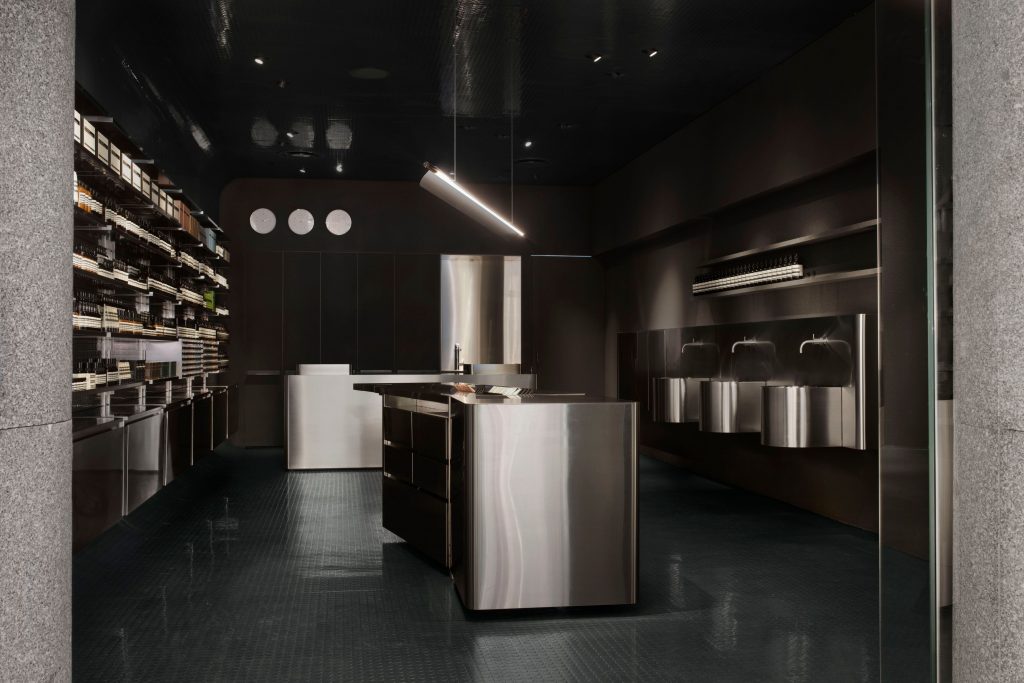 Aesop's Denise Neri describes the space to ADR as "a haven of quiet contemplation" that explores the "in-between" nature of airports.
"Familiar and organised, yet chaotic and foreign, they become a cavernous waiting room in which we occupy moments between travel," says Neri.
"It is from this contrast that the design has taken shape."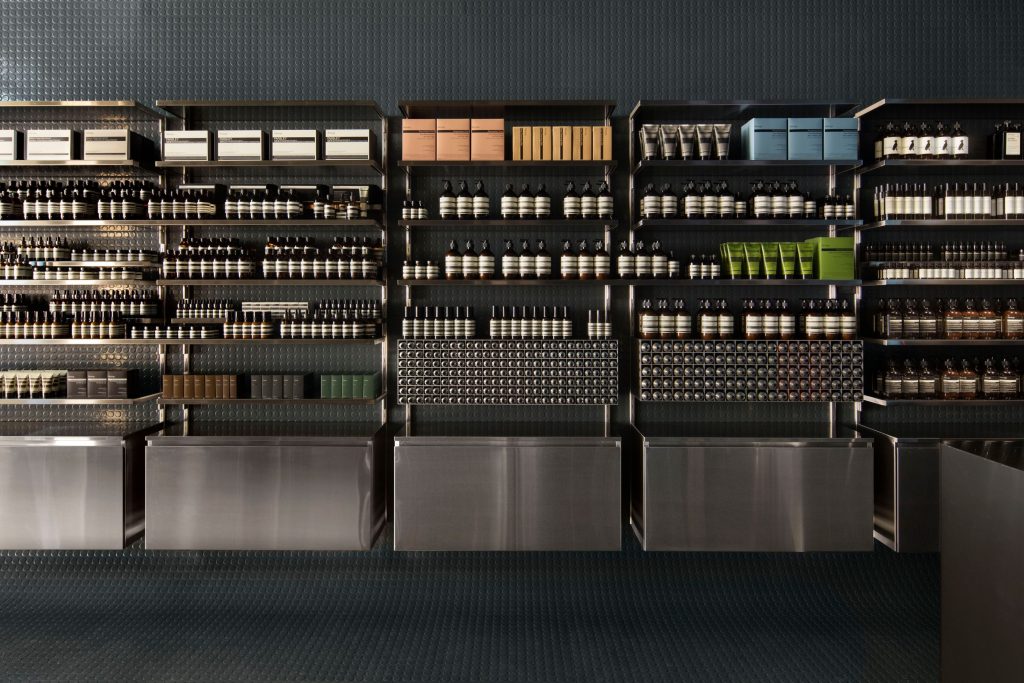 Flexible and functional were the two main goals of the design, so the stainless steel shelving was created to be interchangeable and is positioned opposite and above similar styled brushed stainless steel basins.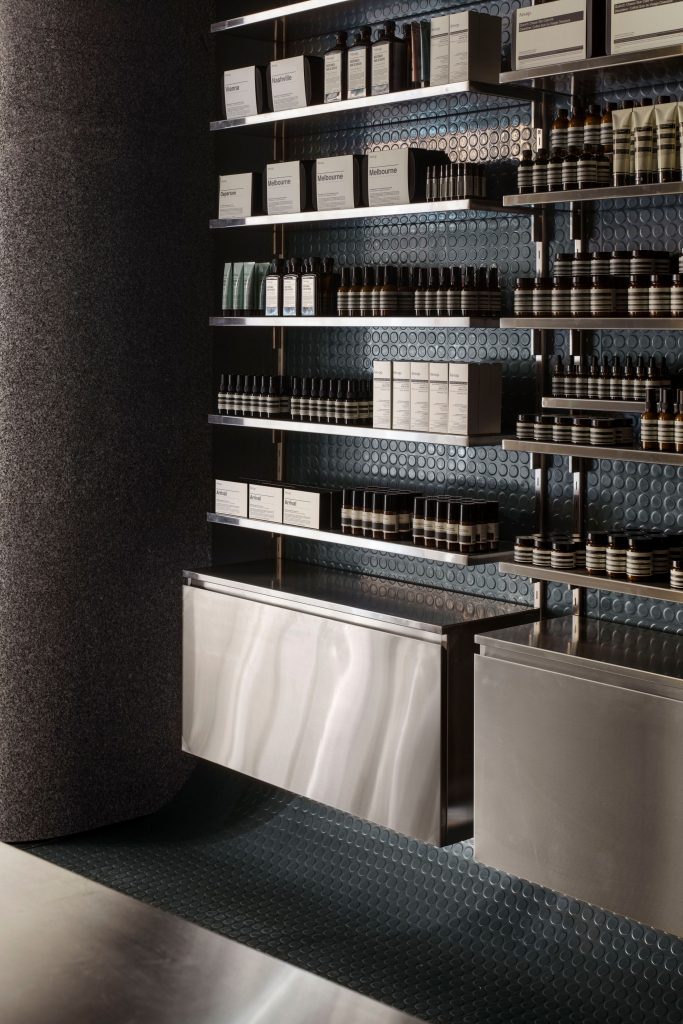 The curved detail of the metal forms complements the standout feature of the store – the studded rubber tiles.
More commonly seen in train stations the world over, the tiles were designed by Pirelli in the 1960s for the Milan metro system.
They line the floor before curving up the product wall and over the ceiling in a fluid sweep, evoking travel, while also functioning as a durable and long lasting surface.
The lighting is dark and muted with simple shelf lighting and one hanging stainless steel pendant.
"Lighting was carefully considered, creating a warm subtle environment in which customers can enjoy a moment of calm and respite," says Neri.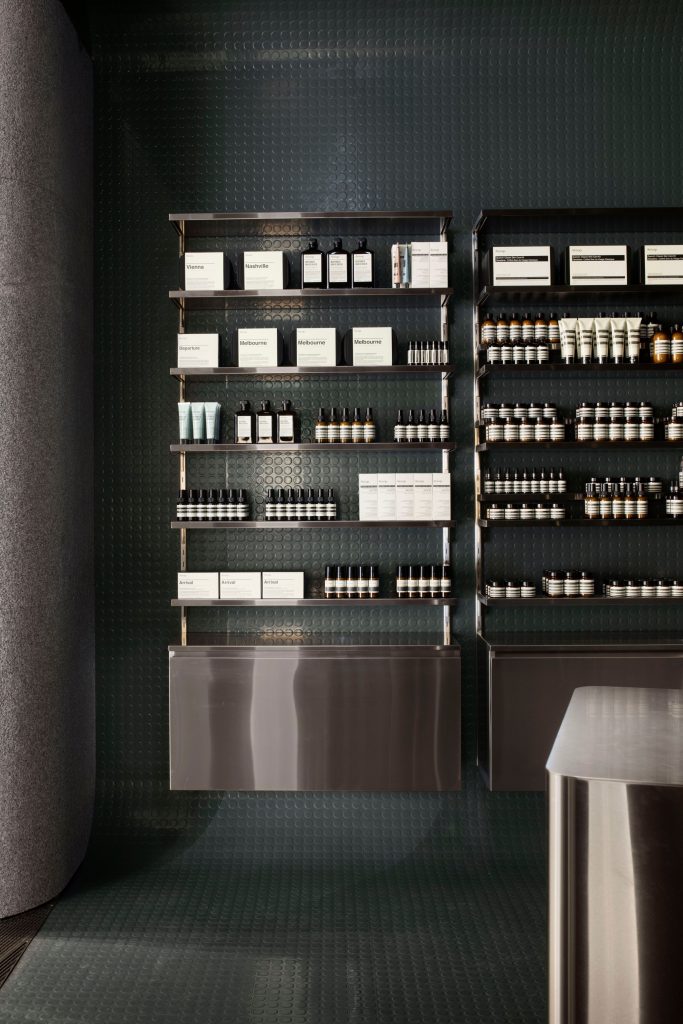 The Melbourne airport store is the latest from Aesop. The brand recently won best Retail at the INSIDE Festival of Interiors in Amstedam.
Its Bondi Junction Sydney Signature Store by MLKK Studio was the only Australian-based project to win with judges describing it as a "very sophisticated solution where a series of contrasts results in a very informed design solution".
The Hong Kong-based design studio has handled multiple Aesop stores and drew inspiration for the Bondi one from the raw pinewood framework used in housing framing construction in suburban Australia.
The shopfront is composed entirely of exposed pine stud framing and plastic laminate reminiscent of '60s design. The '60s theme is carried through the interiors with plastic door handles, ceramic mugs and the stainless steel kitchen basin.
Photography: supplied