The demands of modern working life show no sign of abating, however forward-thinking employers are increasingly looking to workplace design to play a positive role in the wellbeing of their employees, whilst improving productivity and reinforcing brand positioning and company values at the same time.
One such business is Melbourne property developer PDG who appointed interior architecture practice Studio Tate to redesign its Swanston Street, Melbourne headquarters.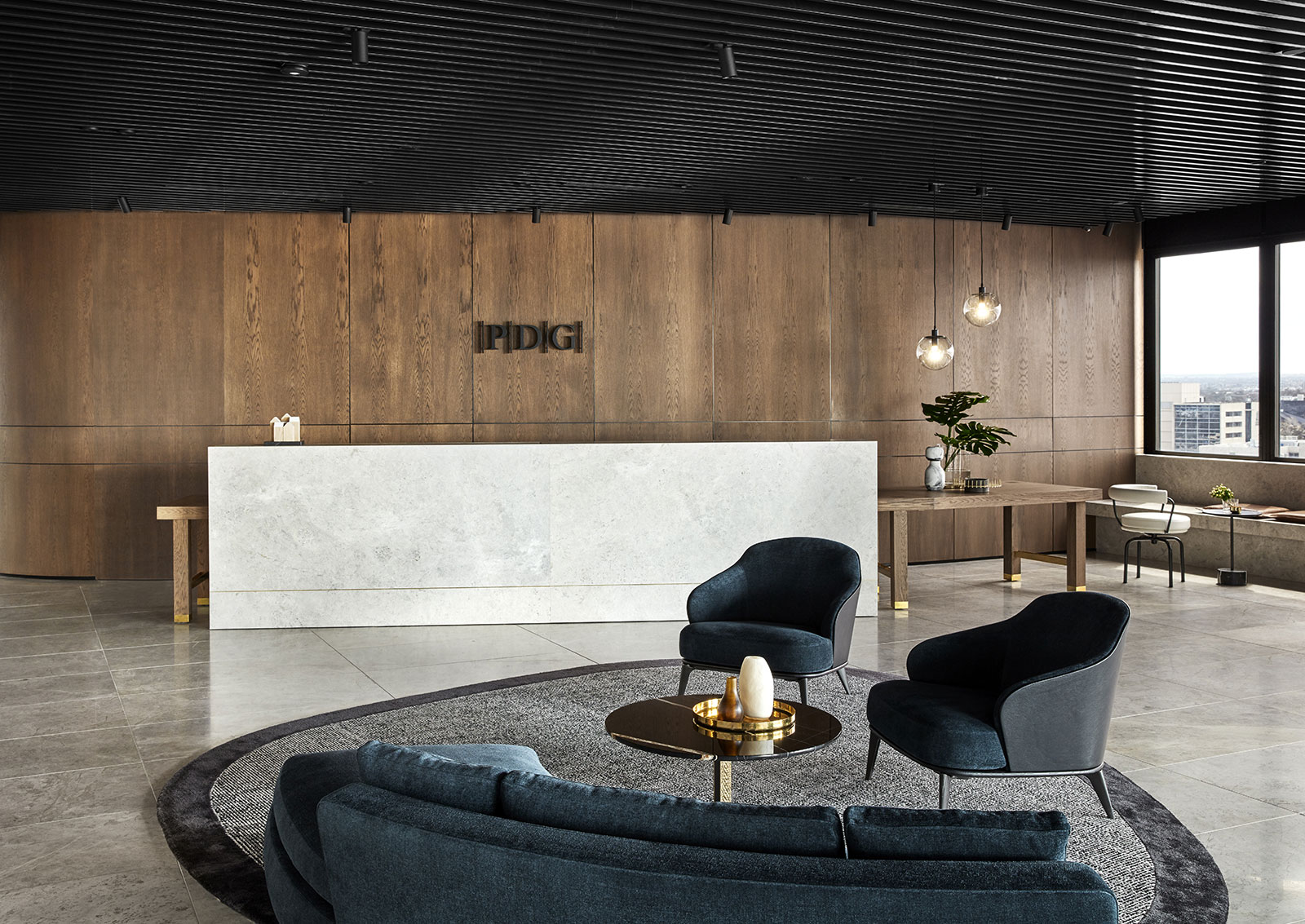 Located in a unique hexagonal building that was formerly home to iconic Australian airline Ansett, the 950 square metre project called on intelligent design to improve internal communication and productivity, and facilitate a feeling of wellbeing uncommon in most workplaces.
"This design allowed us to effectively demonstrate the role interior architecture can play in creating the diverse work settings modern employees demand, whilst also considering PDG's unique vision and values," says Alex Hopkins, Principal Interior Designer at Studio Tate.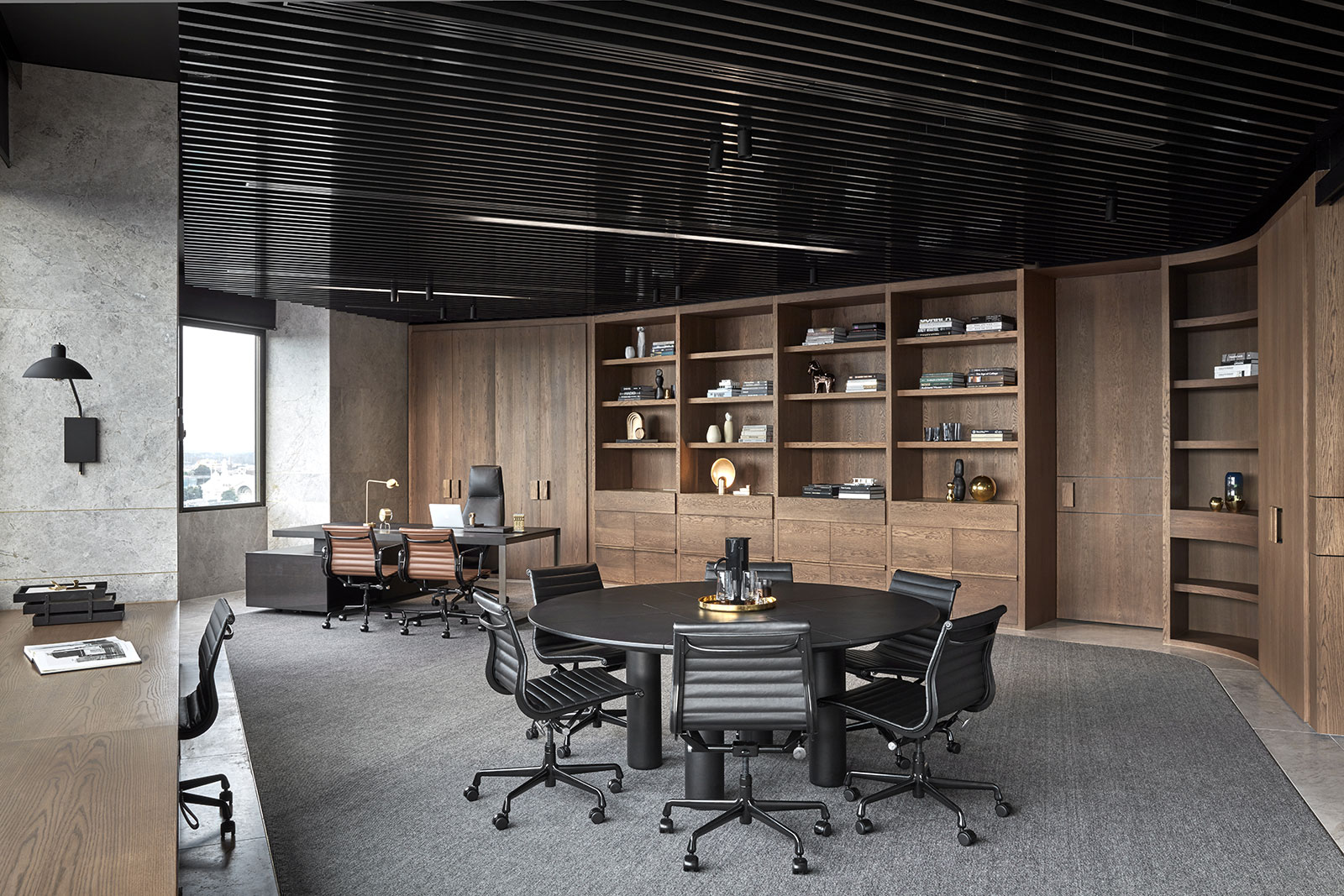 For a business with cross-departmental teams comprised of diverse skillsets, each playing an important role in PDG projects, a design that facilitated collaborative and productive teamwork was essential.
"Through our process we spoke directly with key employee stakeholders to better understand their needs. This directly influenced many changes, such as integrating low storage under the windows which can act as temporary layout space for drawings – a very practical need for the team."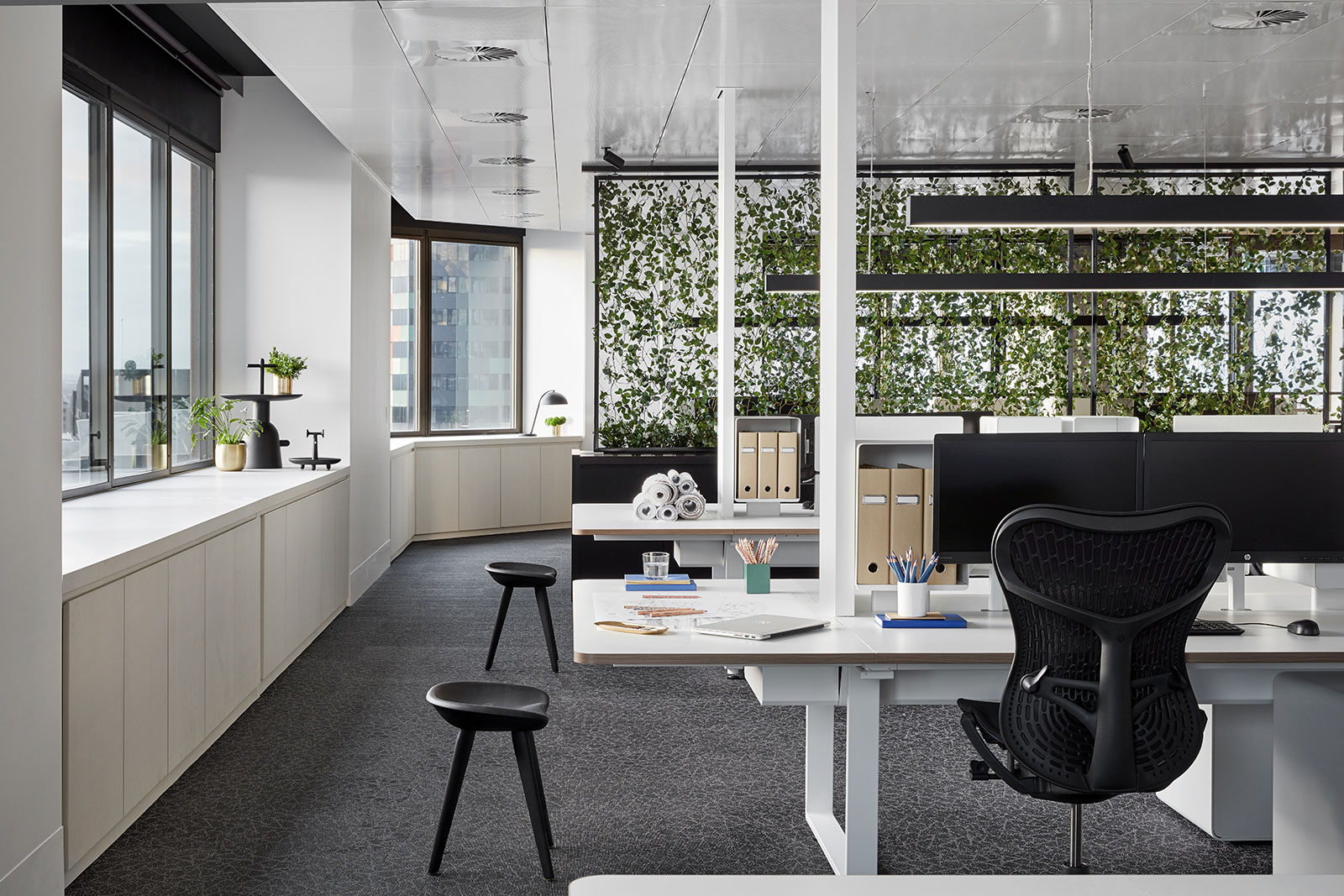 The experience of both employees and visitors was carefully considered from the moment the elevator doors open onto level 17. Immediately greeted by a graphic, monochromatic palette, and an expanse of luxurious stone featuring brass inlay, your eyes soon lead to striking floor-to-ceiling glass doors with custom steel and stone handles. This impressive entrance signals the way to a beautiful reception area that evokes the feeling of an exclusive hotel lobby, complete with chic coffee bar.
Following the hexagonal floorplate to the right, visitors are met with a curved glass wall that provides clear sight lines into the generous, light-filled boardroom and views across the Melbourne skyline.
The curved corners of a walnut timber veneer corridor, complete with black metal inlay, act as a contrast to the straight lines of the floorplate, and create clear paths of circulation around the work floor, leading to numerous meeting rooms and communal breakout spaces that encourage spontaneous collaboration.
The line between work and play blurs as the rear of the workspace opens up to a stunning open-plan kitchen, the design of which wouldn't look out of place in one of Melbourne's most stylish cafes. A movable wall of greenery completes this tranquil haven, bringing contrast in colour and texture whilst also concealing unsightly views and managing light filtration.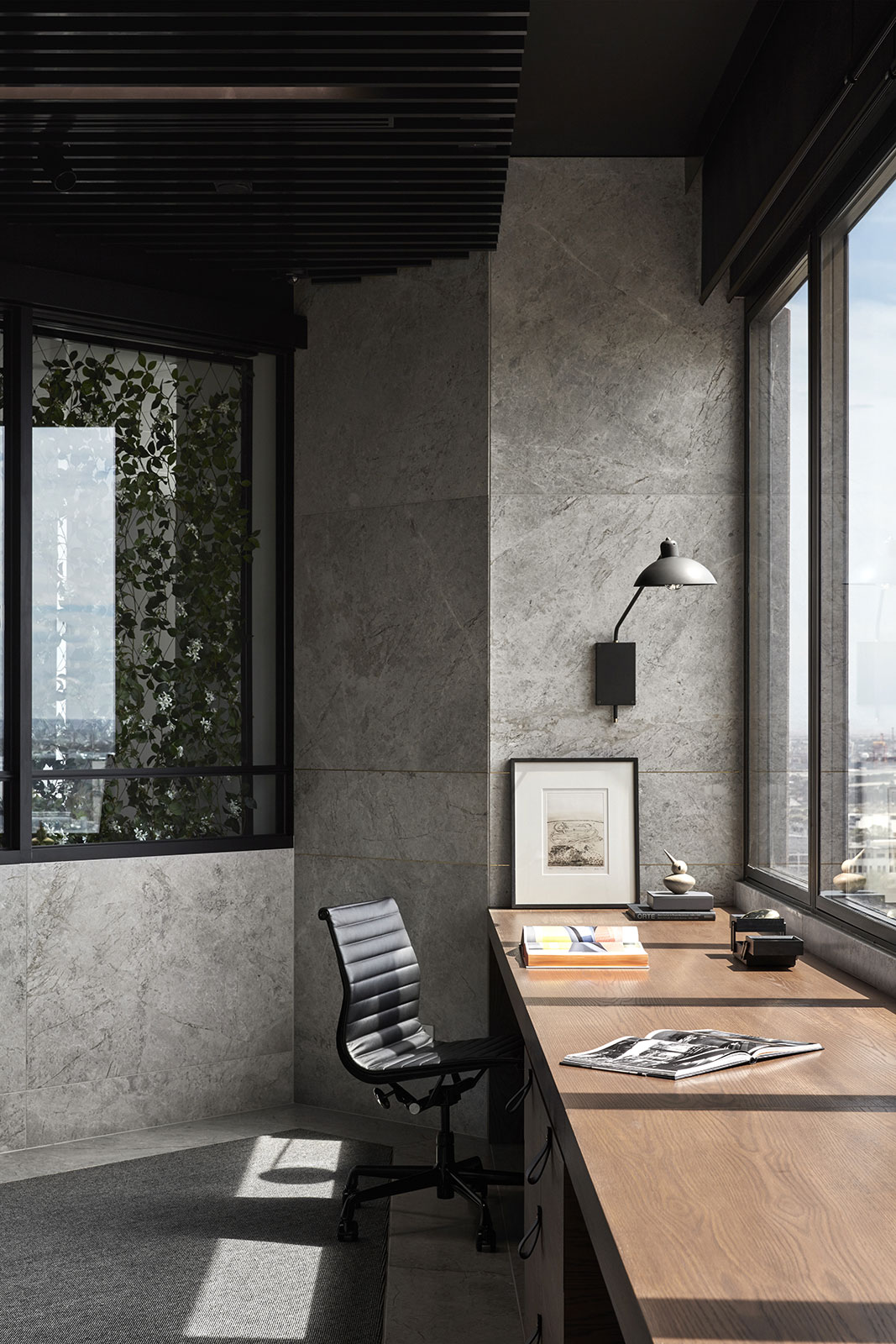 Adjacent to the kitchen is the first of two banks of ergonomic workstations, with all desks positioned perpendicularly to the windows, enabling better circulation and democratic access to views and daylight. Inset legs allow employee numbers to flex up and down as required, and provide wide surface areas, particularly useful for architects and project managers. The addition of stools at the end of each workstation encourages informal meetings and the option of hot desking, while suspended linear pendants offer effective task lighting and keep desktops clear.
Lavish marble-clad bathrooms – fully integrated with the rest of the design – feature a level of materiality and attention to detail akin to a designer hotel or high-end private residence.
This considered approach is not reserved solely for the front of house and amenities, with features in the employee work area such as powder-coated, recessed finger-pulls in a contrast colour, and a perforated metal pan ceiling, chosen for their impact and sense of layering and texture.
The spaciously appointed CEO's office, discreetly positioned behind the reception desk and lobby, features a stunning slab stone trim to the perimeter. The space comprises main desk, six-person meeting table and floor-to-ceiling custom joinery along the entire length of one wall. A glazed wall divides the office from the main work floor, chosen to integrate rather than segregate, and offer visibility and access to the director at all times.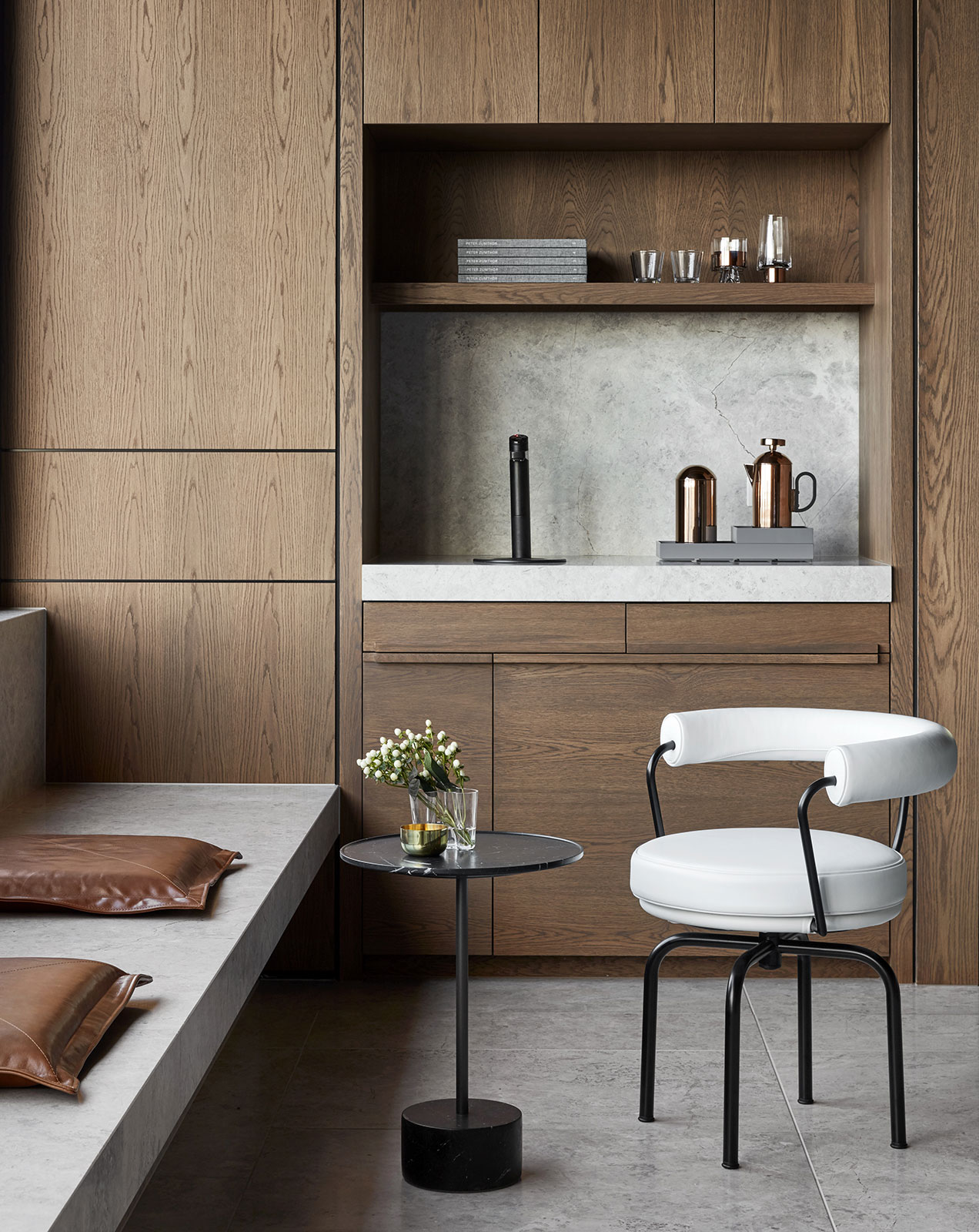 "The hexagonal floorplate was definitely the most challenging component of this project," says Hopkins. "We conducted a thorough investigation of all possible planning solutions before starting any three-dimensional work. Ultimately, we wanted to demonstrate that productive and inspiring workplace design can be achieved in all environments. With the right configuration and selection of materials, you can create a sense of comfort, familiarity and warmth, even in the workplace."
As a property developer that is committed to the highest standards of construction, PDG's new headquarters now accurately reflects the company's values. Designed with intelligence and finished with finesse, this project by Studio Tate is an undeniable contender for Melbourne's most productive and inspiring workplace design.
All photography by Peter Clarke.