Evoking a journey of renewal, Roji is a crafted boutique salon by Craig Tan Architects. The new space integrates into the existing fabric of Hotel Hotel in the NewActon Nishi Development in Canberra.
The key brief inspiration behind the Roji Salon was to create a space that reflected the philosophies embodied in the adjoining multi-award winning NewActon Nishi Development and the Aveda range of products. This included a connection to nature, sustainability, and the use of organic ingredients and natural materials.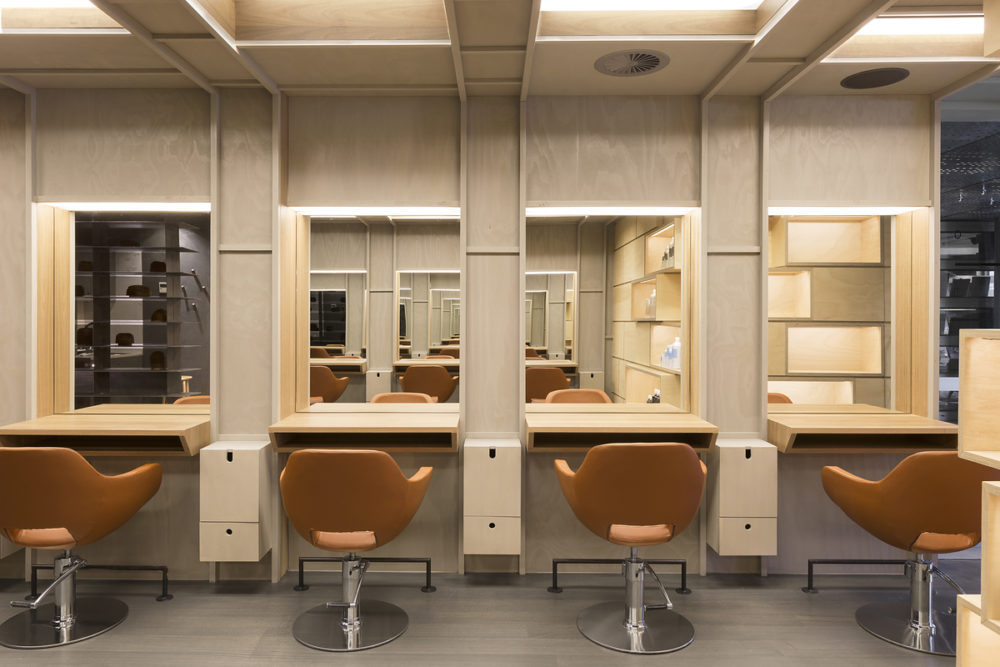 Embracing the metaphor of the traditional 'roji' path leading to the teahouse in a Japanese tea ceremony, which marks the separation between the everyday world and the spiritual retreat, the design celebrates the sense of journey and renewal associated with the salon ritual. It invites the user to live in the moment by awakening the senses and evoking a heightened connection to nature.
An innovative use of stains in contrast to timber finishes achieve a transition in materiality, and combined with the employment of contrasting lighting techniques, serve to activate the client's senses as they are immersed in the salon ritual.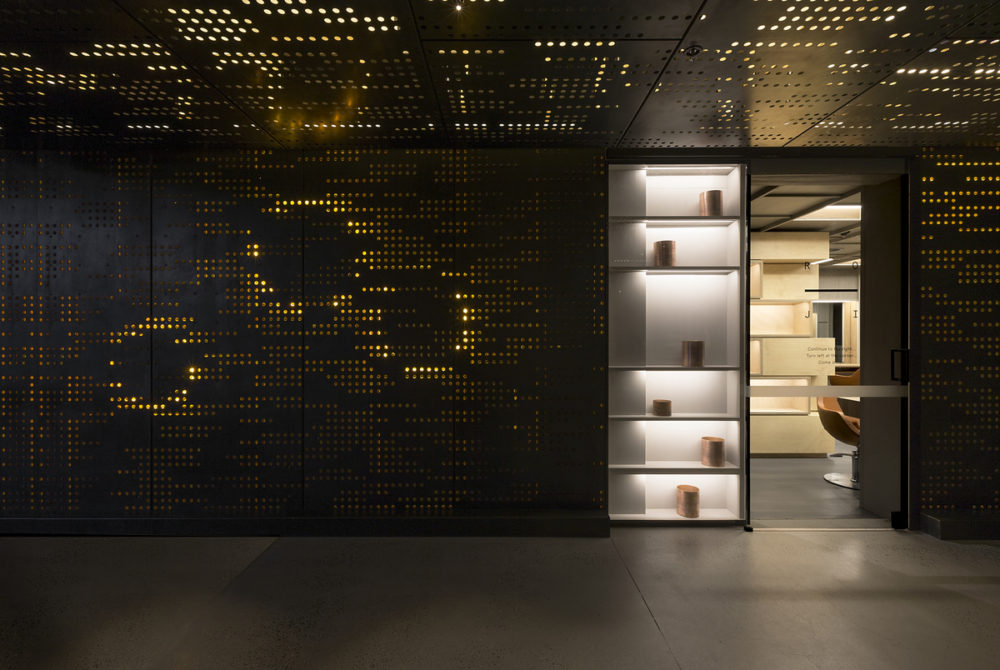 Contextually, the challenge was to integrate Roji Salon into the surrounding award-winning Hotel Hotel fitout by March Studio. To the main entry, the tenancy was bounded by a stacked timber screen wall and massive black steel gate. While to the airlock, the tenancy was faced with an existing black steel metal wall with glass marbles. The swing of the existing steel gate swept out approximately a quarter of the tenancy when opening, and required an innovative solution to reclaim this space.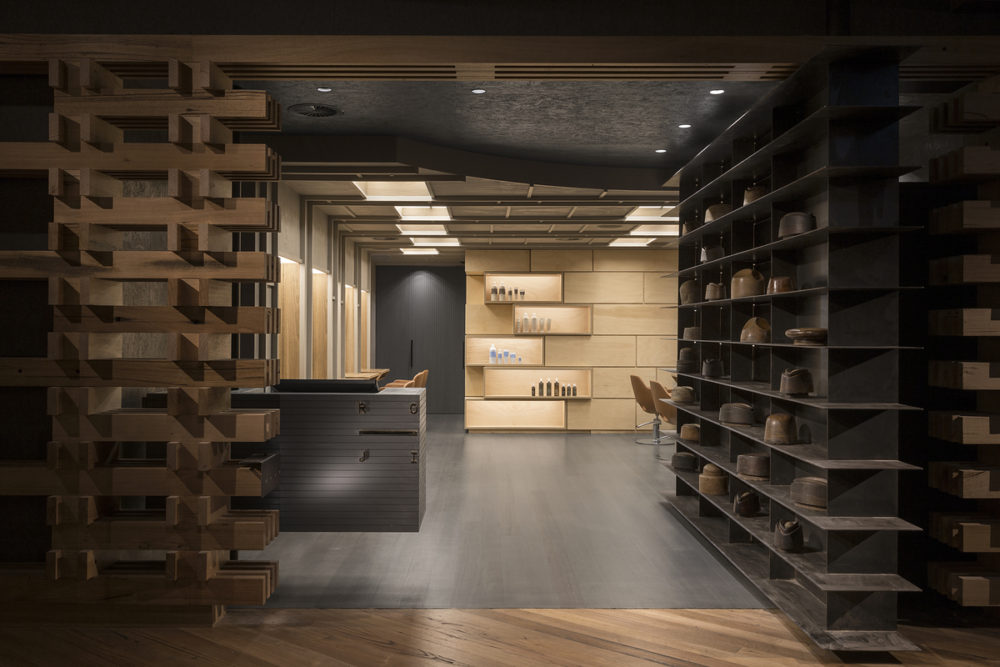 Entered from the Hotel Hotel lounge, the design is conceived of as a transitional journey to awaken the client's senses through strategic introduction of raw materials and natural lighting. This is achieved over three key zones. The interstitial, dark stained OSB entry zone, defined by the large swing of the existing steel gate, contains the dark stained forms of the kitchenette and pivoting reception desk. This flows into the artificially lit styling area, defined by a soft grey stained plywood wall and ceiling wrap with expressed ribs.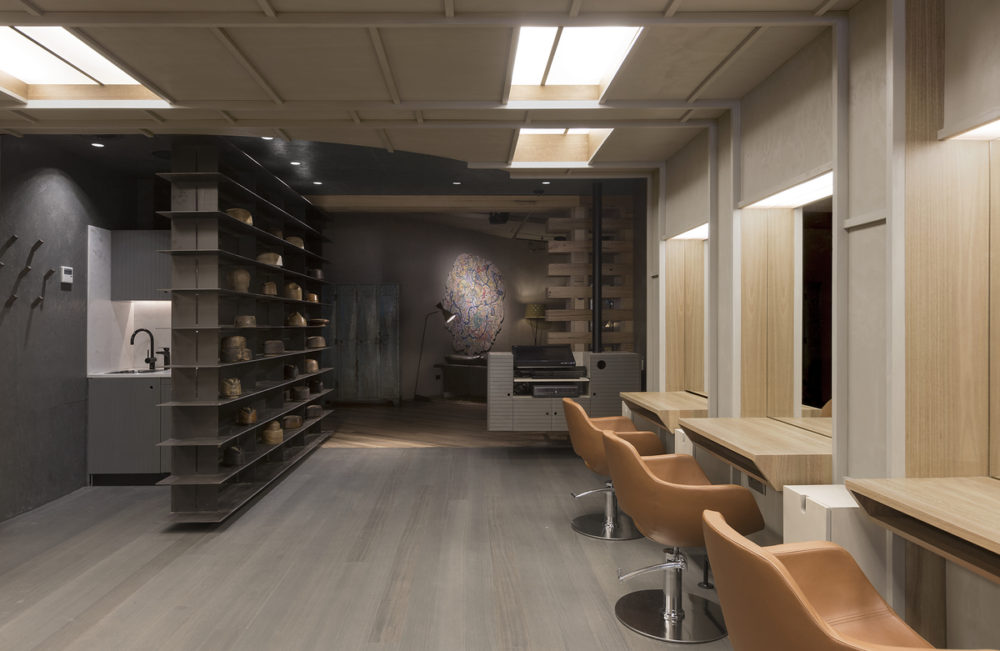 The final space is the enclosed, cork-lined basin area, animated by natural sunlight and a contemplative view onto external landscaped planter beds. Portholes in the cork wall reveal the existing steel and glass marble wall by March Studio. The brief requested that this basin zone be a quiet and tranquil zone to promote a sense of relaxation.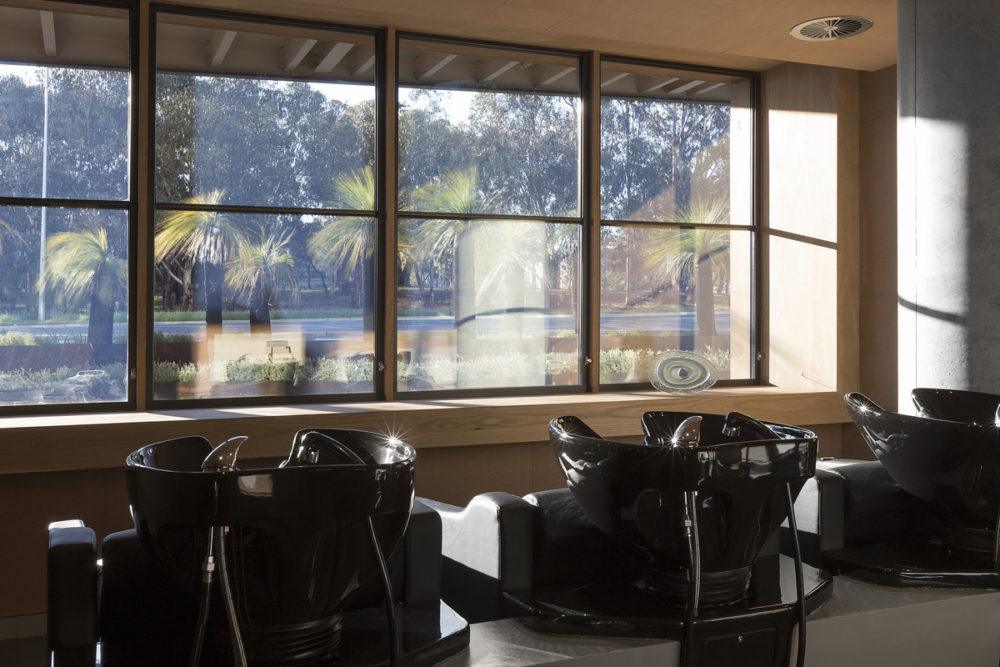 Beyond the tenancy, the fixed glass shopfront to the Hotel Hotel airlock offers inviting glimpses within. Expressed shelves on the corner of the nested back of house volume provide a visual 'sculptural pivot' to choreograph an approach sequence progressing from the initial framed glimpse from the airlock to a visual re-encounter at the entry.
Photography by Jaime Diaz-Berrio.
—
See our last DesignWall: Gray Puksand's CBD childcare centre.