The art deco exterior of Sydney's All Souls Chapel provided inspiration for architectural firm Weston Williamson + Partners when it took on a brief to transform a 'clinical' interior into something more welcoming. 
Rookwood General Cemetery is one of the oldest, largest and most multicultural cemeteries in Australia. Its vast and historical landscape is one of Sydney's most significant heritage sites, providing services for a range of culturally diverse communities.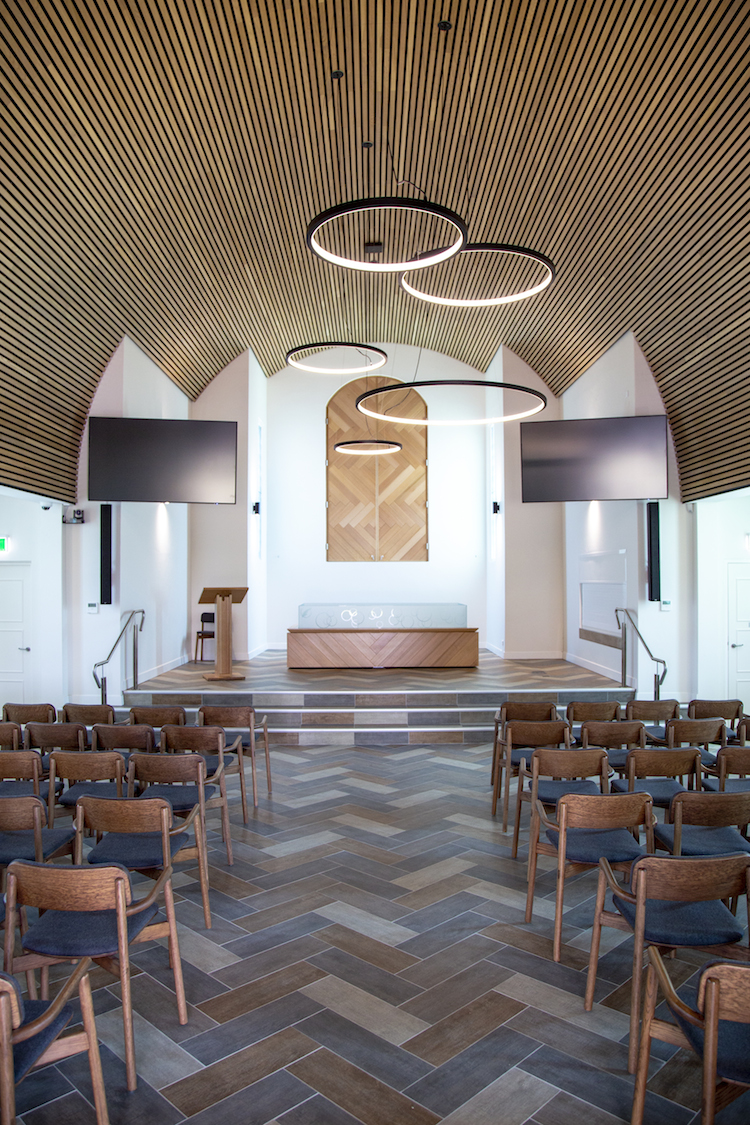 One of the stand-out structures at Rookwood is the art deco All Souls Chapel. Built in the 1950s, the historic building is still in regular use but required refurbishment to accommodate a growing number of denominations and the ability to offer cremation services.
Sydney-based Weston Williamson + Partners was successful in securing the All Souls Chapel refurbishment project. Presented with a design brief to take a clinical interior with acoustic issues, and create a space that was warm and visually impressive, the firm was inspired by the existing exterior decoration, which was incorporated in the interior and exterior enhancements.
A key part of the brief for the exterior was to create more space for visitors to congregate, regardless of numbers and weather conditions. An elevated podium and canopy were built to provide additional capacity while keeping the integrity of the building. A continuous herringbone tiled floor was created from the road to the altar, providing a visually impactful, seamless design. The exterior modifications also incorporated ramps for wheelchair access.
When it came to the interior refurbishment, it was understood that a barrel-vaulted ceiling was hidden behind flat plasterboard tiles. "Rookwood General Cemetery's CEO, George Simpson, wanted to expose the original ceiling," comments Weston Williamson + Partners managing director (Australia) Mark Kelly. "Following some investigation, we opened the roof to see what was possible. Working with an existing building you have to be flexible; a modular solution isn't often suitable. A clip-on system of warm, hardwood timbers was designed and a true semi-circle vault created."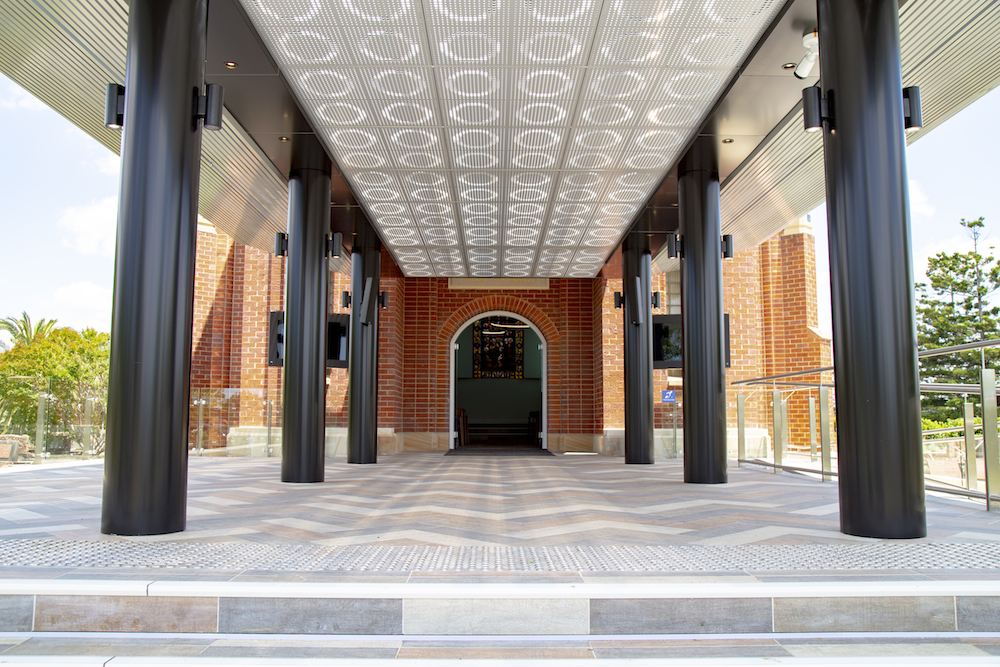 Customised lighting was also a critical element to making the chapel more inviting. "Lighting has such an influence on making a space better," says Kelly. "Simple concepts were used in this project including wall washing to create a warm ambience. Four custom-made circular pendant lights of various sizes were hung from the ceiling. This shape reflected the cream band that wraps around the external parapets.
The final stage of the refurbishment—and the most challenging—was the catafalque. This is a raised structure that supports the coffin during the service and then drops to hide the coffin and simulate a cremation.
Weston Williamson + Partners worked with local fabricators to design the herringbone-patterned timber skin and glass screen which also included a circular pattern. "We are proud to have been involved with Rookwood General Cemetery to help bring their vision to life," said Kelly. "The All Souls Chapel was our first cultural building project in Sydney and its completion is an important milestone for us."
The refurbishment of this beautiful ceremonial venue gives Rookwood Cemetery the capability to conduct a service that resembles a regular cremation; however, moving the casket to an offsite cremation facility once the ceremony is over. This process keeps costs down for both Rookwood and the community as a furnace does not need to be maintained.
This new service offering is an affordable option for families where a grave plot is not a cultural requirement. Lindsay Leung from Galaxy Funerals is also suitably impressed with the upgrade and has already conducted several services at the venue. "The new refurbishment of Rookwood's All Souls Chapel with the circles of light illuminating from above sets a peaceful ambience to farewell and honour a loved one. The stained glass window feature with the option to close makes this chapel appropriate for both religious and non-religious services. It is also currently one of the most cost-effective facilities in the area making it an ideal chapel for a family seeking a cosy and intimate space to farewell a loved one."
The All Souls is located on Hawthorne Avenue, next to the Rookwood General Cemetery head office.