ADR looks at some of the most popular design competitions in Australia that acknowledge and reward the talent of local students and emerging designers.
VIVID
One of Australia's longest running design competitions, Vibrant Visions in Design, popularly referred to as VIVID, celebrates emerging designers and helps them kick start their careers. With categories for professional designers who have been in business for less than five years as well as current students of design, this competition is free to enter the competition. Some of the product categories include, market-ready furniture, prototype furniture and lighting designs. The competition has already helped over 600 designers showcase over 1000 products at an industry platform that caters to both local and international designers. Find our more here.
Workshopped
The Workshopped exhibition has become one of the biggest product design events in Australia. It facilitates commercial relationships between design creators, producers and buyers. It aims to promote Australian product designers and acts as an agent for product designers both locally and internationally. The exhibition also facilitates the production and retail of Australian product designs. Find out more here.
Australian Furniture Design Award (AFDA)
The biennial Australian Furniture Design Award, presented by JamFactory in conjunction with Stylecraft, honours excellence in Australian furniture design. This program provides an opportunity for entrants to be recognised within the furniture manufacturing industry. Seaton Mckeon took out the 2015 prize for his piece 'The Sun The Moon And Me'. Find out more here.
ACE Design Awards
The Australian Contemporary Emerging (ACE) Design Awards is organised by the Australian Furniture Association with an aim to provide a platform to acknowledge and showcase the work and effort of furniture design students and emerging Australians furniture designers to local national and international audience. All the nominated entries become part of the FURNITEX connect exhibition. Applications are accepted across seven award categories including: Gold Medal Award (combined category), Cutting Edge Award (combined category), Creative Vision Award (separate experienced designer category and student category), Craftsmanship Award (separate experienced designer category and student category) and The People's Choice Award (combined category). Find out more here.
We take a look at one of this year's ACE Award nominees, Robert Bennett and his nominated entry – the Sputnik Stool.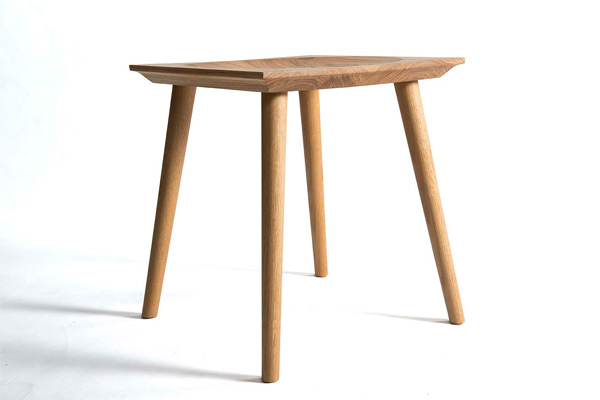 Developed as part of his furniture design and technology course at Holmesglen TAFE, Robert Bennett designed a stool that is easy to reproduce, cost-effective and has a market appeal.
The design draws influence from mid-century modern furniture, as can be seen in the splayed, tapered legs and lightness of form. A circular dish in the seat provides comfort and visual interest. The circumference of this dish cuts through the exposed joinery of the legs in the seat, bisecting each through-wedged tenon with geometric precision. This key detail, an idée fixe of Bennett's from early stages of the design process, seemed unfeasible for a time but the designer managed to pull it off successfully.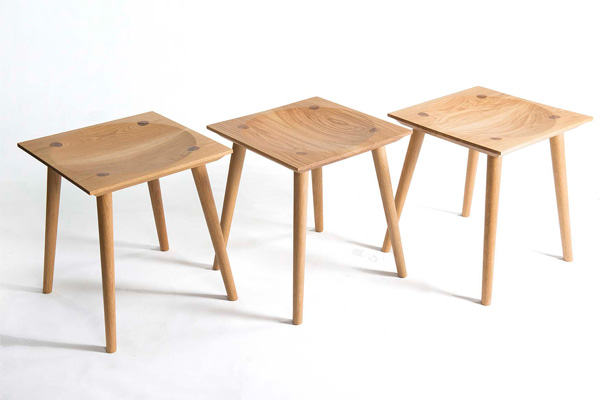 The Sputnik Stool is made from American oak and finished with a wax blend. Each stool has been handcrafted by the designer using a mix of traditional and non-traditional woodworking techniques and methods of construction.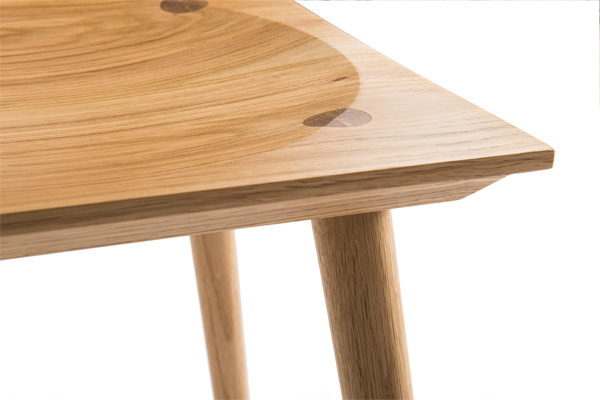 Lead image appears courtesy of Workshopped.