Woods Bagot has designed four workplace templates that merge working from home and office life during and post coronavirus restrictions.
The Working from Home, Working from Work project was designed to "help clients restore business productivity with long term, sustainable solutions".
The templates move beyond health and safety to encourage collaboration and creativity during and after the coronavirus pandemic.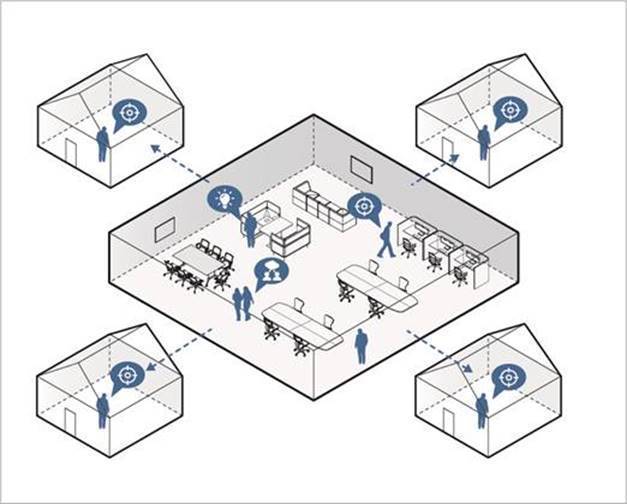 "After this forced period of working remotely, we will hunger for spaces with deeper immersive experiences for working with one another," says Woods Bagot's global workplace design leader, Amanda Stanaway.
"Everyone is talking about how to make the post-COVID office safe, but no-one is talking about how to strengthen culture and performance," she adds.
"Simply reducing density and cleaning more is not giving companies a good reason to bring people back to the workplace."
The four workplace models – Culture Club, In and Out, Community Nodes and Collectives – are designed with the idea that a percentage of employees will still work from home. Each has different arrangements of desks, chair and couches.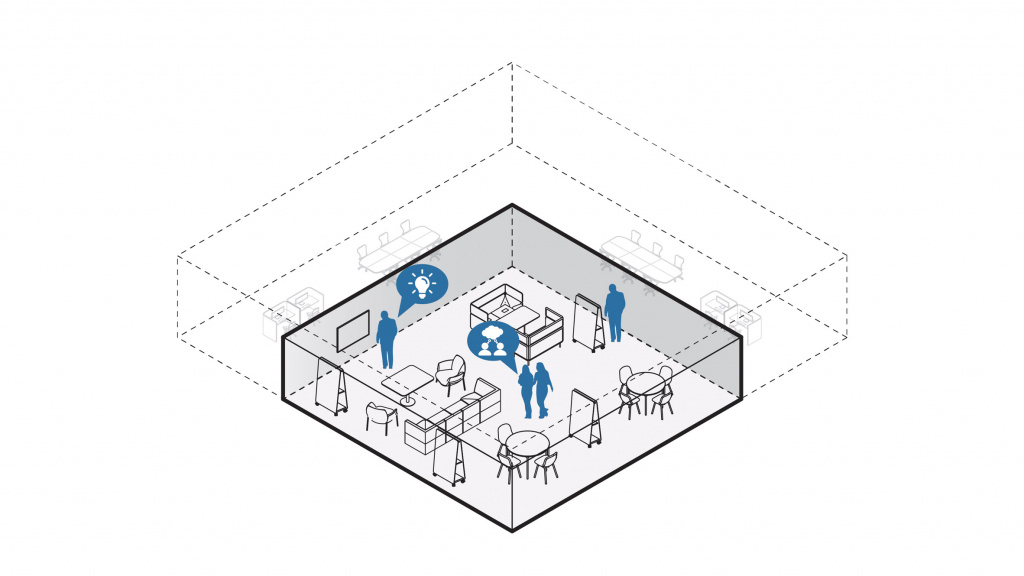 The Culture Club model is designed as a "collaboration hub" with no desks.
Rather small groupings of sofas, coffee tables, chairs and cafe tables are spread throughout the space as staff is expected to only come into the office when it is "necessary or preferable to collaborate physically with colleagues".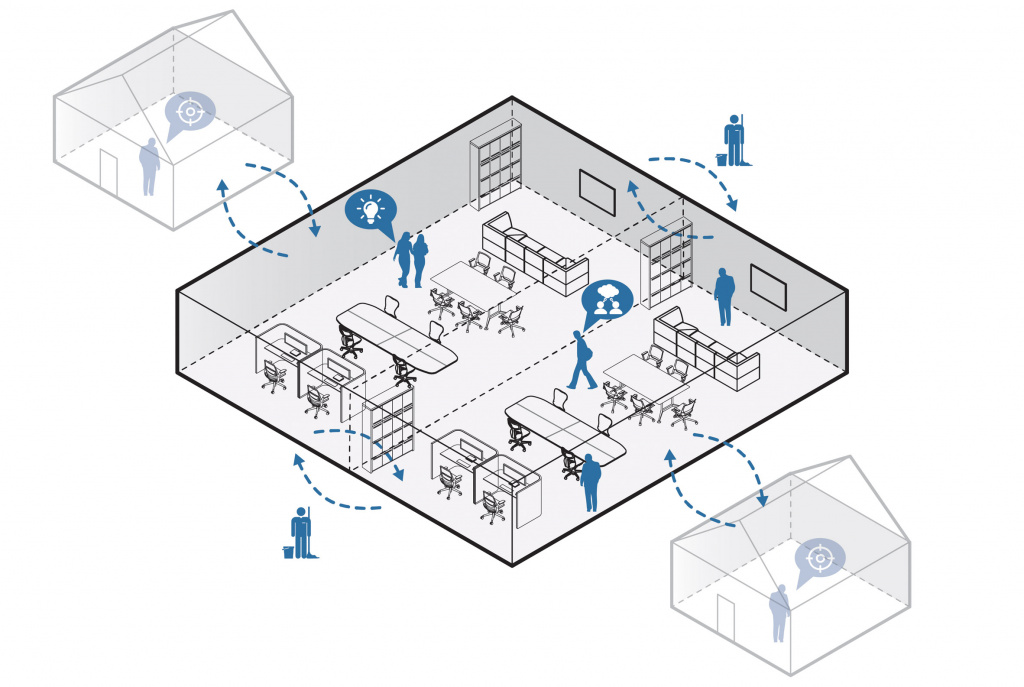 In and Out is designed for when a percentage of the company is in the office in rotating teams. Desks and private tables with barriers fill the space.
This model is "a more hybrid version of ABW or agile working, which de-densifies and manages the workplace population over times and days of the week," says Woods Bagot.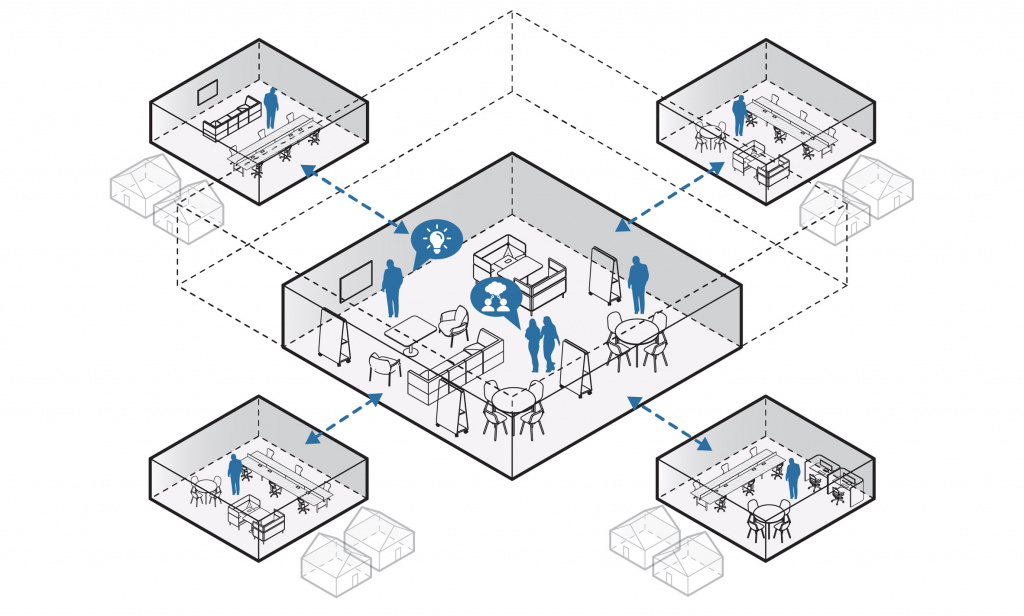 In the third model, "Community Nodes" are hubs that are closers to employees' apartments or houses.
This model reflects our reduced desire to travel on public transport and supports the 'live and work locally' mentality that has arisen during the pandemic, but still provides employees with the feeling of "working from work" rather than from home.
"With most people working from their local community nodes the central HQ office becomes smaller and serves as the Culture Club bringing people together as required."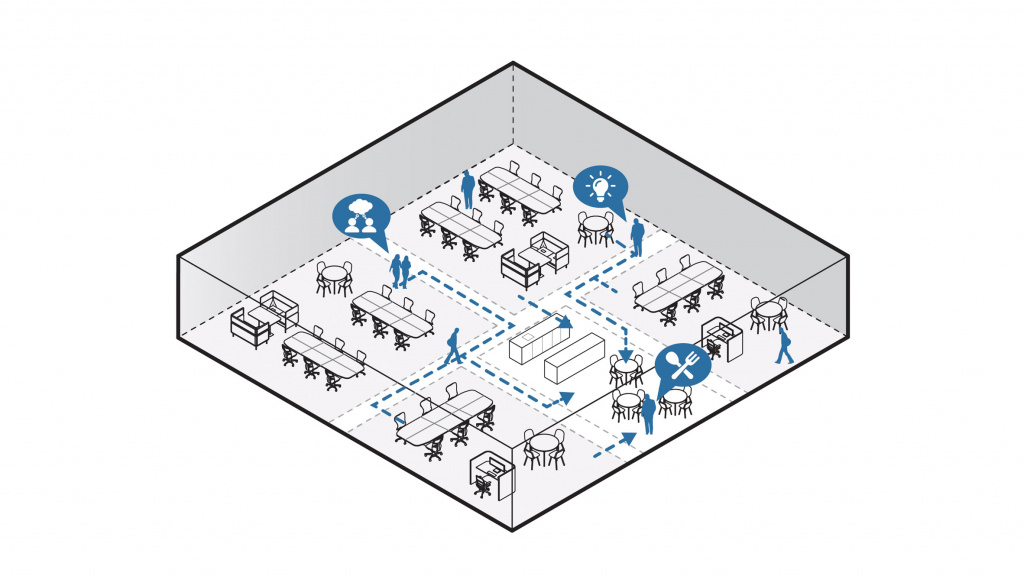 The final model features an open-plan office with clusters of places to work and take breaks. It most closely resembles offices and co-working spaces pre-coronavirus.
Woods Bagot defines this model as "flawed" and "expensive", but says it's a version of co-working where separate zones coexist within the boundary of a centralized office.
"While the boundary is flexible, the intent is to reduce the scale of a massive workplace, bringing the circle of trust closer – the people you need to be with."
Woods Bagot says it envisions organisations adopting two or more models in their workspaces as employees expect to be able to work remotely more often, but also crave interaction with their colleagues.
"The WFH experience will see home forming an extension of the work more so than ever," it says.
"The challenge is how to execute this while ensuring organisations have physical time together to build their culture."
"Despite employers having witnessed how it's possible for their teams to work in other ways… this won't negate their people yearning for and needing an office and sense of purpose belonging in the future."
Woods Bagot created a similar model kit for making homes more suitable for remote work during coronavirus.
Images: Woods Bagot.