April is World Landscape Architecture Month. We're sheltering in place, but we can still celebrate by taking a look at upcoming landscape design trends with two of the country's top designers.
Carolyn Blackman has presented landscape design and gardening talkback radio on alternate Saturday mornings with Libby Gorr on ABC 774 for 22 years. She heads up Melbourne's Vivid Design with design principal and landscape architect Joby Blackman.
Emmaline Bowman is a landscape architect and the director of STEM Landscape Architecture & Design, which is also based in Melbourne.
The pair has identified eight landscape design trends for designers and architects to keep in mind when the coronavirus pandemic has passed and we're all allowed outside again.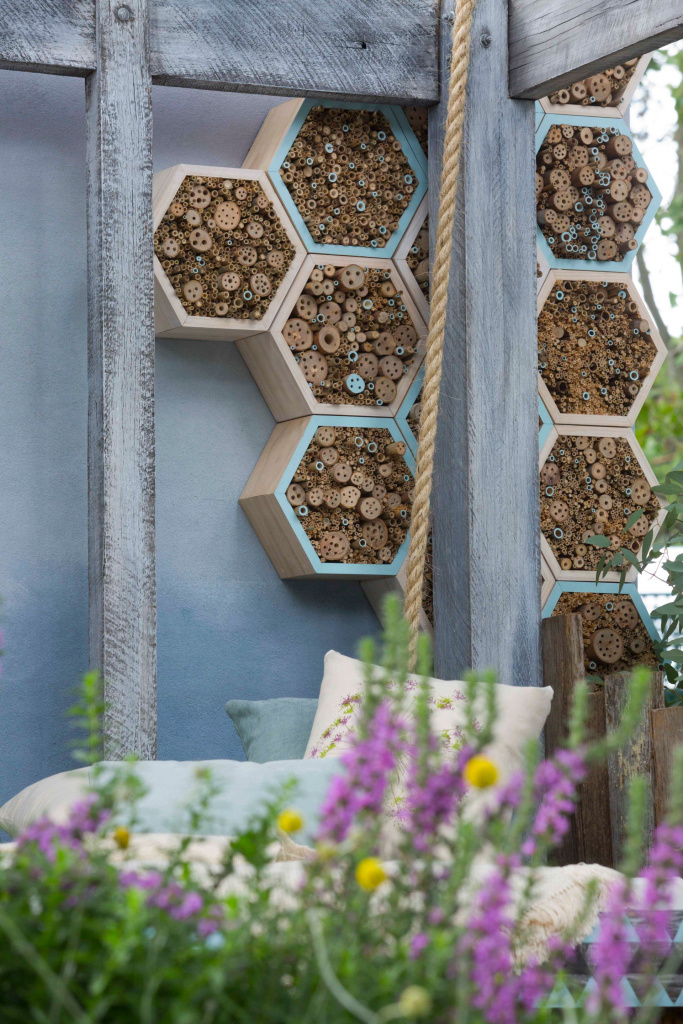 Flexing our green thumbs
Fifteen years ago, Carolyn Blackman says her clients were having their gardens designed with the unspoken assumption they'd outsource the actual gardening to someone else.
"Now, we're seeing an increased number of clients wanting help setting up a garden they can maintain and nurture on their own," she says.
"The act of gardening and getting your hands dirty is growing. Whether it's because people are realising the need to connect more with nature, the increased awareness of mental health and the benefits of gardening, or are looking for a sense of slowing down to contrast with their busy professional lives, I'm not sure."
It's a trend Emmaline Bowman seconds, saying her client's are requesting gardens designed specifically to attract local birds and insects and cater to kids.
"Families often ask us to ensure there are areas where their children can explore the garden, with aromatic plantings, insect-attracting plants and thoughtfully placed log steppers," she says.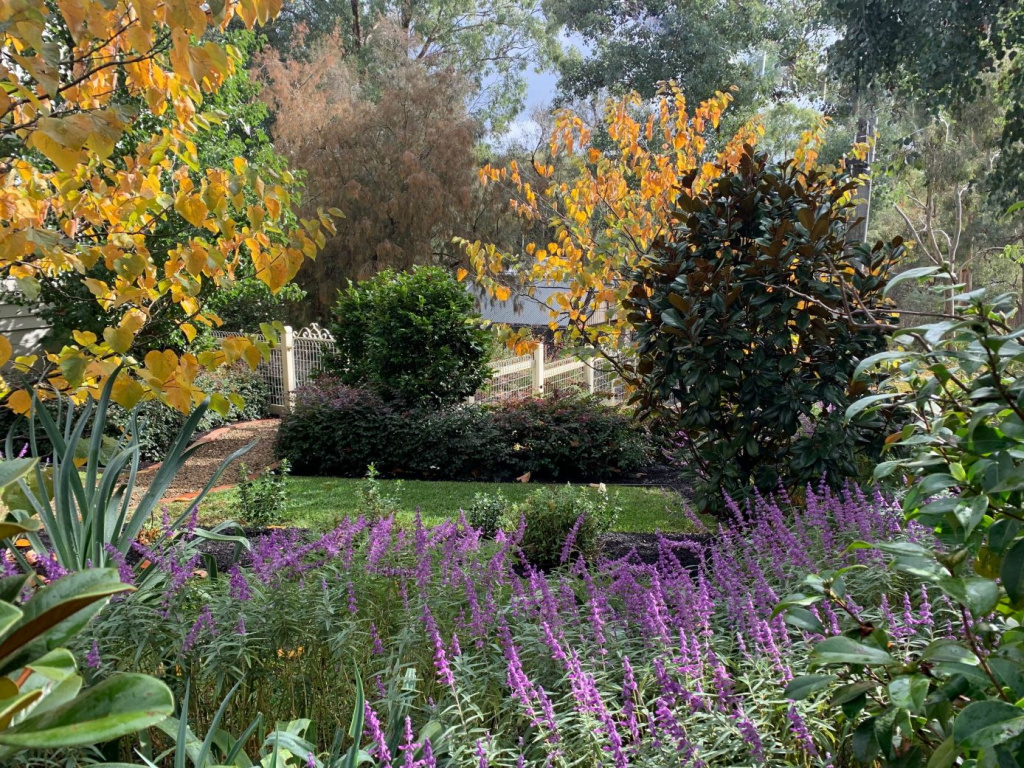 A desire to connect more with nature
Similarly, Blackman is pleased to see people incorporating more greenery into their homes to create privacy, shade and to become closer to nature.
She says it's a welcome softening of past trends where outdoor spaces were becoming "another room of the house with hard walls, surfaces and paving everywhere".
Bowman suggests indoor wall gardens, stylish pot plants, greenhouse herbariums and planted aquariums as ways to bring the greenery inside.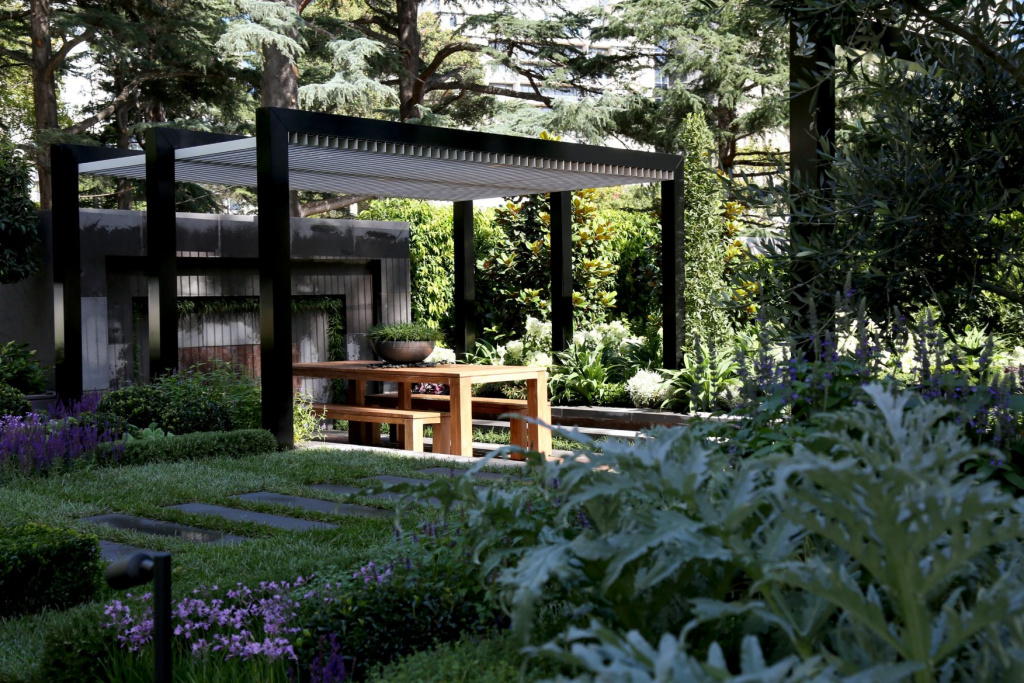 The resurgence of the pergola
The garden as a built space fitted with outdoor undercover rooms with plastered walls, ceilings and recessed downlights to sit and entertain under was once a huge outdoor design trend.
"Now garden structures have returned to become more verdant additions to garden design, dripping with ornamental grapes and climbing tendrils," says Blackman.
"People have grown to value the beauty of greenery and natural light, and are far more likely to want a pergola covered with plants to sit under as opposed to a stark steel box."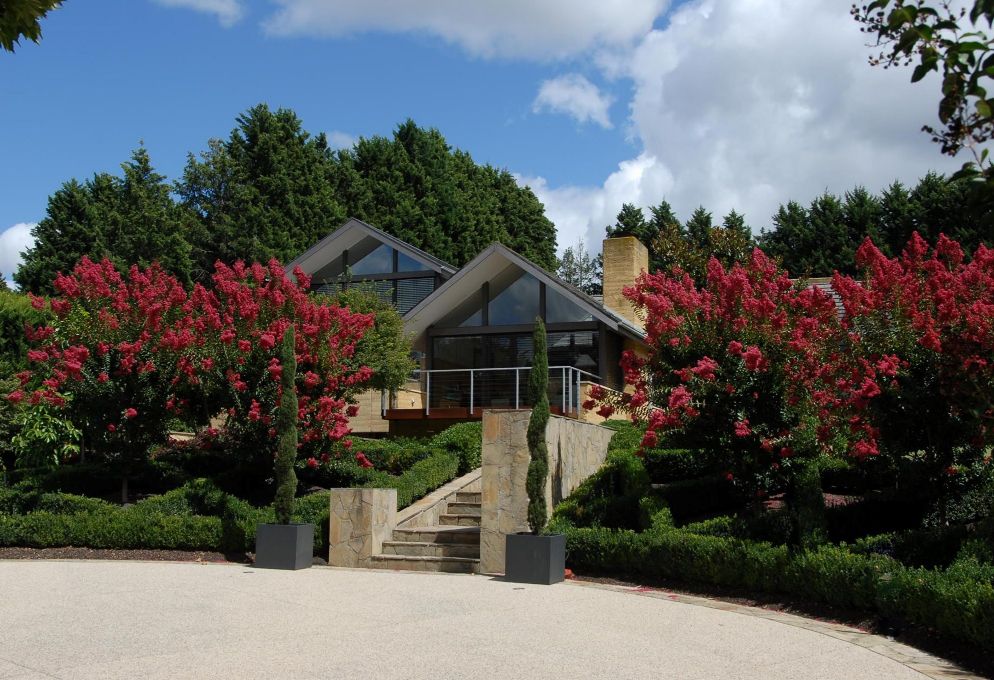 Garden studios and summer houses
Another rising trend, according to Blackman, is a separate office or a quiet retreat in the back garden that doubles as gymnasiums, painting rooms, a teenager's band space, playrooms – anything and everything in between.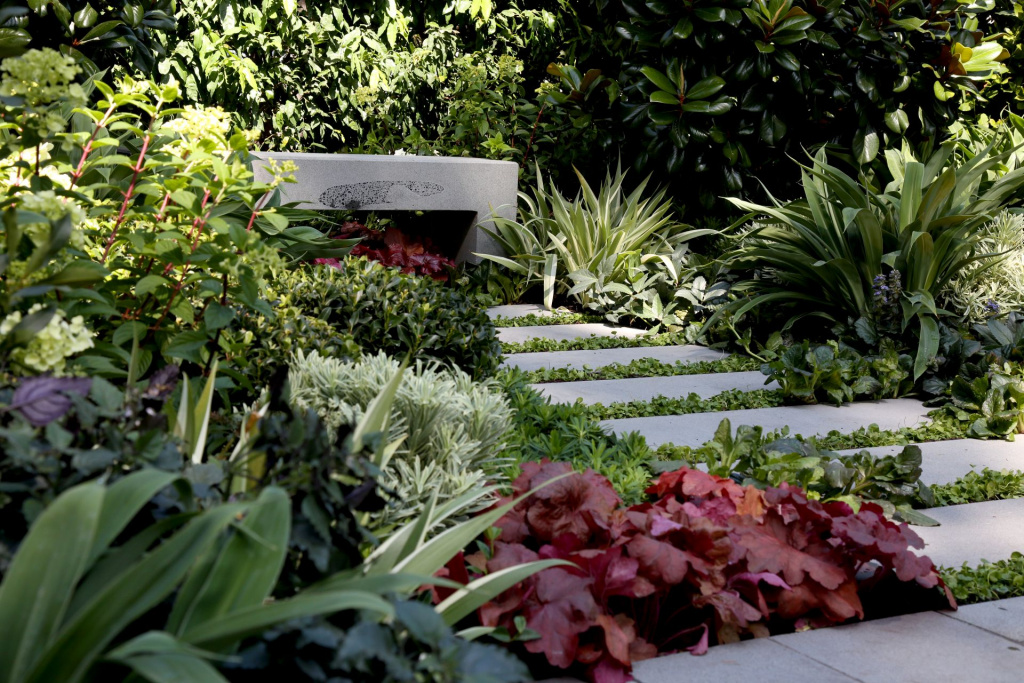 A far greater appreciation for plant diversity
"We are seeing a growing interest in a range of plants, texture and seasonal interest – Australian plants, colourful plants, food plants, herbaceous plants, bee attracting plants, to name a few," concludes Blackman.
A lot of clients still request hedges and screening plants, but the plants on the inside of those spaces are far less likely to be "a row of Yucca mulched with pebbles (thank heavens)."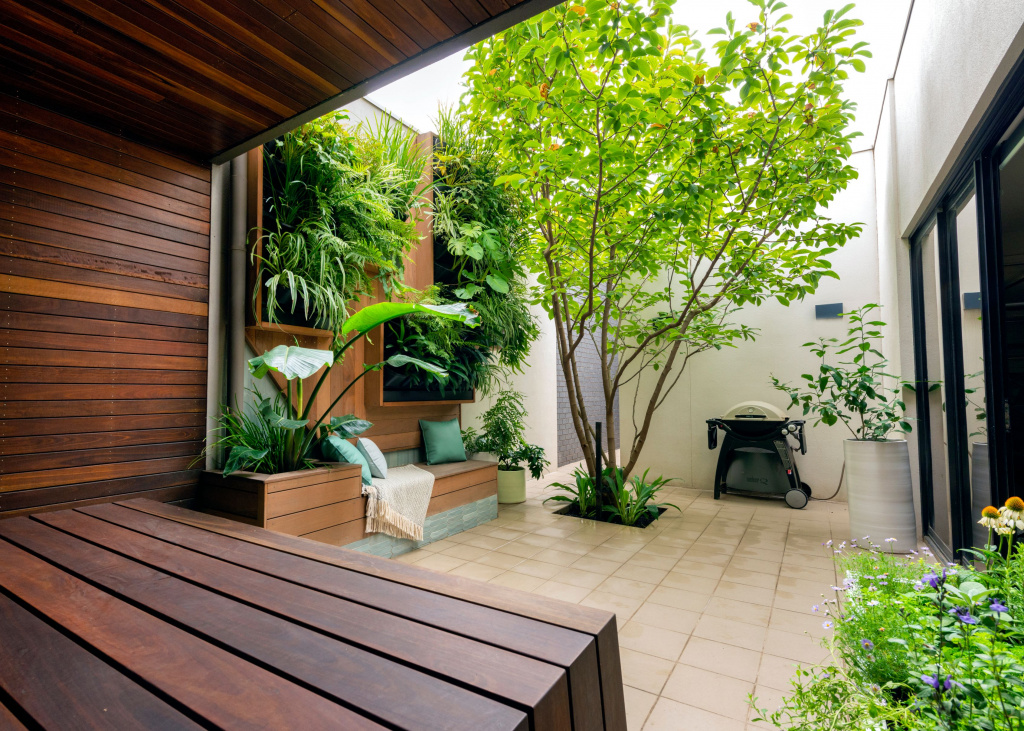 All natural
Natural materials, natural colours and native plants have been one of 2020's biggest landscape design trends.
"People are moving away from bright and bold colours to softer tones, like greens, light greys and pastels," says Bowman.
She says stone and timber are being used for architectural facades, custom furniture, retaining walls, garden beds and pergolas paired with the soft silvery tones of Australian native plants.
Rather than heavy paving throughout the garden, designated outdoor areas are paved in natural stone.
Connective pathways are formed using permeable toppings and natural stone steppers, intertwined with ground covered plants.
And natural stone boulders are being used as garden features, rather than statues, along with recycled materials that avoid huge amounts of maintenance.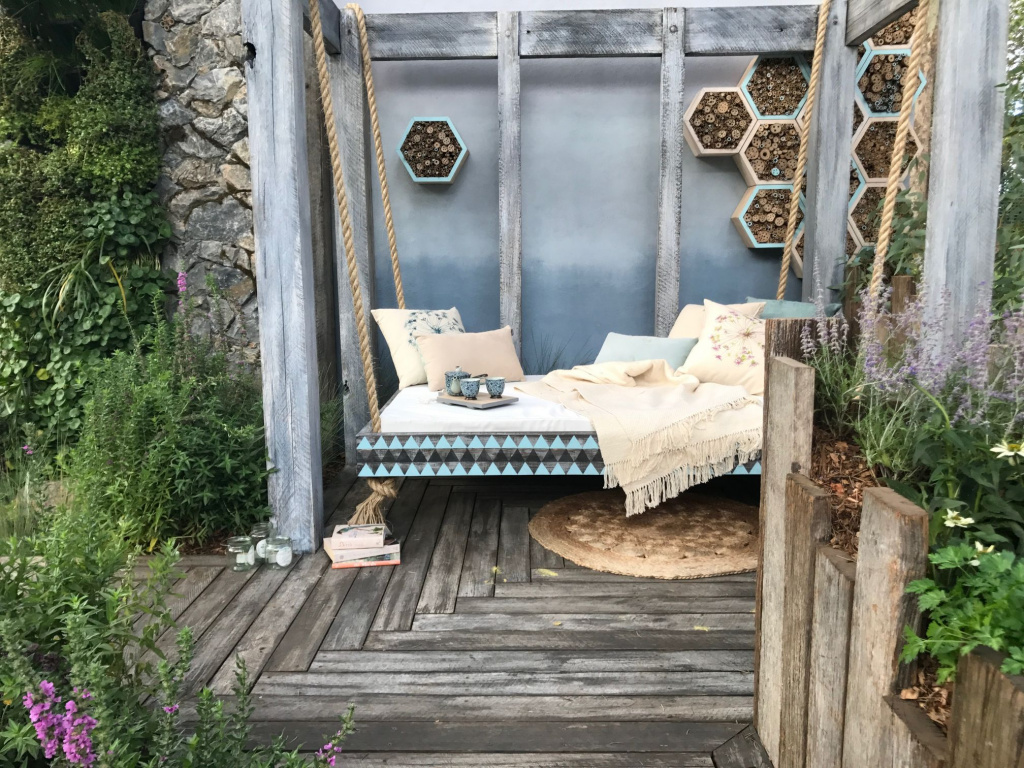 Water gardens
"We are designing more water sensitive gardens, where the roof, land or tank water runoff is directed straight into dry creek beds, planted swales or ponds within the property," says Bowman.
"This process aids in natural water flow, passive cooling, natural garden irrigation and soaks, and offers a water source for local animals."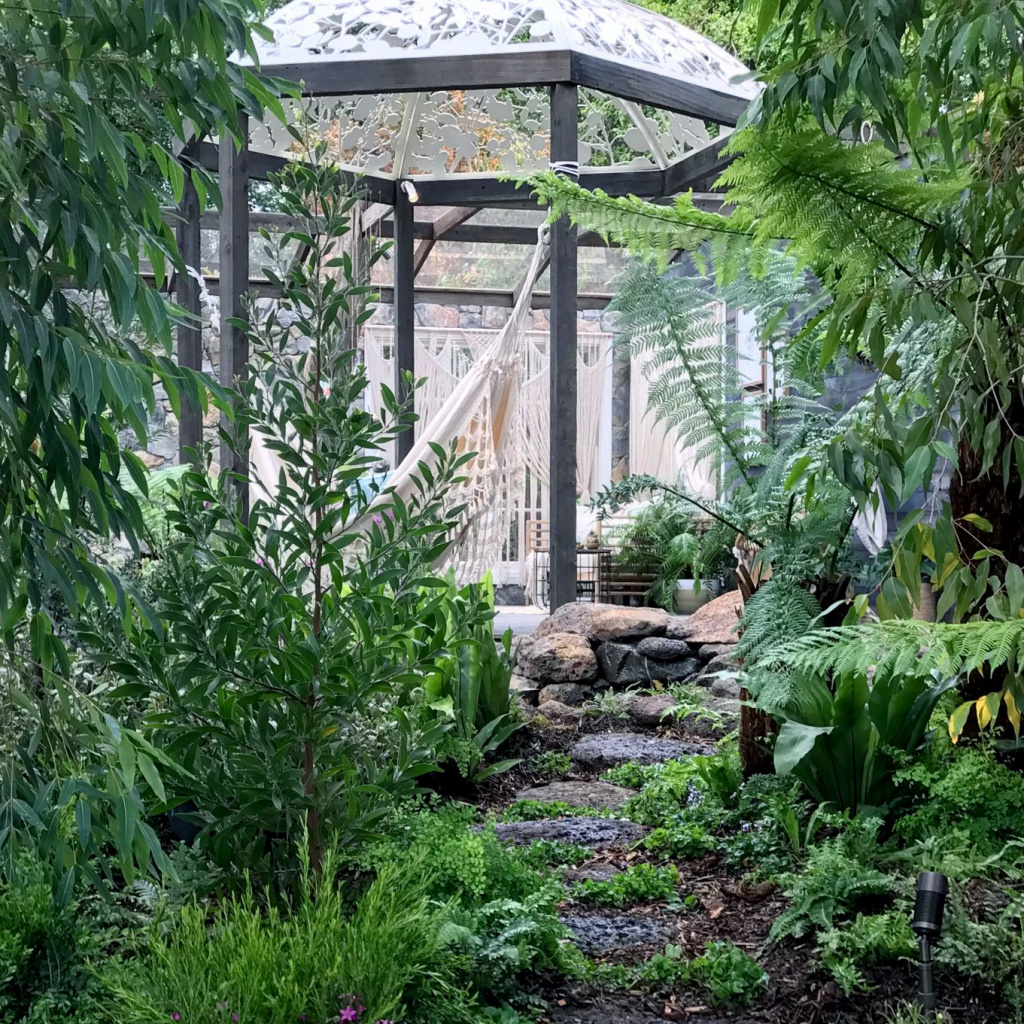 Productive gardens
Productive gardens have always been popular, but more people want to grow their own herbs and vegetables as a feature, says Bowman.
"Espaliered fruit trees hide ugly walls and fences, thyme ground covers among steppers allow you to walk past, brush against them and release an aromatic scent, and garden beds intertwined with herbs, vegetables, evergreen and flowering plants not only look beautiful, but attract beneficial insects as well."
Composting stations are thoughtfully screened off with nice timber walling or screens that allow a creeper like passionfruit to grow.
The designers behind the Australian Pavilion at the 2018 Venice Architecture Biennale, Baracco + Wright, recently completed a landscape architecture project in Melbourne that picked up on a number of these trends, most notably the use of productive, fauna-attracting flora.
Photography supplied unless otherwise credited.