Above image: The Phoenix Apartments, designed by Fender Katsalidis Architects, rises 28 storeys on a site just 6.7 metres wide, not much wider than a Fitzroy or Carlton terrace. Render courtesy of Fender Katsalidis Architects.
A measure of a piece of the planet that is based on our consumption and the resulting emissions. They can simply be treated as the same thing, since they correlate so strongly. We can talk about lowering our carbon footprint per square metre of space, but the biggest determinant of a building's carbon footprint is its size. It is clear too that, despite most green efforts, there's a simple relationship between the physical footprint we occupy and affluence. The richer we are, the bigger our footprint. Given the dilemmas such ideas cause, the architectural footprint might be worth some attention.
Australian house size has grown rapidly in the last 30 years. In 2009 it topped the US for the highest average floor area globally (245 square metres for a detached house); double the European average and a third bigger than it was here in Australia just 20 years earlier (Source: Bureau of Statistics). At the same time, household size (the number of people living in a dwelling) has declined at a steady rate through the whole of the 20th century, exaggerating the effect of the enlarging footprint when measured as square metres per person. These house footprints are in turn served by driving.
 Car ownership in Australia is close to the highest in the world and significantly higher than the US. The infrastructure to serve that car (roads and car parks) further exaggerates our city's big footprint. Concentration in very large cities, with an expectation of travelling to their centre from the edges, by car, dilates that footprint even further.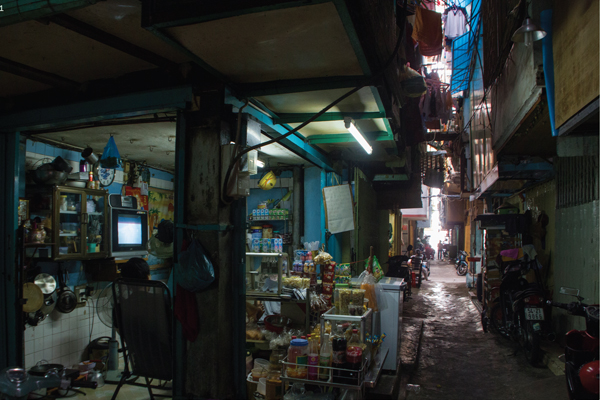 The urban caricature is of a large house, on larger land, in a major city and travelling to a CBD by car; this is a recipe for almost the biggest footprint imaginable. While our 21st century electronic devices are shrinking, our 20th century vehicle technology and our 19th century inspired villas are fattening. There are obviously metropolitan trends contrary to this sprawling image of the city. Apartments and units have recently begun to account for more construction than single houses in Australian cities, for example. More people are living in a small dwelling, but in a building with a larger footprint on the ground, such as towers covering a city block, with a concentration of both the broad floor plate and the capital, making them viable. The recently completed Phoenix Apartments in Melbourne's Flinders Street is possibly the most slender tower in the country; 28 storeys with a 6.7 by 24.3-metre floor plan. It was initially designed as a 41-storey building on a footprint a third of the size of a suburban house block. It is a case study in stretching what is possible.
Vietnam's largest city, Ho Chi Minh City, is a case study in small footprint design at the metropolitan scale. Like 
many cities in that region it is dense (around five times as dense as Sydney) and intense in the way its inhabitants use tight urban spaces. It seems to have a particular character that comes from the small footprint. There are countless tall and thin buildings four to six storeys tall, and sometimes more, generally less than five metres wide. There are countless super- narrow lanes less than a metre wide, leading to minute cafes or shops. Surfing over this city in Google Earth one sees a mesmerising sea of fine grain building, where streets seem to disappear and open space similarly goes missing for vast stretches.
Compared to most western cities, this metropolis has a young population and a poor one, living in larger households. People have made do with less. The tube house, as it is often called, exaggerates the narrow frontages in many cities, which caters well to an extended family without a car, running a business that trades on the street, in a city with expensive land prices. The rooftop space provides respite from street congestion, as well as relief from the tropical humidity with a cross breeze. The narrowness leads to an intense use of public space, a sharing of the edges between public and private space, as well as an intimacy that comes from almost random proximity. In District 1, for example, the central urban district of Ho Chi Minh City, where most of the streets are less than a metre wide and the buildings four storeys high, I recently saw a man taking his siesta in a hammock, less than a metre from a neighbour working at a commercial sewing machine, equally close to a family watching a huge TV screen and playing with iPads. In the same street, a family funeral was quietly carried out in a space no more than three metres wide. Even the famously popular mode of transport, the motor scooter, has its intimacy; it is common to see families piled onto the back of one and young people chatting from one scooter to the next, in a tightly packed traffic jam.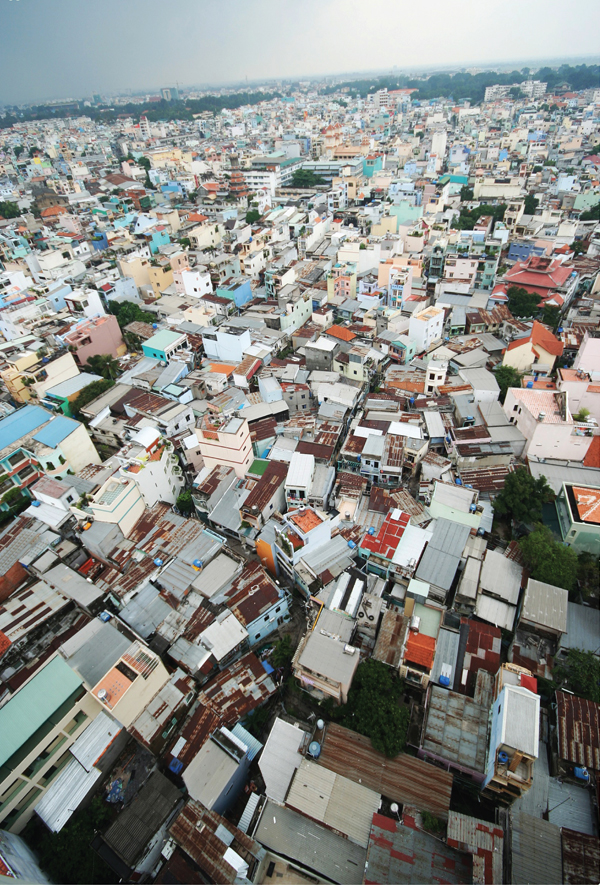 This though, is not the planned future of Ho Chi Minh City. Its urban fabric is changing at an astonishing rate, following some explosive economic growth in the
last decade. The bicycle, replaced by the motorbike, is gradually giving way to the
car and even the odd SUV. There has been debate around banning Vietnam's 37 million motorcycles in city centres. The city has begun construction on a major metro rail system, beginning with an underground in the central boulevard and taking lines out to the periphery, which will disperse the population and radically expand the metropolitan footprint.
In the last 20 years, the average household size in Vietnam has moved from a little under five to around 3.7, with the proportion of non-dependents in households doubled (those without children under 15 or the aged). The traditional social organisation of the extended family is gradually dissolving.
The luxury shopping mall has well and truly arrived, with many housed in new high-rise towers with internationally scaled footprints. The Bitexco Financial Tower is Ho Chi Minh City's tallest tower at 68 storeys and covering half a block, surrounded by dense low and medium-rise buildings. It contains the Icon68 Shopping Centre and internal atrium paradise familiar to us all in the first world. The planned twin towers of One HCMC will be taller, covering an entire block opposite the hyper-dense Ben Thanh Market, when complete in 2017.
It seems that those shaping Ho Chi Minh City and cities like it, believe they have a choice of two urban models. One made of skinny spaces, radically unplanned mixed uses and the stigma of poverty that goes with them; or a 20th century western model of the high-rise deployed to both consolidate the footprint and disperse density. Perhaps there is a third urban model, or even more, hybrids or distortions of these models that see density and the small footprint in terms of the informal sociability and intensity of use in which Vietnamese cities already have vast expertise.
A discussion of the architectural footprint could be more than number crunching or a coffee table book theme. 
It has significant consequences for the DNA of a city; like the city block, or the house block, it calibrates the architectural form, the social exchange, the distribution of ownership and the ecological viability of a city. The spatial intelligence of architecture has much to contribute to better space with a smaller footprint. For the urban designer, this demands zooming into the scale of the building, to read extra small space carefully. While scientists and engineers work on lowering the impact of our occupation per area, architects can experiment with both the efficiencies and the pleasures of living smaller.
Written by Graham Crist for AR140 – Small Spaces.