In Melbourne recently for This Public Life festival, organised by the Australian Institute of Landscape Architecture (AILA), engaging landscape architect Sue Barnsley speaks to us about her award-winning Jubilee Playground project in Glebe, which took out the Public Space category in this year's Intergrain Timber Vision Awards.
ADR: Does landscape architecture have a ways to go before it receives the same visibility in the mainstream as architecture and interior design?
Sue Barnsley: I don't know, it seems to have a momentum and a lot more public participation, and I think people are demanding a lot more from landscape architects and public spaces, so I think there is a lot more visibility these days.
How did the Jubilee Playground come to your practice?
We were lucky enough to win a big tender for a series of parks in the City of Sydney. Of an ensemble of about 13 small parks, Jubilee was probably one of the bigger parks, and a little bit different in scale, budget and proximity to the harbour. The rest of the sites were in the inner west, this is in Glebe, close to Blackwattle Bay. So it was great to be able to transform these forgotten spaces in the inner city, where there were playgrounds that had been there for, in some cases, 20 odd years or more, and weren't safe for public use.
Does the modern playground have to be able to provide an all-encompassing community facility, rather than just play equipment?
Yes absolutely, I think the whole point was to be looking at each park as part of a network of parks, that have different purposes based on their proximity to amenities in the neighbourhood. If you're living in the area, you might be on your way to the shops, or picking up a child from school – so sometimes you want to spend 10 minutes, or sometimes you want to spend two hours in the park. So we had to think about them as an interconnected series of parks. Previously they had the same structure in all of them, so there was no sense of place or locality, and they were all quite boring! So I think the way playgrounds are slowly moving is to be able to be more bespoke, to have more of an identity.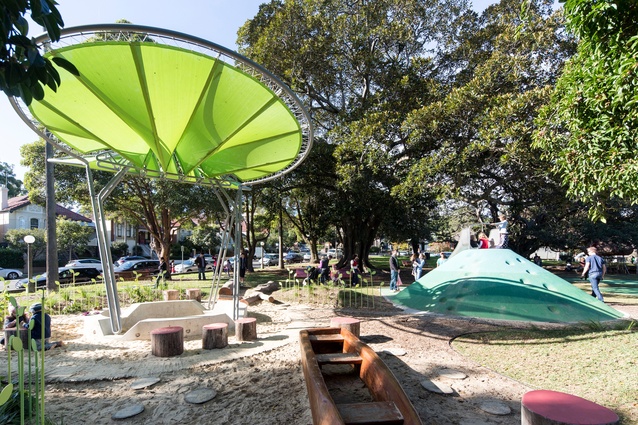 Can you elaborate on how the Jubilee Playground communicates a sense of place?
What we loved about the site was that it was nestled in the corner of the park, with these fantastically huge fig and palm trees, so it's a really well established park. So we have a series of picnic shelters beneath the trees, and views to Blackwattle Bay, so it is an important waterfront park in Sydney. And what is interesting is its history – most of that site was industrial until the 1930s, and slowly was transformed into a parkland, with an extended area of land reclamation.
Part of the project was inspired by the fact that the land was regenerated. We took an old carousel that was there, the last remaining, much-loved element of the old playground, and reconditioned it to become one of three spaces that form Jubilee.
Underneath the big fig tree, we have a beautiful cubby, so that kids can experience the feeling of climbing into the tree. The shingles give it the look of a seedpod, but it also takes from the language of the Federation houses in Glebe, some of them still have shingles on their outhouses or verandahs.
Was it a conscious decision to use timber to integrate the playground into its setting?
It was great that we were able to bring in timber logs for trees and timber offcuts to make stools, so that it really had this earthy, grounded sense of the timber. I think we were always inspired by the idea of a pod, so for that element it was about getting the texture of the tree, and materiality, and being able to use the shingle as a modular element that was weatherproof. And it was our first foray into actually making a structure! We've got it on these really fine steel legs so it looks like its hovering in the tree – some architects have said it looks like a jellyfish!
Or an armadillo on stilts?
I think it's whatever takes your fancy!
I suppose that's a crucial point, that it encourages that imaginative thinking.
Absolutely. I think that sense of it being inspirational and something that you can play with is really important.
How big is the team you work with?
In my office there's four of us, so we're a tight little team. And as with any project, it's the people you bring on board that are vital. We had great structural engineers who were able to make our steelwork as beautiful and thin as possible, Max Irvine, and we often worked with Cardno who are also civil and structural engineers. Fiona Robbé Landscape Architects, who are play space specialists – they really helped us create a space that spoke to children of different ages, with different needs. We wanted to ensure we could cater to and connect with kids with a range of physical and motor skills, with imaginative play and socialisation, so we're really making sure that they were good places that feed their learning and play.
That's fantastic. Are you involved in any other exciting playground projects at the moment?
Well not at the moment, but we did do a fantastic playground at Prince Alfred Park as part of the redevelopment there. We would love to do another, but who knows!
This interview is one in a series ADR is conducting with the winners of this year's Intergrain Timber Vision Awards.