Written by Peter Salhani. Above image: A still from winning film, Boxing Day 2040: William's Story by Alexander Symes.
Few artforms can transport us as easily as film. I was reminded of this when, at the end of a full day of public events and talks on The Goods Line for Sydney Architecture Festival (SAF) on Saturday 3 October, the inaugural SAF Shorts film competition screened to a full house. Well, not so much a house as a staircase – Mary Anne Street ampitheatre behind Frank Gehry's Chau Chak Wing Building for UTS. Its thirteen short films, documentaries and animations were curated for SAF by the Sandfly Film Festival, around the theme of 'architecture and the city'.
Tasked with finding a winner were judges Lucy Humphrey (artist and architect with Archrival), Melbourne architect / broadcaster, Stuart Harrison (who also hosted SAF's Big Yellow Table Talks on The Goods Line), and myself. From such a disparate group of genres, picking just one winner proved beyond us, so we chose two: one Local, one International.
Our local winner was a joyful postcard from the future by Sydney architect Alexander Symes. Like Lucy and Stuart, Alexander wears several 'creative' hats at once. His sneak peek into a sustainable future was called Boxing Day 2040: William's Story – a 'day on the life of his niece and nephew, Chantelle and William. In it he depicts a world we are only just beginning to glimpse. A world where people live in life-support cubicles and work in giant solar-power plants, while getting about in Personalised Mass Rapid Transport Pods (PMRTPs).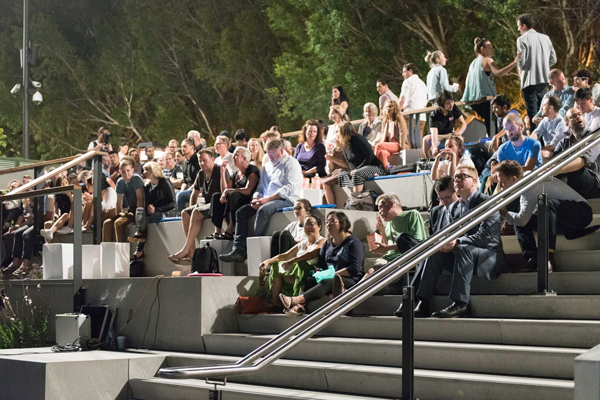 Symes was part of a group of artists and architects (including Caroline Pidcock) asked by the CRC for Low Carbon Living to attend a two-day workshop for its Visions & Pathways project. Under discussion were visions of resilience for Sydney in the year 2040 in the areas of transport, housing, food and technology. The creative cohort was then asked to interpret and distill their own 'visions of resilience'. His film made clever use of hand-drawing and a time-lapse effect created through editing. The multi-talented Symes also wrote, played (on guitar) and sung its theme song (Chantelle) behind his spoken narrative. You can watch his enchanting film here.
At a completely opposite end of the spectrum, our International winner was an audiovisual sound portrait portraying the inner life of a building with practising musicians from the Schumann School of Music in Düsseldorf. Both musically and visually captivating, Chamber Music combined the voyeurism of Hitchcock's Rear Window, with the allegory of apartment blocks (and by extension, cities) as orchestral arrangements: seemingly random, but with the integral harmony of each individual playing their part. The time-lapse sequence of spot-lit window vignettes transforming into a single apartment block as day breaks, was illuminating both literally and figuratively.
Produced by Katharina Blanken as part of her research into links between audiovisual art, contemporary, classical music and architecture, its SAF Shorts screening was a world premier, so we can't share a link with you as it's currently on the festival circuit. If you do find it online – watch it in a dark, quiet space on a hi-resolution screen to fully absorb its tonality and nuance.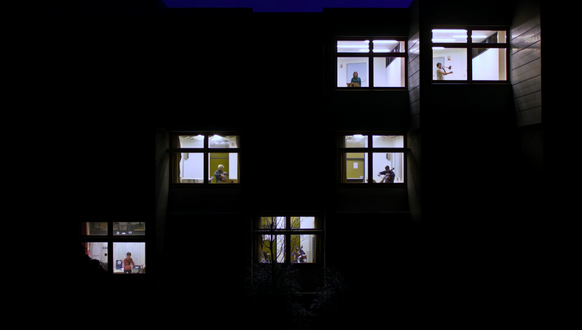 Other SAF Shorts favourites were: Cities Potential Space – a historical documentary set in postwar Eastern European cities, where photographic overlays showed the ravages of war in a 'then' and 'now' sequence with a chillingly cool narration. Although from an entirely different culture and time, there's a prescient tale in this film for Sydney: "Descriptions of the city include their entire past – The city does not show itself willingly, but harbours it like the lines of a hand – written into its streets and curbside, warns the narrator. " Her words rang true with Gehry's new building in front and Sydney's latest Exhibition / Convention Centre rising behind us, on the grave of its award-winning predecessor, not 30 years standing, now swept from memory – not by enemy bombs, but politicians and bureaucrats.
With pure visual elan, the broody animation Stripy, a US/Iranian collaboration directed by Babak Nekooei and Behnoud Nekooei, looked at issues of conformity and individual expression – recurrent themes in cities everywhere. We are taken into a factory where assembly-line workers slavishly paint black and white stripes (and only stripes) onto packaging. However, when one worker is carried away and paints red squiggles instead – just for the joy of it – the consequences are swift! The factory's sombre mood is sublimely wrought with the music of Johannes Brahms' Hungarian Dance No 5. The typography alone is worth finding this little film for.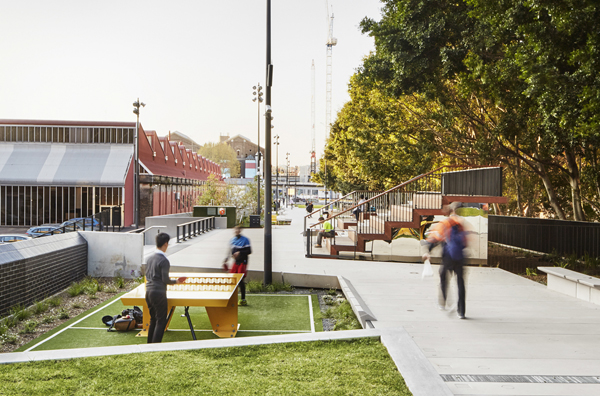 On a much lighter note, a video made by UTS architecture students for young architectural practice Sylvester Fuller inverted the typical 'talking head' corporate video genre by showing not faces, but feet, only revealing the storey-tellers at the end. Some found this a little too self-consciously 'hipster', but I enjoyed the focus on identity, collaboration and authorship. When you consider that architectural history is rife with stories of piracy and plagiarism, I found this film a welcome sign that next-gen architects are comfortable eschewing the sole artist / tortured genius myth, and embracing the collective as co-creators of the future.
And from the future, to an icon of Modernism, Oscar Neimeyer: The Fight is Long offered a rare treat to remind us of the richness of diversity: not just cultural, but generational. Shown was a mere snippet of the feature-length documentary by Bernardo Pinheiro Mota – a portrait of life seen through the eyes of Brazil's 1988 Pritzker Prize laureate – with whom a very young Harry Seidler worked briefly, while en route to settling in Australia. Neimeyer's epic architecture has endured not just changes of government, but political systems from tilts at communism to dictatorships and democracy. Unsurprisingly the documentary is peppered with wisdoms – sage and wry, from: "The fight is long", to "Life is short" – ironic given that it was filmed in Neimeyer's 103rd year. But that's architects (and life) for you – full of contradictions.
The Sandfly Film Festival was established by film-maker Ulysses Oliver and graduate architect Christian Cameron Williams in 2010. The pair (partners in life and creative ventures) have run the festival every year in various forms since its first tentative screening in Jervis Bay, on the NSW South Coast. Judging by the full house (or should I say, steps) we hope SAF Shorts continues to grow with the Sydney Architecture Festival.