Above image: 2000 Waraji 200 Feet, Niigata, Japan, 2015.
Penny Craswell: Do you identify more as artists or architects?
Heidi Axelsen: We identify as both and neither fully. I am an artist with a spatial practice, who maybe should have trained as an architect! Hugo trained as an architect though has always worked at the intersection of art and architecture. Together we make works of architecture with the criticality of arts practice and artworks with an architecture of use and spatiality.
PC: Owner-Occupy is your new work for the Sherman Contemporary Art Foundation as part of the Fugitive Structures series. What inspired the work?
Hugo Moline: We are interested in questioning our current modes of land ownership and use in contemporary Sydney. Our real estate system is heavily geared towards providing fi nancial returns to investors rather than providing the best environment for a free and cohesive society. This system of exclusive land ownership is based upon a legal fi ction that denied the connection to land of the Eora, Dharug, Dharawal, Guringai and Gundungarra – Terra Nullius. The Owner-Occupy project invents a fictional scenario in which Terra Nullius is proclaimed again, as a permanent state and imagines the kind of architecture that would facilitate and populate this brave new world. A world where you can own space only by occupying it and only for as long as you remain occupying it.
PC: What is the work made of and how is that significant?
HA: Timber dowel, pipe fittings and cotton duck fabric. The materials are accessible and friendly, referencing current trends in furniture and interior design and the commodification of authenticity: the handmade, the bespoke. But we want to use this pleasant aesthetic to smuggle in an agenda, questioning the foundations on which these trends are comfortably situated.
PC: How do you expect people will use it?
HM The work is a cross between a military encampment, a cubby house and a situationist labyrinth. The system of hinged panels and roof fl aps allows for people to reconfi gure the structures at will. We hope people will explore it, play in it and make their own spaces with it. We also hope people might rethink our current real estate fascination, focus a little less on ownership and a little more on making spaces for shared conviviality.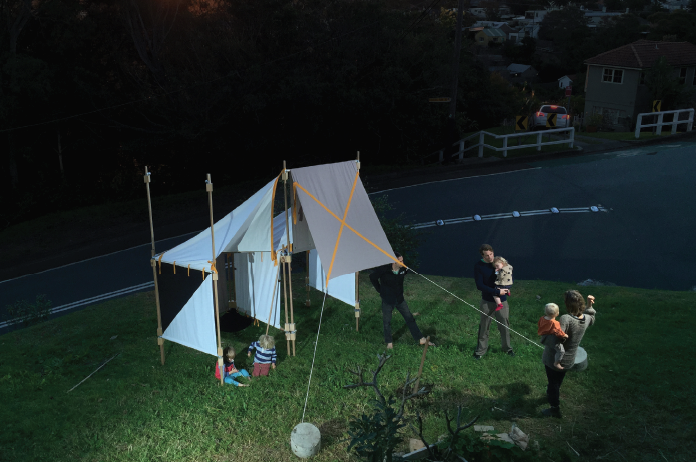 PC: How does housing relate to status? What can architects do about the housing affordability crisis?
HM: Housing should be focused on providing safe, joyful spaces for individuals, families and communities, rather than as a mechanism for the financial exploitation of renters by owners. Architects can seek out collaborations with communities and clients looking for innovative alternatives to the current obese, wasteful and extractive housing system. Together they can develop alternative urban, architectural, political and economic models.
PC: Can you talk about two of your housing projects that are quite different: Kapit-bahayan Housing Cooperative and Driveway House?
HM: Both projects are about seeking new forms to provide affordable housing, which also encourages sharing of land and resources. Kapit-bahayan means neighbourhood in Filipino and is a fantastic housing cooperative, providing aff ordable housing to its members in western Sydney for the last 20 years. We worked with the members to design their first purpose-built housing and we were able to better meet their needs and desires. The development comprised a series of six interconnected townhouses with individual courtyards, entry decks, outdoor cooking facilities, a common library, vegetable gardens and shared social spaces. The Driveway House is a secondary dwelling built next to an old family home in place of a dilapidated fibro garage. The existing house was home to a woman who had lived there for more than 60 years and although she was becoming frail, she did not want to move from her cherished home and garden. Her daughter was herself facing housing diff iculties, with increasing rental prices and no financial capacity to buy land. The solution was to build a self-contained house for the daughter next to the family home, where she could stay and also care for her mother. In this way you could describe it as a reverse granny flat.
PC: You are currently in Japan on a residency – what is the work you are creating?
HA: We are currently living in a small village in Niigata creating a work for the 2015 Echigo-Tsumari Art Triennial in collaboration with Nathan Hawkes. This work is the culmination of a series of residencies over two years at Australia House in Urada, Niigata supported by the Japanese Agency for Cultural Aff airs, Australian Embassy Tokyo, Asialink and the Sainsbury Sculpture Grant. The work, 2000 Waraji 200 Feet, is a gathering of impressions, fi nding form in a handcrafted book and a hut in the landscape. Copper shingles that form the roof and the walls of the hut are cut into the shape of local traditional shoes – waraji. We have invited local people to make an etching of their own everyday footwear into the copper waraji. The etched shingles have been printed and included in a single edition book hand-printed on snow-bleached mulberry paper. The impression of the shoes of the contemporary community upon the form of the ancient waraji explores the tensions between the products and infl uence of a global culture and the preservation of a unique, local cultural heritage. The hut and the book echoes a community that is depopulating, only 200 of the shingles are etched with current day shoes, leaving the remaining blank for the community that has been or that is to come.