Written by Sara Kirby. Images courtesy of Caydon Property Group. 
Heritage Victoria has refused to grant a permit for the first stage of work towards a $1 billion development in the area surrounding Richmond's Nylex Clock, sighting issues with the development's height.
The Malt District was set to reinvigorate the Cremorne area with 1,000 apartments, retail and commercial services, recreational areas, and a brewery. The plans included the reinstallation the iconic Nylex clock atop one of the apartment complexes, with it being turned back on and powered via renewable energy.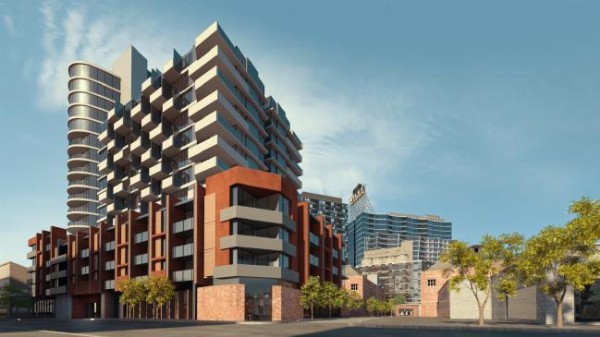 Heritage Victoria, however, have pulled back the reigns on the plans with their rejection last week, stating that the height of the buildings will have a negative impact on views of the heritage listed Nylex sign.
The height of the three, 13, and 18 storey buildings will also "dominate visually in contrast to the industrial heritage presentation" of the area, said Heritage Victoria. Further, with Richmond/Cremorne generally occupied by low-level establishments, the high-rise apartment blocks would "adversely affect" the streetscape.
While preservation of the Nylex sign was considered in the Malt District plans, there is concern that conservation of the area has been minimal.  The malt silos that the sign sits atop are to be destroyed to make way for apartment buildings. At the hearing, the National Trust argued that the silos are an important and recognisable industrial landmark for Melbourne and that they should be incorporated within the development. Other silos aside from those under the clock are planned to remain, however, and will be redeveloped within the project's design.
Developer Caydon has said that stage one of the VCAT appeals process is still going ahead, and that they will launch a separate appeal against the heritage refusal.