Image courtesy Grimshaw Architects. Article by ADR contributor, Bryan Chung.
The NSW Government has approved the construction of the 336-metre Aspire Tower by Grimshaw Architects, removing the previously imposed building height limit of 243 metres at the Parramatta site.
Grimshaw's design is a 90-storey mixed-use vertical village on the corner of Smith and Darcy Street. Their tower incorporates hotel, residential and retail facilities, as well as landscaped sky gardens every six floors that can be shared by smaller communities within the tower.
But the Parramatta City Council is pushing for a federal review of building height limits so that skyscrapers across Sydney can reach as high as 500 metres. They are proposing a 'no-fly zone' over the CBD, which would mean that buildings could be constructed without regard to flight paths.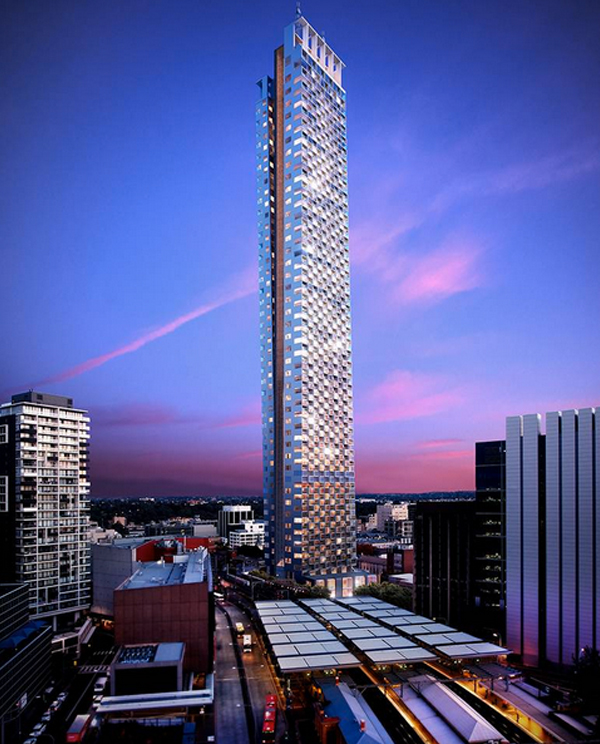 In Parramatta, buildings have a height limit of 243 metres, but developments exceeding 159 metres require approval, which can be a costly, complex and uncertain process for developers. In Sydney, the Sydney City Council currently imposes a height limit of about 230 metres throughout the CBD for all residential and commercial towers.
The height limits exist to protect aircrafts from obstacles when the pilot is flying by sight, and to allow air navigation services to function correctly. Across NSW, the height limits vary among its suburbs, and in relation to Sydney, Bankstown and Camden Airports.
Apart from flight paths, the downsides to taller towers also include shadow casting, vehicle, human traffic congestion and noise challenges. But Parramatta council officials are saying that taller inner-city towers will be able to provide greater cost and space efficiency, whilst also including better environmental and green benefits.
Liberal councillor Christine Forster has remarked that Sydney is "geographically constrained" like a "squashed sausage" and needs to expand vertically. "Taller buildings have a smaller environmental footprint, they offer economies of scale and they can give us greater opportunities for housing," she said.
Meanwhile, other cities around Australia are taking advantage of Sydney's building height limit. Developers are turning their focus towards cities that allow taller buildings to be built such as Melbourne, Brisbane, Perth and the Gold Coast, and are constructing super-towers like Australia 108 and Q1 that meet the growing residential demands, reignite investment and bring economic benefits to those cities.
According to Chris Johnson, a former NSW government architect and planning department head, there was very little happening in Sydney apart from projects like the apart from the 270-metre Crown hotel being planned by James Packer for his casino and resort at Barangaroo, and that the skyscraper boom in Melbourne and Brisbane was inspirational.