Bark Ladies: Eleven Artists from Yirrkala is a major ground floor exhibition at NGV International that celebrates the NGV's extraordinary collection of bark paintings by women artists working out of the Yolŋu-run art centre, Buku Larrngay Mulka Centre (Buku) situated in Northeast Arnhem Land.
Buku is located in Yirrkala, a small Aboriginal community on the northeastern tip of the Northern Territory, approximately 700km east of Darwin.
For more than two decades, the NGV has been acquiring important works on bark by Buku artists, establishing one of the most significant collections of work by Yolŋu women artists.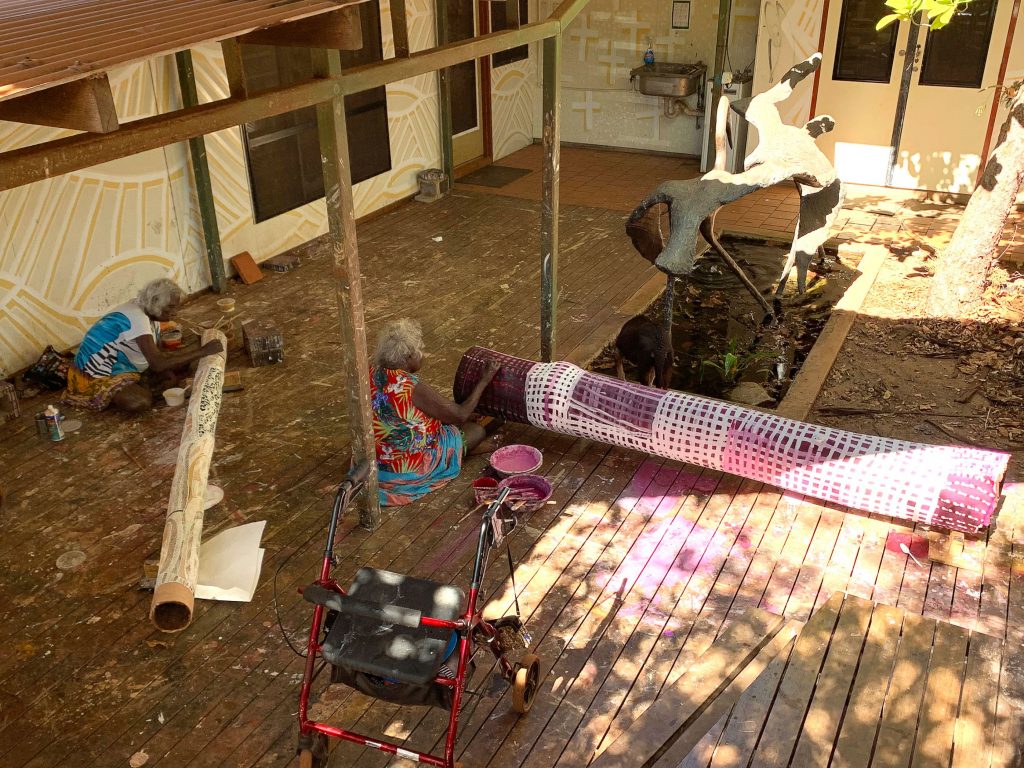 According to the staff at Buku, under Yolŋu Law the 'Land' extends to include sea, interconnected in a single cycle of life that Yolŋu people celebrated through their songs, sacred designs and art.
Before 1970, no Yolŋu women painted sacred themes on bark or larrakitj in their own right yet in recent decades a number of women artists have taken to this media, becoming both nationally and internationally known for their daring and inventive works that challenge tradition.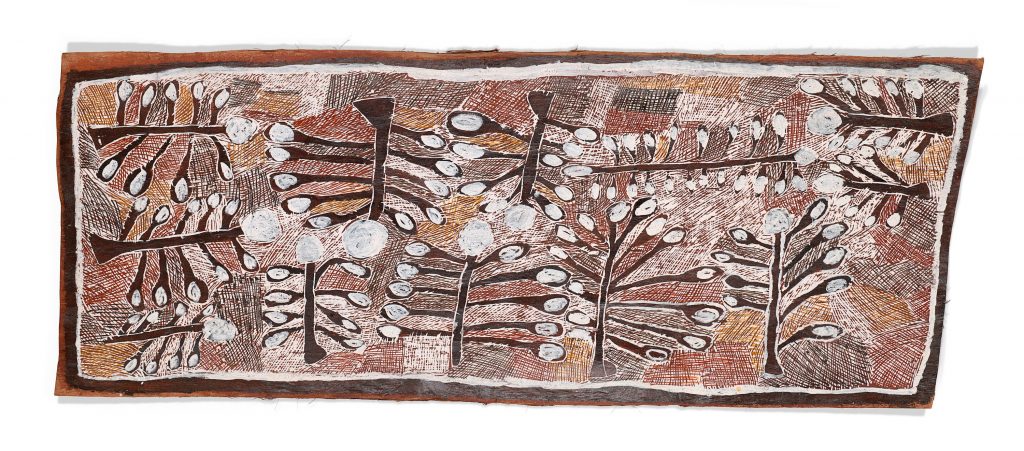 The exhibition begins with the significant bodies of work by the sisters' Nancy Gaymala, Gulumbu, Barrupu, Ms N Yunupiŋu and Eunice Djerrkŋu Yunupiŋu.
In the first space, the audiences will weave through stories of Yolŋu conceptions of the universe, fire, and creation, as well as bold contemporary paintings that explore rhythm, tonality and gesture.
In the second gallery, visitors will encounter other significant works by artists from the Community, such as optical illusions by Dhuwarrwarr Marika, waterlilies by Malaluba Gumana, monochromatic stars by Naminapu Maymuru-White, bold visions in pink and blue by Noŋgirrŋa Marawili and Dhambit Munuŋgurr, as well as the last produced paintings by the late master painter, Ms Wirrpanda.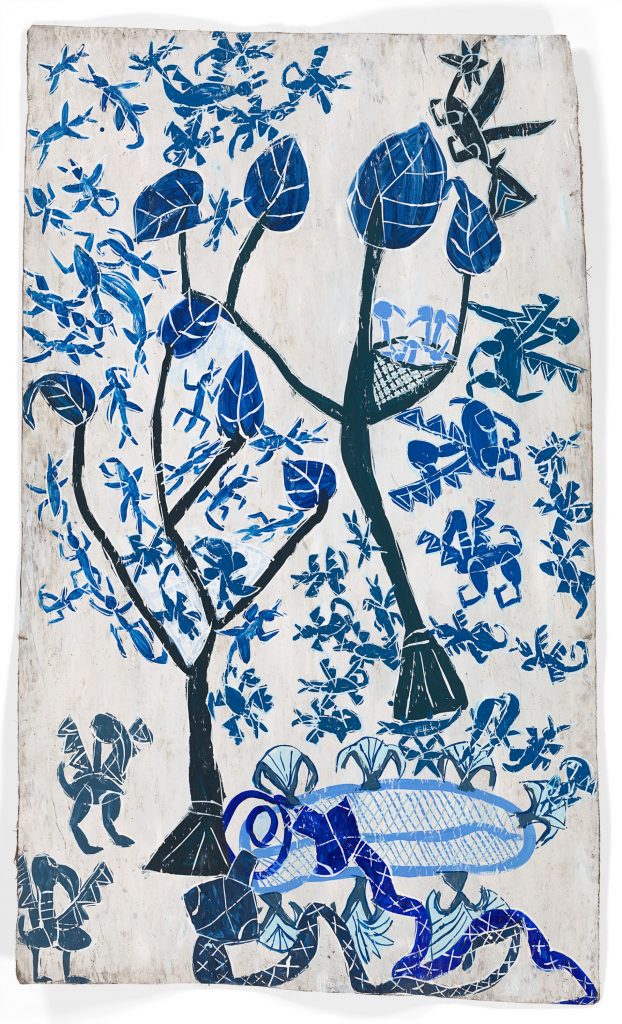 NGV director Tony Ellwood says Bark Ladies "celebrates the NGV's especially rich collections of works on bark".
"The exhibition brings together some of Australia's great singular master painters and we are extremely grateful to each of these artists for sharing their important and sacred stories with Melbourne audiences," he says.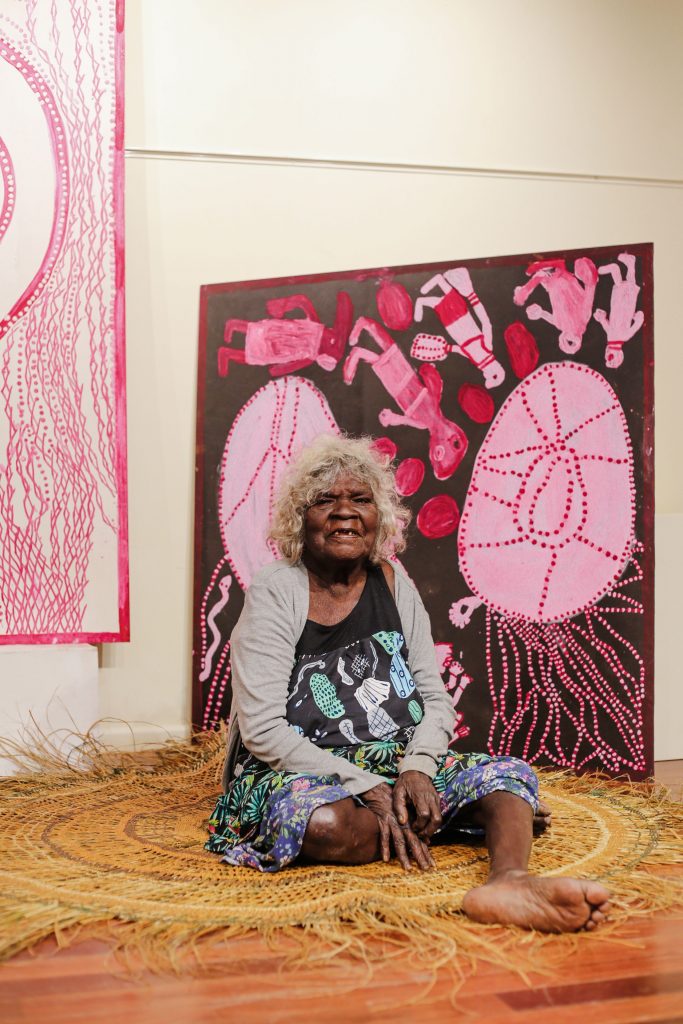 A highlight from the exhibition is a newly-commissioned large-scale, floor-based work by Naminapu Maymuru-White depicting Milŋiyawuy, also known as the Milky Way or River of Stars.
This work is complemented by a multimedia cinema on the mezzanine floor, where audiences can sit and listen to the artist recounting her deeply moving story that is connected to the mortuary rites of the Manggalili clan whose deceased souls are turned into stars.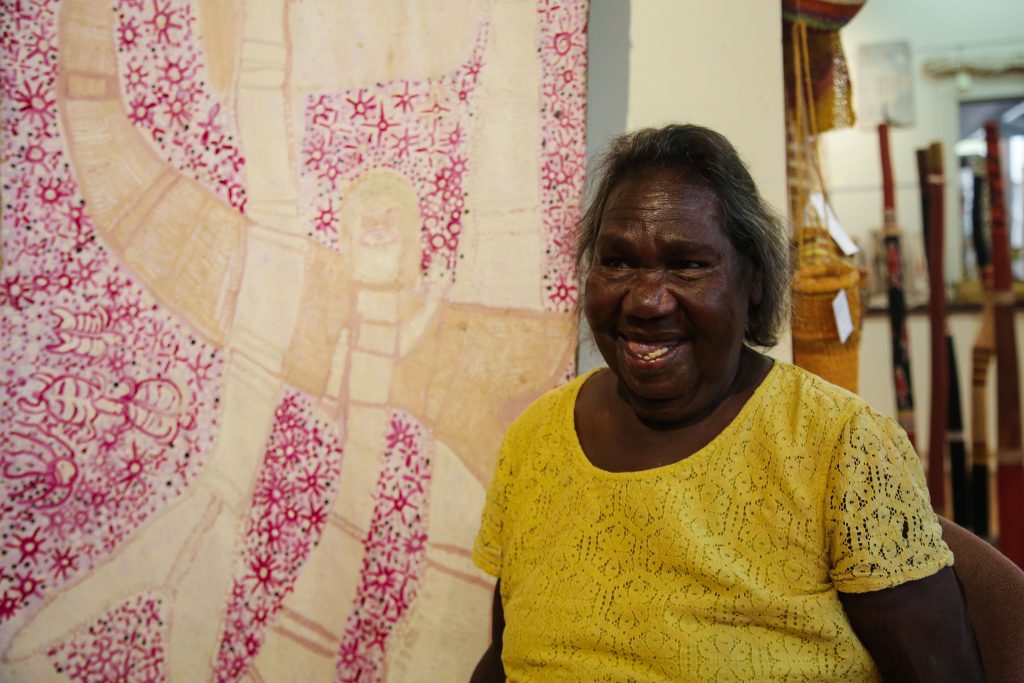 NGV Kids will also present an all-ages exhibition The Gecko and the Mermaid: Djerrkŋu Yunupiŋu and her sister, that celebrates the vibrant culture and community of the Yolŋu people through the work of two artists and sisters, Ms N Yunupingu and Eunice Djerrkŋu Yunupingu.
The interactive exhibition will introduce young visitors to the two sisters, their artworks and Yolŋu culture and community through a custom-designed space featuring hands-on and multimedia activities produced especially for this exhibition.
Bark Ladies: Eleven Artists from Yirrkala is on display from 17 December to 25 April 2022 at NGV International. Entry is free. The exhibition will also be open during the NGV Friday Nights series.
Lead image: Artist Dhuwarrwarr Marika at Buku-LarrŋgayMulka Centre in Yirrkala
Photography by Leicolhn McKella.
In November, ADR covered NGV's current exhibition Sampling the Future, which displays large-scale architectural installations and thought-provoking design objects exploring future themes, issues and the human civilisation